Friends,
As the sun set Wednesday evening, households all over Israel lit their candles and began the Seder meal, an ancient tradition in memory and celebration of God's deliverance of his people from slavery in Egypt. At our home in Ashdod, we all crowded around two tables set end-to-end, so full we could barely fit enough chairs.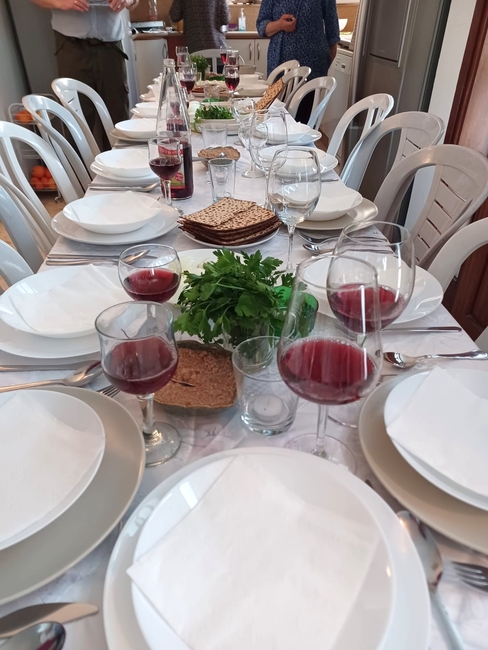 It was a special night for us, the first time since opening our new Jerusalem base that our Jerusalem and Ashdod communities were all together. We were especially glad to have our Kurdish and Gazan families join us in a beautiful evening of gratitude for God's saving work.
It wasn't just the deliverance from Egypt that we celebrated. Our Father has been so faithful to rescue each one of us from the clutches of sin and despair. Coworker Willem, who has just returned from the Netherlands for another two months with us in Ashdod, shared after the meal of God's redemptive work in his life. This prompted Kenan B's mother—a sweet and dear friend of our community—to share her own story of how God brought her out of a place of hopelessness and blessed her greatly with a beautiful family. Truly, there is no situation too hopeless, no valley too dark, for the Father to deliver us to safety.
This is our hope and confidence this week for our precious children in the hospitals. At Hadassah hospital in Jerusalem, six-week-old Majed is in a precarious position. The doctors tried multiple times to take him off the ventilator, but he was unable to breathe on his own. However prolonged intubation brings with it risk of dangerous complications. Late last week Majed's heart stopped, due to pressure from air trapped between his lung and rib cage, and doctors had to resuscitate him.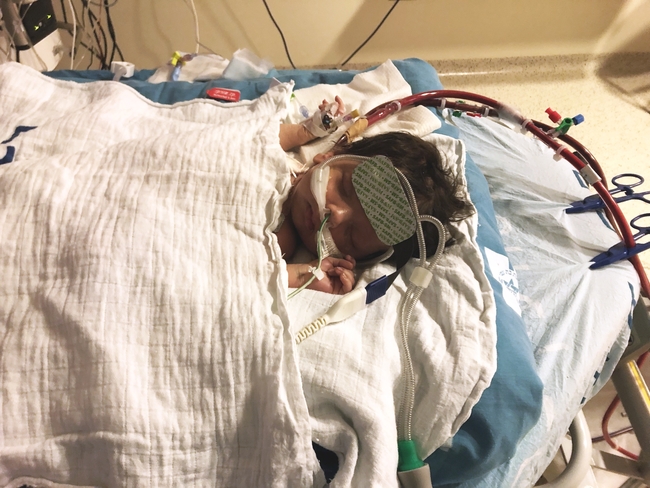 Now that he is no longer on the ventilator, the condition of Majed's heart and lungs has deteriorated. On the first day of Passover, the ICU team at Hadassah decided to connect him to ECMO heart-lung support. This is no easy decision, as a child going on ECMO has a 50% chance of survival. But our God is the God of salvation. If he could part the sea and deliver his children across on dry land, if he could bring water from a rock and bread from the sky to sustain them, if he could raise a man even from the grave, surely he has the power to deliver little Majed from the valley of the shadow.
We are trusting the Father also for little Eslam from Gaza, who had a difficult week in the ICU at Sheba Medical Center. Like Majed, Eslam deteriorated suddenly at the end of last week and had to be resuscitated. By Friday, his blood pressure and oxygen saturations were dropping to dangerous levels. When the doctors were unable to find an explanation for his deterioration, they put him on ECMO support in a last effort to stabilize him.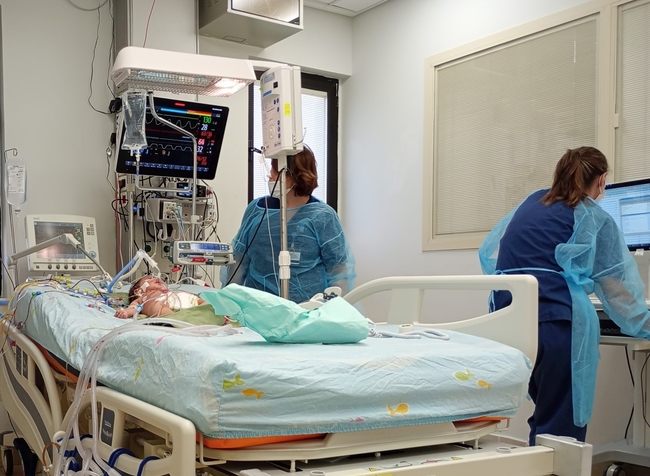 On Monday morning, when a diagnostic cath showed that Eslam has good blood flow through his new shunt, the doctors took him into the OR for the risky process of weaning him from ECMO support. Thank God, they were able to successfully disconnect him from the ECMO machine and for now, Eslam is stable. Please join us in prayer for Majed and Eslam during these uncertain days.
Just before the start of Passover, newborn Hadeel from Gaza was delivered safely into the care of the ICU team at Sheba. Hadeel was born with a severe form of Tetralogy of Fallot, a combination of heart defects that causes episodes of cyanosis.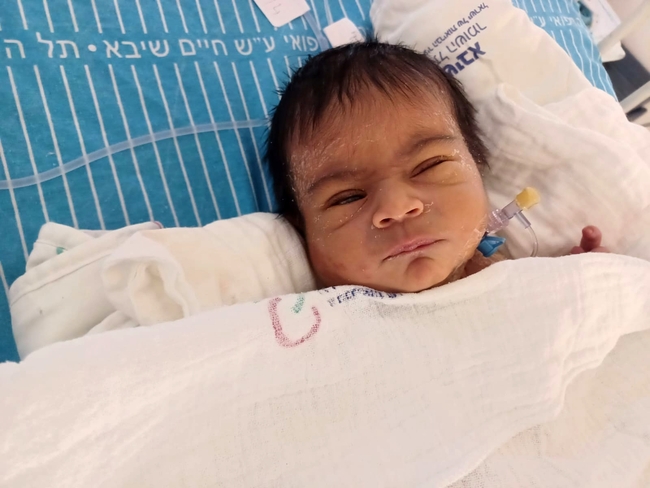 There are multiple options for surgical treatment for this condition, and the doctors are carefully examining Hadeel's heart to determine the best route for her. Pray for wisdom for them and strength for Hadeel's grandmother who is with her at the hospital.
Just as Hadeel was arriving in Israel, another tiny baby girl was on her way back home through the border crossing. One-month-old Eleen from Gaza was discharged from Hadassah hospital only one week after her lifesaving heart surgery!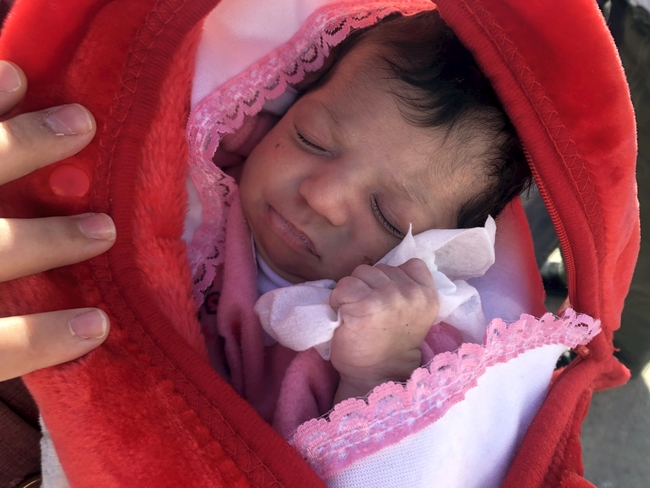 Look at the picture above of Eleen wrapped snugly in her blankets on her way home, and then this picture immediately after her heart surgery: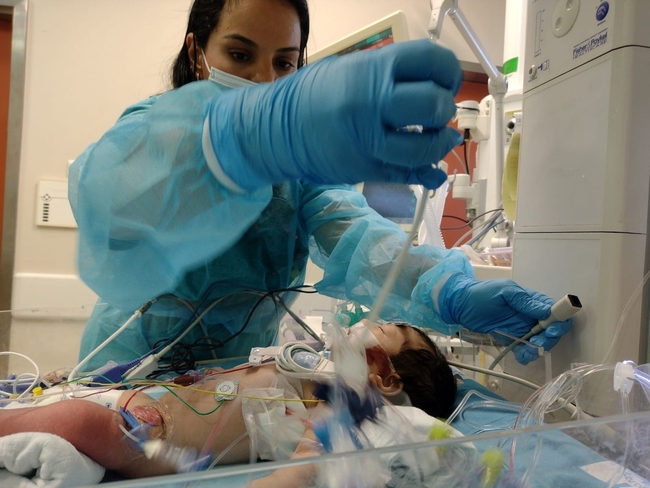 Isn't it amazing that these two images are only one week apart? Praise God for his care and provision for little Eleen.
And we're so grateful for his faithfulness to chubby one-year-old Ayham, who was also discharged from Hadassah hospital this week and is safely back home in Gaza to spend the rest of Ramadan with his family.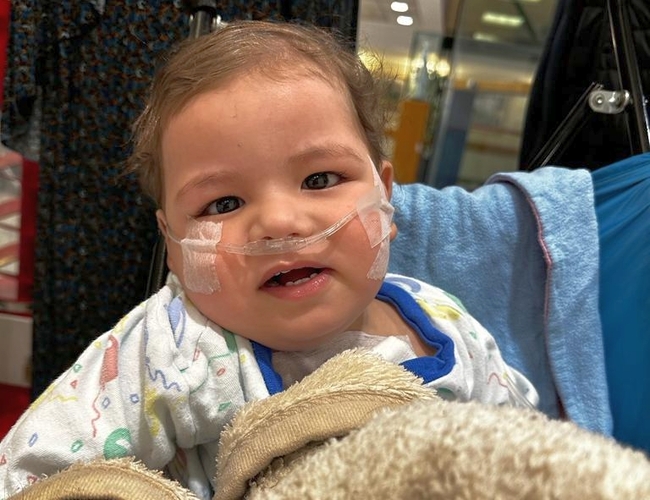 Ayham's journey has not been an easy one—from bleeding in his brain as an infant to a long and difficult arterial switch surgery last month—and it's truly incredible to see him going home healthy with a big smile.
Still at Hadassah is little Jude from Gaza, who has been losing weight and feverish for reasons doctors still don't understand following his diagnostic catheterization: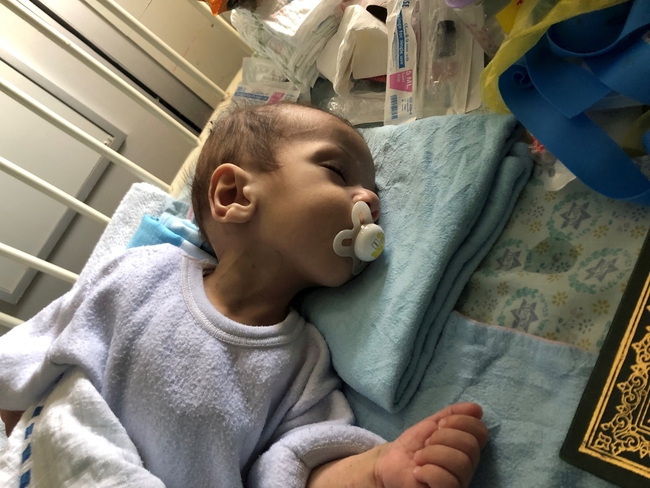 Please pray with us for him to strengthen in preparation for his upcoming surgery, and for faith and hope for his young mother at his side.
Our beautiful Niyan from Kurdistan spent the days before Passover winning the hearts of everyone in the intermediate ICU at Sheba, as she had first a diagnostic catheterization and then dental treatment in preparation for her upcoming heart surgery.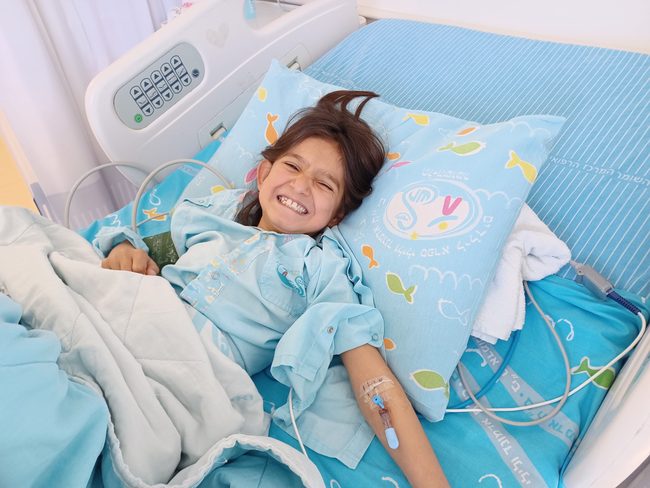 Her cath showed that her heart is quite complex, as she has multiple collateral arteries that have formed to allow blood to flow to the lungs in spite of her closed pulmonary valve. The surgeon thinks he will not be able to do a complete repair of her heart, and will instead perform interventions to help her heart function better even with its complicated anatomy. He is considering the best surgical option for her, and her father is anxiously awaiting news of the decision. In the meantime, Niyan is happily back in Ashdod with lots of energy and a brand new gap-toothed grin: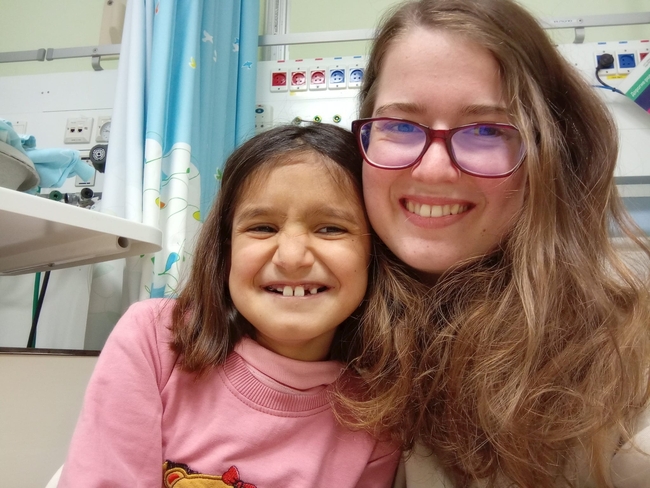 Lastly, I'd like to ask for prayers for our community. Life in community is a good and beautiful thing, but a challenging one as well, and even more so when the work we do together is of a difficult nature. A number of us are struggling with various personal challenges at the moment, as well as the pressures of our work with the children and hospitals, and the often difficult work of bearing with one another in love. It's not something that comes naturally, and in all honesty we are struggling as a community with this very thing. We hold one another to high, even impossible standards, and are often slow to show grace when needed.
Our Seder dinner brought to mind another such evening, history's most famous Passover meal. In the last few precious hours with his disciples before betrayal and violence tore them apart, our Messiah taught us what it is to love. The meal began with him kneeling before each of his friends, even those who he knew were about to betray or deny him, and washing their feet. It ended with a beautiful prayer for his disciples and for those who will believe in him through their message—incredibly, he prayed for us: May they be brought to complete unity to let the world know that you have sent me and have loved them even as you have loved me.
And he had earlier given his friends one last command: Love one another as I have loved you. Greater love has no one than this, that he lay down his life for his friends.
At the Passover dinner, Jesus saw his friends' flaws—their foolishness, their doubts and fears and betrayals—and loved them anyway. What's more, he told them to love one another. He saw their pride, their bickering and irritations, their complete inability to love perfectly. Yet he told them to do it anyway, because he was about to make a way, to extend a grace that could overcome every failure.
Love one another as I have loved you. Love one another in all the messiness of weakness and imperfection. Let grace be greater than all the flaws and all the fears. Take heart, because he has made a way and overcome the world.
Thank you for joining us in prayer,
Bria for Shevet Achim