Friends, brothers, and sisters,
Greetings from Jerusalem. We spent this week, like our Jewish neighbors, celebrating Passover. The week was inaugurated by the clearing out of leaven from the house—all bread or rising products that we hadn't already eaten were thrown away. Our carb consumption plummeted.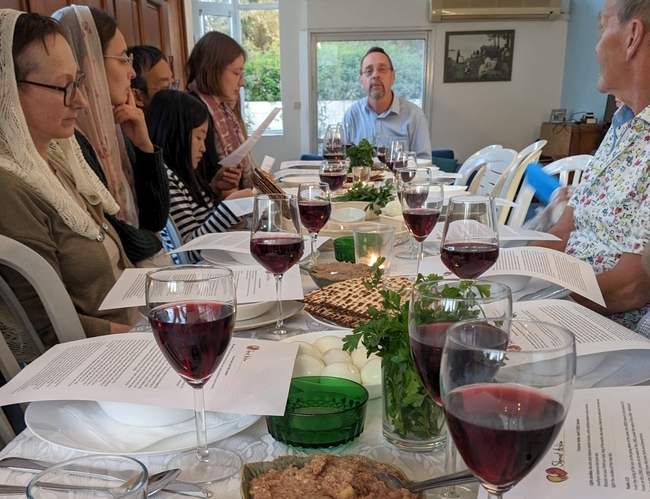 Holidays and deprivation do not easily mesh in my head. I'm used to the Western model, where holidays are times of excess—I work less and I eat more and I spend more and I (theoretically) enjoy more. The thought of having holidays marked by absences, by voluntary giving up of pleasures is unusual to me. And yet that is a concept which not only our Jewish, but also our Muslim neighbors, are familiar with. The current month of Ramadan is marked by fasting from food and water (and most physical pleasures) throughout the daytime.
Our community read the fifth chapter of 1 Corinthians in preparation for Passover week. I quote the relevant excerpt now:
Your boasting is not good. Do you not know that a little leaven leavens the whole lump? Cleanse out the old leaven that you may be a new lump, as you really are unleavened. For Messiah, our Passover lamb, has been sacrificed. Let us therefore celebrate the festival, not with the old leaven, the leaven of malice and evil, but with the unleavened bread of sincerity and truth.
I think that times of willful deprivation function as, among other things, times of resets, times of realignments, much in the way Paul writes above. We walk away from excess pleasures and fats and return to a barer experience—perhaps less pleasurable, but certainly less diluted. We get rid of complications. We present ourselves before God unadorned and unobstructed.
This week, I've given a lot of painful thought to how we (really I, but I'll use plurals for the letter's sake) obstruct the work of God in our lives. Sometimes this is a matter of sin, and that's a different discussion. But sometimes it is not sin that obstructs. There are so many pleasures, so many comforts, so many fats, that we surround ourselves and our hearts with, sometimes deliberately, but often innocently; and like fat, these things insulate us. They comfortably shield us from reality, but God is in reality, and so they comfortably shield us from God. I will not make a list of what these fatty shields can be in daily life; but I think, when looked for, that they are easy to discern.
I will use Paul's language. If our old heart is full of the leaven of malice and evil, then the layers of blubber around our old heart will be tainted as well; and if they remain around the new heart, then their taint will seep back into its purity, and the new lump will become leavened with that old leaven. The new lump, if it is to remain new, if it is to become what it was made to become, can't be surrounded by the old leaven. It must be given time and space to grow and to be strong and to produce the unleavened bread of sincerity and truth.
This week the community talked about healing and growing and cooperating with God in these things (because God will work no matter what, but we can certainly help or obstruct him). We talked about how sometimes our struggles, our sins, our weaknesses, our fats, can become like a dense knot inside of us, full of loops and turns and straggling ends. If we try and untie the knot blindly, often we will only succeed in making it tighter; we pull on what seems to be a loose end, but it just draws the knot farther in on itself, and we become hopelessly confused and tired.
Sometimes, we said, the answer is to step back from the knot and to surrender it to God. To say: God, I can't untie this, so I'm going to give it to you to untie, and I'm not going to worry about it. I'll wait for you to do your work with it. And then we find that when we return to the knot, a day, a month, a year, a decade later, it has become untied, and we can pick apart the threads and cast out what is wretched and save what is good.
This is not to imply inactivity or laziness in the meantime; rather it is to imply radical dependency on God. It is to believe the Messiah when he said not to fret about the future, but rather to trust in our God's provision—provision not just for physical needs, but also for our spiritual needs. And when we seek to do God's work, what can carry us through but that sort of radical dependency?
And even in this week, through which much of the country was closed down, the work of our community continued—and, appropriately, given Passover week's emphasis on new beginnings, many of our new children are newborns. Hamzah, not even two weeks old as of writing, arrived in Israel from Gaza this week with a deeply complicated heart—coarctation of the aorta, among other problems.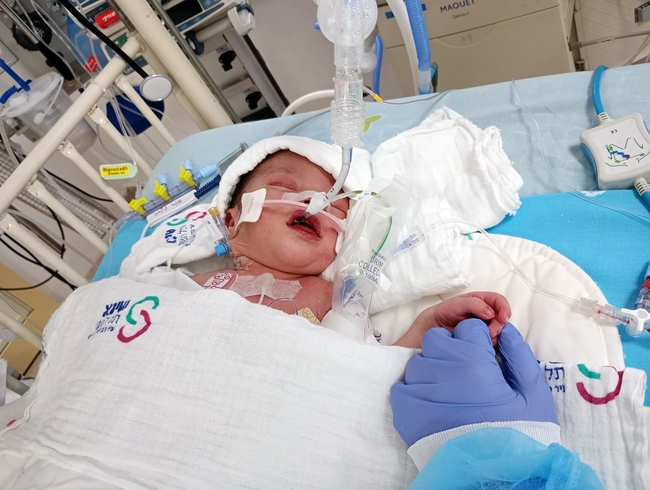 But he has already had surgery which successfully treated several defects. Praise God! Pray for healing and recovery not only for him, but also for his mother, who has been experiencing pain from his birth while in a strange and foreign place.
We also received Yazan from Ramallah this week, a newborn suffering from Tetralogy of Fallot, a combination of four different heart defects: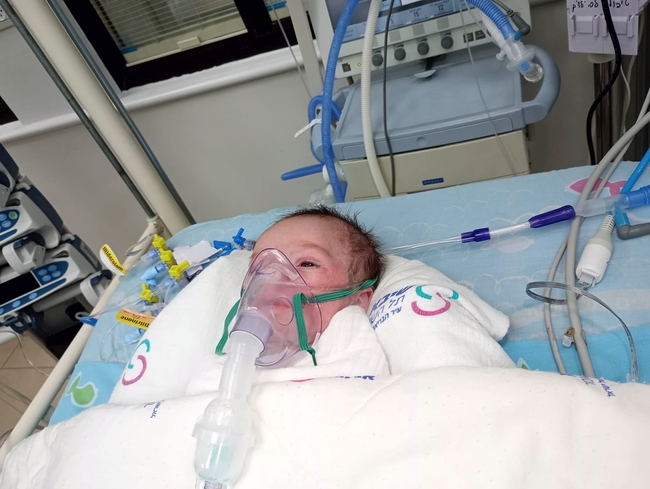 He's not doing too badly right now (after
pulling out his own ventilator tube
), and his surgery will be sometime next week. Pray that it will go well, and that he will be fully healed, and that his mother will be comforted!
Hadeel from Gaza, also just days old, had a brain and heart CT scan during Passover week and a catheterization yesterday at Sheba Medical Center: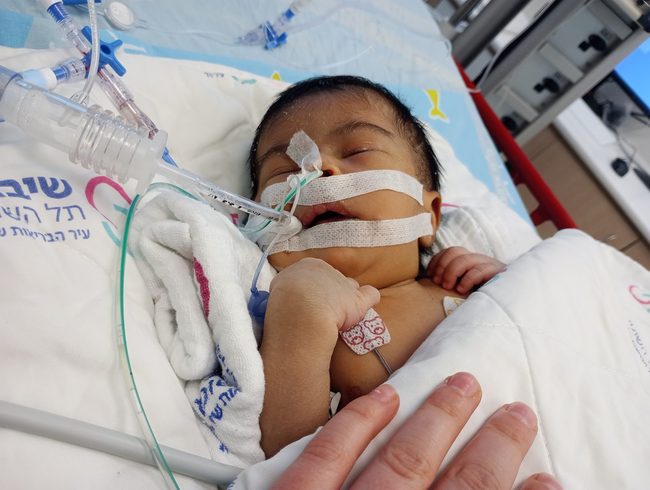 The catheterization went well, opening Hadeel's pulmonary valve and placing a stent. The brain scan revealed fluids in her head which will have to be treated after her surgery. Pray for her, that she will heal and remain stable until her surgery!
Good news for Jude from Gaza, who has spent most of his short life in Hadassah hospital in Jerusalem. He has recovered well from his fever earlier this week, and now he is gaining weight and growing strong; just a few days ago he began to drink milk on his own, drop fed through a plastic teat.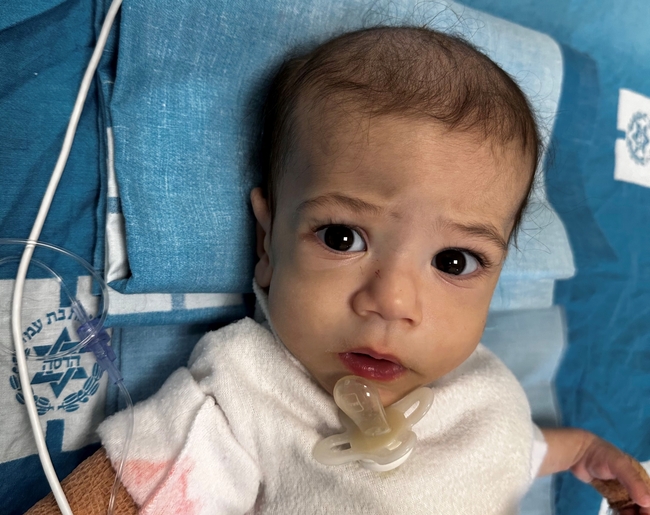 If he continues to grow, he may have his long-awaited next surgery as early as next week! Praise God, and pray that he will grow!
Majed from Gaza, Jude's child companion in Hadassah, is enduring. He remains on ECMO support, and he will likely be there for the next three weeks at least. He is awake sometimes, looking out on the world with little comprehension.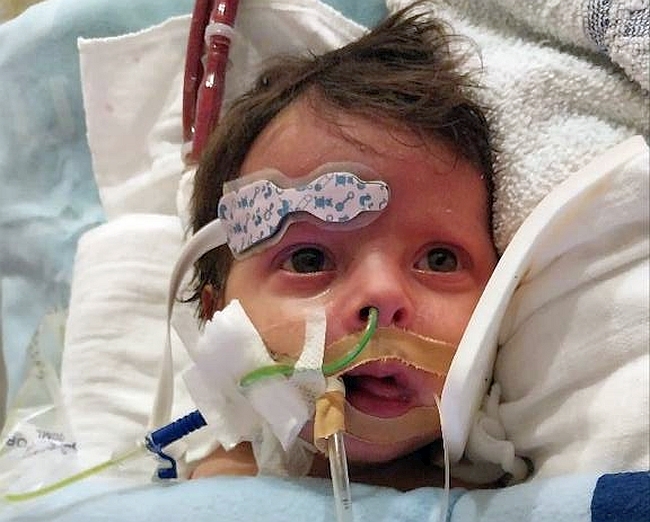 His grandmother waits with him. They have already been in the hospital for over a month, and she is tired. Pray for his miraculous healing; pray for relief for his grandmother, who insists on staying; pray for rest for both of them.
Keep Eslam in your prayers as well. He has come off ECMO but is still on a ventilator at Sheba's pediatric ICU, recovering slowly and preserved by machines and medications. There is a great deal of fluid in him, although it has been decreasing.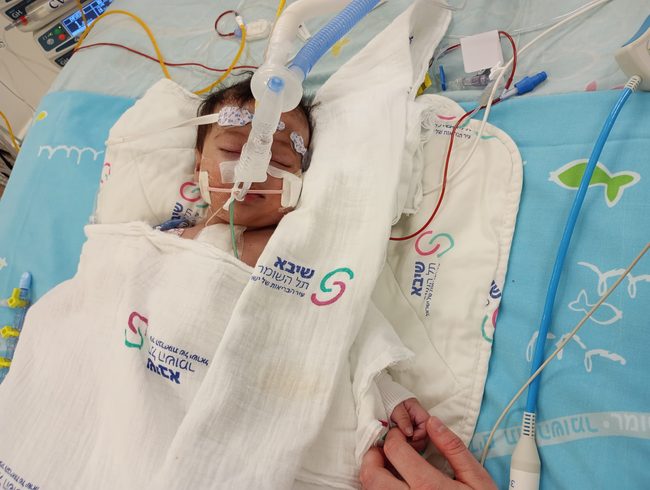 The doctors say we must wait and see for long-term prognosis. Pray for him and his mother.
Still we have hope, as demonstrated by baby Liya, who has also spent a long time in such a situation. She has been improving greatly over the last weeks, becoming stronger, happier, and more relaxed. She's been in the ICU so long that the Sheba staff have become attached to her!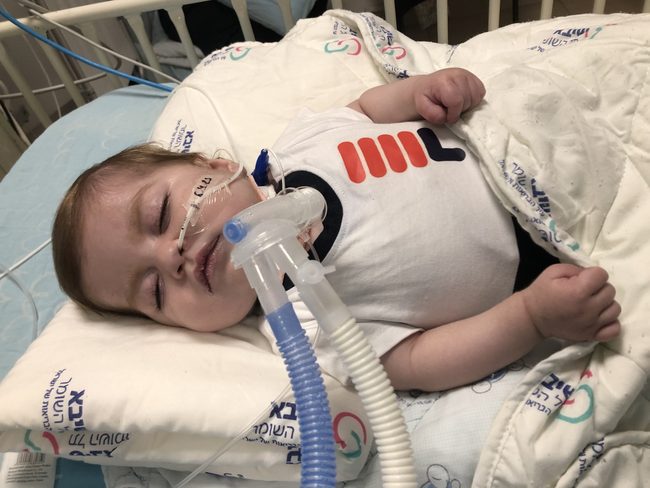 But she also has a long way to go. Pray for her continued healing, that she'll be able to successfully go to her big surgery.
And speaking of children beloved of Sheba, pray for Somaia, who after spending ten months on a ventilator in the Sheba ICU has had to go back on a ventilator in Gaza due to respiratory distress: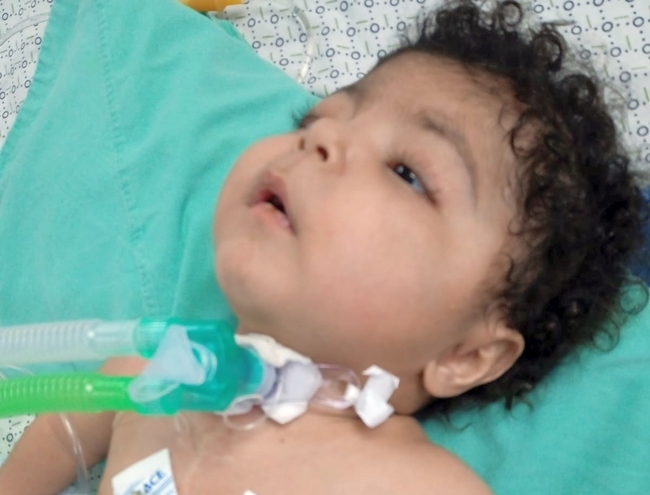 And pray for two-year-old Ahmed, too; no fan of hospitals (nor of us volunteers—he
bursts into tears
 whenever we draw near, likely due to association with the hospital), he and his mother have had to endure in Sheba for a long while.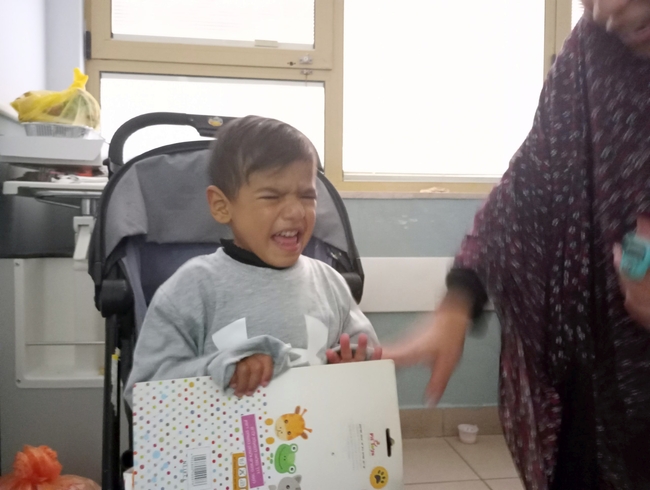 But his long-awaited surgery will be this Sunday! Pray that it will go well and that he'll be able to go safely home.
Pray for our older children, who are both in a time of waiting. Twelve-year-old Sundis has been in Sheba for some weeks now, waiting for a gastroscopy that keeps getting postponed. She's in good spirits in the meantime though. Pray that she'll be able to move ahead with her appointment: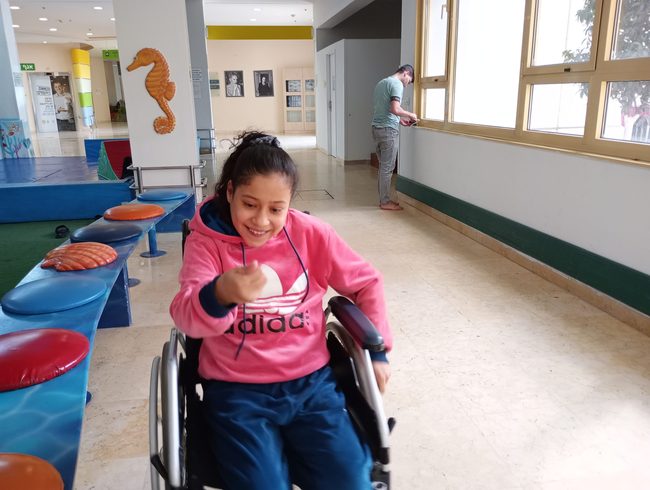 And Said, thirteen, continues to improve and recover from his surgery, but in the meantime, all he can do is
lie in bed all day
; a painful boredom for a young man. Pray that he'll be able to go home soon!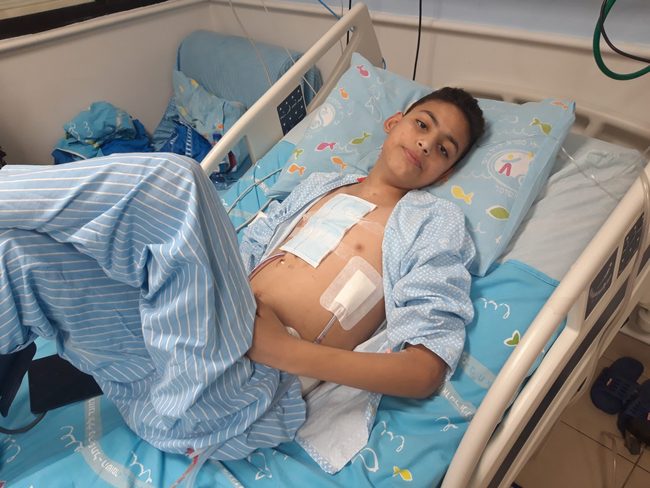 And lastly, I bring before you all a deep praise. Little Yazidi refugee Saan, who has been dwelling in our Jerusalem community for a while now, is growing beautiful and strong after his big
arterial switch surgery
. He is no longer as unhappy and weak as he once was; now he smiles and laughs (and cries!) with the best of them: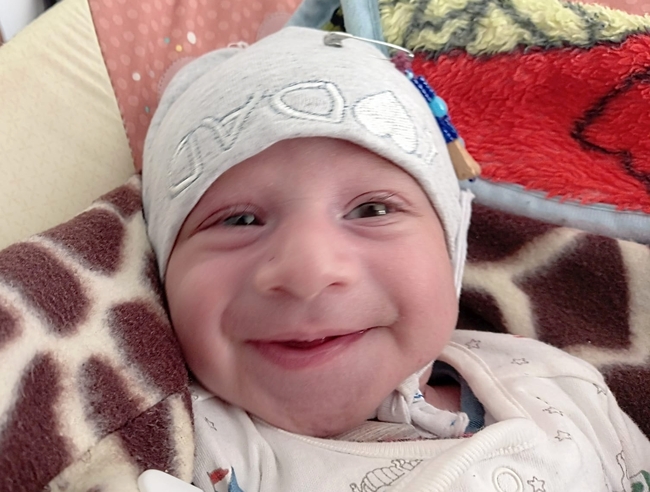 The other day we weighed him, and we found that in the last month, he has gained two whole kilograms. His mother rejoiced with such happiness, and we rejoiced with her. Brothers and sisters, I tell you, I've almost never felt such joy as I felt then, as we celebrated Saan's five-kilogram weight. Such joy! Such life! Thank you, God!
I wrote above that sometimes the answer to complication and confusion and oldness is to step away from it; to surrender it to God, and to trust him to do something with it. Sometimes such an approach can mean we are trying to avoid our problems, to hide from them. But when done in faith, it can rather be a simple trust that God is going to take care of something for us—that he will work freedom for us from our chains, just as he promised, just as he did for the Israelites over 3,000 years ago. Think; pray; discern; trust.
Passover week has ended. We have reintroduced leaven into our diet, and we will enjoy it; because bread is a good thing, given to us by God. But let us also be thoughtful and careful with what we shield our hearts, and let us remember that it is for freedom Messiah has set us free; let us stand firm therefore, and not submit again to a yoke of slavery. Let us not use the freedom we were called to as an opportunity for the flesh, but through love let us serve one another.
May the God of peace and love be with you all.
Zechariah for Shevet Achim