Help me to love with open arms, like You do
A love that erases all the lies and sees the truth
So that when they look in my eyes, they would see You
Even in just a smile they would feel the Father's love.
Friends,
We often find ourselves in situations here that leave us wondering How exactly did I end up here?
Such was the case last night when we found ourselves, three young adults from Germany and America, sitting in an ICU waiting room in Tel Aviv, doing our best to translate from Arabic to English to Kurdish and back again. After stumbling through one translation to a group of Arabic-speaking mothers (who were quite patient with our far-from-perfect language skills!) we all burst out laughing at the beautiful absurdity of it all.


How is it that we are here, that we count among our friends mothers and fathers and children from Gaza and the West Bank and Iraqi Kurdistan, that in some small way we get to share our lives and love with them and they with us?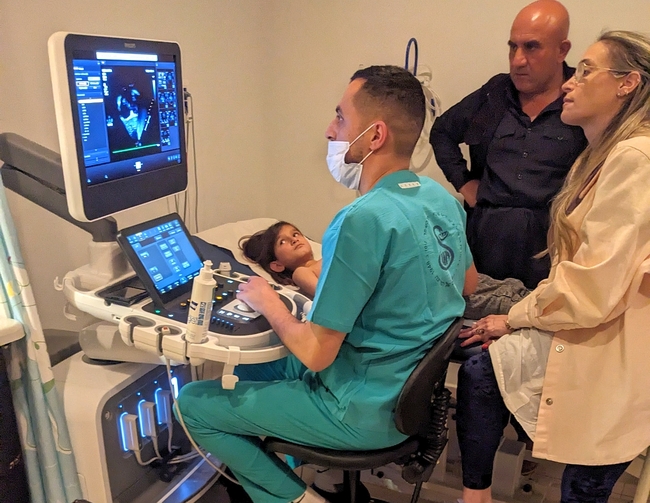 We were in the waiting room together with the father of eight-year-old
Niyan
 from Kurdistan (shown above at his daughter's first echo in Israel). They've had quite an eventful week. On Monday night, a day after the second operation to reroute her collateral arteries, Niyan began to show signs of serious respiratory distress. The doctors didn't expect to see this after surgery, so they took her to a CT scan Tuesday morning to investigate.
Just a couple hours after the CT scan, we got a call from the head doctor of the cardiac ICU. The scan showed some blockage in Niyan's left pulmonary artery, and she was being rushed into an urgent catheterization to reopen the artery.
However nearly three hours later, the cardiologist came out of the cath lab with a different report. Instead of a blood clot, they found that the left pulmonary artery seemed to be completely blocked by pressure from the outside—possibly by the stitches from a previous surgery—and they were unable to reopen it in the cath. Niyan was stable for the moment, but being moved from the cath lab to the operating room for an emergency surgery to reopen the artery.
It was an anxious few hours for Niyan's dad. He spent most of the time praying and whenever someone asked how he was, he responded in Kurdish, "If Niyan is okay, I'm okay."
He told us how Niyan has always been extra special to him and he loves her so much. What a relief then when after four hours in the OR, the surgeon emerged with a smile and good news. "Tell him we're finished and she's okay."
In the surgery, they found that the left pulmonary artery was completely disconnected, and they were able to reconnect it to restore blood flow to the left lung. Niyan is now doing much better and recovering well in the ICU.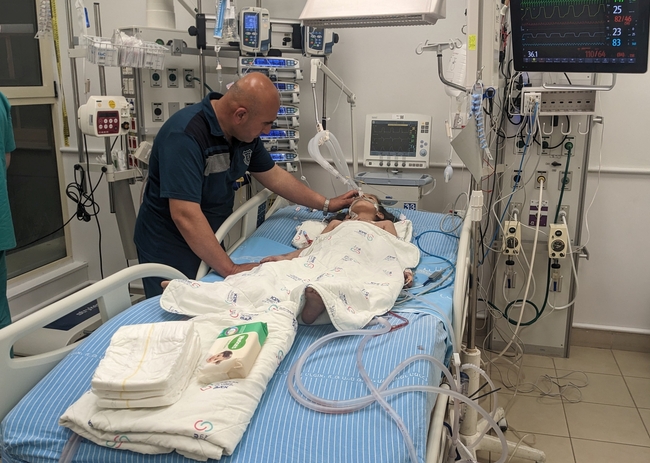 With us in the waiting room and eagerly awaiting a translation of the surgeon's report to Arabic were several of the moms from Gaza, who waited alongside Niyan's dad during the operation. It was a beautiful thing to witness their support and encouragement for him and his little girl. We were especially touched by the mother of five-month-old Eslam. "All of us here want to support Niyan's father," she told us. "We always want to talk with him, but we don't speak any Kurdish."
But language barriers didn't stop her from expressing kindness and support. She spent the entire duration of the surgery bringing food, drinks, and laughter to all of us in the waiting room, and even learning a few words of Kurdish. She told us that whether she speaks the language or not, she hopes to always bring joy and love to those around her even just with a smile. What a beautiful example to all of us.
Eslam's mother has not had an easy week herself. It was hard for her to see her son getting worse and worse during the last weeks. After long discussions on Sunday doctors decided to take Eslam into surgery to repair his aortic valve. They told the mother honestly that the chances he will die in the surgery are 20%, but also that if they don't do it, he won't survive the next three weeks.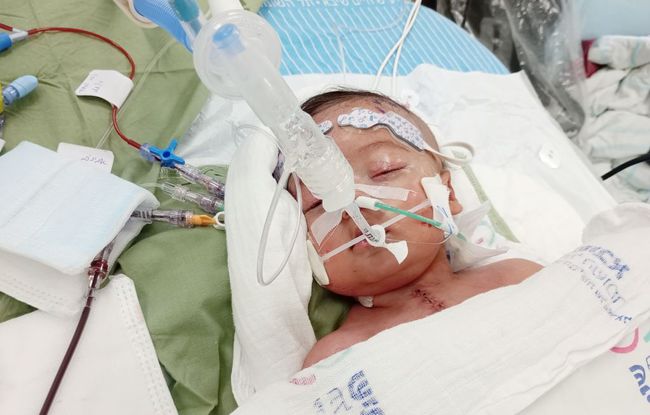 We prayed a lot for him, his mother and his medical staff that evening and throughout the surgery the next morning. Finally in the afternoon Luisa texted that everything had gone well. What a miracle!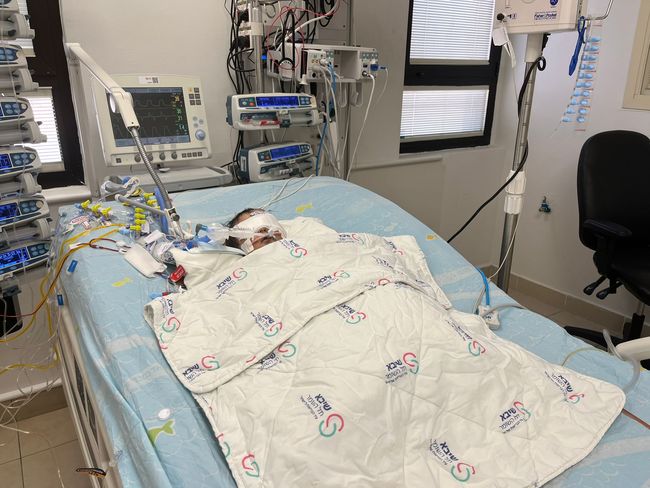 Now two days after his especially high-risk surgery he is stable, off dialysis and doing better than the doctors had hoped. God carefully created Eslam, and we pray that he will continue to help Eslam improve and give him back to his family.
Meanwhile we welcomed another new emergency arrival from Gaza this week. Ten-day-old Asil was born with hypoplastic left heart syndrome, the most difficult congenital heart defect to treat. She waited five days in the hospital in Gaza until space in the ICU opened up, and she was rushed to Sheba in an incubator on Monday: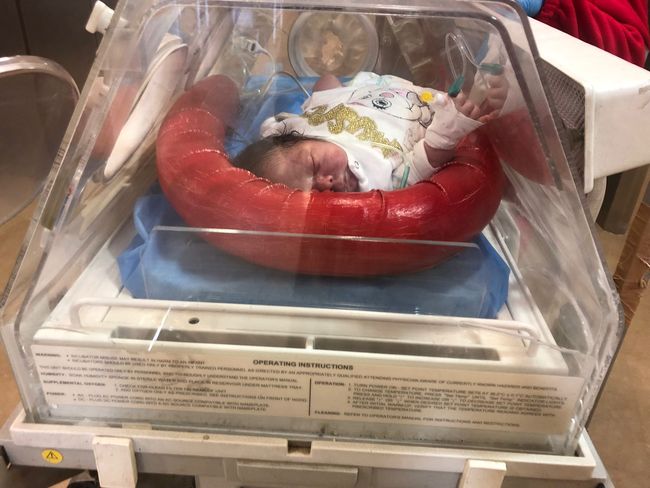 Asil is now undergoing tests in the ICU with both her mother and father at her side. They are incredibly kind, and we're enjoying getting to know them as they await surgery next week. Coworker Willem visited yesterday and shared a sweet report: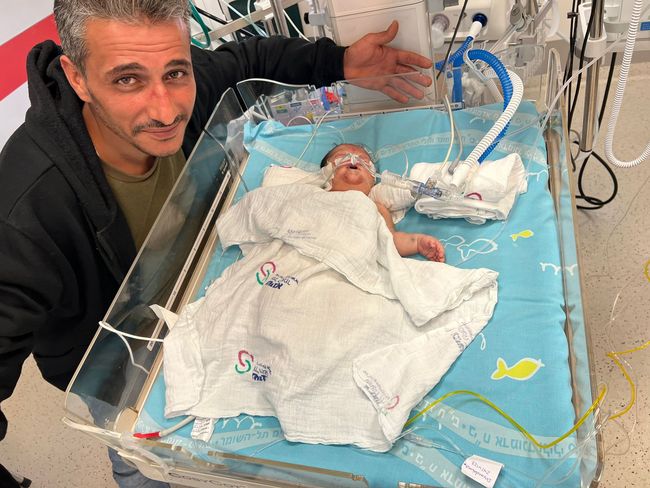 When I told her dad that we were praying for her to recover, I got a really big hug and we just stood there together and embraced. Then he thanked us deeply for what we did for his daughter and for our prayers for her! How wonderful it is that we can pass on something of the love of our Lord to these concerned parents! We pray that God will be very close to Asil and her family in the coming time and will have mercy on them.
We had a new arrival this week from Gaza at Hadassah hospital in Jerusalem as well. Baby Salma from Gaza is diagnosed with multiple heart defects, and Sunday she was taken for the first surgery to repair her aortic arch and place a band around her pulmonary artery to prevent too much blood flow to her lungs.


She is recovering well, but when doctors tried to wean her from the ventilator they found she still cannot breathe on her own. Once Salma gains more strength and weight and is breathing on her own, they hope to take her in for her next surgery.
Baby Yazan from the West Bank seemed just a couple of steps from going home from Sheba last week, but over the weekend his condition suddenly deteriorated. When his oxygen saturations dropped to the 60s even with oxygen support, he was moved back to the primary cardiac ICU for closer care and observation.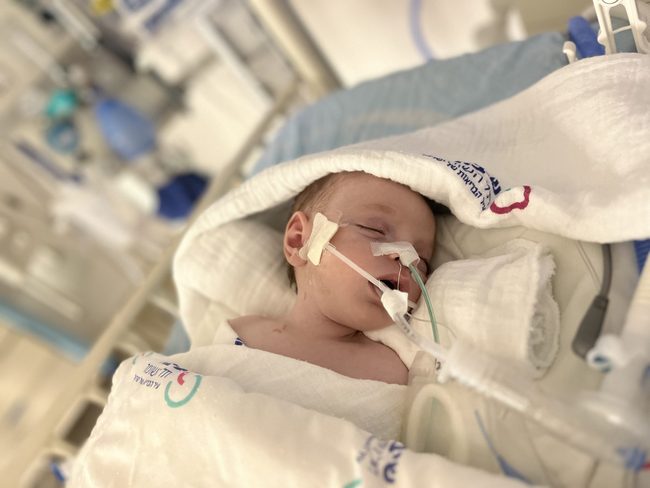 Since then, he's had life-threatening episodes of desaturation as low as 40% of normal, and the doctors plan to take him to a cath tomorrow to investigate the cause of his struggles. Yazan's mom is feeling pretty anxious about him, but is surrounded by the other mothers in the ICU, who are taking good care of her while she cares for her little boy.
Three-week-old Hamzah from Gaza has faced some unexpected challenges this week, as the doctors discovered that one of his vocal cords is paralyzed. This is causing trouble breathing and can cause complications with feeding as well.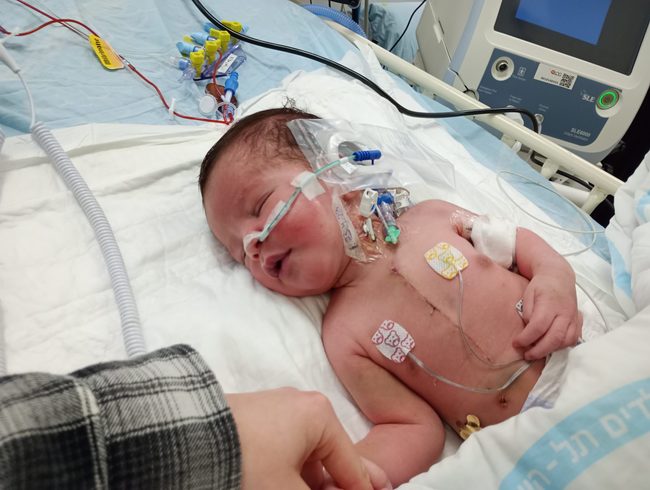 Hamzah's mom was discouraged by this news, and is worried that Hamzah may not be able to eat or talk normally if the problem doesn't resolve. For now, we're awaiting a decision from the doctors about whether he needs surgery to correct the paralysis. Please pray for the problem to be resolved completely, whether with time or surgery.
Our good old friend Ahmed J is having a good recovery after his surgery. He got moved to the intermediate ICU at Sheba on the weekend because he was doing so well and his mother already told me that she had hoped to go home soon (just a week after his dangerous valve surgery). But he was moved back to the primary ICU on Sunday morning because he developed a scar infection. Yesterday he got a procedure to clean out the bacteria and the infected tissue and now we hope there won't be further complications.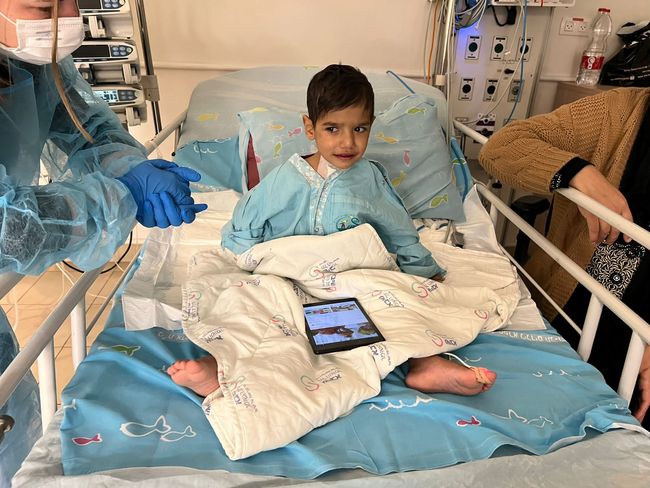 I'm so thankful to see Ahmed doing so well after this surgery, as he had such big problems after his surgery last year. He spent months in the hospital to recover and learn to eat, walk and talk again and this time everything is going so quickly!
Also at Sheba is Sundis from Gaza, who had her long-awaited gastroscopy procedure this week. It's been delayed for some time due to her poor health condition.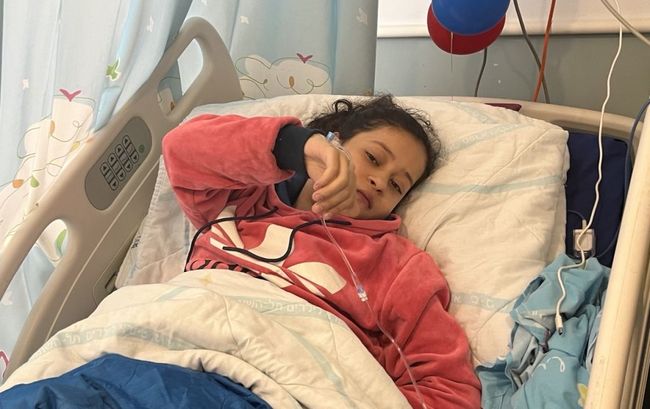 During her hospitalization, she's had a series of cardiac evaluations, and her doctors have decided to take her to a catheterization in the next few days. Please ask our Father to give wisdom and strength for this long battle.
Thirteen-year-old Said from Gaza was excited to go back to Gaza after five and a half weeks away from home. The last couple weeks have been especially frustrating for him, as he's long since grown tired and bored of hospital life and the daily blood tests to monitor his anti-coagulation medications.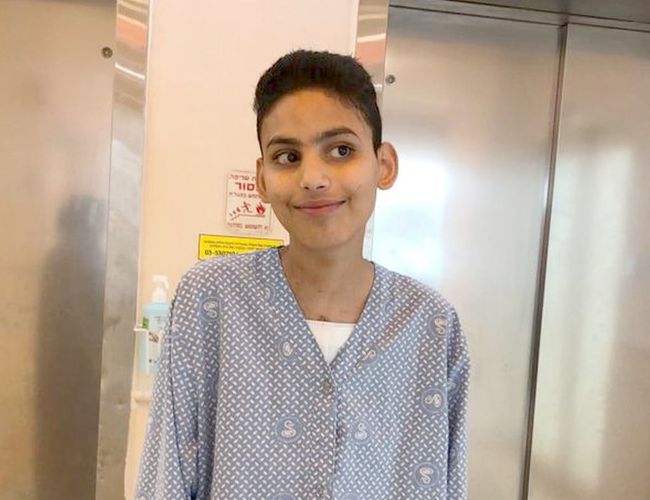 His mother has been the very picture of patience and grace for the entire hospital stay. "As long as he's okay, everything is fine," she's told me often in the last month. We'll miss seeing Said and his mom every day, but we're so grateful for his recovery and looking forward to seeing them in a month when he comes for a check-up.
Meanwhile, at Hadassah hospital Jude from Gaza is recovering well after his big Glenn operation last week, and was awake and extubated just a few days after surgery. He had some episodes of desaturation and the doctors found out in an echo that there is some leaking of his just repaired valve. He also is still having trouble breathing as his lungs are partially collapsed after the surgery and he is getting therapy for this.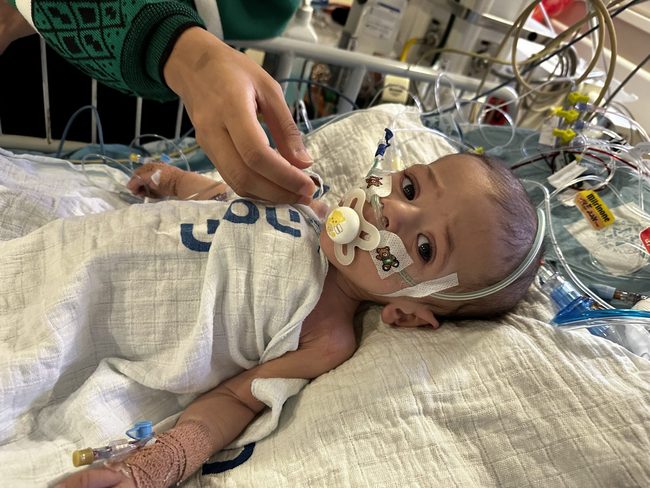 I remember how worried his mother was before and during his surgery and this worry continues – even if not that intense anymore– with all his ups and downs right now. And still we can be so thankful how well Jude is already doing after this dangerous surgery!
Lastly, please pray also especially for baby Mam from Kurdistan. Tomorrow he will have some last tests done at Hadassah. He'll then spend the weekend in our Jerusalem community house before leaving for his big arterial switch surgery early Sunday morning.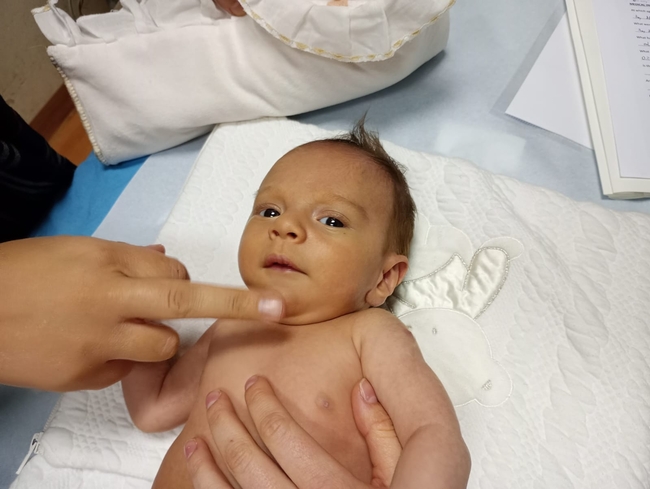 His mother is nervous for the surgery, since she has heard about kids who didn't survive it. Let's pray that our coworkers in Jerusalem will be a good support to her and be able to show her the Father's love while they walk with her through this challenging time.
There is one song that we like very much, listen to often at the beginning of difficult days, and sing in our morning meetings. It ends with these words:
So let all my life tell of who You are
And the wonder of Your never-ending love
Oh, let all my life tell of who You are
That You're wonderful and such a good Father
So often we hear families like Asil's tell us how thankful they are that we are helping them. And so often we try to tell them: all thanks be to God! If all we say and do here leads them to see us and our love for them, if all of it is to show how good we are, we haven't fulfilled our real purpose. Everything we can do for others, every act of love and kindness, is only through the grace and strength of the Father. Only His Spirit can change lives and only if we are filled with his Spirit will we be able to point to him through our actions.
We still have so much to learn in how to best love each other and our families. And there is a lot that we can learn from them in how they love us and each other despite all barriers, as Eslam's mother showed us this week. May our Father give us strength and grace, and may every moment of our lives tell the story of his love.
Thank you for joining us in prayer,
Bria and Doro for Shevet Achim