Friends,
At noon yesterday we all gathered for a delicious Kurdish lunch in our family house here in Ashdod. For the first time in quite a while our big dining room was filled with laughter, chaos, joy and families from Gaza and Kurdistan. But just as we were finishing lunch we heard that rockets were coming into the south of Israel, first only the border communities but then also to Ashkelon, and half an hour later sirens also sounded in our neighborhood.
Bria and I made sure all our families safely made it to the bomb shelter in the basement. And then we were sitting there, in a safe room with mothers and grandmothers and a father, from Gaza and Kurdistan, with kids from only six weeks up to 17 years old, while rockets were fired from Gaza. It was again one of those moments where I asked myself how I ended up here, and at the same time we realized what a special moment it is.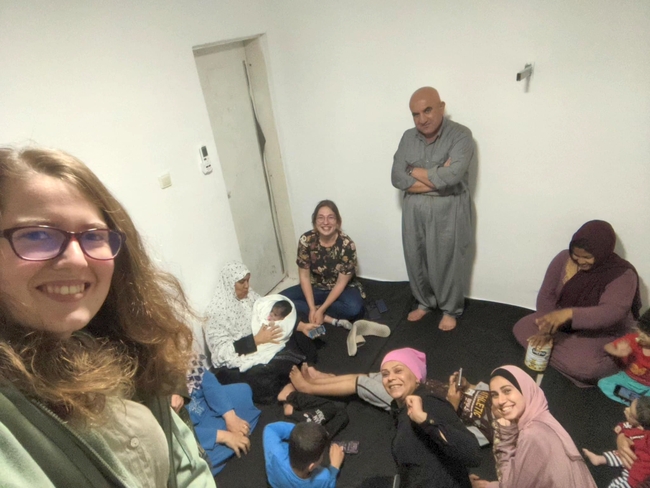 When we talked with the families the evening before about the possibility of rocket fire, one of the grandmothers started crying: "It's dangerous for me to be here because I'm Palestinian right?"
At first we didn't understand what she meant, and told her that the rockets won't be more dangerous for her than for anyone else. But then she explained herself: "If people see me here in the garden, wearing a hijab, they will be angry at me, won't they?"
Thank God we haven't had any negative experiences with our Jewish neighbors here, but if we are honest we can't promise her that they won't get angry. But we could assure her of one thing: "Right now you are here in our house, where you are safe, and we love you and are thankful that you are here with us!"
What better time is there to show love to our sisters and brothers from Gaza than when they are scared, and have the feeling everyone in Israel hates them? And it's not only us but also the staff in the Israeli hospitals who keep loving and fighting for those little ones. They refuse to give up hope no matter how difficult the situation, and take wonderful care of them no matter where they are from.
First I want to ask you for prayers for our little friend Niyan from Kurdistan, who is still struggling with ups and downs in the ICU at Sheba Medical Center.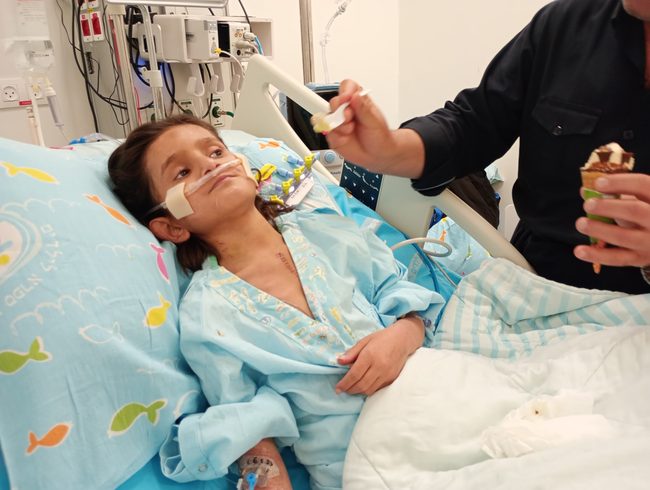 After coming off the ventilator last week she slowly improved and was allowed to eat and drink again, but then her left lung collapsed again Tuesday and they had to reintubate her: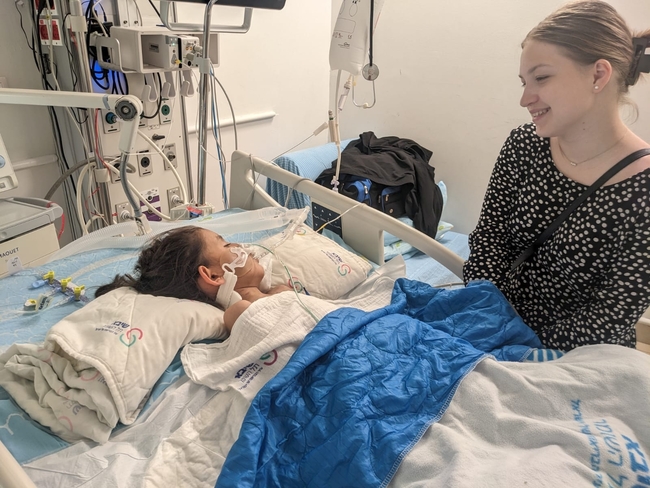 Yesterday in her fourth (!) catheterization doctors found that her pulmonary arteries are extremely narrow, and they were able to widen her left pulmonary artery. Doctors think the reason she hasn't improved is that she just lost so much weight and muscle that she is not strong enough to breathe on her own. They plan to do more tests also on her diaphragm in the next days, leave her on the ventilator, and give her fortified formula. They hope that through that she will get stronger and better.
It's hard to see our girl making again and again steps forward and backward. She was breathing on her own for six days, we talked to her in Kurdish, English, German and Arabic, and now she is sedated again. Please also remember her dad in your prayers, who is having a hard time staying at her bedside for so long, so came for two nights to our Ashdod home this week.
Eslam from Gaza, a few rooms over in the ICU, is also still fighting. He too was off the ventilator and awake for a few days after his surgery, and we got to see his beautiful eyes for the first time: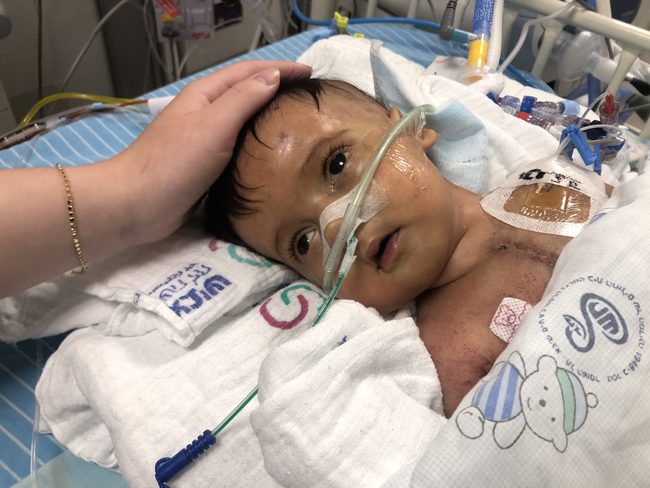 But later this week he was again sedated and on the ventilator because his paralyzed diaphragm makes it difficult for him to breathe on his own. Next week doctors will decide whether it's so bad that he needs a minor surgery to fix it, or if they think it will get better by itself after a few more days on the ventilator.
Last Shabbat we also welcomed a new emergency baby from Gaza at Sheba. Little Yousef A. is not even two weeks old and is diagnosed with hypoplastic left heart – the most difficult heart defect to treat: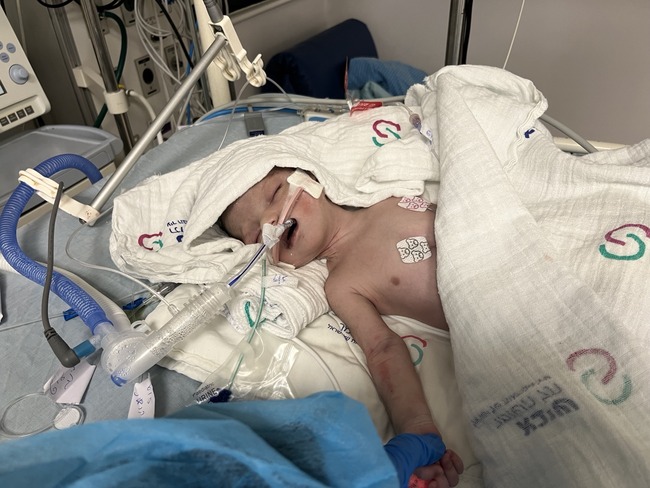 This week doctors got a better picture of his heart in preparation for the first of three big surgeries he will need in his life. Yousef is not very stable and had episodes of low blood pressure during the week. Please pray that he will stay stable until his surgery next week.
Little Asil from Gaza also has the same defect. After her difficult surgery last week doctors left her chest open, and with her body swollen with fluids she was in quite a dangerous situation.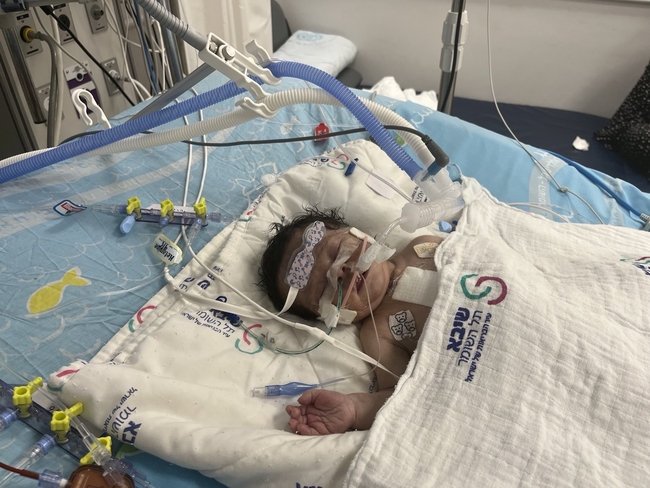 On Sunday they tried to close her chest – without success. But God answered our prayers and Wednesday afternoon, around the time rockets reached Tel Aviv and sirens went off in the hospital, surgeons were able to successfully close her chest. Thursday coworker Lena reported that Asil is in a whole different situation now: she barely has fluids left in her body, doctors are reducing her medications and are planning to extubate her in the next days!
Just a few weeks ago Hamzah from Gaza, Osaid from Hebron, and Yazan from Ramallah were in similar situations as Asil and Yousef in the Sheba ICU, and now we are stunned to look in the eyes of three beautiful boys who are all off ventilators and without oxygen support: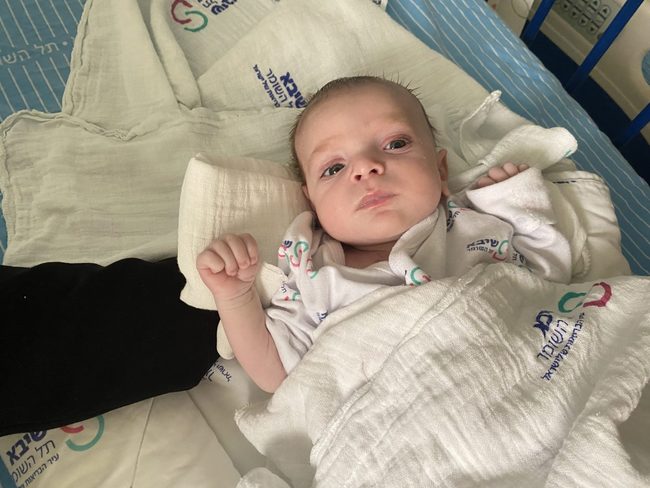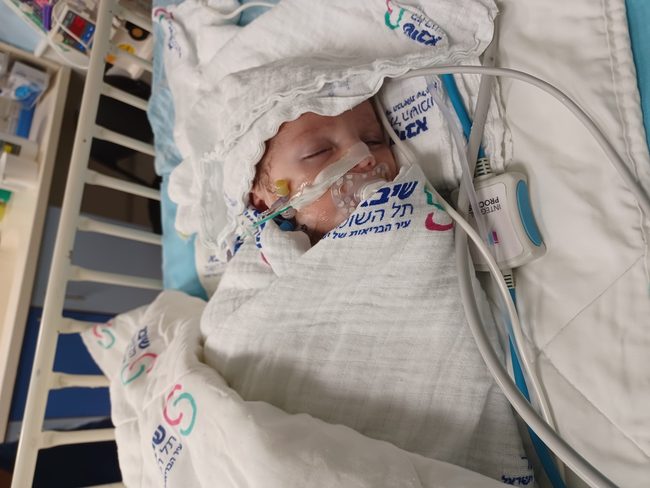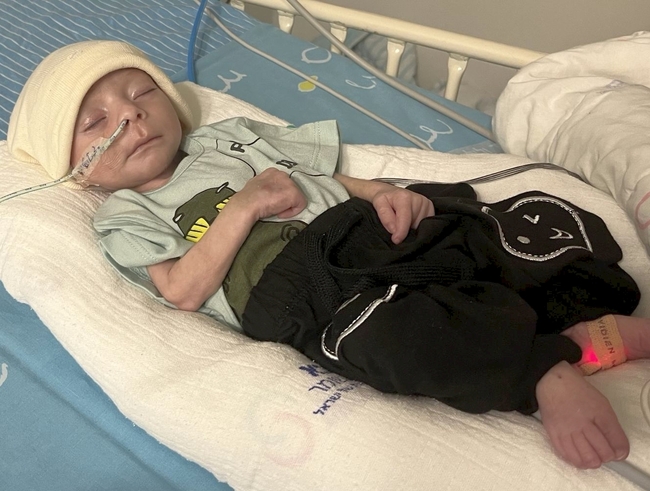 All three of them they will be allowed to go back home to their families, Hamza only needs to learn how to eat again, and Yazan needs to gain more weight, like Osaid who is extremely thin and underweight, so let's pray that they will all gain enough strength to soon leave the hospital.
Also Liya who has been in Sheba already four months now will soon go back to Gaza, God willing. There are still some details that need to be organized but other than that she is ready to go to the hospital close to her home until she will return a little while later for the second attempt of her Glenn surgery: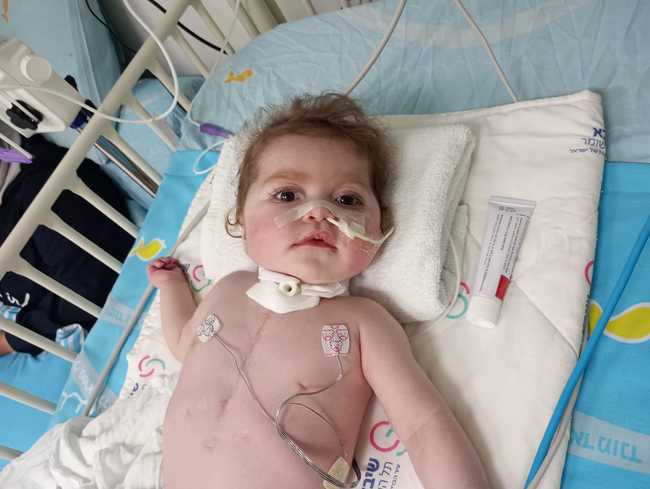 Please pray that she can go soon as her mother is eagerly waiting to see her other children again, and let's also not forget to pray for the surgery she still needs. Liya came already so far but she also still has such a long way to go, God please protect her!
Please remember also our babies in Hadassah Medical Center in Jerusalem: doctors yesterday made one more attempt to take Majed from Gaza off the ventilator, and he is now on high pressure oxygen support.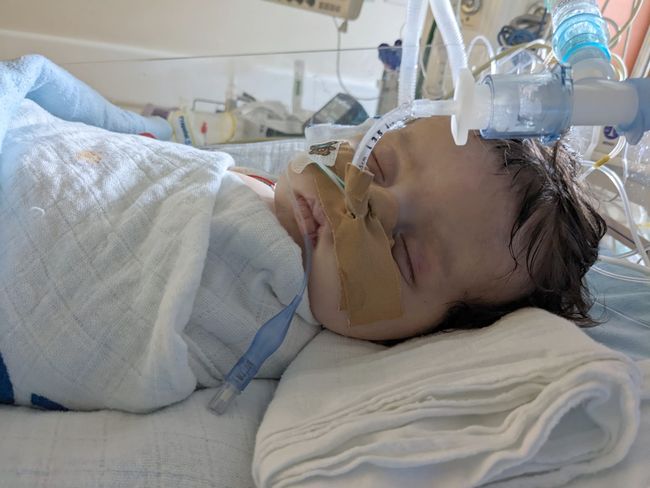 If this fails they will have to do a tracheostomy to make it easier for him to breath. This is a step that is not without risks and consequences, so let's pray that he won't fail to breathe on own this time!
Jude from Gaza is still in the same situation where doctors don't see another solution for him than a heart transplant. Even with all the support he is getting, he is losing weight as his heart is too weak and failing to feed his whole body: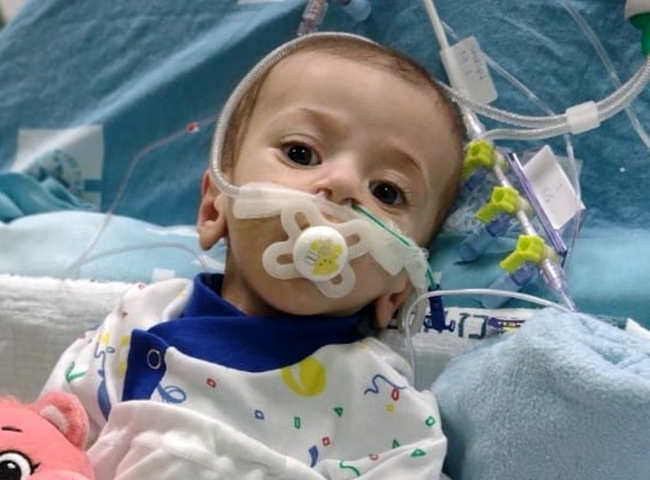 Let's continue to pray for miraculous healing of Jude's heart!
Thank God for Kurdish baby Mam who is breathing on his own, stable and moved yesterday out of the ICU! After the dangerous situation he was in the last two weeks we are so thankful to see him again in the arms of his loving mother!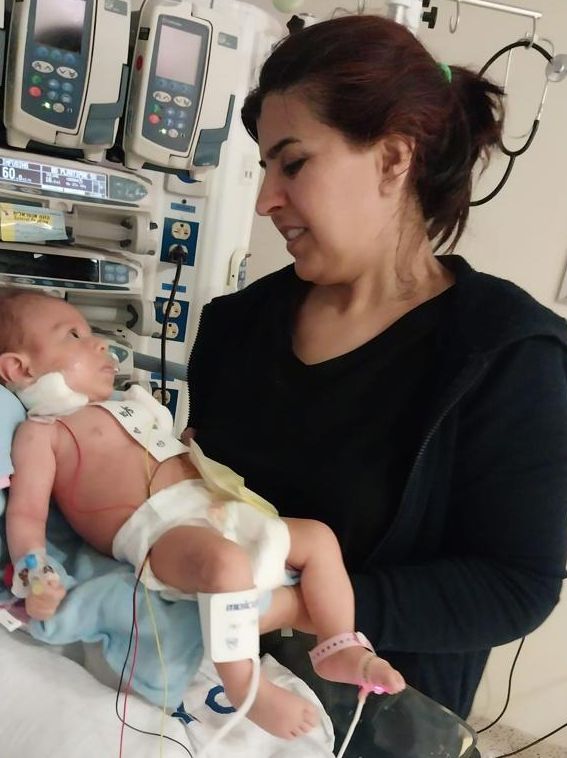 Mam will still need one surgery to reconnect his bowel before he will be able to go to Kurdistan.
During this week our Ashdod home has filled up more and more with families from Gaza, who have left hospital but are not able to return to Gaza due to the rocket fire. Sarah and her grandmother, along with little Eleen and her mother, came to Jerusalem Monday to pray on the Temple Mount, and we also visited the Garden Tomb. It was beautiful to see how excited and interested they were: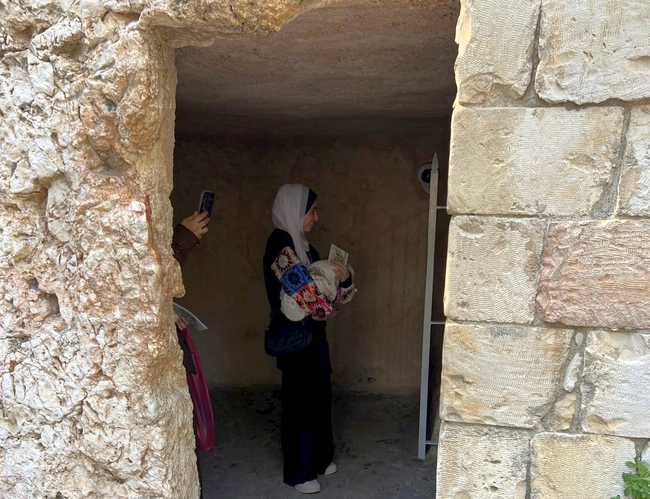 On Wednesday
Hadeel
 was discharged from the hospital and also came with her grandma to our house: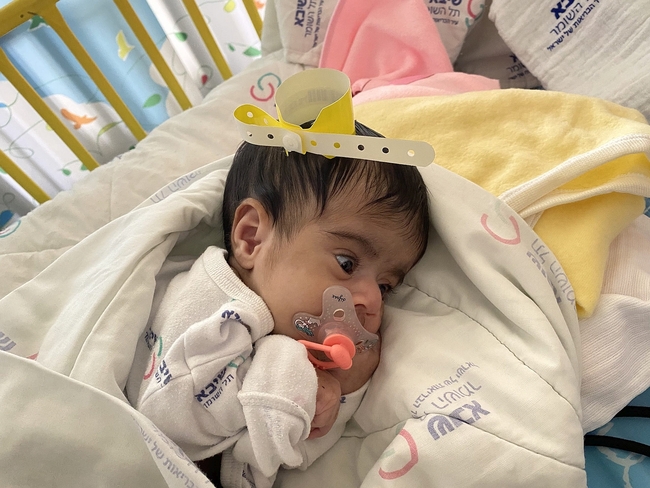 Now we have four families from Gaza waiting with us; we don't often get the chance to spend time with Gaza families outside the hospital, and so we are thankful to get to know every one of them. It's not an easy situation for all of them, and it's especially hard for all our families who are in Gaza right now. It hurts to hear stories of how they are terrified by all the explosions and the kids start crying every time. There are so many bible verses that tell us how God is close especially in times of trouble, the
psalms
 are full of them: 
The Lord is close to the brokenhearted and saves those who are crushed in spirit.
The same thing is also true for the families of Mohammed, Racheal, Lawik and Hazhin from Kurdistan. All four of them died in Israel after their surgeries in the last years and were buried in Jerusalem, close to where Messiah died, was buried and conquered death. We promised their families we would put stone markers with their names on the graves, but time has passed by without action from us.
Today coworker Lena and I came up to Jerusalem where we met Jonathan and together we brought the stones and some flowers to every grave. It might seem like just a little thing, but the responses of their dear families when we send them pictures and videos show how thankful they are and how important this is to them. It matters so much to them to know that their children won't be forgotten, and to get pictures of the graves while they can't go to this place to grieve and remember.




While we were sitting in the cemetery (which is right atop the Garden Tomb), we started praying for Mohammed, Racheal, Lawik, Hazhin and that God would touch their dear families. What greater joy will there be than to see them all united with their families on the day of resurrection? Let us pray that God will heal the broken hearts of their families and they will feel him close. That his holy spirit will touch them and they will see him.
And let us not forget to pray this week especially for the people of Gaza. Let's pray that God will touch also their hearts and for peace.
Thank you for praying with us,
Doro for Shevet Achim