Friends,
Yesterday was finally the day for our beautiful Liya to go back to Gaza. Early in the morning, before even entering the ICU, I already saw all her mother's bags piled up next to the elevator. She was all excited and ready to go, and told me she was up at six in the morning in order to leave the hospital as early as possible.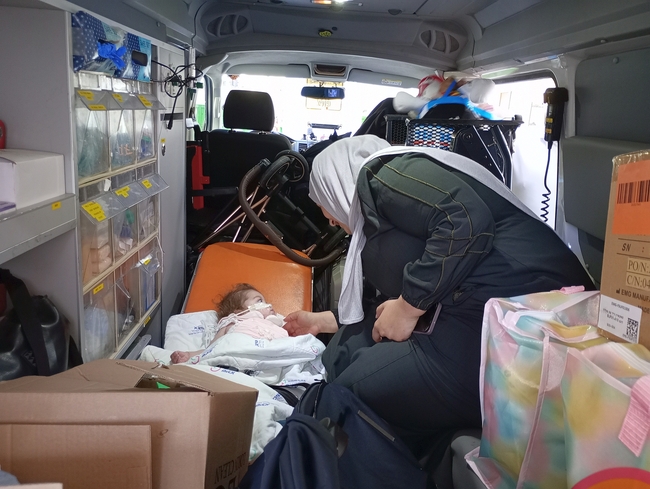 Liya was dressed in a beautiful pink dress, and if she understood what was going on she probably would have been as happy as her mother.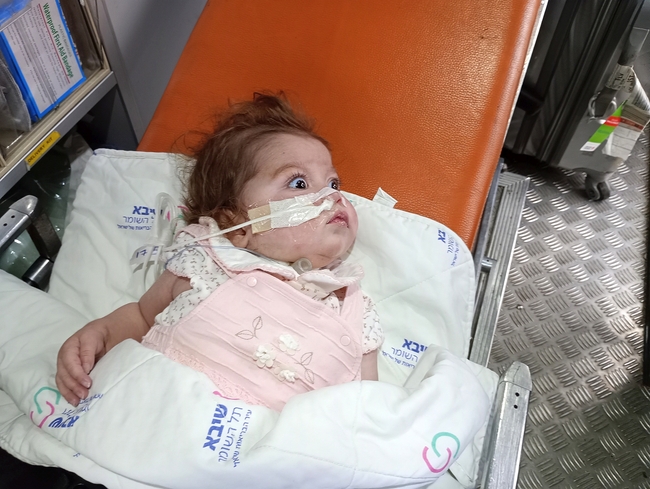 While waiting for the ambulance to come to bring Liya to the hospital in Gaza, where she can be close to her family, I thought back to the time
Liya arrived
 in January in Israel. She was only scheduled for a diagnostic cath, but instead of going home again after a few days she had to stay. And when they planned to do her Glenn surgery she had huge complications,  and was between life and death for several weeks and was resuscitated twice.
I was home in Germany for two weeks just as Liya was in such a dangerous situation. I feared I would never see her again, and then after my return I was so so happy to hold her hand again. How much more must her own family, her father and her older siblings feel this. They haven't seen Liya for over four months and didn't know if she would ever come back to them! They live so close and are still not allowed to see her. What a big joy it must have been for the family to get reunited yesterday! For her dad to hold Liya again and for her mother to hug her other children again! Liya has still a long way ahead of her, and God willing will be back in Israel and in the ICU again.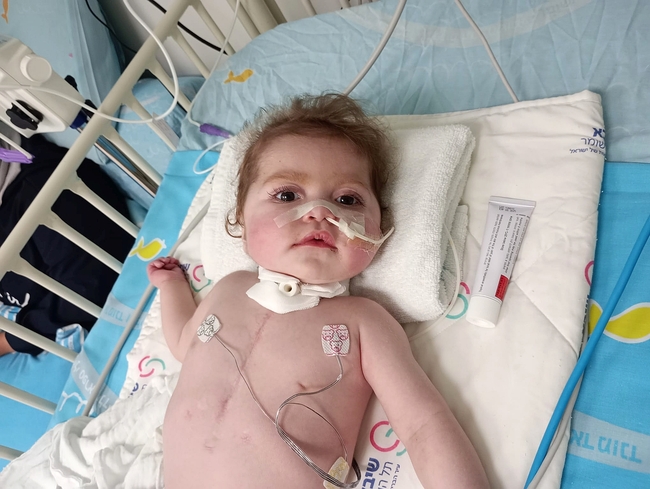 Let us pray that Liya will get stronger and better. Let us pray for her future, that she will grow up, learn how to walk and to talk. God please heal this beautiful girl!
At the same time Liya left the hospital yesterday, little Yousef from Gaza was wheeled back into the OR. During his first surgery on Sunday, Joanne and I waited for hours together with the nervous grandma until finally he was back in his room. The surgery went well and they did everything as planned, but Yousef's heart was too weak to take all the changes and doctors had to put him on ECMO heart-lung support. They hoped within three days his heart would get strong enough to work again, but after hours in the OR yesterday they found that his heart is weaker than expected, and they had to increase the support again.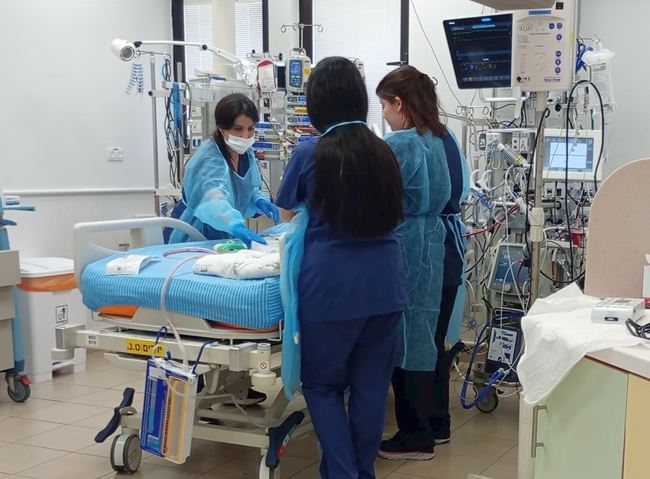 Yousef's doctors now want to wait another three days and then try again. Let us pray that Yousef will get strong enough and God will heal his heart! The doctors tell us that about half the children who go on ECMO are not able to come off successfully.
Please also keep remembering our friend Niyan from Kurdistan. After another week on the ventilator she successfully came off on Monday, and is now awake again and getting oxygen support with a bipap machine. It's a special oxygen mask which is not very comfortable for her but helps her breathe. During the last days they were able to remove the mask for some hours and only put her on normal oxygen support.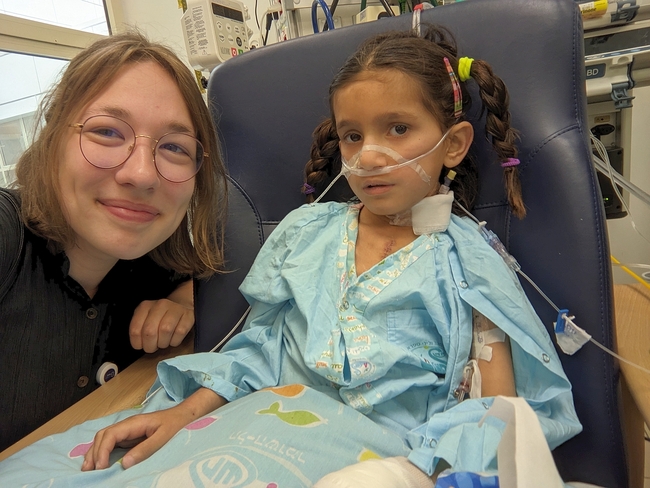 Today Bria, Joanne and Elise found her even sitting in a chair next to her bed and eating a little bit! Let's pray that Niyan will continue to improve and soon she doesn't need the bipap machine at all anymore.
Just a few rooms further little girl Asil from Gaza is still recovering from her big surgery two weeks ago. She is slowly getting better and stronger and yesterday they woke her up and took her off the ventilator: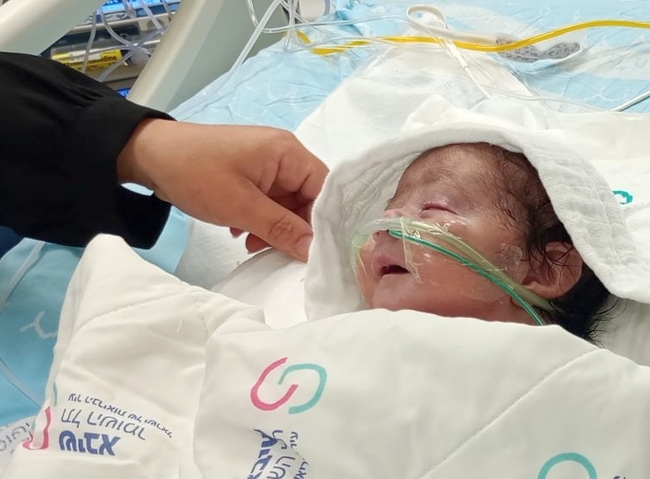 It was the first time I saw her awake and looking around – always a special moment. But her oxygen saturations dropped too low and she was not strong enough to breathe on her own yet, so doctors had to reventilate her again. Please pray that soon she will be strong enough to breathe!
Eslam from Gaza was left with a paralyzed diaphragm following his heart surgery nearly a month ago, which has kept him from being able to breathe on his own. He had a small surgery this week that doctors hope will allow him to breathe on his own soon.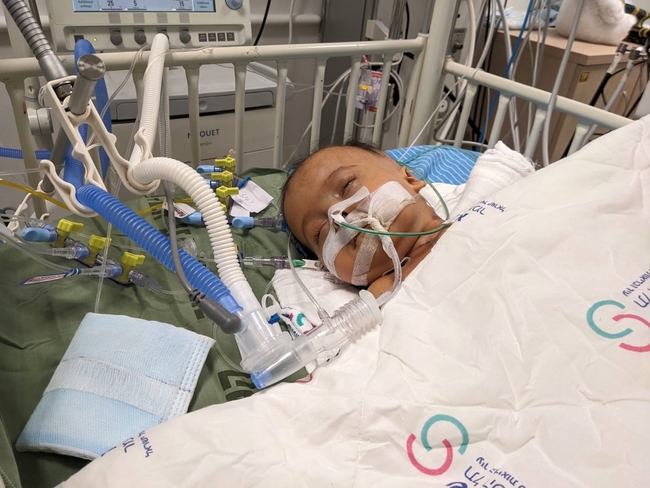 Three days later though he is still on the ventilator, and his belly is very swollen because of fluid retention. Eslam is struggling already for such a long time, so please pray that God will allow him to get better soon.
Last week I wrote that Yazan and Hamza would probably go home to Gaza soon, but they are both still waiting at Sheba. Yazan's doctors discovered something suspicious in a CT scan of his brain. They can't tell exactly what it is, so he needs to see a neurologist and probably have an MRI scan.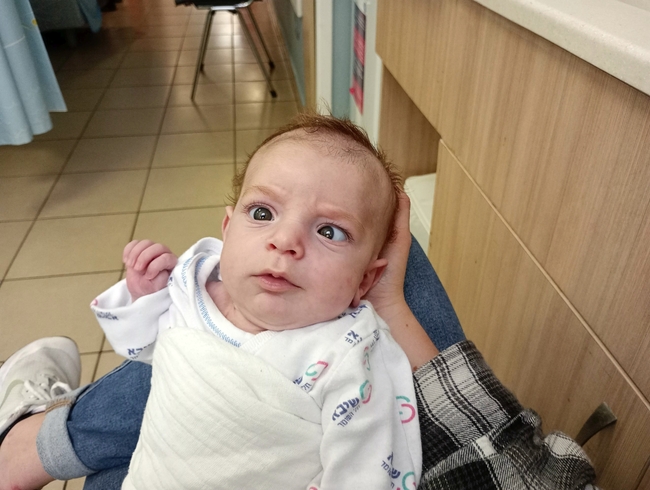 He will also get a test for his eyes next week, as his doctors suspect he might not see very well. Please pray for good results from all the tests, and also especially for his mother who is struggling with depression.
Hamzah is still not able to eat on his own because of a paralyzed vocal cord. He will receive food through an nasal tube until his doctors find a solution, and spends the days snuggling with his mother.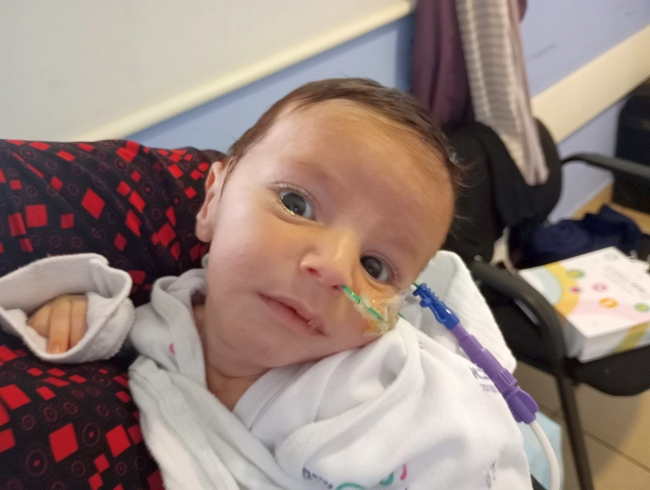 She is so happy that she can have her baby in her arms again, and even though there are still some challenges ahead of them she is always smiling at her little baby boy. Let's pray that Hamzah will soon start to eat again.
At Hadassah hospital in Jerusalem, our coworker Berith shares that baby Mam from Kurdistan is looking more and more healthy after the battle for his life in the ICU: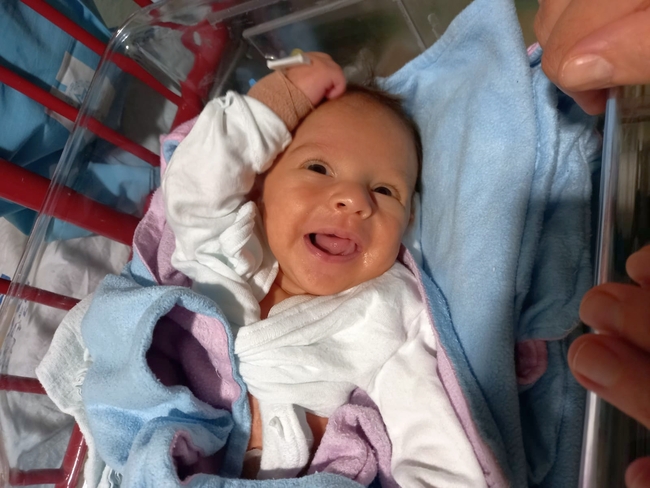 Berith writes:
Mam's mother's face shines just as bright as his, like the sun, and it makes me so happy to see her in that state. Her joy is my joy, and to God be the glory! Please continue to lift up Mam in your prayers, and thank Him for all the wonderful things He is doing in this precious little boy's life.
Let's also thank God for little Majed in Hadassah, who is still breathing on his own since coming off the ventilator for the seventh time last week! He's getting a lot of oxygen support, and even though he still has some trouble breathing he is fighting until now.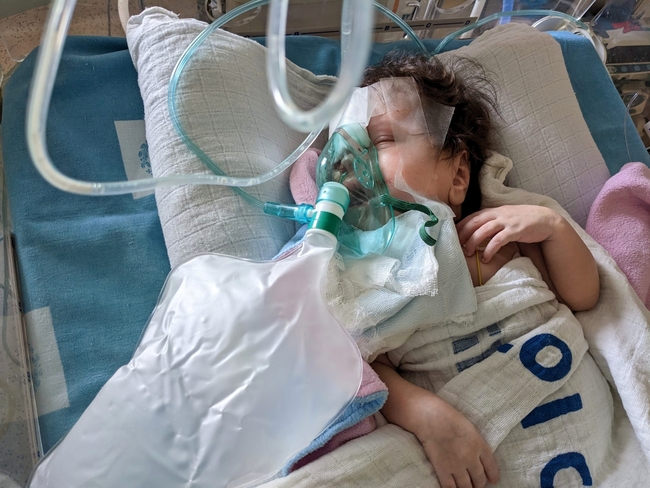 Today we found out that Majed again has an infection and his doctors are running some tests to find out more. They are trying everything to avoid putting him back on the ventilator and having to give him a tracheostomy before he returns to Gaza.
Yesterday newborn Sham from Gaza arrived by ICU ambulance to Hadassah. She is only a few days old and diagnosed with coarctation of the aorta. Today they already took her into surgery to repair her aortic arch: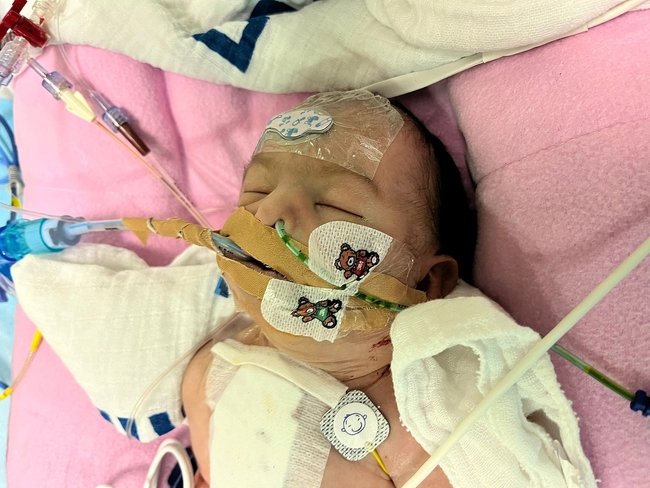 The surgeon confirmed that the surgery went well, but also that genetic tests showed Sham has a serious syndrome, and only about 10% of children with this syndrome survive their first year. We pray that God will heal the heart of little Sham and of her family.
Little Salma from Gaza had her own difficult surgery and recovery a few weeks ago and is now doing very well! She is off oxygen support and eating on her own again.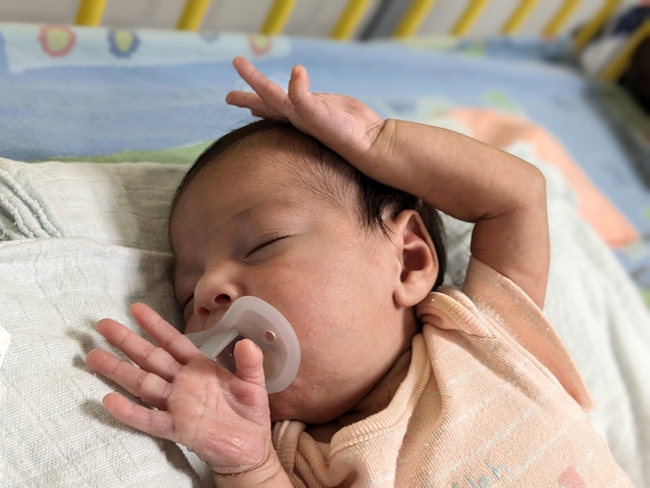 The only thing that keeps her from going home is a brain MRI that is scheduled for next week, because she had some seizures a few weeks ago. The doctors want to be a hundred percent sure that everything is okay before sending her home. Let's pray that she will be allowed to go!
Berith also asked us to especially keep praying for little Jude, whose heart is hardly functioning after his surgery. Doctors believe the only medical solution now would be a heart transplant, which is difficult to arrange for a child from Gaza.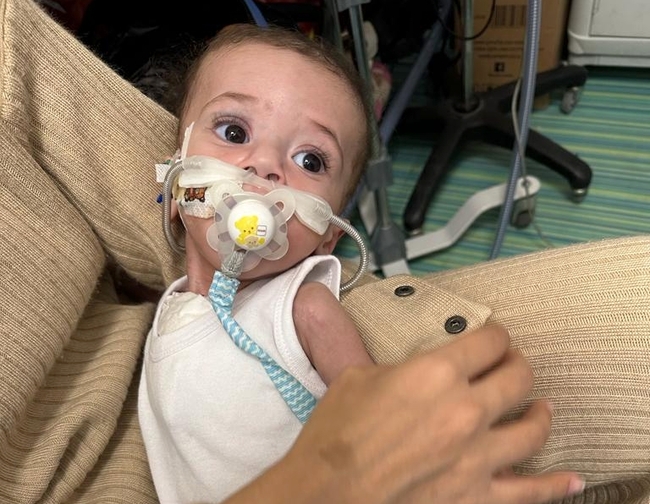 There is still no physical change seen in baby Jude's life, but his mother and I stand together with only one focus in mind. As long as he breathes, we are expecting a miracle. Period! I have seen too much of God's love and might to say there is no hope. He is who He says He is, and one of the beautiful names of Him is the God of miracles. Life and death is in His hands, only He knows the end from the beginning, and I have found Him trustworthy to do what is best for His beloved children.
And we ask for special prayer for newborn Wateen from Gaza, who was rushed to Hadassah two weeks ago. It turned out she didn't have a serious heart defect as was first suspected; but instead she has a life-threatening syndrome which is affecting her kidneys.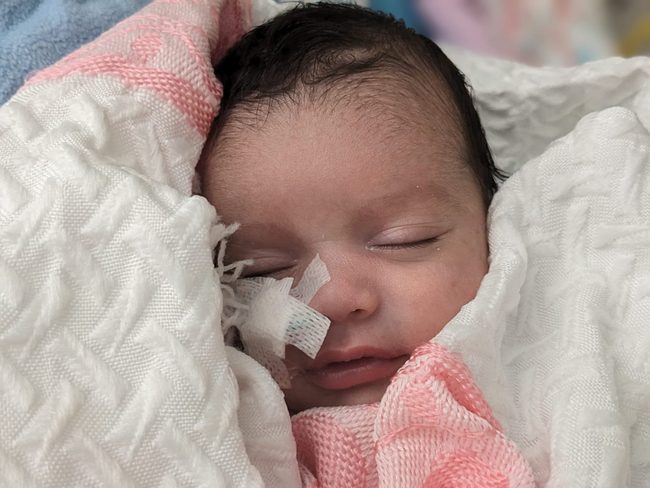 Doctors believe she'll need a year of careful attention to get her to the place where she could have a kidney transplant. We ask God to show us the way forward and, as always, to provide the resources for her care.
Let's thank God for answering our prayers for peace between Israel and Gaza. At the start of this week a ceasefire agreement was reached that is still holding. Sunday morning the border to Gaza opened again, and after a beautiful last lunch with all our waiting families we could send them home, thankful for the time we had with them and thankful that they can go back to their families now!
After they were all gone our house felt empty, and with not so many kids from Gaza coming this week it has been relatively quiet, and we had more time together as a community.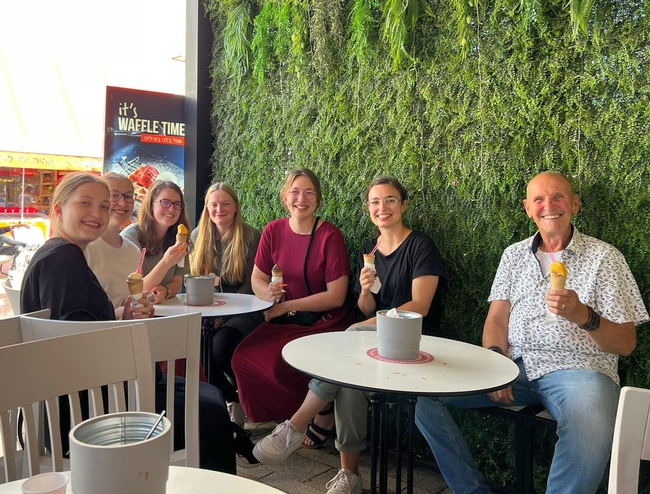 Monday afternoon after all the work was done it was time for ice cream for everyone here in Ashdod, and Tuesday evening we drove up to Jerusalem where we met the Jerusalem community for a concert and pizza together afterwards.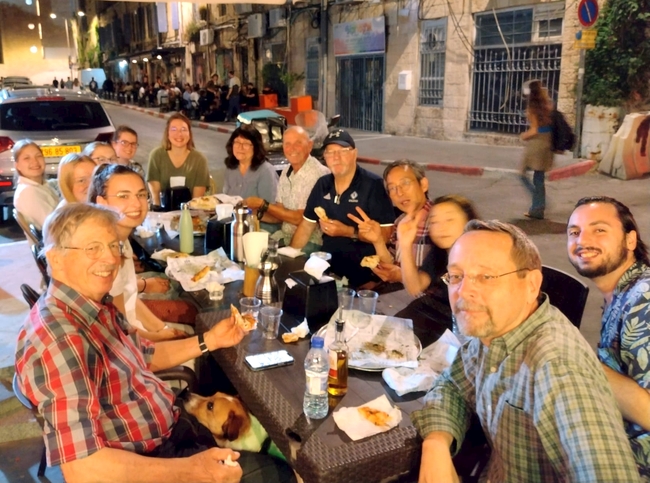 Those moments are so special, and as my flight back to Germany draws closer, the more I learn to value them. We need time with each other, with our brothers and sisters, so much.
Today is the day Messiah ascended to the right hand of the Father, 40 days after his resurrection. We read in our morning meeting the last chapter of each of the gospels, and were especially touched by what is written at the end of Luke:
When he had led them out to the vicinity of Bethany, he lifted up his hands and blessed them. While he was blessing them, he left them and was taken up into heaven. Then they worshiped him and returned to Jerusalem with great joy. And they stayed continually at the temple, praising God.
What an amazing thought, that the last thing the Messiah did on this earth was bless his disciples. His entire time here on earth he cared for others, loved them and blessed them – and he did so until God brought him home. What a beautiful reminder for us to also bless those around us with all our hearts – until God will take us home.
Thank you for joining us in prayer,
Doro for Shevet Achim