Dear coworkers,
After a year and a half of faithful service to Iraqi families in Israel for heart surgeries, Bria and Doro embarked this weekend on their first trip to the Kurdish homeland in northern Iraq: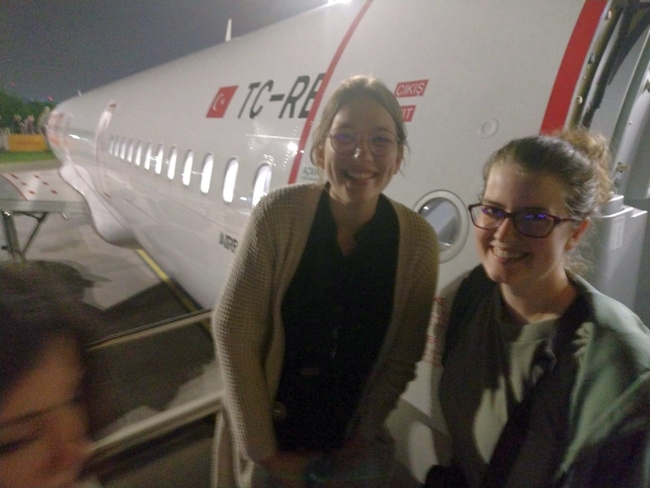 It's been instructive watching the love that instantly rekindles when they meet the mothers with whom they've shared life and death experiences:
Even the babies and young children, who've lost their memories of Israel, are quickly drawn back into joyful relationship by Bria and Doro, as we saw today with the Yazidi infant Saan:
I can assure you that these visits would have been so less interesting if I had gone without Bria and Doro! When we join hands with others who have different backgrounds and gifts, the result is so much richer. So why do we keep thinking that we can fruitfully serve God and neighbor on our own?
We're keenly aware on this trip that unless the spirit of God is working through us we will accomplish nothing. And friends, the apostle Paul makes it perfectly clear that the gifts of God's spirit are not all given to any individual, but are seen in their fullness only when we are joined together as the body of Messiah.
Let's put away the things that divide us. Time is too short.
Here's encouragement from the family of baby Hazhin, who died in the hospital in Israel nearly six months ago. We're staying in their home near the Turkish border tonight, and they're lavishing love and appreciation on us. Such gracious people. And here's the Shevet joined-hands logo, painstakingly recreated in a cross-stich by Hazhin's mother: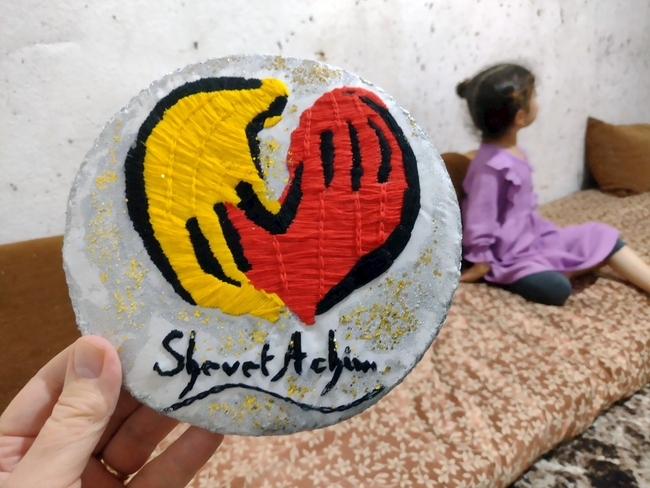 This is so humbling. Can't we also put aside our pain and love one another?
Meanwhile our teams back in Jerusalem and Ashdod are working together to leverage their gifts for the kingdom of God. It was such a relief to hear from our coworker Lena today that Kurdish Niyan appears to be bouncing back from her critical condition after surgery: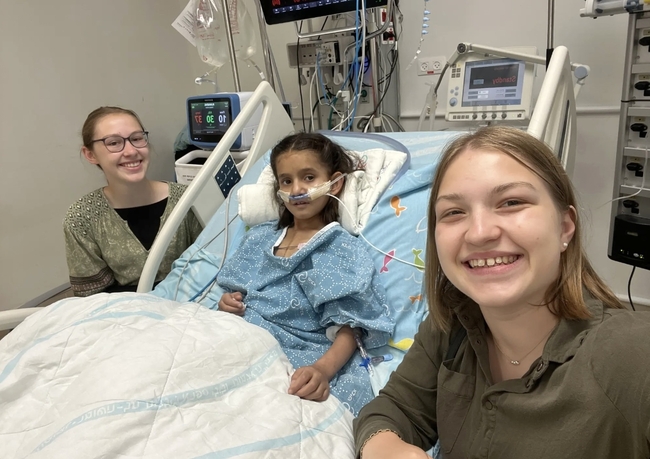 Our beloved Niyan is doing very well after having a lot of setbacks in the last couple of weeks. She was awake and could talk today, something we didn't see her doing in a very long time. Although my Kurdish is not really good we communicated with each other and she told me that the hospital is pretty boring so I tried to cheer her up a bit with some bubbles and funny pictures we made.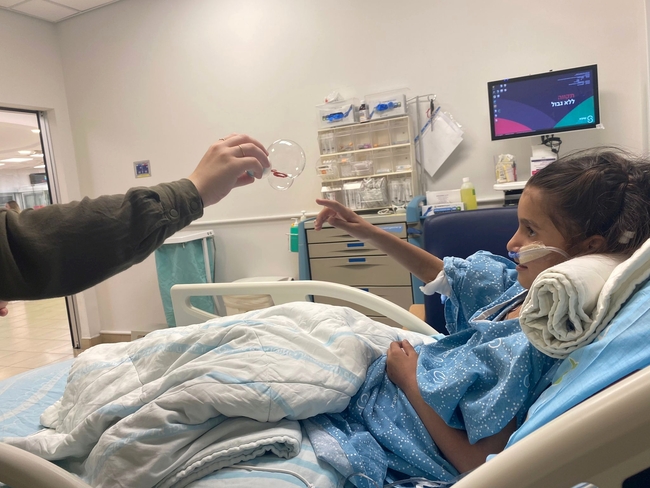 After that I sat with her for a long time and enjoyed her company and that she is doing so well. Niyan still needs to gain a lot of weight before she can come back to our house in Ashdod but it seems like she's on the best way towards that. Thank you for your prayers for Niyan. 
For details on the rest of the 15+ children now in treatment in Israel please see this week's prayer letter. And I want to share the good news that we're closer than we thought to paying off the unprecedented backlog caused by lengthy hospitalizations from 2020-2022. We're nearly halfway there, and as of this hour our website counter shows our share of the remaining costs is only $410,000. Where the funds have come from is beyond my understanding. I simply believe that, as we've seen so many times, the power of God is at work here to increase and multiply.
Why are Israeli hospitals so uniquely willing to reach out a healing hand to "enemy" neighbors and absorb financial losses in doing so? From an excellent overview of the history of modern Israel published this week, the following paragraph jumped out at me:
That desire to be both deeply Western and profoundly Jewish at the same time was apparently at the core of David Ben-Gurion's decision not to include the word "democracy" in Israel's Declaration of independence. "As for western democracy, I'm for Jewish democracy," he wrote in his diary. " 'Western' doesn't suffice. Being a Jew is not simply a biological fact, but. . . also a matter of morals, ethics. . . . The value of life and human freedom are, for us, more deeply embedded thanks to the biblical prophets than western democracy." 
Yes, I believe it is the influence of the word of God that makes possible our partnership with the Jewish people to help their Muslim, Yazidi and Christian neighbors. More than any other people they know that we are all created in the image of God.
Joel Rosenberg is out with a new poll today showing that nearly half of Israeli Jews don't believe Messiah will ever really come:
Large numbers of Israelis have stopped reading the Jewish scriptures.
They might have grown up hearing the Bible read in the synagogue.
But they are not reading the Torah or the prophets for themselves.
But this may be changing. Here's a fascinating profile of a growing zeal for the word of God among young Jews competing in the international Hebrew Bible Quiz: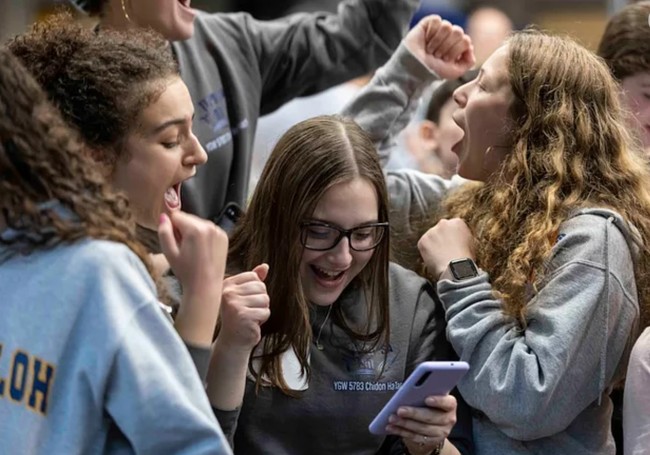 In an age when most kids aspire to become influencers, with the average teenager staring at a screen for more than eight hours a day, these kids are outliers. Statistics show that the younger you are, the less likely you are to read the Bible (either testament). Each new generation of American Jews seems to grow less connected to their faith, with the latest data showing that Jews in the U.S. are about half as likely as Christians to say religion is "very important" to them. 
But the kids gathered in this gym are more likely to carry a copy of the Hebrew Bible than a smartphone.
And in the celebrations this week of the 1967 reunification of Jerusalem, the role of young religious Jews was prominent, for better and for worse. What caught my eye was the report that Jews were openly praying on the Temple Mount, and the video in this tweet (headlined with the famous words Har habayit beyadeinu "the Temple Mount is in our hands") shows an apparent newly bar-mitzvahed teenager leading the way: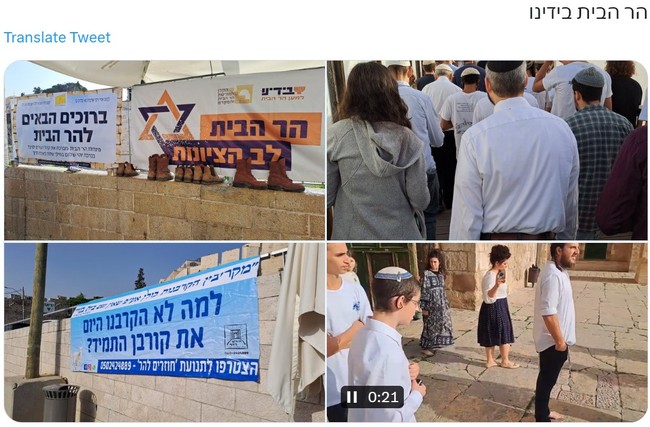 As the world changes friends, Israel is changing as well. Let's pray that once again the word of God may increase and multiply in this land.
Jonathan for Shevet Achim
"Behold how good and how pleasant it is for brothers to dwell together in unity" (Psalm 133).