Friends,
Like most weeks at Shevet, we've had an eventful week. A week full of children coming and going in and out of Gaza, Kurdistan and the West Bank.
The week started with a fun trip for my coworker Lena. The Sheba Medical Center ICU suggested we take Niyan from Kurdistan and Ahmed from Gaza to the zoo together with a nurse, to take a break from their long hospitalizations. The children enjoyed it, but Niyan's father had the time of his life. He loved it.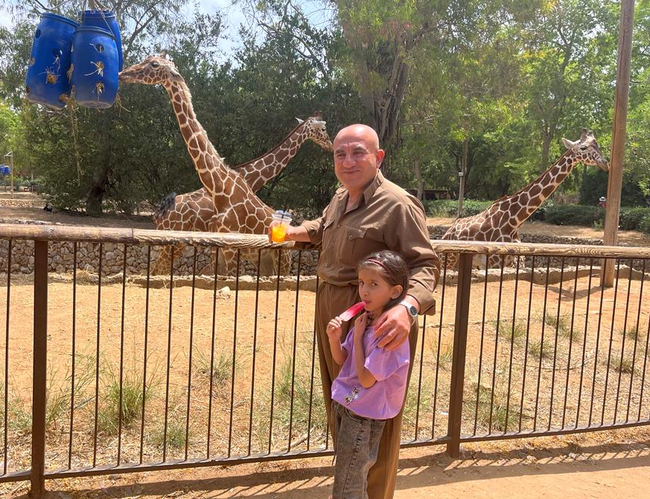 Ahmed
 is still in the hospital waiting until the coagulation levels in his blood are good. It takes a while for him. We hope and pray that he can be discharged soon. A lot of times he is asking for 
baba
, which means daddy. What a joy it will be when he will be reunited with his father and the rest of the family.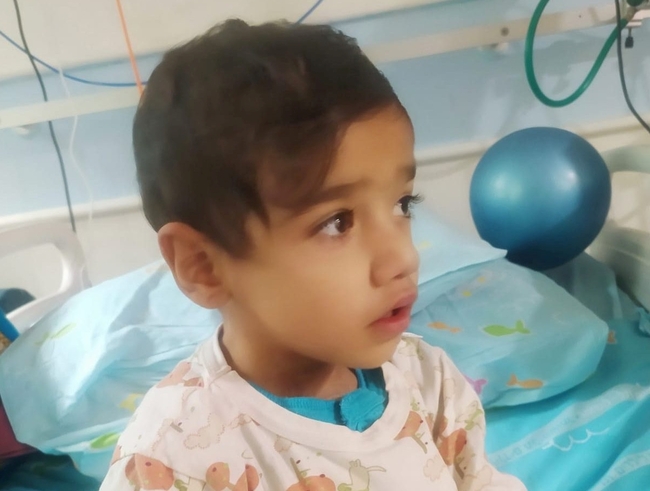 Two days after the zoo, Niyan was
discharged to Ashdod
. The staff in the ICU all loved Niyan, so they gathered for a goodbye picture.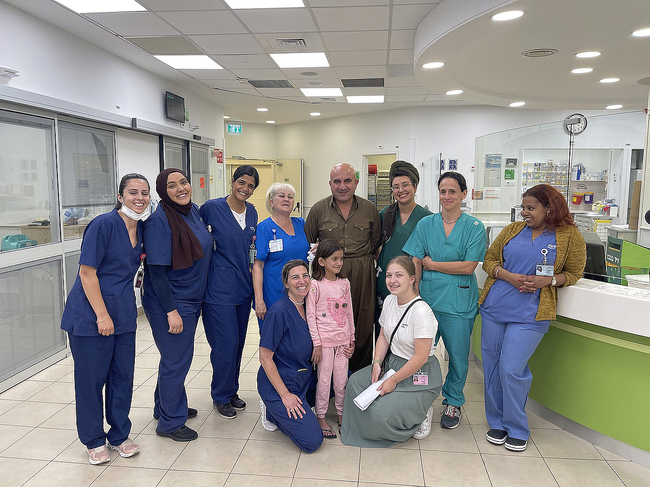 The community in Ashdod are so happy that Niyan is back! When she walked into the house everyone got up to give her a hug and the father was so happy to be back in Ashdod with his daughter. Niyan is still weak. She needs to do her best to breath and she is lying on the couch most of the day. But slowly she is improving. In the coming week, she will have an echo and doctors will decide about next steps. If everything is okay, she probably needs another echo in three weeks and then she can go home. Praise God for His blessings!
When Niyan left Ashdod for surgery, she and the father were the only family in our house.  When she came back to Ashdod this week, the house was full of new Kurdish families. It's a blessing to see how these families live together and share meals together.
Asmeen and Mariya flew this week from Kurdistan to Israel together with my coworkers Doro and Bria. Asmeen was at Shevet in 2020/2021. She had a successful heart repair, but was unable to come off the ventilator for seven months after the surgery. Finally she had a tracheostomy and was transferred back to Kurdistan on a portable ventilator with a medical escort: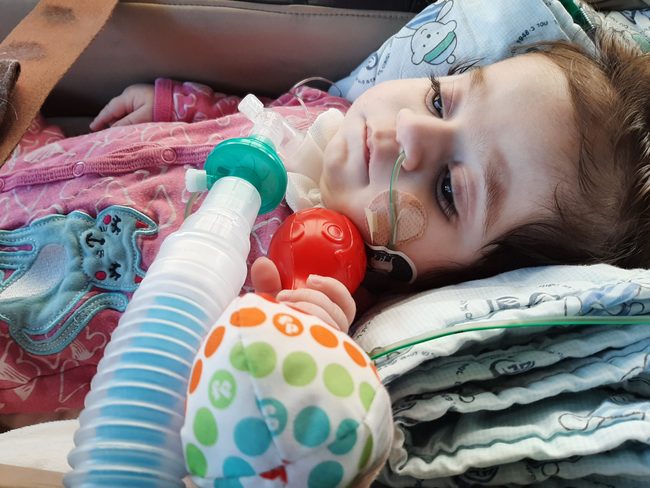 Now she is two years old and doing so much better! She came back to Shevet because she has kidney problems, and God willing the doctors will remove the tracheostomy as she is breathing on her own.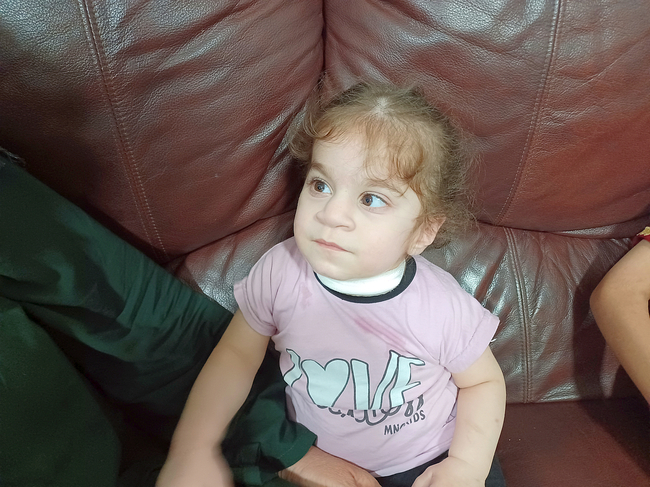 Let's pray for her and her mother. Her mother was at Asmeen's bedside for the eight months in Israel and now she is here again to be there for her beloved daughter.
Mariya came to Shevet in September 2021. After a successful repair of coarctation of her aorta, and some complications here and there with eating, she went home after three months. Coworker Bria and I just arrived at Shevet as volunteers when Mariya arrived in Israel. I remember that Mariya and her mother gave a lot of joy and kindness to our community. The mother was always patient, she was very active to keep the house clean and she helped us to learn Kurdish and Arabic.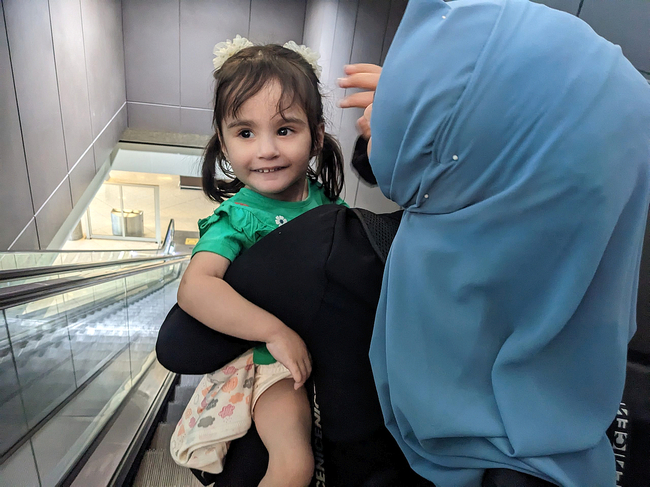 It is so nice to welcome them back in our community. The mother has learned a little bit of English now, and we learned more Kurdish and Arabic in our time at Shevet. This makes it extra special, because we can communicate more. Mariya is now in Israel for severe kidney problems. She went today to the Sheba ER because of a urinary tract infection and was admitted to the hospital.
Another ER trip this week was for Salma from Gaza. She came for a post-surgical echo, but we found out too late that it was postponed, and we welcomed her into our house in Ashdod to give Salma and her mother some rest before returning to Gaza. Salma ran a high fever in our house for hours. Also her oxygen level wasn't as high as normal, so we decided to take her to the ER. After some tests, the doctor found some abnormalities in her blood and she found a rash on Salma's skin. She was admitted to the hospital.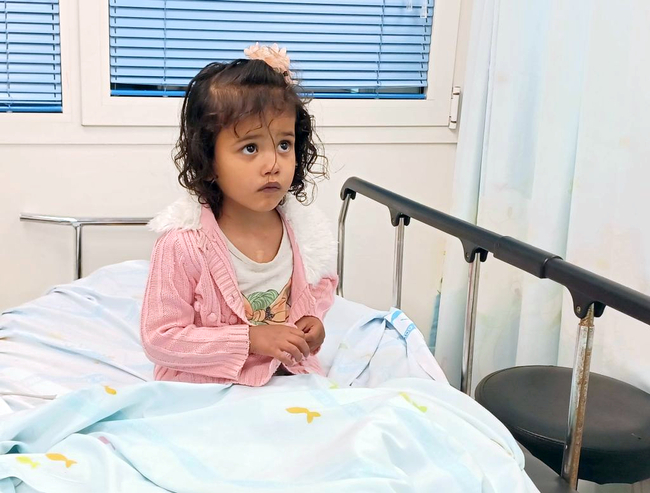 Now two days later, the doctor is still waiting for test results to find out the problem. The doctor suspects some kind of bacterial infection. Salma is still running a fever and her saturation is still not good. The fact that Salma came to Israel because of miscommunication turned out for the good. God provides.
In Sheba hospital we received two babies from Gaza last week, who were rushed into Israel by ICU ambulance. Now both Machmoud and Moaz have had life-saving interventional catherizations. Doctors were able to place a stent to widen the pulmonary artery. Both procedures succeeded. Machmoud is doing really well and the doctors are already talking about discharging him next week: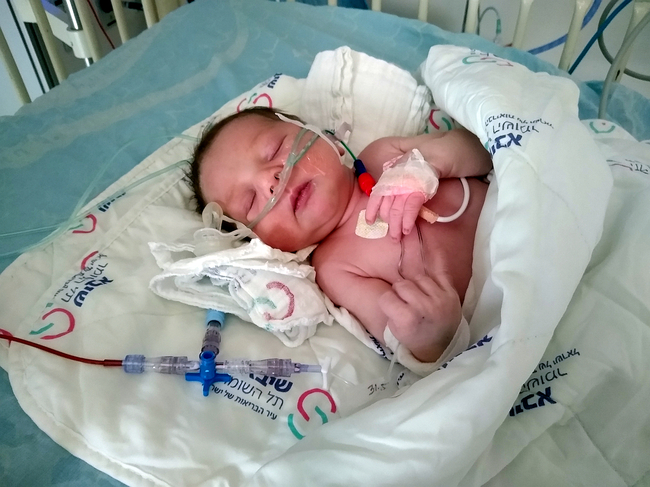 Moaz
 is struggling a little bit more after his procedure. He is stable, but he needs more time to recover: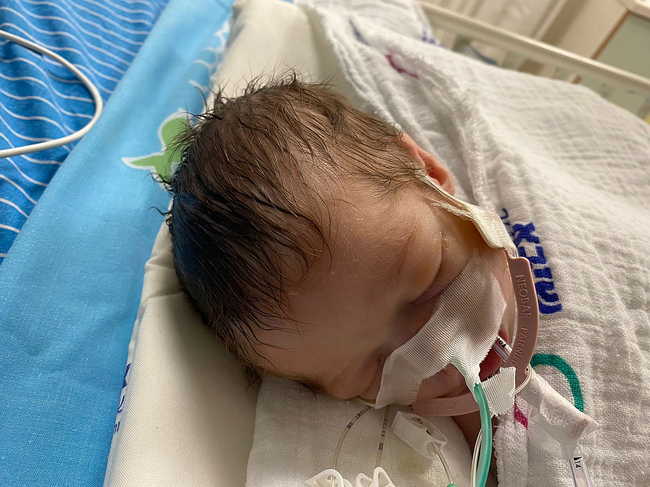 Meanwhile baby
Asil
 from Gaza needs a tracheostomy to live. This is the only option left for her. The surgery was scheduled, but the parents had a hard time deciding if they really want this for their daughter. A tracheostomy is not easy to take care of and it comes with a lot of complications for the future. The surgery was postponed to give the parents more time to adjust to the idea.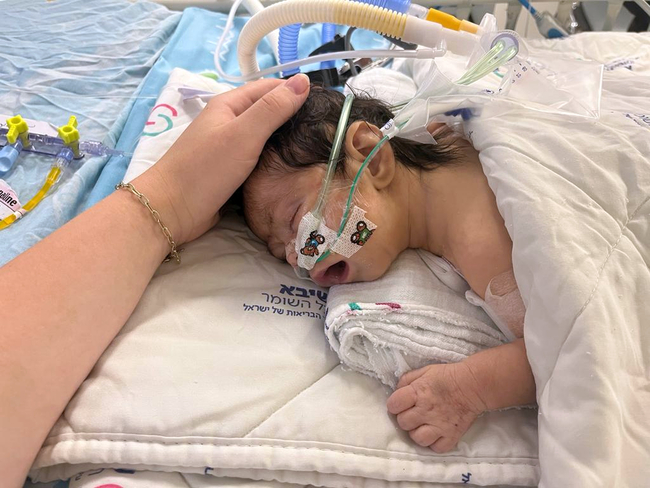 Today a doctor had a conversation with the parents to explain to them the importance of it and to talk about the future of their daughter. After the conversation, the parents agreed on the tracheostomy. The procedure is scheduled for next week. Please pray for Asil and for her parents.
In Hadassah hospital in Jerusalem, Majed from Gaza also received a tracheostomy this week. Doctors put him on the ventilator seven times to try to avoid this, but Majed didn't succeed to breathe on his own. The tracheostomy will help him for the next months as he grows.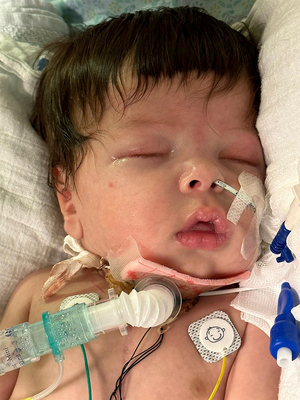 Normally the tracheostomy will be removed after he shows he is able to breath without a ventilator for a good length of time. His mother is now learning how to take care of the tracheostomy, which is intense for her. Please also pray for Majed and his mother.
Also in Hadassah newborn Gaith from Gaza had successful surgical repair of coarctation of the aorta Tuesday: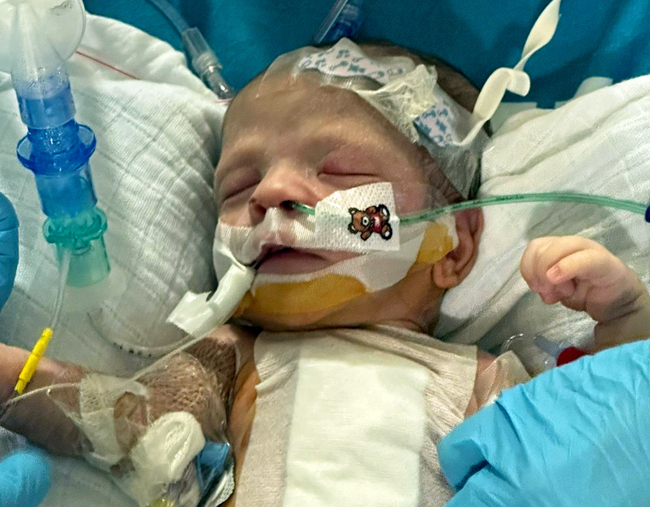 He is recovering really well and is already breathing on his own after two days. The doctors are decreasing oxygen support and medication. Gaith still has a large hole between his ventricles that needs to be closed soon, so this means another surgery. Praise God that he is recovering so well from the first surgery. This gives a lot of hope for his future.
In Sheba hospital, 20-year-old Asaeed from Gaza underwent a catheterization today. It went really well! Praise God. He will need to stay in the hospital until Sunday, to learn how to take new medication. Asaeed is always coming by himself for appointments in the hospital, since he is old enough to travel without an escort. He seems very relaxed most of the time, but still I can't imagine going into a procedure under anesthesia without a family member or friend beside my bed.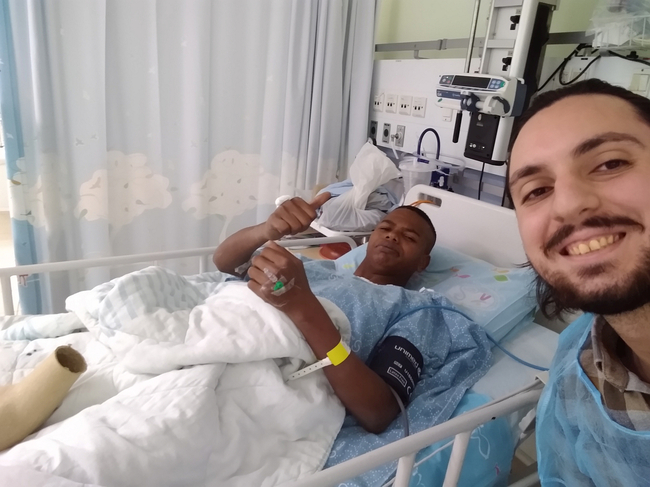 Coworker Zack could be there for him today, so he wasn't alone. He was there when Asaeed woke up from the procedure and he stayed with him for a couple of hours to make sure he is doing well and not feeling alone. They had a good time together.
And on Wednesday another older patient from Gaza, 15-year-old Mohammed, was transferred by ambulance to Sheba hospital. He was a completely healthy boy for his whole life, until he went into cardiac arrest in March due to electrical problems in his heart. This did damage to his brain and left him semi-conscious, so he went into an ICU and recently to a rehabilitation hospital in Gaza. Doctors at Sheba are hoping treat his heart condition through an ablation done by catheterization.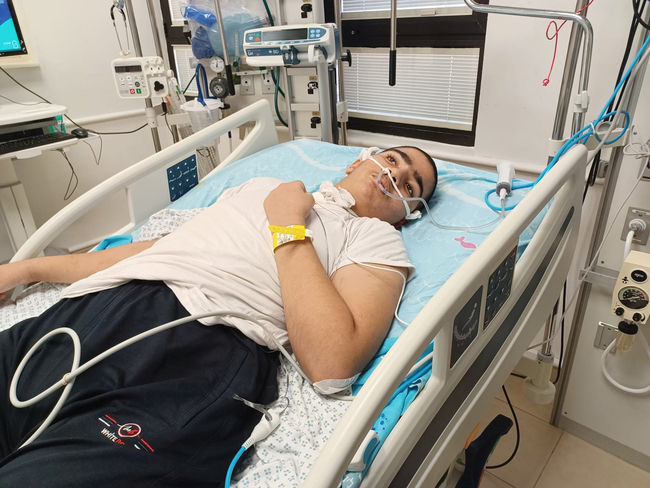 Mohammed's mother is very thankful for the help they are receiving. She is scared, but hopeful that everything will be okay again. It is hard for her to see her son growing up completely normal, and then collapse suddenly with possible damage for life. The doctors are running tests on Mohammed in the coming days to really understand his condition. Please pray for him that the Lord will restore his body and brain fully.
For people who follow the news from Shevet Achim for a while, they probably notice that there is always a lot of work to do. There are children from Gaza and the West Bank coming to Israel every day for all kinds of appointments, some more complicated than others. And then we have the Kurdish people who will stay with us for months to get the medical help that they need. We want to be welcoming to them and make sure they are comfortable, make sure they have a clean room, with a comfortable bed. We try to make them feel welcome and loved. And that is a lot of work.
But it's not too much for us, because we do this work with so much joy and love. It is a blessing to serve here. We ask you to keep praying for us volunteers, that we keep the love and the strength to do this work. Soon we will be short-staffed when four of our beloved volunteers will go back home to Germany. We pray that God provides, and we ask you to pray with us.
Whatever you do, work heartily, as for the Lord and not for men,
knowing that from the Lord you will receive the inheritance as your reward.
You are serving Messiah the Lord (Colossians 3:23-24).
Joanne for Shevet Achim