Dear coworkers,
We gathered around the letter to the Hebrews this morning in our little Jerusalem community:
We are his house, if we hold firmly to our confidence
and the hope of which we boast.
Therefore, as the Holy Spirit says:
"Today, if you hear his voice,
do not harden your hearts,
as you did in the rebellion,
in the day of testing in the wilderness…"
See to it, brothers,
that none of you has a wicked heart of unbelief
that turns away from the living God.
What does unbelief look like? Our brother Michiel led us to the end of Psalm 139:
Search me O God and know my heart;
test me and know my anxious doubts.
See if there is any hurtful way in me;
lead me in the way everlasting.
In response I had to confess my own struggle with anxious doubts about our financial situation. Like the tribes of Israel in the wilderness, we've repeatedly seen the miraculous provision of God, yet in the day of testing I all too easily wonder if he'll help us again.
Our coworker Dr Hison from South Korea and I then set off for our day of testing at nearby Hadassah Medical Center. The first bed we stopped by was baby Wateen. She came out from Gaza a month ago for heart surgery, but instead turned out to have a kidney syndrome that may require years of care before she can be well.
Her mother is begging us not to send her firstborn child back to Gaza, where she says hospitals may not even have electricity. We're seeking creative solutions, as the cost of her hospitalization is already approaching $20,000.
Then we turned to finding medications for Jude from Gaza, whose heart has nearly stopped functioning after two surgeries. The ICU head at Hadassah has surprised us with his strong advocacy of sending Jude to the US for transplantation, rather than home to Gaza to die. We're trying to stay open to the possibility that this inspiration is from God, and we're in discussion with a center in the US about accepting Jude pro bono. Meanwhile we're trying our best to care for him at our home in Jerusalem:
From there we moved on to line up Mam from Kurdistan for 
his third surgery
, which will add several more thousand dollars to his bill.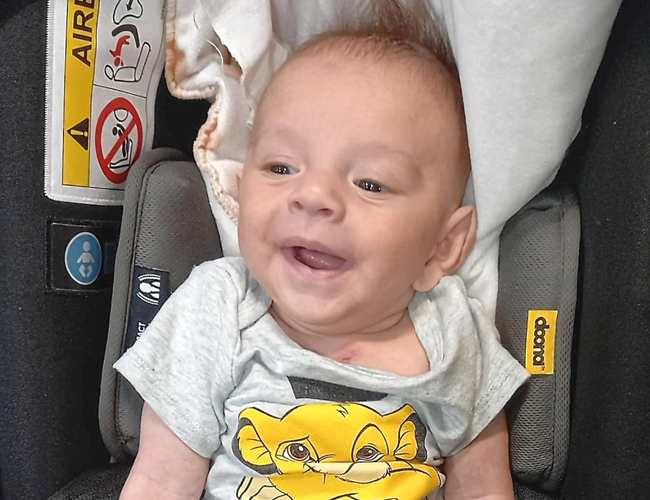 By now it was mid-afternoon before coworker Berith and I made it to the pediatric ICU. The first three rooms were occupied by Shevet children, so their nurse joked that it was our wing. We prayed with Salma from Gaza, now 45 days into her hospitalization and back on a ventilator: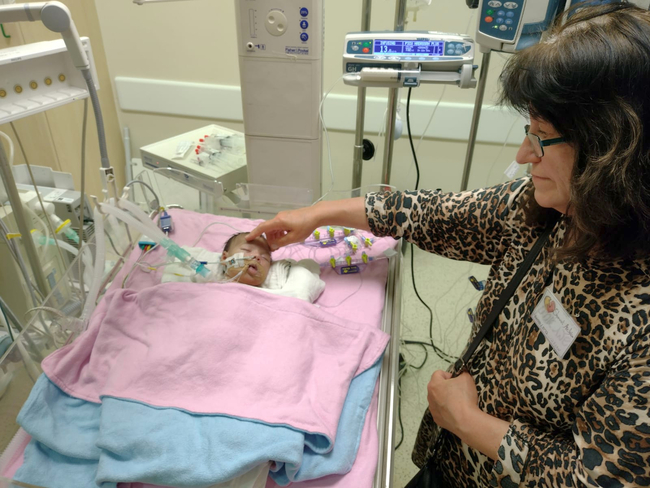 In the middle room we found a religious Muslim woman and a religous Jewish woman side by side nursing Gaith from Gaza back to health after his emergency heart surgery: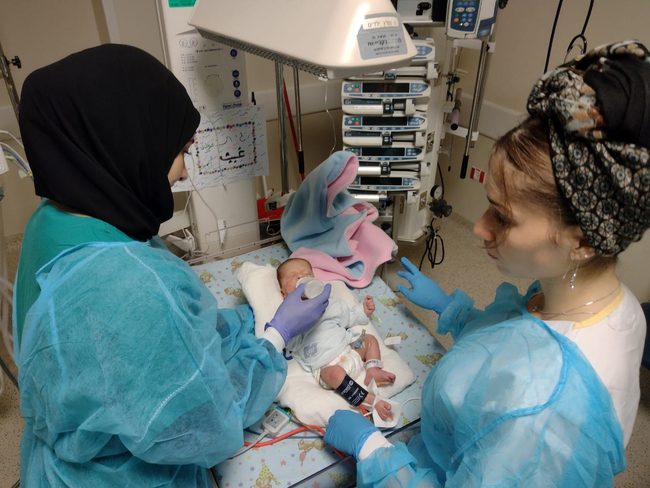 And we worked our way over to Majed from Gaza, now 78 days in the ICU, improving after a trachestomy, and even starting to smile: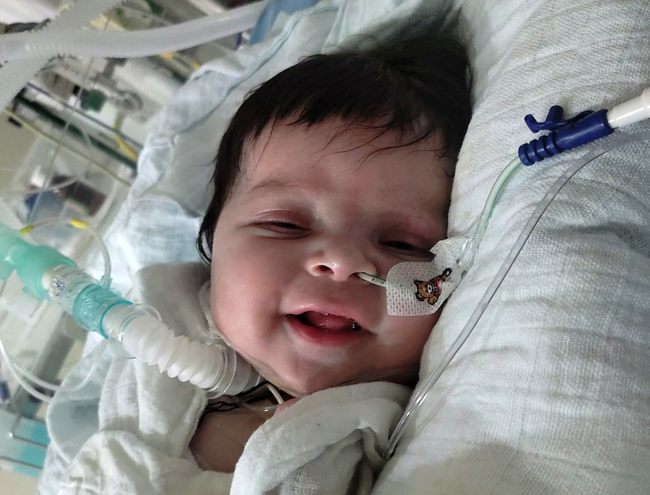 I don't even want to think about what the billing could look like for these children, as Hadassah administrators are trying to change our agreement and start billing us per day. This is where the anxious doubts come in. With Peter we cry: Lord we're sinking, save us!
And Messiah replies:  You of little faith, why did you doubt?
And now as I write you a report has come in from Gaza for another emergency newborn baby boy named Nezam, and the Hadassah surgeon has already invited him to come tomorrow: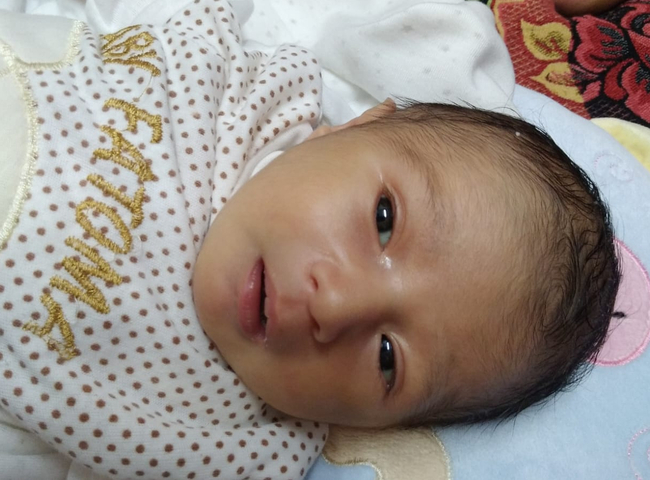 Friends, when do we stop believing?
Then I couldn't help noticing what was happening in Room 4. The baby girl of a young orthodox Jewish couple from New York had just come through a big heart surgery. Somehow it struck me to see the same surgeon fighting for our Gaza babies was working on their child. I heard the father talking with his rebbitzin (rabbi's wife) about how they were struggling to arrange care for their other children.
Though we were worlds apart, there was something that united us. I shared a few words with him and offered as Christians to join in the prayers for his daughter, which he graciously accepted.
Friends, our support of Israeli hospitals to help children from Gaza and Iraq and Syria is costly. I confess it is hard to keep believing. But the message it gives to our Muslim neighbors is too precious to throw away.
And also the relationship it gives us with the Jewish people. We've been divided for so long. Last Sunday some orthodox Jews were convinced they should violently protest a Pentecost gathering on the southern steps of the Temple Mount. A flyer promoting the protest said that Christians were coming to desecrate the holiest site of the Jewish people with idolatry and praise of "that man..let his name be blotted out" and were "trampling on the honor of Israel."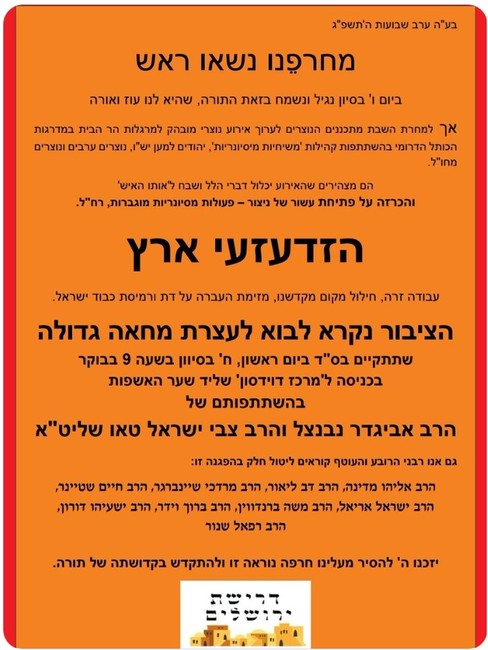 It grieves the heart that these who are so zealous for the God of Israel know so little about the events of the first century. As disciples of Messiah let's cherish the freedom and opportunity that we've been given to work here and to honor–not dishonor–the people of Israel. Everything dear to us has come through them.
Jonathan for Shevet Achim
"Behold how good and how pleasant it is for brothers to dwell together in unity" (Psalm 133).