Friends, brothers, and sisters,
Greetings from those of us in Ashdod.
This was a busy week, with many early-morning departures. We weren't able to have a single morning meeting with all our community members present; we sometimes have to send one or two out to pick up children or sit with family during surgeries, but it's rare to see it every day.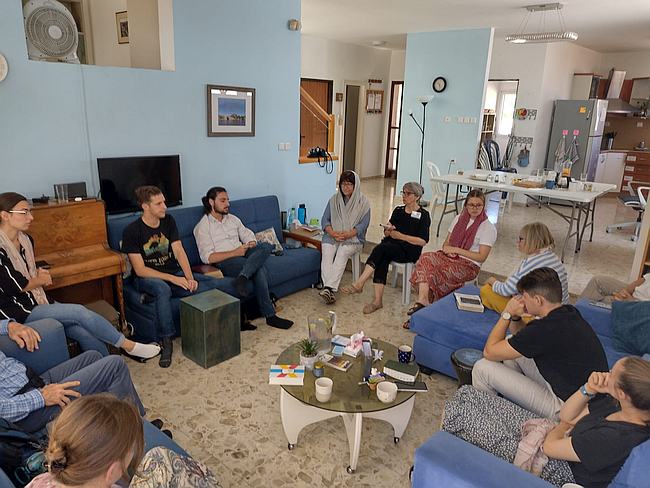 I am sitting on the bus to Jerusalem as I write this letter. Today, as some of you know already, is my father's birthday, and I'm going up the mountain to celebrate with him and the Jerusalem branch of our community. He and my mother have been doing this work for many years now; they've seen everything it's had to offer many times over now. I have only officially been working along with them for seven months, and I am still often surprised or unprepared. At least twice a week I call my father seeking his guidance on some fresh issue that I don't have any idea how to deal with.
This week, coworker Max and I took a Gazan child named Jamal to his follow-up echocardiogram. Jamal is a bit over one year old. He had a surgery nearly a year ago which he recovered well from, and he's been coming back every three months since. At this last echo, the doctor decided that it's time for him to have his next surgery, which God willing will be a complete repair. It was good news of forward movement and potential holistic healing.
But friends, I will be frank with you. Despite the good news, most of the day we spent with Jamal was deeply frustrating for me. The little boy screamed and cried not only if I got near him, but if I even looked at him for more than a couple seconds. Putting him into his car seat, he would scream and cry; taking him out of his car seat, he would scream and cry; playing with him, he would scream and cry; being examined by the doctors, he would scream and cry.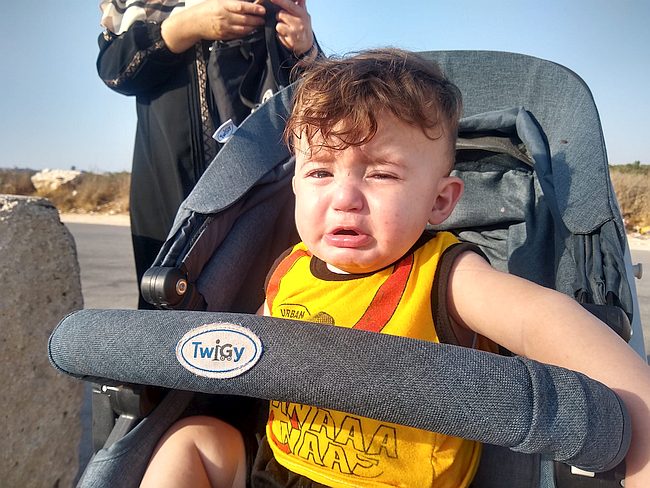 I admired his stamina in a detached sort of way. And I understood his behavior, at least rationally. He was small, dealing with a bizarre environment, surrounded by faces he did not know or trust while he was poked and prodded by cold metal instruments. The poor boy was terrified for most of the day. But even though I understood that, the more he screamed and cried as we spent our day trying to help him, the more frustrated I grew.
Why won't he accept our love?
 I thought while I looked at him angrily. The irony was lost on me in the moment.
Truth be told, that is how many of our relationships with these children actually play out. They come to us as unaware infants, and when they visit again grown and healed they don't remember us, and positive interaction becomes more dependent on the baby's disposition than on any established relationship. And in truth, it can grow very discouraging. It's not satisfying to only ever show love to these children and not receive it back from them.
But toward the end of the day with Jamal, some of his extended family who live in Israel showed up. They shook my hand and immediately thanked me for all our work and insisted I come with them as they sought out doctors to speak with. They asked about future treatment dates and trusted whatever I had to say about them. Then they busted out a foil dish of rice and chicken and salad, sat down in the hospital waiting area to have a meal, and insisted that Max and I join them. And with his family around, Jamal became much more comfortable. I could even look at him without him screaming. So we sat and we ate and we laughed and enjoyed a brief moment of community.
Friends, it was beautiful to partake in. Then it was time to take Jamal home, and the eldest man there asked if it would be me driving him and his ward to Gaza. I said yes, and he nodded his head in satisfaction and shook my hand. When we drove Jamal and his grandmother back, he started screaming and crying again as soon as he was in the car (and for most of the drive back). And his grandmother thanked me tenderly before she wheeled his stroller into the border control. Please pray for him and his family; he'll return to us in one month for his surgery.
We have a few things to thank God for this week. First, we thank Him for Adam's successful surgery and continuing recovery; it's only been four days since he arrived at Sheba hospital in an ICU ambulance from Gaza, but he's improving quickly.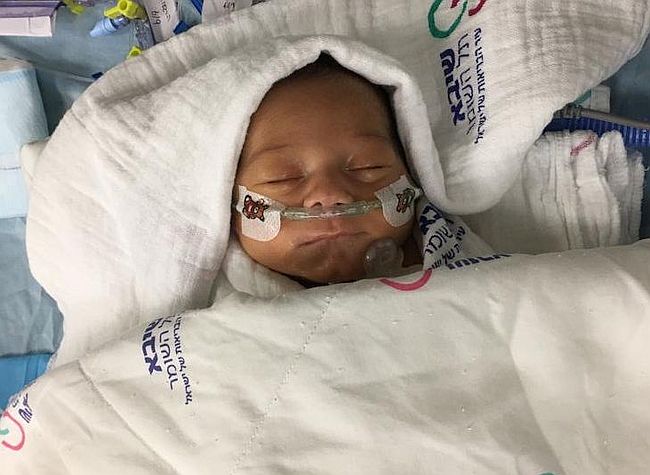 Adam is a tiny little boy, just twenty-some days old. He's here with his grandmother, and she is a strong, quiet woman who seems difficult to disturb. Pray for Adam's continued recovery!
We also praise God for the continued healing of Yaman from Kurdistan. A week ago he was rushed straight from the airport into surgery at Hadassah hospital in Jerusalem, and he has since been recovering marvelously, even playing with the handmade toys that were brought to him in the hospital!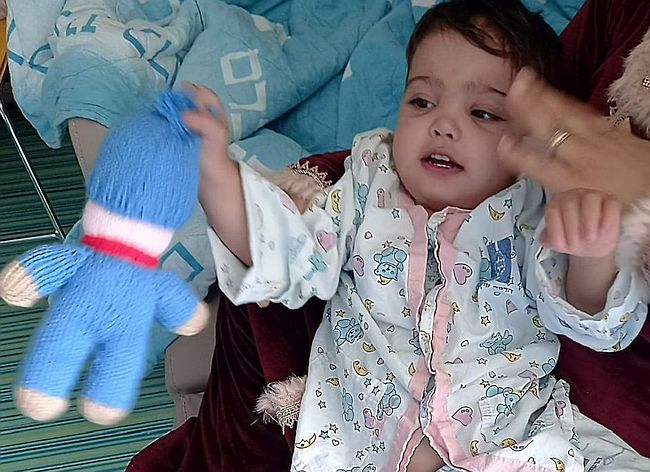 Thank God for this rapid transformation. Tonight he is already back in our Jerusalem home. Pray that his healing will continue quickly!
We praise God for the continued healing of Ismail, who, despite his incredible rollercoaster of a hospital stay, has been improving well for some weeks now at Sheba, and is poised to be discharged back to Gaza at the beginning of next week.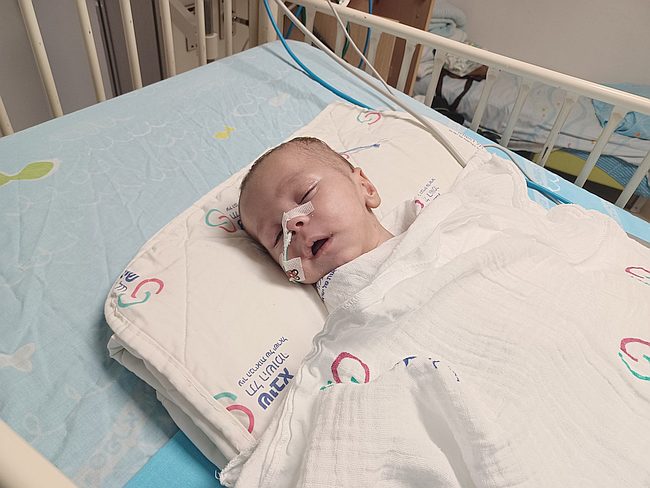 His cardiac condition is much improved and the only remaining issue is that he does not know how to drink from a bottle well, but that's something he can be taught in Gaza. We don't know what his neurological damage, if any, will look like in the future; pray that he will be fully restored and will safely get back to Gaza.
And we thank God for Rahma's first successful post-hospital echo, which looked great!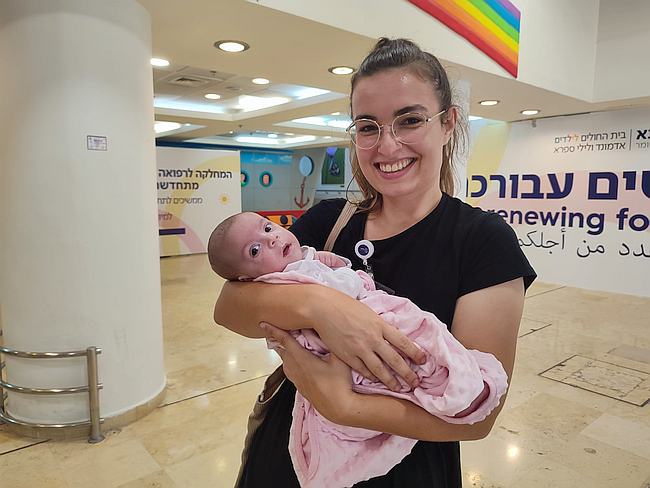 The doctor wants her to stay another three weeks (it is standard to not discharge children until a month after surgery), but if everything keeps up as it has been, she'll be able to go home to Kurdistan then!
We pray for Abeer, who after one month in the Hadassah ICU went to surgery to remove blockage in one of her veins; however, a couple hours into the procedure, none of the expected blockage was actually there, leaving the source of some of her problems a mystery.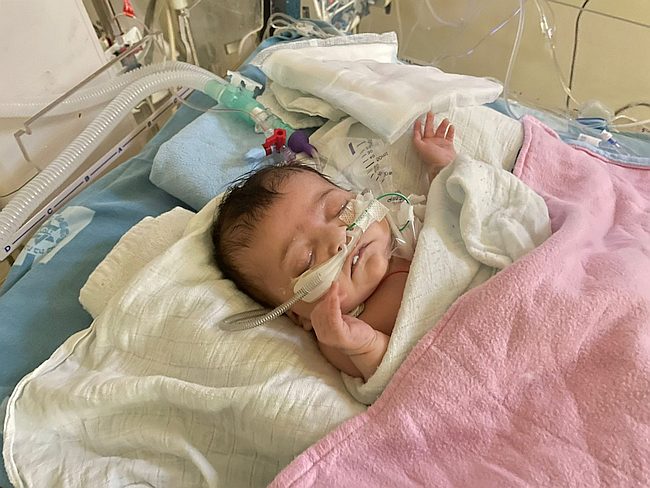 She's been showing improvement over the last few days, but please hold her in your prayers, that if there is a deeper condition needing treatment it will be discovered.
We pray for Hur, an emergency transfer to Sheba this week. As of writing, she is seventeen days old. Hur has a complicated heart condition, but treatment has stood still because of infection in her lungs.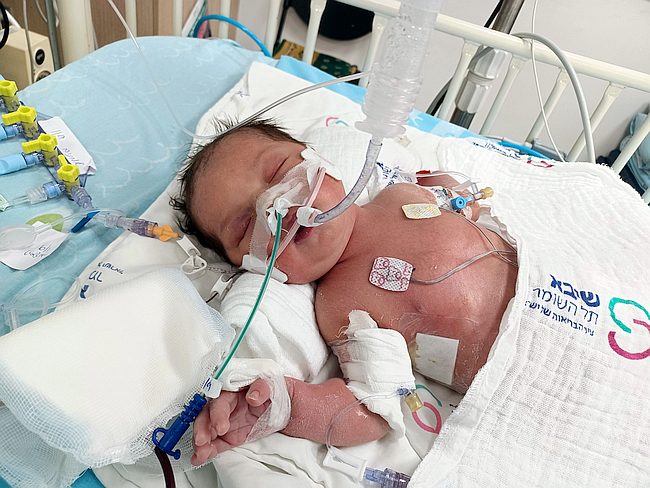 She is improving slightly under antibiotics, but please hold her in your prayers. If the infection spreads into her blood, it could quickly reach her brain and potentially have devastating consequences; the same thing happened to our beloved Ameer.
And friends, this week I bring sorrowful news with me. After two months in the Sheba ICU, Ameer was transferred back to Gaza on Tuesday and died two days later in the hospital there. He fought long and he fought hard. We thank God for the time of life Ameer had, no matter how short; we thank God for the time we got to have with him and his mother; and we thank God that he was home with his family when he passed.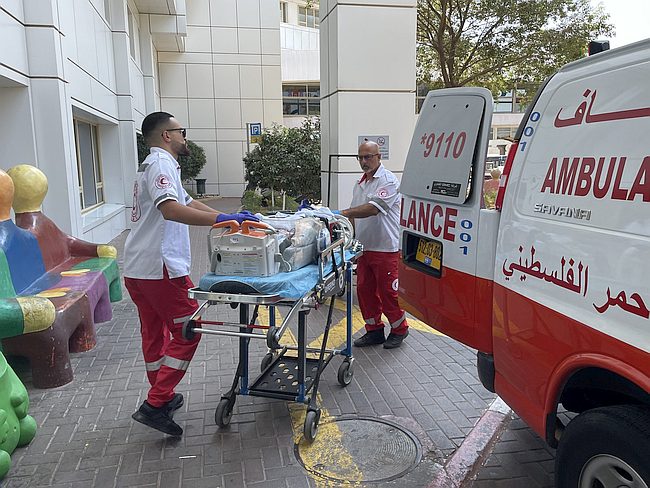 Now we look yet again to the resurrection, where we know we will see him again. Please pray for his family in this time of loss, that they will be comforted in their grief; and please pray the same for the Sheba ICU staff and for our community, as many of us grew to love Ameer and his mother very much.
In the West, our perspective on relationships is usually individual-based. What I do to you, I do to only you, and vice versa. Many of my struggles with relationship here come from my being, at least in part, still rooted in that perspective. But the Semitic peoples do not have such a reductive model. They still look at relationship the way Scripture looks at relationship. Remember for example the parable of the vineyard owner. What you do to my child, it is as if you have done it to me.
If you curse one of them, you have cursed the entire family, and they'll certainly let you know that. If you bless one of them, you have blessed the entire family, and they'll certainly let you know that too. And the family expresses this on behalf of those who cannot express it. Jamal (the constantly-crying child at the start of this letter) cannot even comprehend us, much less thank us; but his family thanks and honors us, because by loving him over the last year, we have loved them as well. By fighting for his life, we have fought for theirs as well. They will be very slow to forget that. And so too with many other families, who thank and honor us on behalf of those too small to do so.
We saw the same sentiment expressed by Sara's mother this week. Sara is a beautiful six-year-old girl who came to us as an emergency transfer last Saturday; a piece of a coil had broken off inside her lung during catheterization in Gaza, and she was rushed to Sheba under our care for treatment. But, thank God for his miracles, there was no damage done to her that the doctors could discern; indeed, she was in such good shape that she was discharged back to Gaza just a few days after reaching us!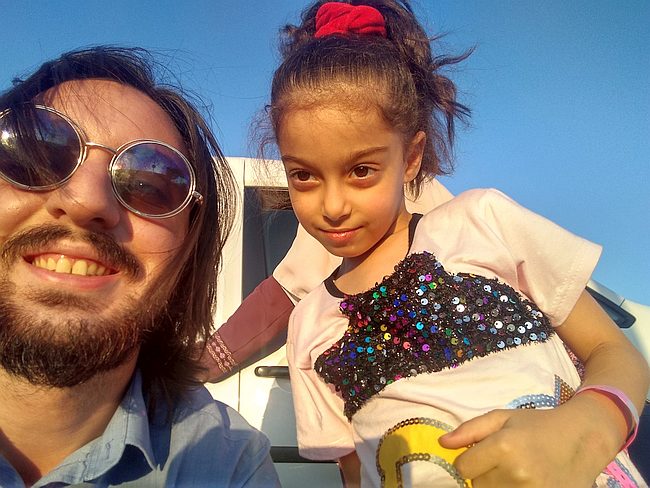 And as I drove her and her mother to the border, her mother asked me over and over again: "What can we do to thank you for what you have done for us?"
I told her: "You can thank us most truly by thanking God, because all we do we do for love of you and for love of God; and all good gifts come from Him." And she was pleased with that answer.
Friends, let us remember that this is true not only in the honor and gifts we receive, but also in the honor and gifts we give. Messiah told us that whoever gives us even a cup of water because we belong to him will gain reward, for we are representatives of his; gifts given to us are as gifts given to him.
And when we see those in need in our own lives, they too are representatives, images, of our God, and what we do to them, it is as if we had done it to our Lord himself.
"For I was hungry and you gave me food, I was thirsty and you gave me drink, I was a stranger and you welcomed me, I was naked and you clothed me, I was sick and you visited me, I was in prison and you came to me."

Then the righteous will answer him, saying, "Lord, when did we see you hungry and feed you, or thirsty and give you drink? And when did we see you a stranger and welcome you, or naked and clothe you? And when did we see you sick or in prison and visit you?"

And the King will answer them, "Truly, I say to you, as you did it to one of the least of these my brothers, you did it to me."
 May the God of peace and love be with you all,
Zechariah for Shevet Achim