Friends,
If you read Zack's prayer letter last week, you'll know that our community is in a season of change and growth as we adjust to new coworkers arriving and old coworkers getting ready to leave. It's an exciting and hectic period, sometimes challenging, sometimes a little chaotic, and an important time for us to grow in love for one another and for God.
And along the way, we've had a busy week with the kids in the house and hospital. You can find each child's story in their blogs on the website, but I want to share here a few moments from this week.
Newborn Dania arrived at Sheba hospital by ambulance from Gaza on Monday, accompanied by her mother. She was born with several veins around her heart in the wrong position, sending oxygen-rich blood back to the right side of the heart to mix with oxygen-poor blood.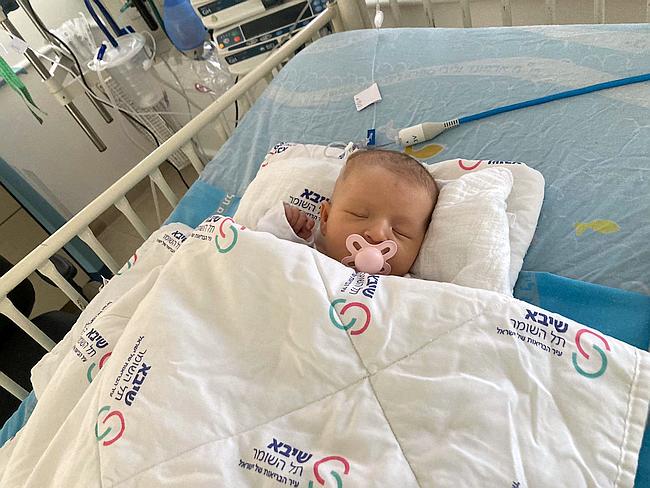 She went into surgery on Wednesday morning, and the surgeon was able to reroute three out of four of the abnormal arteries to carry blood properly through the heart.
Thank God, Dania is stable and recovering well after surgery, and the doctors expect she can wait until she's around ten years old for the surgery to repair the fourth artery.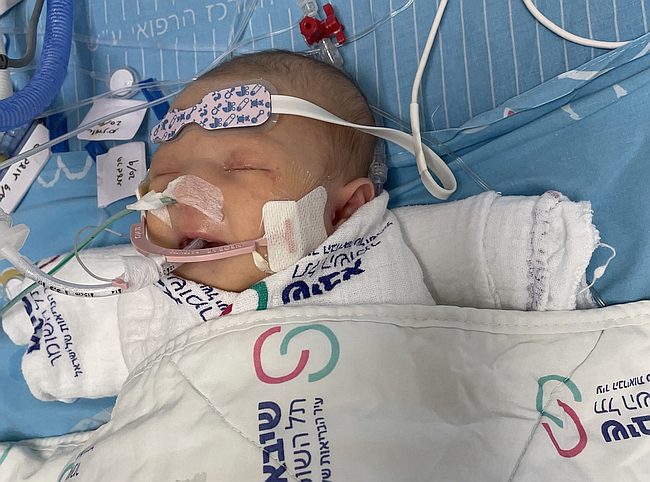 A day after Dania's arrival, we welcomed newborn Makhmoud from Gaza to the ICU at Sheba. Makhmoud's heart is complicated, and the doctors are still working to get a full picture of its anatomy and function before taking him to surgery: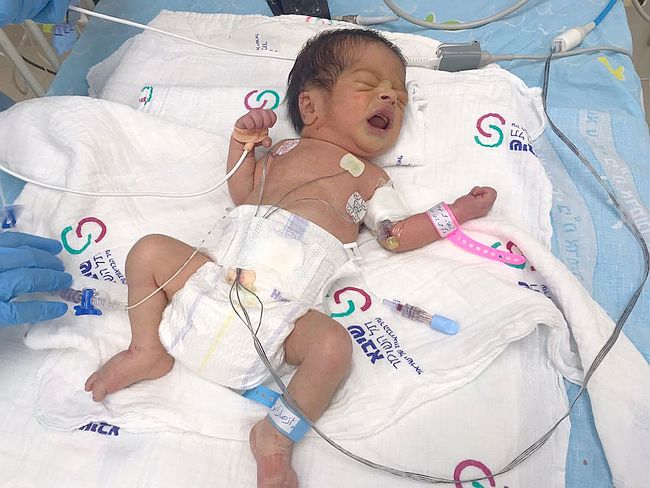 We hoped to welcome a third child, baby Bassam from Gaza on Wednesday morning: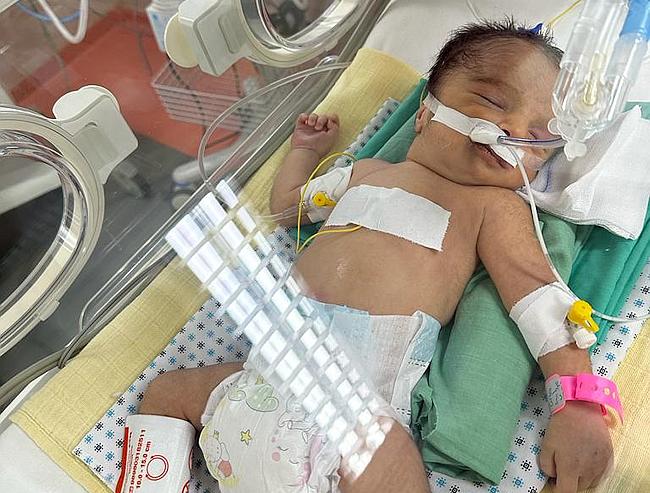 However, Bassam was not stable enough to transfer in time, and he went to be with the Lord on Wednesday afternoon. Please be in prayer for his family.
In the ICU at Sheba, baby Hur's post-surgical journey has proven a little more complicated than expected. After the surgeons were able to close her chest at the end of last week, she spent the weekend resting and recovering, and then was extubated on Monday. However, she wasn't able to get enough oxygen breathing on her own, and was put back on the ventilator the next day: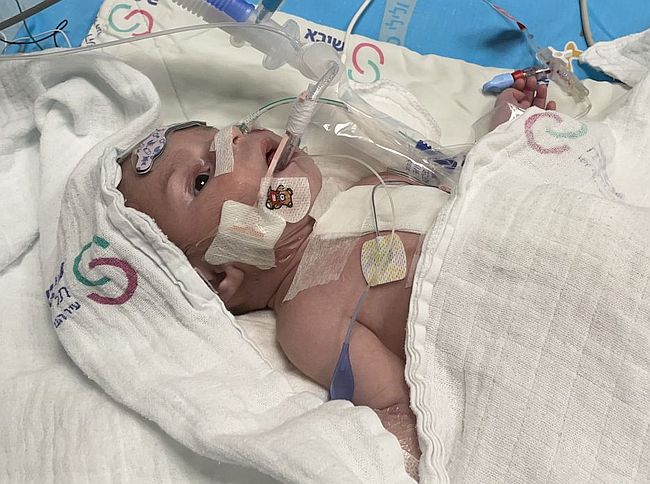 A brain MRI showed that she has a thrombosis (blood clot) in her brain, so she's begun anticoagulation medications. Please pray that these medications will be successful in treating the problem, and that Hur will be strong enough to come off the ventilator soon.
Six-month-old Avan from Kurdistan is still in the ICU at Sheba after her surgery last week. Her cardiologist explained that while she is stable, she's not doing as well as the doctors had hoped after surgery: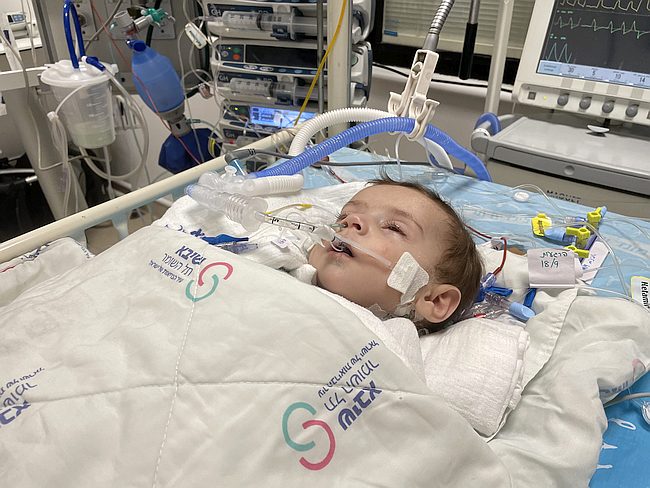 She's suffering from pulmonary hypertension, and until now the doctors are not sure if this is caused by the residual hole she has in her heart after surgery, or if there is another cause. They are monitoring her condition closely and considering the next steps, possibly another surgery.
Thirteen-year-old Mahdi from Gaza had a successful interventional catheterization on Monday. The doctors were able to dilate his narrow pulmonary valve with a balloon, and they hope this intervention will be sufficient for the next year or so.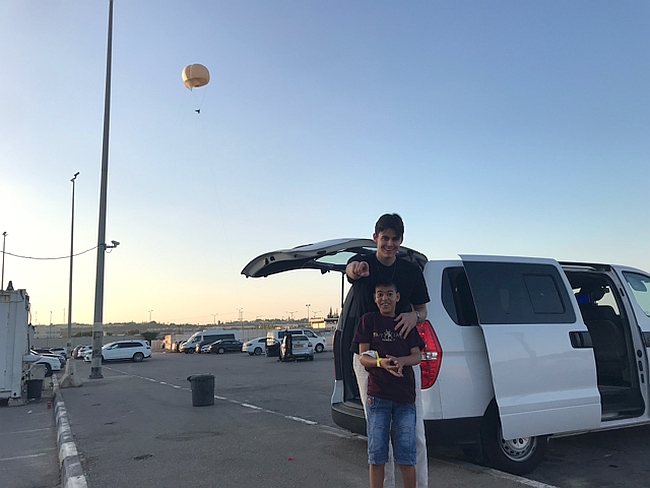 Mahdi was already well enough to return home through the Erez crossing by the next morning. We'll see him again in a couple of months when he comes back for a check-up.
Our good friend Naim from Gaza had a big and important surgery yesterday at Sheba. He was born with his abdominal organs in a sac outside his body, and has been waiting seven years for corrective surgery.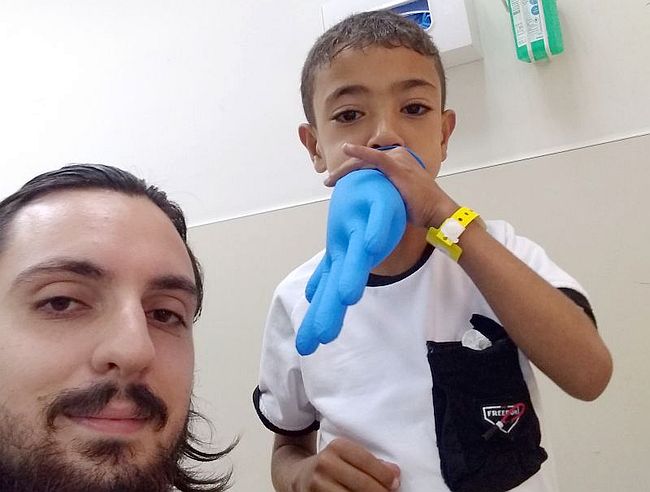 Now for the first time in his life all his organs are in the proper place. He's recovering in the pediatric ICU, and we hope to see him up and running around soon: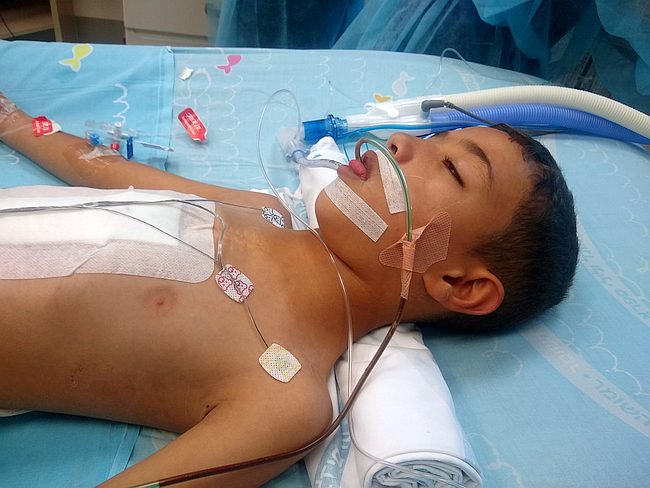 Meanwhile at Hadassah hospital in Jerusalem, month-old Loai from Gaza had his second and third surgeries in one day. On Tuesday morning, the surgeons replaced the shunt they placed last month with a smaller one to provide a better level of blood flow through Loai's heart and lungs.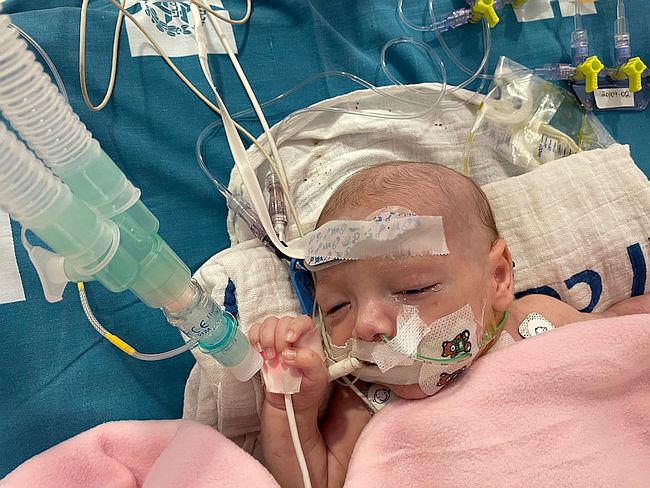 The operation was successful, but five hours later, the shunt became blocked, and Loai was rushed into emergency surgery to clear the blockage. He's now back in the pediatric ICU to recover. Please pray that his heart and body will grow stronger.
Thirteen-year-old Ibrahim from Gaza spent the week at Hadassah getting antibiotic treatment for a heart infection. He's finished his round of antibiotics, but the doctors have decided to perform another surgery immediately after Yom Kippur to replace his bioprosthetic aortic valve.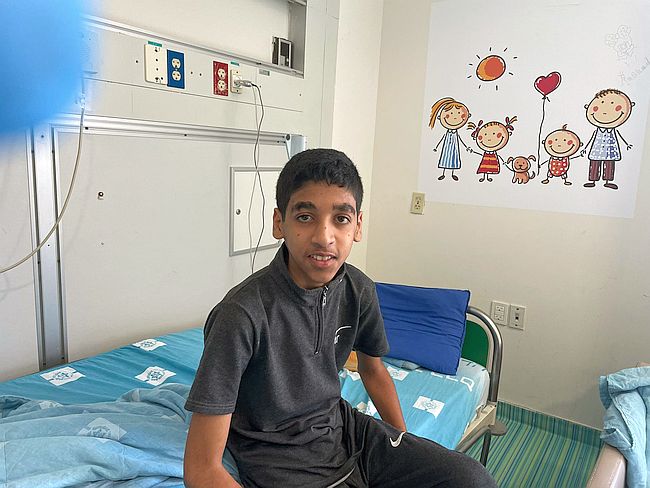 Ibrahim is spending the weekend at the Shevet house in Jerusalem and will return to Hadassah Monday night for surgery on Tuesday.
This week ended on a bittersweet note with two goodbyes. First to go were one-year-old Revand and his mother on Thursday after a great echo at Sheba hospital in the morning.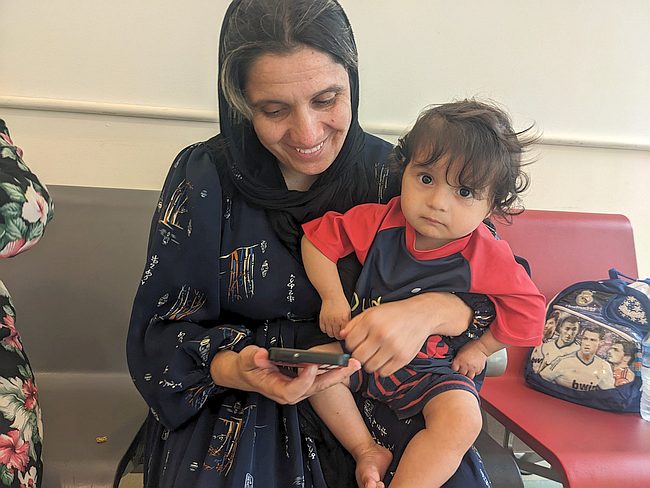 They've been with us for three months now. It's been a difficult period for Revand's mother, who has been dealing with health challenges of her own, but she has faithfully cared for her son all the way through and is now overjoyed to bring him home strong and healthy.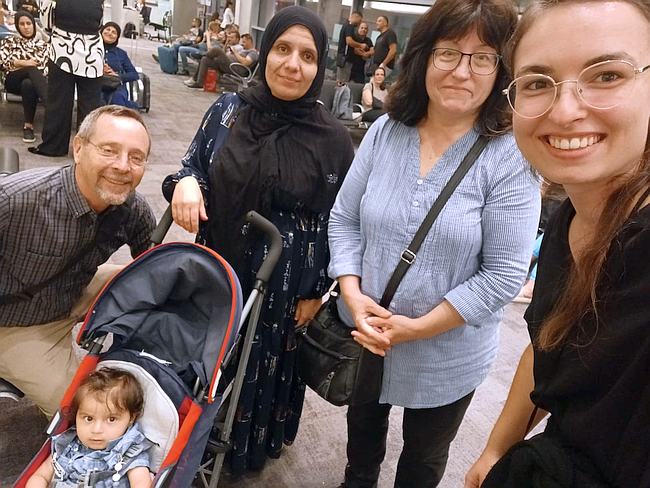 Revand and his mother traveled back to Kurdistan Thursday afternoon along with Jonathan, Joanne, and Berith, who will be spending the next nine days traveling through Kurdistan and visiting families of children who have had or will have heart surgeries in Israel. For Joanne and Berith, it's their first trip to Kurdistan and a long-awaited opportunity to visit families they have beautifully loved and cared for in Israel. Please pray for a blessed journey and a safe return.
And very early this morning we said goodbye to our good friend and beloved coworker Willem as he set off home to the Netherlands. Earlier this week, while working hard to repair a wall in one of our houses, Willem fell and sustained some fractures. After a couple of days at Assuta hospital across the street from our house in Ashdod, he's heading home to a few months of rest and recovery with his family.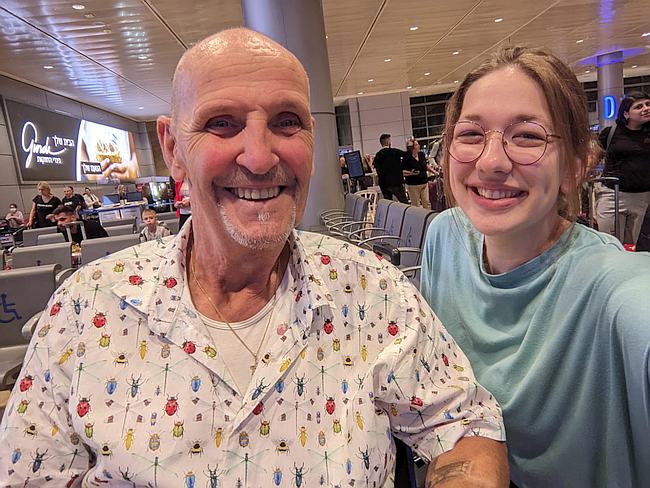 This is the third time Willem has come to work with us for a time, and for a few of us who are leaving soon, the last time we'll get to work with him here. So I want to share a few words of gratitude, and in doing so give you a little glimpse of the blessing he is to our community.
When I look back on all my time at Shevet and the people and experiences that have been the most influential on me, Willem is one of the first to come to mind. I think I've never known a harder worker; he's the first one up in the morning to empty the dishwasher and make coffee, and at the end of every day we have an argument about when he's going to stop working and take some rest. You can't walk through any room in our house without seeing something he repaired or improved.
But what's more, Willem is a light for Messiah and an example for each one of us in his walk with God. I am forever grateful for the way he's taught me to find joy even through suffering, to lay down preferences and even rights for the sake of serving another, and to relentlessly and unwaveringly trust God no matter the circumstances. There is nothing better or truer that I could say of Willem than that because I've known him, I know better what it is to love God and be loved by Him.
This, I believe, is the greatest gift of community—to love one another and in doing so together know better the love of God. Paul's prayer for the Ephesian believers is that they "will be rooted and founded in love, so that you, with all God's people, will be given strength to grasp the breadth, length, height and depth of the Messiah's love, yes, to know it, even though it is beyond all knowing, so that you will be filled with all the fullness of God."
In a few short weeks my time at Shevet will come to an end, and I'll be heading home to my family in the U.S. I couldn't be more grateful for the people God has surrounded me with as I close these two years in Israel. The last few weeks have been spent in so much time together—whether in long conversations in traffic jams on the way home from the hospital, or singing worship songs together in the kitchen while making food to share, or evenings spent on the patio sharing stories from the day. It might seem like a given in community life, but I don't remember the last time we spent so much time really together.

I am constantly overwhelmed by the love of my sisters and brothers here in this community. And through their love, their testimonies, and their faithfulness, I am reminded of how very good the Lord has been to me, and how beautiful it is to be loved by him.
Thank you for joining us in prayer,
Bria for Shevet Achim