A week ago I shared with you how newborn Roman from Kurdistan had just arrived in Israel through many perils: the long wait through the Passover holiday for his visa, his deterioration during transit at the Amman airport, the loss of contact as he and his mother (who speaks no Arabic) were taken off for hours to an unknown Jordanian hospital. We despaired and called out to the Lord. Then the word came in a text message: Everything is ok now.

Isn't that the story of our lives? "Why are you so afraid?" Jesus asked. "Do you still have no faith?"

Roman's drama continued this week. His condition deteriorated further on Tuesday, and he was rushed into emergency surgery to switch his great arteries Wednesday morning. Alena writes in Roman's surgery blog that when she and Diana arrived at the children's hospital to be with his mother, he'd gone missing once again, taken across the sprawling medical campus to a different operating theater:
Thankfully Diana had been there before so we found Roman's mother…just after they had taken him into surgery. We were told to expect a four to five hour wait, and Diana knew just how to comfort Roman's mom, through reassuring embraces and words of affirmation (in Kurdish!) Diana was a blessing to this sweet mum throughout the intense wait. Much to our surprise, Roman was out of surgery in three hours; we rushed to follow the bed, doctors and machinery that hurried out of the operating room, to a transportation vehicle waiting outside to take him to the children's hospital.
As the doctors, with Roman unconscious in the bed, crammed into the back of the ambulance, they were saying that everything is good, as they must have understood the overwhelming sight before us.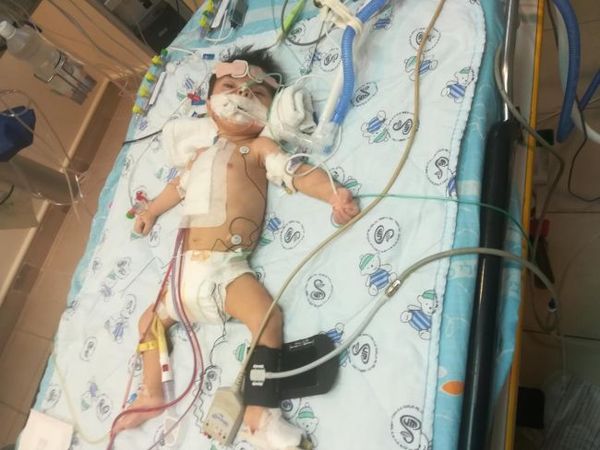 They also asked mum to come with them, and before she took one step she looked at Diana and said, "Bash?" which is Kurdish for "Good?" And Diana replied "Bash." It's impossible for me to describe her face at that moment. Only that I wish that same reaction for every parent who watches their child come out of the OR. It was relief after prolonged waiting, yes, but more than that it was the culmination of audacious hope; whether whispered in prayer or shouted in sorrow when no hope seemed to be left, and God has heard.
Today, four days later, Georgia found Roman's mother was in great spirits: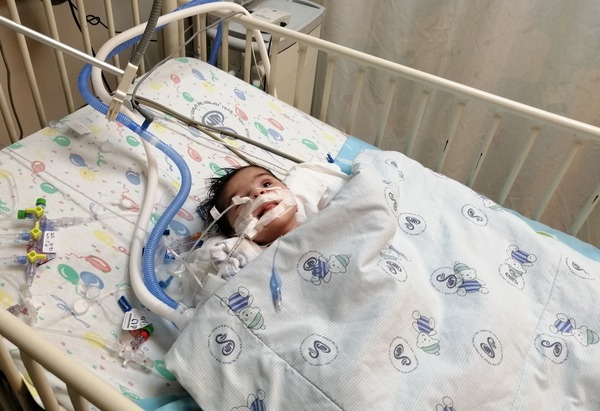 However, as we got more information from the staff at the hospital, it became apparent that Roman is still in need of the work of the Holy Spirit in his body to heal him.The staff had attempted to extubate him over the weekend, but this was unsuccessful. An ultrasound had revealed that the left side of his diaphragm is not working properly, and so they needed to intubate him again and wait for the diaphragm to heal. Today they plan to attempt to extubate again, after he is properly awake from his sedation and so we have to hope and pray for success at this time. 
We know that God has been faithful to Roman to bring him here, despite the situation starting to look hopeless on many occasions. Please keep Roman in your prayers, and remember to whom your intercession rises:
Have you not known? Have you not heard? The everlasting God, the Lord , The Creator of the ends of the earth, neither faints nor is weary. His understanding is unsearchable. He gives power to the weak, and to those who have no might He increases strength. Even the youths shall faint and be weary, And the young men shall utterly fall, but those who wait on the Lord shall renew their strength; They shall mount up with wings like eagles, they shall run and not be weary, they shall walk and not faint.  
Yes, the battle for Roman continues on, fought in the heavens, and to be won by the power of our God. Please do remember to whom your intercession rises.

And tonight we must add four-year-old Raviar to our prayers. His father is a Kurd working to translate and distribute the Bible in the language of his people. When I saw him in a hospital in Kurdistan this week he was exhausted and desperate. His son's life is threatened by vegetation growing in his heart, which is a complication of chemotherapy for a tumor on his optic nerve.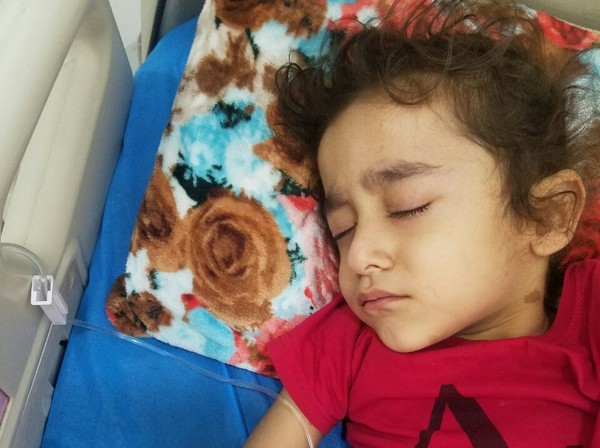 Ordinarily we strictly limit our work to congenital heart defects; but as soon as I saw Raviar, and the look on his father's face, I knew we must "do good to all, and especially to the household of faith." Here too the obstacles are great: for Raviar to stabilize in order to travel; for the interior ministry in Israel to sign off on a visa for treatment other than heart surgery; and for a good discount from the hospital in Israel which specializes in treating Raviar's disease. 

To build our faith: let's remember the many battles that have been won. The same day as Roman's surgery, "our little blue girl" Marya left us to return to Kurdistan, blue no longer after safely coming through her high-risk surgery:
Alena, pictured above sending Marya off to the airport, was due to walk across the stage and receive her college diploma on Friday, but chose instead to come to Israel and serve. The Jaffa community surprised her at dinner that night with "Pomp and Circumstance," a cake, and a makeshift cap and gown.

And just tonight a sweet farewell to Kit and Peter from the UK, who've been in Israel for the past year for Peter's work on the Tel Aviv light rail project.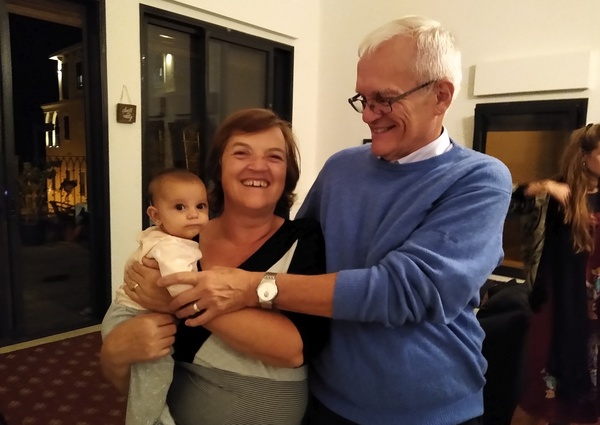 You should have heard the testimonies tonight of how they've blessed our young community members with love, mentoring, and most importantly a listening ear. Calling all seasoned saints, you have much to offer. What are you waiting for? Our father may have good works prepared for you in Jaffa.

And just this morning our volunteer coordinator Luzma asked me a challenging question: "How do we get more nurses?" Friends, please pray. Nurses…please listen to the father's call.

Finally in regional developments tonight, as war clouds darken the sky over Iran, let's not be unaware that the kingdom of God is also breaking in. Tonight's recommended essay is "Worth a Thousand Years of Waiting. The Staggering Rise of the Church in Iran":
Robert Bruce, a Scottish missionary to Iranian Muslims in the late nineteenth century, wrote home to his supporters, "I am not reaping the harvest; I scarcely claim to be sowing the seed; I am hardly ploughing the soil; but I am gathering out the stones. That, too, is missionary work; let it be supported by loving sympathy and fervent prayer."
For many years, Iran was one of the most difficult regions of the world to reach with the gospel. A significant development occurred in 1979, however, with the Islamic Revolution in Iran. The ruling monarch, Shah Mohammed Reza Pahlavi, was overthrown, and in his place an Islamic Republic was birthed, led by the Ayatollah Khomeini. Sharia law became the law of the land, and Muslim clerics became the heads of state.
Many in those days believed the revolution would lead to a time of flourishing in Iranian society. The new regime made great promises about rights and economic progress, as Iran was finally free from the influence of the West. The laws of man would be replaced by the laws of God, they claimed. Under the Republic, conversion to any other religion was considered apostasy and could be punished by death.

As we near the fortieth anniversary of the Islamic Revolution, however, we see that the prayers of many Christians over the years have been answered, and the climate in Iran is vastly different. The gospel has spread throughout the land in unprecedented fashion despite increased persecution of Christian believers. To use the words of the apostle Paul, "A wide door for effective work has opened . . . and there are many adversaries" (1 Corinthians 16:9).
As of 1979, there were about five hundred known Christians from a Muslim background in Iran. In 2005, it was estimated that there were 40,000 ethnic Iranian Christians (not including ethnic minority Christians who live in Iran). That number grew to about 175,000 Christians in 2010, according to the Joshua Project. Today, the average estimates of Christians within Iran range from 300,000 to upwards of one million, according to some missions experts. Operation World, a missions research organization, continues to list Iran as having the fastest-growing evangelical church in the world. In fact, more Iranians have become Christians in the last twenty years than in the previous 1,300 years, since Islam came to Iran.
Jonathan for Shevet Achim

"Behold how good and how pleasant it is for brothers to dwell together in unity" (Psalm 133).