Dear coworkers,

It's been a whirlwind week since last Sunday's letter, when we prayed that the Father would raise up a local leader to help baby Reem get from a mattress on the floor of her Gaza home into an ICU bed in Israel:
The next day we heard from Lucy in Suffolk, England:
My husband and I have both been particularly touched by the story of Reem that you emailed yesterday and feel we are being called to pledge to raise the money needed for her surgery. Our (now healthy) 11 year old daughter had health problems when she was a baby and required oxygen many times, and we want to pass on the blessings we received during this time by helping precious Reem. I can't stop thinking about her, and after a day of my husband emailing back and forth (both whilst working!) about how we could help, I came across a quote by Mother Theresa ('Do you want to do something beautiful for God? There is a person who needs you. This is your chance'), which answered our questions about whether to step forward in faith and trust in God that we can provide the money! We will hopefully be having help from our church and community and will be praying avidly for her healing and for the funds to appear for her surgery. Please let us know how to become a Local Leader for her.
We approved Lucy and Dan as local leaders, and gave them posting privileges on Reem's personal page on the Shevet website. They got right to work sharing her story, and also created a page for Reem on justgiving.com.

By Thursday morning the Sheba Medical Center signaled that they had a free ICU bed for Reem, and our Gaza coordinators Yousef and Amar worked until nine that night on all the permissions necessary to get her in an ambulance and into Israel. By the time Reem reached Sheba she'd nearly stopped breathing, and doctors had to immediately put her on mechanical ventilation to save her life. The cardiologist Uri Katz told us, "It's good she's here. She wouldn't have made it much further."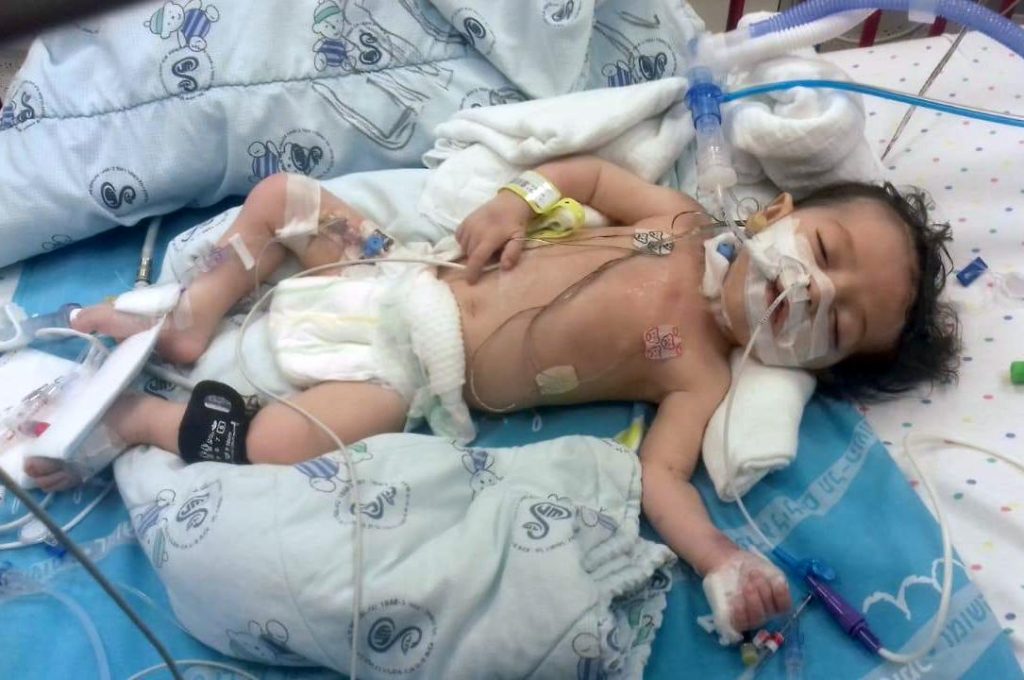 What a sight, to see a neglected, uncared for child suddenly treated as a treasure for whom no measures will be spared!
And Lindsay shares that this afternoon, after carefully analyzing Reem's complex heart defects, doctors in Israel took her to the cath lab in an effort to restore her heart:
It was a pleasure today to have the opportunity to visit with the mother of Reem. When we arrived, we found her waiting outside the cath department as her daughter had been taken in about an hour before. When I went to introduce myself to her, I was surprised to find she spoke very good English.

We began discussing how thankful we were that Reem was able to arrive just in time and we shared with her how so many people across the world were praying for her precious daughter.

As we shared and talked together, I could see how God's hand has been on this little girl's life. For the first two months of her life, Reem's mother thought she was completely normal. She was at home and would eat and play and develop like other babies. The only thing she noticed is when she would cry profusely during a bath, she would start to turn blue. But when she went for her daughter's two month vaccinations, by God's grace, the doctor noticed there might be something wrong and told her to get her heart checked. And thank God she did.

But that wasn't the end, the doctors were all telling her to give up, there was no way she could be healed, it was too complicated. They told not to even try to get help from elsewhere. But she knew she needed to fight for her daughter. And thank God she did. Because shortly after, and again by God's grace, her report made it in our desk and we were able to intervene.

It amazes me to see how God works these things out. By all means this little girl shouldn't even be alive, but our understanding of time is so limited, because He's always on time. We just need to trust and obey. This mother trusted that there was something more for her daughter. And as I sat there holding my own daughter in my hands I couldn't help but praise God for His grace on Reem's life.

Praise the Lord, her cath was successful and the doctors were able to close an artery that was providing blood to the lungs and making her heart work overtime.
Now the doctors will wait to see how it responds and if they see that the heart is growing and getting stronger Reem should not need an open heart surgery. How amazing is our God that He turns the hopeless into hopeful and takes the downtrodden and lifts them up. What a beautiful God we serve!
Friends, I'm so encouraged by Reem's story. I believe our Father is working to raise up local Shevet groups to help other children like her. On our website now you'll see another urgent child from Gaza, one from Iraq, and one from Syria, all expected to reach Israel in the next 1-2 weeks. 

These cost of these children's lives will be anywhere from five to ten thousand dollars. I well understand the fear that would hold us back from interceding as local leaders for one of these children: What if I couldn't come up with all the money?

But if there's one gift we would share with you from the Shevet community in Israel, it is this testimony that we've seen true over and over: if we pray, share the story, and give what we have, then God will do the rest. 

For us it is enough to know that there are people praying, sharing and giving–whatever the outcome. He delights in multiplying our little contributions. The burden is his. And because it is his power at work, his is the glory.

Jonathan for Shevet Achim

"Behold how good and how pleasant it is for brothers to dwell together in unity" (Psalm 133).