Dear friends,
Yesterday at our morning meeting, Jonathan shared that what we wanted to extract from scripture is not a theological or intellectual understanding, but one of practical understanding and application. After thinking about this statement for a few hours, the Holy Spirit sifted through my mind and brought me to this conclusion: What good is your theology if, when faced with a baby whose organs are slowly shutting down, all the knowledge of God you have ever gleaned stays in a remote part of your mind, never to be utilized in any setting except a classroom? This sort of compartmentalization will be of no use to us, nor is it the life pleasing to God. The intense applicability of scripture is in and of itself the gloriously revealed nature of the God who has written it; he is related in every way to all areas of our lives. There is no compartmentalization, as the apostle Paul writes: "It is no longer I who live, but Christ who lives in me. And the life I now live in the flesh, I live by faith in the Son of God, who loved me and gave himself for me." (Galatians 2:20).
Faith in the Son of God is what we need most right now. Many of you probably have received the urgent update from our Georgia last night about Shakar, who was taken into emergency surgery yesterday, where they tried to repair his intestines, but found them failing due to the state of his heart. Currently, he is in multi-organ failure. Our staff will continue in shifts with them until he is out of his critical condition to rise in this life or the next.
We will also, and I ask all of you along with us, continue to pray for Shakar's healing. This obviously seems like not just an uphill battle, but a losing one. Yet, so did the Atonement. We often laugh at the disciples for 'not getting it.' They couldn't see the Saviour was right in front of them, but I think we tend to resemble them more than we'd like to admit, at least I know I do. So, we wanted to try something new and a bit different: to have a sign up sheet so that for 24 hours Shakar is covered completely in prayer, every second of the day.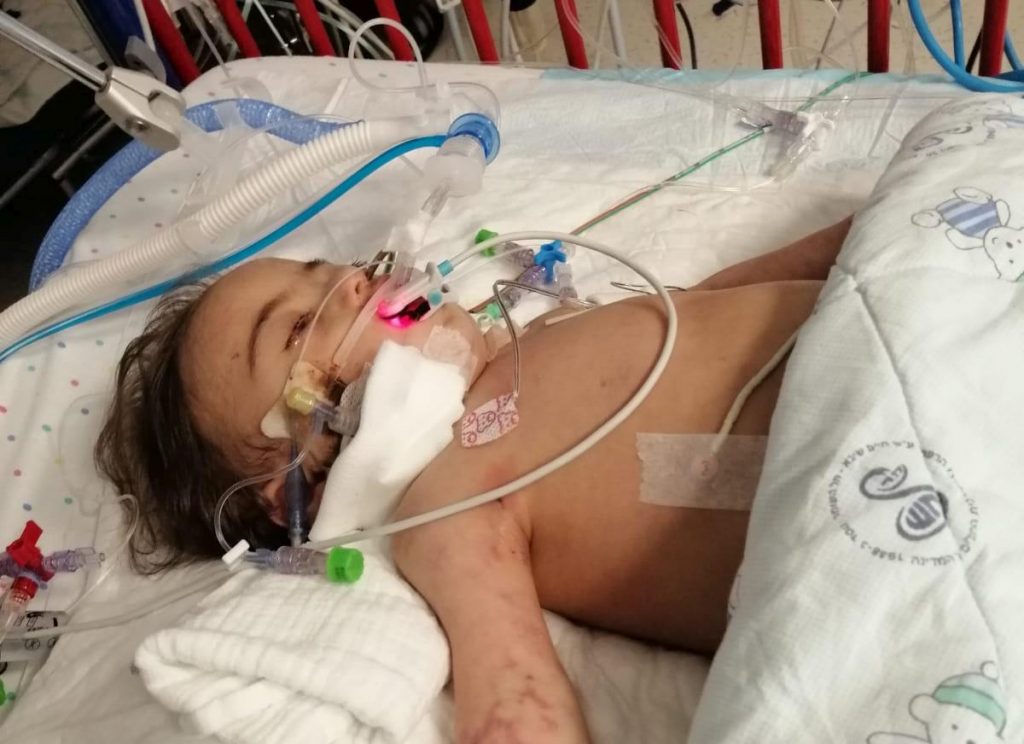 You may click on this link to sign up for half-hour prayer increments any day this week. This will function in Israeli time, so if you're in England, for example, and you sign up for 10:00, since Israel is two hours later than you, you would rise to pray at 8:00 your time. A quick internet search will tell you the time difference from Israel to wherever your home country is. We are starting the prayer watch in just a half hour at 00:00 Israeli time on Tuesday night.
None of us know what will happen. We could do this, he may still die, if that is the case, let us carry his family in prayer. And should this happen, the miracle remains that there is a resurrection. The resurrection, as Pastor Tim Keller says, is not mere consolation for all we have lost, it is the restoration of all of our loss, pain, suffering and sorrow.
Please continue to pray for the rest of our families, as they know and love Shakar, and with sick children of their own, this hits too close to home and is upsetting for all of them.
Gashbin is still waiting for surgery, so pray especially for her and her mum that despite this troubling time, they would not feel fear or dread when it does come time for her operation. We pray for the Holy Spirit's protection over her life as she waits.
Saida, who is still in the hospital is doing beautifully. His mum often goes to see Shakar's mum to see how she is. Thank God for Saida's life, he has waited a long time for the surgery, and we pray for no complications, including no liquid to develop in his chest.
Please pray for precious Dleza who is depressed and longing to come back to the Shevet base. Tomorrow we will know if she has to stay another five days to take further antibiotics, or if those are not necessary, she will be discharged. We want her healed and healed to the full, so please pray for endurance and the joy of the Lord to be hers through Messiah Jesus, no matter the result of tomorrow. The good news is that after an echo this week, we saw her heart looks great, so praise God for this!
For beautiful Ali, there has been no change in the fluid around his heart, so please pray for the treatments to have an effect on the liquid, so that he may continue to heal, but he is otherwise stable and doing well, thank God.
Mir will have his second post- surgery echo tomorrow, hopefully the doctors will be able to see what the time table for further treatment looks like. His dad got the good news that he is allowed another three months off of work albeit with no pay. Thank God for this gift! And please earnestly pray for provision for his family
Ana and Dima are both here at the house with us, and Ana is able to eat and drink after her surgery! This is so wonderful, and it is a joy to see her learn new things, like how to use a spoon to feed herself.
For Dima, we are asking our Father to provide a hearing aid donation, or a sponsor willing to cover a pair. It is hard for mum because it seems like one problem after another with her precious girl, but we trust God in his wisdom and time to provide for the next steps.
In addition to a wonderful Gaza clinic today we currently have six Gaza children at Sheba, we'd ask you to pray for them, especially a new arrival this week, Abd Alsalam who had a cath today. He is a new arrival to Sheba, and also to the world as he's only three days old!
Mohammed has been extubated this week, praise God! And a few rooms down, Sohaib is doing so well, that he might be discharged tomorrow! Rafif, though jaundiced was also extubated. Her overall improvement is such an answer to pray because she, for much of the time, was doing well! We pray she only continues to heal! Hassan is waiting for a CT scan of his heart and also for the wound on his foot to heal, so please be praying that this precious boy who had undergone so much in his short life, will have a complete recovery and soon be reunited to his mum and dad back in Gaza.
As for our dear Reem, we ask God for mercy and wisdom. The staff at Sheba have done everything they can for her, but there is nothing more for them to do. What the next steps are in sustaining her life, we don't know. So please cry out to God on her behalf.
For Reem and Shakar it can seem like the night is darkening and the shadow of death is closing in. But Second Peter 1:19 says this: And we have the prophetic word more fully confirmed, to which you will do well to pay attention as to a lamp shining in a dark place, until the day dawns and the morning star rises in your hearts…"
The prophetic word finds its culmination in the person of Jesus, all the words spoken before were about, fulfilled, and confirmed by Him. Of this assurance we must never lose sight. May we keep faith in His goodness, and keep hope in the resurrection, until the day dawns and the morning star rises in our hearts.
Once again, to sign up to pray for Shakar, please click here.
In the name of the Father, the Son, and the Holy Spirit, we pray. Amen.
Alena for Shevet Achim