Dear coworkers,
Last week's great battle for the life of Shakar for Kurdistan ended with the Father's glorious verdict: Shakar will be raised up on the last day.
And this week we were right back into the fight. This time for beautiful baby Reem from the Gaza Strip: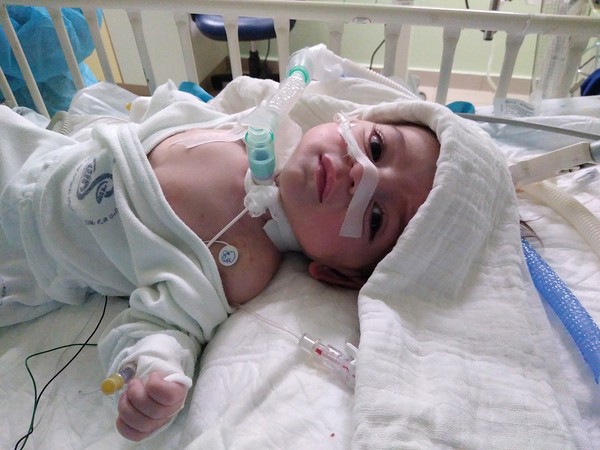 Reem arrived in Israel the night of June 20 in an ICU ambulance. She stopped breathing on the way, and when she reached the safety of the Sheba Medical Center doctors immediately put her on mechanical ventilation (breathing support). Three times since then they performed catheterizations to try to understand and improve the work of her heart and lungs; and after each attempt they were still unable to successfully wean her from the ventilator. Finally this week the head of the program asked us to transfer her back to Gaza, since other emergent children needed her bed in the ICU.
It's impossible to fault them, after seeing them pour out every resource over the past three months to try to save Reem. They must easily have spent 15 times the modest contribution that we make toward the costs of each child's surgery. With real actions they demonstrated the value of her life.
Yet when they said she was hopeless, we said–not so fast. There are few things that we can offer to support these doctors, but hope is one of them. And in our past experience, a quick transfer to Gaza was the equivalent of giving up hope.
We gained another week for Reem by asking that she first have a tracheotomy, which should make her future care easier, before any transfer. And during that time we looked for another hospital in Israel that might partner with us to give her another month. This evening, as the ambulance was already on the way to pick up Reem, we realized those doors weren't going to open in time.
Alena, Georgia and I went to be with Reem and her mother when the ambulance arrived. Here's Alena's report:
After Reem and her mum went back to Gaza via ambulance transfer tonight, I found that there was not a void of hopelessness inside me, even though her outcome is still unknown (if not negative) and we know she isn't going to another hospital that is on par with Sheba; none of the hospitals in Gaza are.
Medical equipment helps save lives, in the same way that numbers help in a battle, but likewise numbers do not win a battle, and neither does all the medical expertise and equipment in the world have the ultimate power over life and death. Recently one of the doctors, not a religious man himself, even encouraged us to keep praying because he's seen it work.
The time Georgia, Jonathan and I spent with Reem and her mum before the ambulance arrived was blessed, not because it was the picture of serenity–actually at moments it was quite chaotic–but because the love we share is genuine.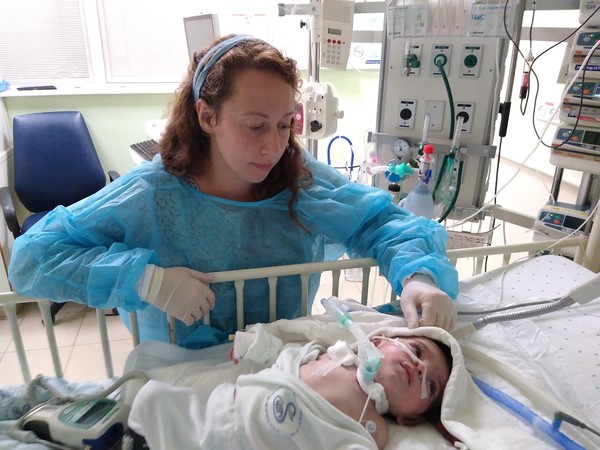 Earlier today Georgia had suggested we bring a gift for Reem, so we went to look at some of the newly-donated clothes at the Jaffa base, and literally sitting on top of the piles were two articles of a clothing, a onesie and a pair of pants, which both had deer on them. Now the significance is that Reem's name means "deer eyes," which befits the wide, doe-like eyes that she has. God was so faithful in this seemingly small thing, we wanted to give a gift that meant something, that was special, and to find two items with deer on them lying on top of shelves worth of clothes five minutes before we had to leave, was certainly divinely orchestrated. Her mum was so excited when she realized that a deer was on the clothes (click video to view)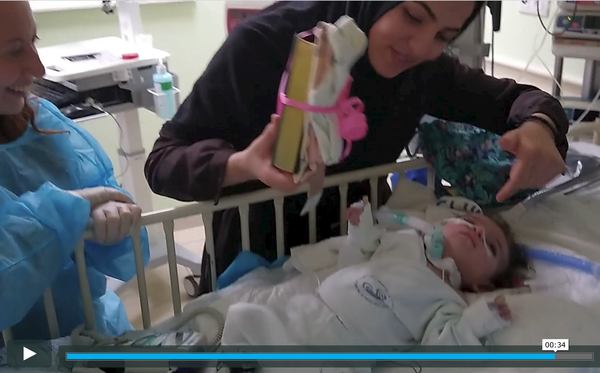 Along with Reem's present, we gave her mum an Arabic bible, and Yousef packed an MP3 of the Injil (Gospel). She also got to speak with Lucy, who with her husband are local leaders for Reem in England. Lucy vowed that they would keep praying for life over Reem.
The ambulance arrived and in a whirlwind it seemed that Reem was transferred to the vehicle and Reem's mum seated in the passenger seat (and her bags, which almost did not make it because of the tight squeeze were safely stowed behind the front seat, thank you God). We hugged goodbye through the window.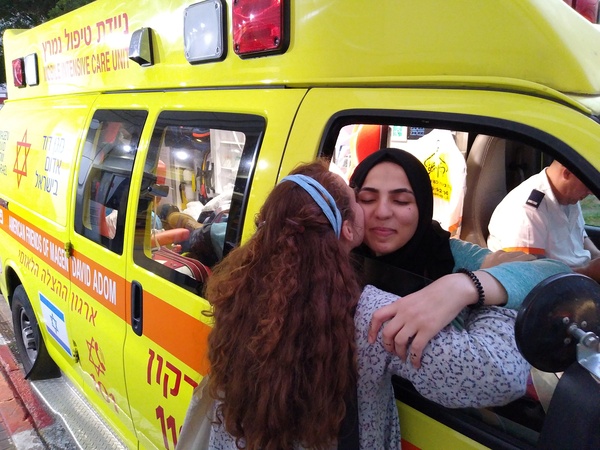 "Until we meet again," I said. Whether we meet again in six months if Reem comes back for a checkup or if we meet on the other side of eternity, worshipping the risen saviour. I don't know, but I have the unmistakable inkling of a mysterious third party, who is liable to intervene in ways we never thought possible. Like taking the form of a servant and submitting to death on a cross.
This isn't the end for Reem, whether she is at Sheba or in Gaza, Jesus has her in His arms, and however much we love her, His love is greater still.
We thank God for raising up so many community members who are able to love so purely and so freely. This week we had to say goodbye to a wonderful one, our senior nurse Diana, as she returned to her native Colombia. From Alena's weekly prayer update (subscribe here):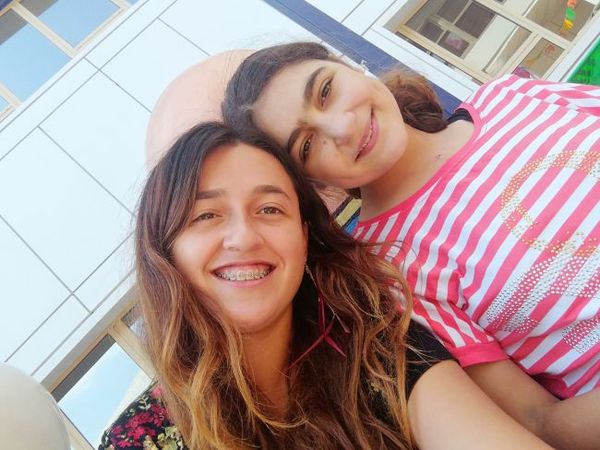 She was one unlike any other, and as we gave her words of encouragement last night at her goodbye party, a few of us remarked, "How can someone like you exist?" She is loving, intelligent, pure-hearted, patient, merciful, and of course joyful. As she pursues further medical studies we know God will use her powerfully.
When I think of Diana I think of an image in C.S.Lewis' book "The Great Divorce" of a woman who never was famous by the world's standards, but she was a queen in God's kingdom. He says this about her: "But already there is joy enough in the little finger of a great saint such as yonder lady to waken all the dead things of the universe into life."
Finally tonight, as we watch and pray over the Middle East, we should be aware of just how serious were the events of this Shabbat. As all was quiet in Israel, a sophisticated and mysterious attack at least temporarily knocked out about half of Saudi Arabia's oil production, or roughly five percent of the world's oil supply. This is big enough to be a casus belli (an act causing war.) Iran is certainly behind it, and Saudi Arabia and the Americans will almost certainly have to respond. It's also looking increasingly likely that the attack was launched from Iraq, which is turning again into a battlefield where Iran has seized virtual control of large areas. All this is taking place for one reason: the Islamic Republic is extending terror across the region in an obsessive, absolute pursuit of its raison d'etre: the destruction of Israel.
The good news in all this is that Israel's Arab Sunni neighbors are even more terrified of Shiite Iran than Israel is. However unwillingly the Jews and the Arabs are being thrown into each other's arms. And we can pray that new openness to Israel will mean new openness to the God of Israel, and to the story of salvation–Yeshua–which He revealed to all nations through this people and in this land.
Jonathan for Shevet Achim
"Behold how good and how pleasant it is for brothers to dwell together in unity" (Psalm 133).