Surely this is our God;
we have waited for Him, and He has saved us.
This is the LORD for whom we have waited.
Let us rejoice and be glad in His salvation.
Dear friends,

Isaiah's beautiful words of hope fulfilled opened the meeting of our newly-restored Jerusalem community this morning.  Yes–how long have we been talking about this?–the LORD has breathed new life into our old bones, nearly three years after we left the holy city. This week we received a truckload of new furniture donated by the Joseph Project, our staff of Ben and Coby, Margarita, Almuth and Michelle are on duty, and we're already laying plans for the first Kurdish families to move in to the Jerusalem base this week. 

Adding to the sense of God's favor is the good news coming out of Hadassah Hospital in Jerusalem. I've shared with you that in the last two weeks we've swallowed hard and taken to Hadassah four life-and-death emergency newborns, after our other partner hospitals in Tel Aviv had no room for them.

Wednesday Michelle and I were already able to return the first of these children, "Mohammed A," back to the Gaza border, now with a future and a hope:  
The next child who came out of Gaza, Hussein, arrived "too late." But the doctors at Hadassah didn't give up, took him to a very high-risk surgery, and then just barely kept him alive through the last week. Friday Coby and I peeked into his ICU room:
…and praise God we found that he's come off the ECMO device which was supporting the work of his heart and lungs. (Only about half of all children who require ECMO in hospital can survive when it is removed.)
Hussein's nurse Sophia then told us that they'll try to wean him from mechanical ventilation tomorrow.
"On the Sabbath?" I asked.
"In this department there is no Sabbath," she replied. "When we can do something we do it."
We talked a little bit about the Shevet Achim community, and she went on to say "you're doing a mitzva" (a good deed, or literally fulfilling a commandment).
"No, you're doing the mitzva" I replied.
"We're doing it together" she decided.
And, praise the LORD, today Almuth found Hussein indeed breathing–and crying–on his own!
Grandma from Gaza was so relieved she even felt free to go for a visit to Hadassah's famed Chagall windows depicting the 12 tribes of Israel:
Well, space is beginning to fail us. But the next emergency Hadassah baby, "Mohammed B," is also recovering well after the surgery to switch the great arteries of his heart:
And last of all, Jihad came to Jerusalem Thursday night, and Coby, Margarita and Almuth were with his mother during his emergency surgery today:
Mom was sitting in his room with her eyes fixed on the last photo from Jihad which she had taken before he went into surgery. We talked and prayed for a succesful surgery. The waiting time is always difficult but the staff in the operation room were very supportive and phoned every other hour to inform Mom about the proces of the surgery…
At around 3:30 pm Jihad was brought back on the ward. Mom cried and was relieved to see her little boy again. The operation was succesfully performed.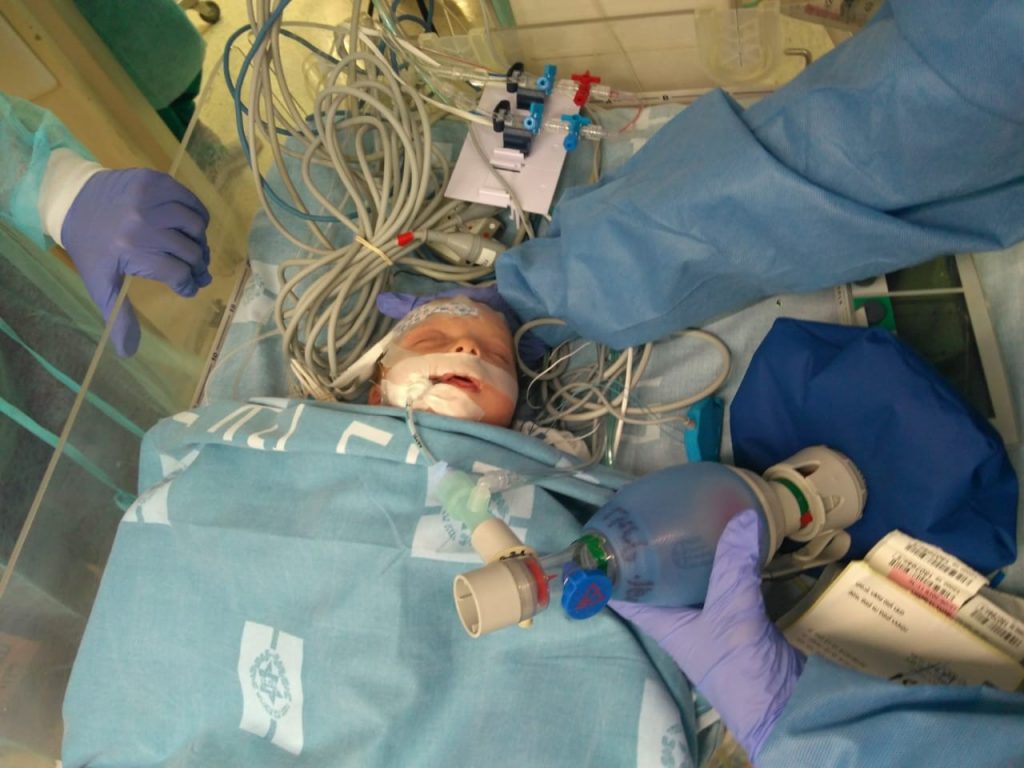 They created two arteries for the aorta and pulmonary artery. He will need later in life another operation because of the growing of his body. They left his chest open in case there need to be an intervention. The coming 48 hours are always critical because of the change of the circulation. Please pray with us that his body is strong enough to cope with it.
Friends, we've watched and prayed together through two difficult weeks, with the death of Shakar, and then Reem sent back to Gaza with a hopeless verdict from her doctors (she's still clinging to life, and our nurses are working to get her the supplies that are lacking there). So weeping may endure for a night, but joy comes in the morning. I'm grateful to share these good reports with you tonight. 

And I'm especially thankful that with the new Jerusalem base our opportunities to interact with the people of Israel will more than double. We're just much more visible there, and this comes at a time when our neighbors are increasingly disillusioned and politics seem to have failed them. Let's close tonight with an excerpt from an essay by a young Israeli messianic believer, "Israel is adrift and looking for purpose":  
The purpose of Israel as a refuge for persecuted Jews, which animated the founders of the modern State, is still in play but it doesn't have the same emotive power it once did. The call to "be a light unto the nations" still has some traction but is often met with eye-rolling cynicism, partly because the concept has been abused by some for less-than-honorable reasons. Being the "Start-Up Nation" gets some people excited but although Israel's hi-tech economy is a source of pride for many it is only a source of employment and material benefit for a relatively small number of people, with many others feeling left out, bewildered and frustrated. For the reasons stated above, being "the only democracy in the Middle East" doesn't hold much interest for most people anymore.
In short, Israelis are looking for something or someone to inspire them, to lead them, to give them a reason to get excited about what the future might hold and to get involved in making something happen.
Happily enough, God has a plan and a purpose for this nation and these people and it's the most exciting thing anyone could ask for. If you're reading this blog than you probably know what those plans and purposes are, so the question is, what are you doing to help this nation and these people find out about it? What are you doing to help these people receive what God has for them? If you're not getting in line with God's plans and purposes for this nation and these people, whose plans and purposes are you getting in line with, and why?
Jonathan for Shevet Achim

"Behold how good and how pleasant it is for brothers to dwell together in unity" (Psalm 133).