Dear friends,

"Without the shedding of blood there is no forgiveness of sins," we read this morning in Jaffa community. This scandalous word spoke to us from many directions: the confidence we have through the blood of Jesus to approach our Father without condemnation; the necessity of walking in the fear of the Lord and not compromising with sin; the futility of every religious effort to justify ourselves before God; and our responsibility to warn our neighbors that God's mercy is found in only one name.

Such conversations are best had in the context of authentic relationship. And we thank God for a new chapter that seems to be unfolding in our communities: for many years we have hosted in our homes Iraqis and Syrians who have brought their children to Israel for heart surgeries. During these months that we live and eat, cry and rejoice together, we see rich and trusting relationships form. By the time they leave these neighbors often refer to us as their family.

Yet our closest neighbors, from the Gaza Strip, have been confined to the hospitals only, and our relationships with them have suffered as a result. Now this seems to be changing. This weekend we were blessed to host three separate Gaza families between our Jerusalem and Jaffa homes. Each case seemed to be caused by unusual scheduling difficulties in the hospitals; but I'm suspicious that this may be the work of our Father, pointing the way to what is on his heart.

One of these children is Mustafa, who was finally admitted today for surgery. "To spend time with Mustafa and his mum," Jana writes, "is such a delight."
All you have to do is to tickle his little hand and he will show you his cutest smile. He is basically smiling all the time.
And Denae introduces us to another weekend Gazan guest, newborn Aiman:
Tiny Aiman was released from the hospital on Friday after his emergency heart surgery, and since it was after the border closed, we got to bring him back to the base with us to stay through Shabbat.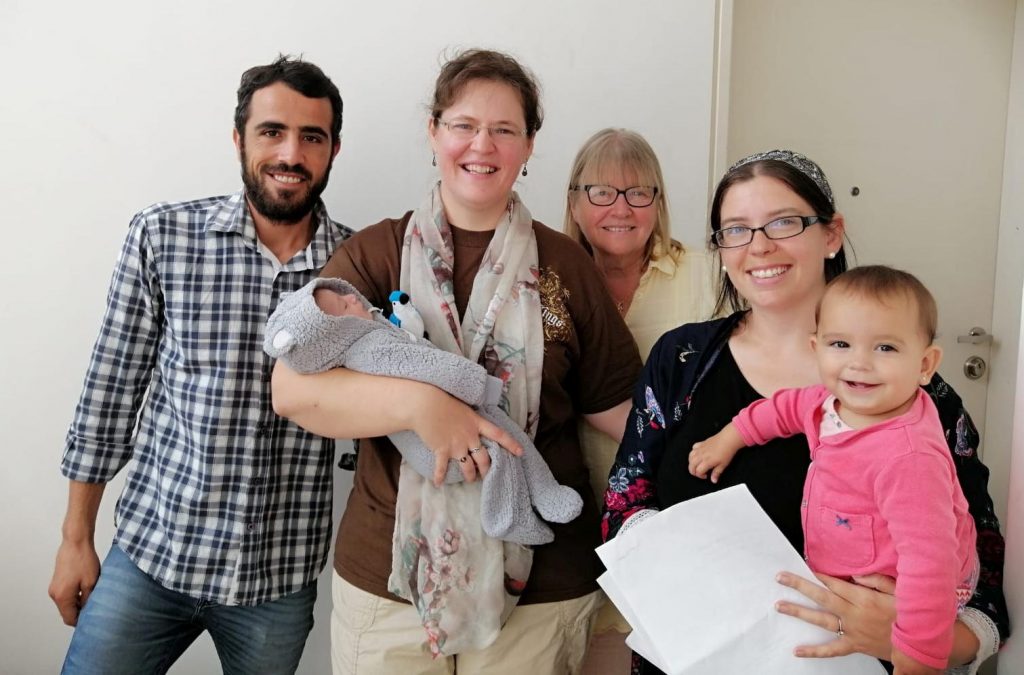 He is doing very well now and eating more all the time! He is so perfectly precious with his cute little nose, and tiny little fingers and toes! 
It was a pleasure to have his grandmother here with him this weekend, we helped her to understand his medicine schedule (which was written in English and she only reads Arabic) and spent lots of time just holding and cuddling this tiny bundle…Google translate is a lifesaver around here, and we were able to visit through that and really connect with them both. Aiman's grandmother is a mother of seven, so it's no wonder she takes such great care of little Aiman. We are sad to see them go today as we will miss them and the baby cuddles, but are so happy that he is healthy and able to be going home. God is good!
And up in Jerusalem, our coworker Almuth shares that six-year-old Shahad from Gaza is "enriching our community with her adorable and lively spirit."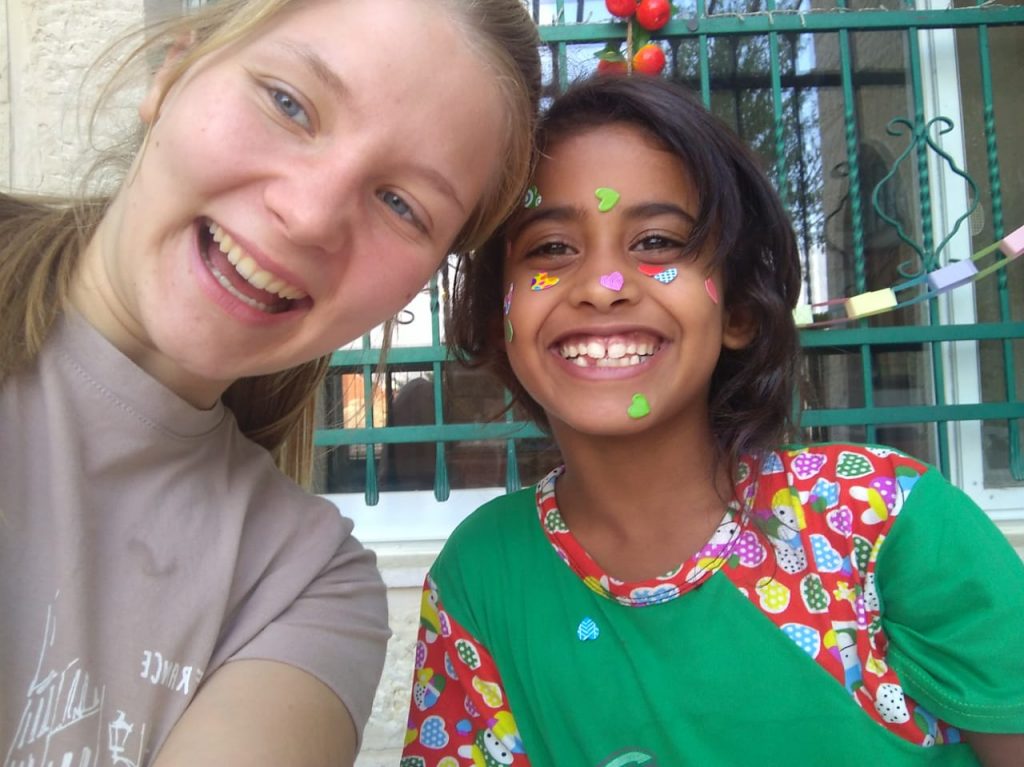 Shahad is accompanied by her aunt from Gaza. The aunt is doing ok. She is missing her family and is also a bit upset that she can't be there for her family at the moment. But she is cooking awesome food for us and gets along quite well with others in our community. Please pray for her that she also receives joy for this service to her niece Shahad and for her help to Shahad's family. Please also pray for the girl and her aunt that they are allowed to experience God's love, life and grace in our Jerusalem guest house! Today we were at the Garden Tomb:
This coming week may be critical in 1) securing permission from military authorities for more children like these above to spend time with us in our communities, and 2) closing an agreement with Hadassah Hospital in Jerusalem to help more Gaza children. Let's pray that our Father will lead us to the good works he has already prepared.

I also want to ask your prayers this week for the Iraqi Christian refugee toddler Gabi. Doctors have been fighting mightily this week to spare his life, through multiple resuscitations and a 12-hour emergency surgery on Friday. Tonight Gabi is in isolation in the ICU with his chest still open, and an artificial device doing most of the work of his heart. 
Gabi's young father is found constant in prayer every time we look in on him; can we do less than to stand with him?
Jonathan for Shevet Achim
"Behold how good and how pleasant it is for brothers to dwell together in unity" (Psalm 133).