Dear friends,

As the calendar turns to December, I've been looking out the corner of my eye at our year-end numbers. We haven't known where we're going this year. We haven't had a plan. We've tried to respond faithfully and prayerfully to every child the Father has brought us. And it appears this has given us at least a 50% increase over the number of heart surgeries we sponsored last year: from 54 in 2018 to 81 or more in 2019. Much of the increase has been the life-and-death emergency newborns from Gaza, babies who had no other chance if we wouldn't step in.

It also appears that our year-end commitments–which seemed staggeringly high last year–will also be at least 50% higher this year. 

This is the way the old King James translation speaks of Abraham in Romans 4:20: 
He staggered not at the promise of God through unbelief;
but was strong in faith, giving glory to God;
And being fully persuaded, that what he had promised, he was able also to perform.
I'm finding encouragement in the stories of others who've walked in faith, against all odds. Several friends around the world have stepped up this year as local leaders, trusting God to provide as they take responsibility for sharing in their locality about a specific child. The big barrier is the initial fear factor: What will I do if I can't come up with the funds? (The same question I'm tempted to ask myself each year's end).

Listen to Frank's testimony, which he shared with me just today, of what happened after he first visited us in Jaffa in February: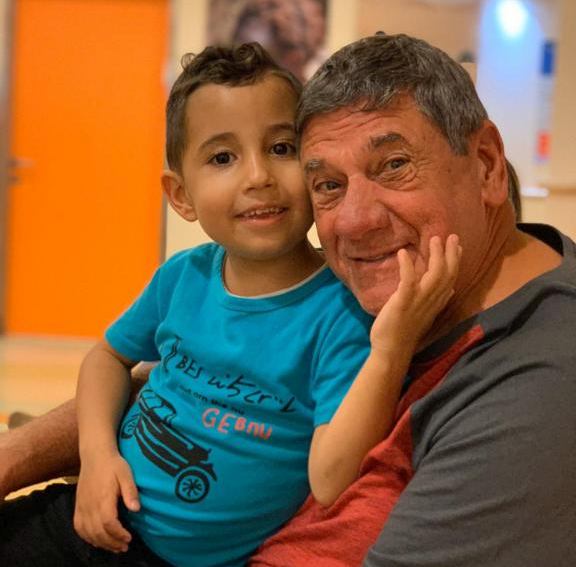 When I was back home in the US, I was with a friend of mine, who had initially told me about Shevet. We decided that we would like to sponsor a child from Shevet. As we were searching through the names of the children on the website, we saw that all of the unsponsored children needed about $6500. Then we came to Noora's name, and saw that she needed $9200. I knew her, and enjoyed the time playing with her, and getting to know of her situation, I knew right away that it was her that I would like to sponsor. Despite the amount of money required, I always felt confident that God would provide…
My friend and I started to discuss how we could raise these funds. We tried selling discount coupons, we tried a 'Gofundme' page, we asked about raising money at the college which my friend teaches at, and I was sending emails out to my friends and acquaintances telling them about Noora. By the end of September, through our efforts, we had only managed to raise about half of the money which was needed for Noora, which left less than two weeks before my return to Shevet.
I started to think that although I was telling everyone that we need just to trust in God to provide all the money which was needed, as it got down towards the last days, I was really focusing on me, and how I could raise these funds, rather than how God would provide. I figured that it just wasn't God's timing to provide the full amount at this time.
It was at this point, money started coming in from places I would never have expected.
I spoke about Noora and my trip to Shevet to a man who I was playing golf with who I met for the first time; he handed me money at the end of our golf round.
The very next day, I was talking to a lady at the golf course to let her know I wouldn't see her until next Spring. When I explained why, she asked if she could give money to Noora. The following day, she gave me a check which covered almost the remaining amount required for the sponsorship. I was so excited we were only a little over $1200 short.
The day after that, I was having breakfast with a friend, who I had sent an email to telling him about Shevet, but he said he never saw it. When I talked to him about Noora and Shevet, he asked if he could donate and did it right there in the restaurant.
One hour after my friend donated, he called me to tell me that he had someone else who would like to donate to Shevet and Noora. This put us only $200 short.
After breakfast I returned home and looked at the web page for Noora, I saw that another person had donated while I was having breakfast with my friends.
Later that afternoon, someone else donated which put us $1000 over what we needed to cover Noora's expenses.
I have often shared Jeremiah 17: 7 with others in the past, to encourage them to trust in God for his provision. "Blessed is the man who trusts in the Lord, and whose trust is the Lord." Although I would share it with other people, I realized I was not applying it to myself and my situation.
I thought that I was going to go to Israel with the $4000+ and raise the rest of the money when I got back home. My Father had a better plan, He provide the funds. That brought tears of happiness and joy but also of sadness knowing that I hadn't put my full trust in God to provide. Our Father asks us to trust Him in all things. I'm so thankful He showed me that He is a Faithful Father.
And consider these excerpts from our correspondence with Grant and Kathy, about what happened after they first visited with us in 2017: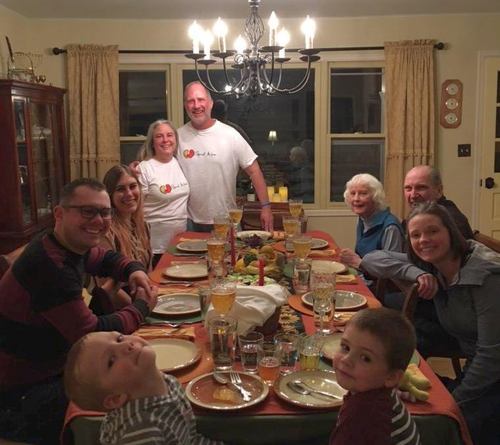 We have been sharing the story of Shevet and praying for the community and for the families and children ever since. We have a large family dinner every Sunday evening when Jonathan's weekly email arrives. I often read the emails aloud to the family and we pray. I am never able to get through an entire email without tears welling up. I am keenly aware that the Holy Spirit is prodding my heart to do more than just pray and He has touched my heart deeply with everything that Shevet Achim does and with what it represents…
I am stepping out in faith and obedience to the prompting of the Holy Spirit and would like to be a Local Leader for Shevet Achim. I feel like I have done this in many ways for the past few years, but the extent of my action has been prayer and sharing your story. I believe my small group would like to be more involved directly and I would like to be the point person for that involvement as a Local Leader. I know that our group would be very blessed to sponsor a specific child…
I wanted to share a few quick stories of great things the Lord is doing. Jonathan told me to share the story of Shevet and to let the Lord work on people's hearts from there.
I went to a medical supply store to buy some things from your wish-list. I went with my father-in-law. When I went to pay – he had covered the entire cost. 2 stethoscopes and a pulse ox. I went to another store to buy pediatric and neonate nasal cannulas. I asked for 10 each and was shocked at the price of $10 apiece. I told the lady at the store about Shevet and she was moved to tears. She gave me the nasal cannulas for $2 apiece.
We have a lot snow on the ground here and it has been cold.  Yesterday my car battery was dead and I couldn't start the car.  That caused a lot of stress for us.  My neighbor helped us get the car started and I was praising the Lord. With that interaction I told my neighbor about Shevet and they were moved. Their 82 year old mother lives with them and she said she'd like to do something to help – asked if she could donate something.  I was about to ask for children's clothing and toys but she said – how about just a check for $1000!  I came away in tears, with my car running and a large donation for you.
Isn't God awesome. I am so grateful for this opportunity to learn how to rely on Him more and more. We have dozens of stories like this and we haven't even packed our bags yet! [They returned last month for a wonderful time with our community].
What a joy these stories are. Here's how Luzma responded to Grant and Kathy:
Grant my eyes were full of tears reading this, God is so good and sometimes we just forget that He is at work all the time and that He has His ways of doing things. If we, in faith, choose to share about and Him and His works He will go before us and give us victory and blessings.
This all gives me hope that, if it is the Father's will to carry us forward beyond 2019, that he will also raise up many more local leaders to adopt children. (The head of cardiovascular surgery at Hadassah Hospital in Jerusalem wrote me today asking if we would agree to send them 150 children over the next three years, in addition to what our partners at Sheba Medical Center in Tel Aviv are already doing).
Friends, it seems we are at such a time of opportunity–opportunity born of the Spirit, not the work of our hands. This week one of the widely-circulated Hebrew newspapers chose to explain the whole story of what's happening to the people of Israel, in a lengthy article called "Saving Rahaf." Here are some excerpts:

The medical care that she received in the land was made possible thanks to the charitable association Shevet Achim, which is operated by Christian volunteers who are not citizens of Israel. The members of the association make connections between children from Arab countries, whose fate is sealed without medical care, and the country that is willing to accept any child, no matter who he is, and give him medical care among the most advanced in the world.

"The policy of Israel is to receive here every child who needs medical care," explains Jonathan Miles, the international coordinator with Shevet Achim. The minister of the interior personally signs for every child like this who enters the country, and the hospitals subsidize the treatment…"

In 2019, 80 children with heart defects were treated in Israel through this project…

With this he notes that most Arab countries are opposed to cooperation with Israel, and that the Muslim Brotherhood organization even came out against them in an explicit way…

The surgery of Rahaf passed successfully, but she's having difficulty recovering the ability to breathe on her own so she is sedated and intubated. Her father looks worried and tense, but he agrees to speak with an Israeli journalist in a gesture of good will…
"I am very worried for my daughter, but the reception that we are receiving here from the doctors and all the team is really good, and I know that we're in good hands," he says. The father tells that he feels comfortable in Israel, also outside the walls of the hospital. During his time in the country before and after hospitalization, he likes to stroll with Rahaf in the streets of Jerusalem, and "this is really amazing."

The father of Rahaf tells me, "We fled from the area of fighting in Syria when Rahaf was born, and we are living now in Jordan–me, my wife and four children. I can't help but thank the doctors in Israel who treated my daughter's heart."

As mentioned Rahaf is really not alone. Every child comes to the country with one relative–usually a parent–and is welcomed by the volunteers of the charity, and lives in the charity's house in Jaffa or Jerusalem. At any given time there are about 13 families in the houses.

"The message that these children and the parents are receiving in the hospitals in the country is that they are equal, that somebody cares about their life," explains Miles.

"The parents are coming here with the message that the people of Israel, about whom they've only heard bad things, are willing to receive them. In the beginning they don't know what to expect, but after a short time they understand that they can feel at home, and there is nothing to fear. That everything will be done to save the children.

"Many of them say to us: 'They lied to us about the people of Israel, that they hate us and want to do us harm. But they're only caring for us here.' This changes thinking, softens hearts, and when they leave here they are full of gratitude and blessing what they saw here." 

Brothers and sisters, this is the calling of Abraham, Isaac and Jacob: to be a blessing to all the families of the earth. And the greatest blessing given to us by Israel is the word of God, able to make us and our neighbors wise unto salvation. Shall we keep on believing God, keep on building bridges to share these blessings, and press on together into 2020?

Jonathan for Shevet Achim

"Behold how good and how pleasant it is for brothers to dwell together in unity" (Psalm 133).