Dear friends,

It's been a good week for the Good News in the Middle East. The leaders of Iran who claim to represent God on this earth–and who burn with hatred toward the restoration of Israel–were exposed before the astonished eyes of their people as morally and spiritually bankrupt.

When they proclaimed day after day after day that they had nothing to do with the downing of a Ukrainian jetliner on Wednesday, many Iranians couldn't help but believe them. But then video emerged of the moment an Iranian missile intercepted the plane (by what miracle did someone have a cellphone pointed out the window in just the right direction of the predawn sky?). And there remained no choice yesterday but to finally confess the lie.

The shock expressed by even ardent supporters of the regime was palpable. (You could compare this to the church leader exposed in sin, who issues incensed denials and is trusted by his followers–right up until the evidence becomes painfully incontrovertible.)

Iran's ambassador to the UK apologized for passing on to the media "the official findings of responsible authorities in my country."

Once unthinkable cries of "Soleimani was a murder, his Leader is also a murderer!" rang out in Iranian streets.

And check out this video of university students refusing en masse to walk over flags of Israel and America painted on the pavement, and calling out the few who do as "dishonorable":
Perhaps the best summary of popular feeling is this article: Iran MPs, councilors say systemic lying mars its establishment:
"I am ashamed of you all…I hope the authorities…for once be responsible and take a brave decision to get the country out of this vicious and never-ending circle of lying, corruption and incompetence," Bahareh Arvin, a member of Tehran's city council posted on her Telegram channel on Sunday.
Here we start to touch upon a profound truth: why does systemic lying afflict not only Iran's theocracy, but every expression of legalistic religion, be it Muslim, Christian or Jewish?

Legalism, so far as I've experienced, holds that God gave his law so that good people if they try hard enough can successfully keep it and thus win God's acceptance. However the scriptures, and Paul in particular, argue just the opposite: there are no people good enough to keep the law (which actually stirs up sin within us), and it is really given to convict us of our need for the grace brought by Messiah.

So if we live by grace, we need not fear telling the truth about our own weaknesses. There is a solution in the cross! But if we live by the law, we'll soon find ourselves condemned by it, with no solution other than to lie, deny and deflect.

In this light we may find some sympathy for the head of Iran's missile program. When pressed to stand before the cameras and take the blame, his hopeless words were simply: "I wish I was dead." 

Friends, I hope we can come out of this week with greater compassion for our religious neighbors, and a greater desire to intercede for them. It is a terrible thing to grow up in a culture that knows nothing of the grace of God. What are we doing to share this treasure we have found?

That's the key question for our community as we seek to follow our Lord forward into 2020. How do we build now on the blessed foundation of the last 25 years of acts of mercy? I'll say again that I'm grateful to be still so helplessly dependent on the Father for the resources to cover 2019 surgeries. (This week we crossed the 50% mark toward the funds needed to keep our commitments to Israeli hospitals.) Our Father has our attention, and we're ready to do what he says. Please pray with us.

And we had an abundantly rich prayer time this morning with a visiting group of intercessors organized by longtime friend Philippe with the Healthcare Believers Fellowship in Israel: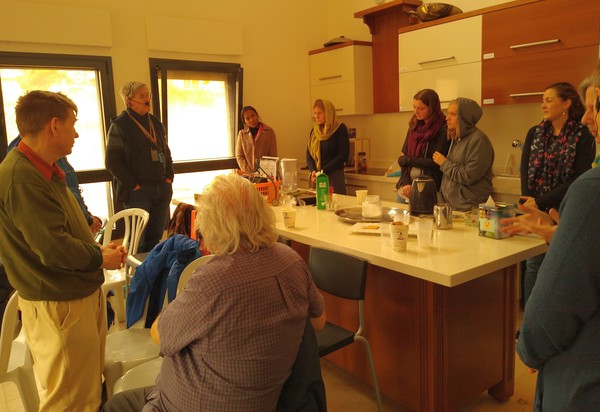 Mustafa's mother joined us for prayer before heading to the ICU, where her 16-year-old son is showing some improvement, but still without kidney function and unable to breathe on his own; then very blue 14-year-old Khonav came in for prayer as doctors deliberate over her challenging surgical plan; and finally we lifted up newborn Fathi from Gaza, who's between life and death, and has no family members but the Shevet family by his crib in the ICU. From Ruth's blog today:
It feels hard to put into words how I feel about Fathi. He is less than two months old – so small, so beautiful, a world of possibility ahead of him. Seeing him lying there in the middle of wires and tubes and machines doesn't feel right somehow. My heart melts as I look into his little brown eyes and tell him he's not alone.
His nurse explained there hasn't been any change since last Thursday. He improved a little last week, but is still in a critical condition. We really have to trust Fathi into our God's hands. He is fearfully and wonderfully made in God's image; he is loved and known more deeply than we could imagine; he is held in the hand of the God who never slumbers or sleeps.
Please continue to pray for this little boy who is becoming so special to all of us here at Shevet. Jonathan for Shevet Achim

"Behold how good and how pleasant it is for brothers to dwell together in unity" (Psalm 133).