Dear friends,

I wrote you last week just as the first three Kurdish children of 2020 were winging their way to Israel with the escort of our senior nurse Colin and a portable oxygen collector. As often seems to happen, the Father's grace kept the bluest child Shifaa alive just long enough to reach advanced medical care.

She looked on top of the world as she was rushed in for diagnostic catheterization Wednesday at the Sheba Medical Center: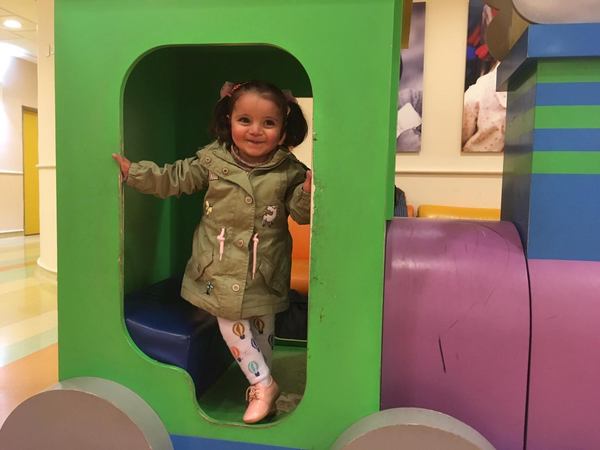 And while there were some tears early the next morning, Mom managed to comfort Shifaa as the Israeli team took her in to the cath lab to explore her heart:
"After three hours the cath was over and they brought Shifaa back into her room," Joela writes.
On the way her oxygen dropped dangerously low. The doctors decided to give her oxygen and even thought about intubating her. Shifaa's mum was very anxious. I stood next to her, she grabbed my hand, and together we watched Shifaa carefully just as the doctors did. After a while Shifaa's doctors and nurses came by, one by one, to look after her, and were happy that her oxygen was improving.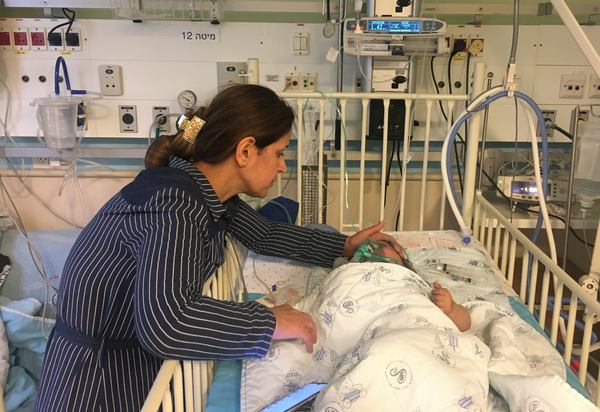 Only in the moments when she cries a lot, her oxygen drops again. But praise be to God that He gave such a strong mum to Shifaa, a mum who stands beside Shifaa's bedside, who comforts and talks affectionately to her little girl. The relationship between a mother and her child is something very special. I'm so lucky to be a part of these lovely moments. I am also very happy for this amazing staff at Sheba. They were and are all so loving and caring. God bless them for everything they do for our beautiful children.
Today Colin found Shifaa stabilized, resting peacefully on oxygen, and safely awaiting her open-heart surgery: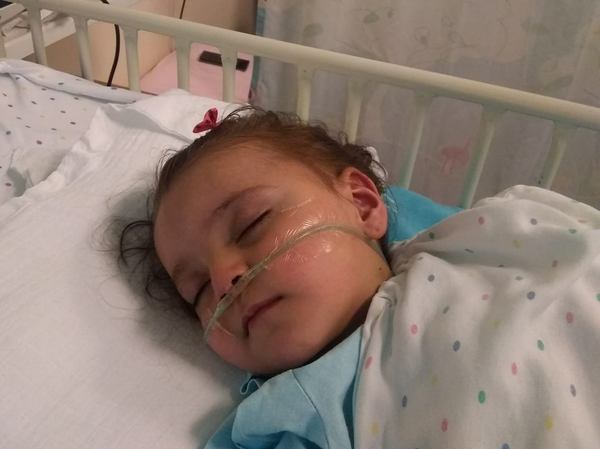 If you look at Shifaa's page, you'll see the one thing she is still missing is her local leader — one who will exercise a mustard seed of faith and rally others to call on the Lord for Shifaa's healing, and for the $6000 needed to support the Israeli doctors in their fight for her life.

My faith for this is growing, as I see more and more friends catching the vision for how Messiah desires to work through his body in this way. Consider the message I came across this week from our wonderful local leader Grant in Colorado:
I may have once thought the local leader plan was to help fund-raise. But I'm learning it's more about connecting relationships. What an honor that I get to text a Syrian man in the middle east. Someone who I would now call a friend. As a local leader I gain this remarkable access to forge relationships. I get to share prayer requests with all my friends. I am seeing God use these connections to prompt people to give. But more so- the holy spirit is prompting people to pray. I know my prayers have radically increased. I also know that Akram and Rahaf and Jonathan and many others are being covered with prayers from dozen or hundreds of strangers- all connected through our local leadership. Praise God.
And what am I doing? Just a few texts, emails and Instagram posts. God can use anybody and anything to accomplish his purpose.
Friends, I know well the fear that comes in when we consider getting involved. What if I can't come up with all the funds? I can only share the story of how Shevet Achim got started. A dying boy, an impossibly large amount of money needed for his care. And all we did was give what we had, pray and share the story. The results are up to God. All he asks is that we don't shut the door on him through our unbelief.

We had a lovely time this morning in our community meeting, as Alena led us in this chorus over and over:
Lay your burden down upon
Down upon Him
Lay your burden down 
When we do this, good things start to happen. I'm looking at our online counter for 2019 commitments (click here and select "Help to cover the year-end hospital bills") and I see that about $70,000 more has come in since last week. I'm asking myself where that came from and, as often happens, I can't really say. This is the Father's work. We just get up in the morning and it's there.

And check out tiny Ahmed from Gaza (one of those life-and-death newborns without a local leader, on whose behalf we took on all those commitments). Jana last week described his arms as "not much bigger than my thumb." After three heart surgeries in three weeks, here's how Colin found him this afternoon:
He looked like a different child, with his eyes wide open and his oxygen levels at the highest I have seen for him. No oxygen tubes, no feeding tubes. He still has a chest drainage system intact, but otherwise it makes me so happy to see his improvement. As of today, he is now drinking milk from the bottle! 
God is bringing glory to his name in the Middle East.

Buckle up for a wild week as the American peace plan is finally revealed, expected to be a radical shift in the direction of affirming the right of the Jewish people to resettle in their promised biblical heartland of Judea and Samaria. Like so many things in today's world, who could have imagined it just a few brief years ago?

Click here or on the video below to hear US vice-president Mike Pence speak the plain truth of God's word this week before the 48 world leaders gathered here in Jerusalem to commemorate the 75th anniversary of the liberation of Auschwitz (and stay tuned to the end for his heartfelt rendition of the synagogue prayer "Oseh Shalom" in Hebrew):
Through pogroms, persecutions, and expulsions in the ghettos, and finally, even through the death camps, the Jewish people clung to an ancient promise that He would "never leave you or forsake you" and that he would lead this people to inherit the land that he swore to your ancestors that he would give them.
And so, today, as we bear witness to the strength and the resilience and the faith of the Jewish people, so too we bear witness to God's faithfulness to the Jewish people.
May the memory of the martyrs be enshrined in the hearts of all humanity for all time.
May God bless the Jewish people, the State of Israel, the United States, and all the nations gathered here.
And may He who creates peace in the heavens create peace for us and for all the world.
Oseh shalom bimromav. Hu ya'aseh shalom aleinu. V'al kol Yisrael V'imru. Amen.
Jonathan for Shevet Achim

"Behold how good and how pleasant it is for brothers to dwell together in unity" (Psalm 133).