Dear friends,

We were asked to walk again through the valley of the shadow of death this weekend. 16-year-old Mustafa barely survived his heart surgery six weeks ago. Since then there seemed to be slow and steady progress in the ICU, until Friday afternoon; his mother was praying on the Temple Mount when the call came that she needed to return quickly to the hospital. "When she arrived at the house," Colin writes, "her dress was saturated in water from the cold rain."
Our coworker Claudia welcomed her into the home, and Sundus collapsed into her arms. Her face expressed great sorrow and pain. The first phrase she said after we guided her to a chair was alhamdulillah – praise be to God. This is a common expression, but I believe she spoke these words with her whole heart. After she mustered enough strength to continue, we set off to the hospital. As we traveled, we each spoke words of prayer comprised of an ocean of emotions – desperation, praise, hope, confusion, love, and peace…
When we arrived, Sundus received the news that her beloved son had succumbed to overwhelming septic shock – a severe systemic infection that causes multiple organ failure. The nurse announced that it was expected for Mustafa to die within the next few hours. For the last month, Mustafa has been battling multiple challenges, including fighting off two bacterial infections that are resistant to most antibiotic treatments. At last this bacteria traveled into his bloodstream, and his body could not compensate and fight off this bacteria that invaded his whole body. His blood lab values were incompatible with life, and the doctor was surprised that he was still alive.
The healthcare team fought for his life, trying every mechanism available to try to reverse his condition. The doctor was thankful for how long he had been fighting, as it allowed Sundus to spend the last few hours of Mustafa's life together with him. She grieved, crying over his body. We all cried together. Mustafa even shed a tear from his eye, and we gently wiped it away. It is impossible to hold back tears when one thinks of the gentleness, vitality, kindness, and care he showed for others.
Many around the world were praying and weeping along with them, lifting up to the Father not only Mustafa and his mother but also our community members as they passed through these waters. What's been so powerful is that our young team responded not just with shock and tears, but Friday night and again this morning with heartfelt worship, looking beyond the valley of the shadow of death to the feast waiting on the other side (click on the video below to listen):
And Mustafa's mother has moved and challenged us with her own expression of faith, stating again and again words that could have been ripped from the book of Job: "I know my God still loves me."
Friends, the spirit of God is poured out and moving in this world. Let's follow him wherever he leads. And yes, that almond tree we were watching last week has now broken into blossom; the watcher has awakened, new life is on the way: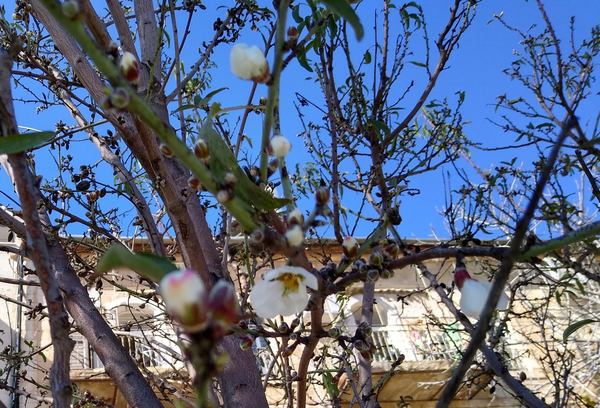 Word came this week that a secular European charity will join with us in 2020 to cosponsor surgeries for 60 more children from Iraq, Gaza and Syria. For those who may be called to advocate for a child as a local leader, take note: if we'll act in faith, people we'd never expect will be drawn to join with us around the goal of saving a child's life.

And the spirit is raising up new local leaders; this week Marcia and Neil Lebhar stepped into the gap for Khonav, who's looking rosier with each passing day since her surgery. We're excited that they'll be coming to visit her next week: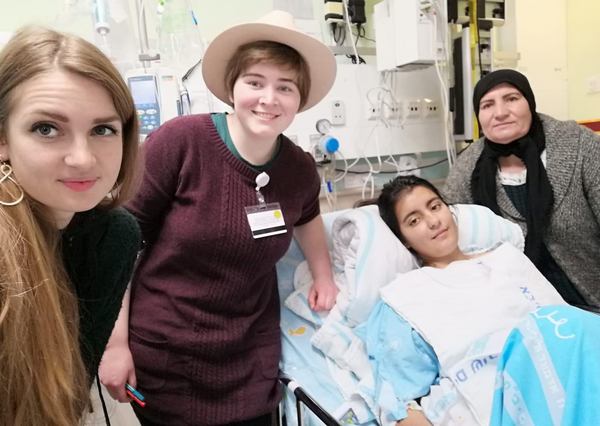 And so, as the Lord moves, we too will move forward in 2020. Today's surgery was newborn emergency Mahmoud from Gaza, still without a local leader of his own: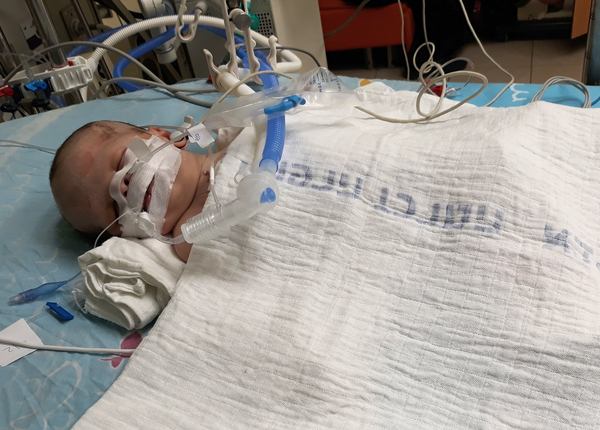 Gaza is a particular challenge. So many words are spilled worldwide about the suffering of Gaza; so few fingers are actually lifted to help when a child's life there is on the line. Our refusal in the Lord to abandon these newborns accounted for the largest part of our deficit in 2019. (Who do you know who might partner with us to keep helping them in 2020? Here's a one-page proposal you could share with them.)

Today our longtime friends at St. George's Church in Barcelona held a special appeal to help us retire our commitments from 2019. Here's our reply to several questions they were asking in preparation:
Last year we sponsored 91 children: 48 from Iraq, 39 from Gaza, and 4 from Syria. Over 90% of the surgeries were successful. Many of the newborn Gaza emergencies are complex and some cannot be saved despite intensive efforts by doctors in Israel. Still it is important to the families to see that the life of their child was treated with such value by their "enemies."

The normal price for all these surgeries for Israeli citizens would be over 2.1 million dollars. But our partner hospitals take more than half of the costs on themselves, and our contribution was $825,000. As we reached the end of the year $550,000 of this was still remaining to be paid. As of this week, thank God, only $170,000 of this amount is still needed.
Finally this week, yesterday in synagogues around the world the Torah portion included the giving of manna in the wilderness from Exodus 16: the people of Israel "gathered, some more, some less. But when they measured it with an omer, whoever gathered much had nothing left over, and whoever gathered little had no lack."

It struck me this time that this may be the first biblical reference to God's peculiar power to multiply resources, similar to what we see later when Elisha multiplied the jars of oil, and Jesus the loaves and fishes. And at each year end as I'm wondering how we'll possibly cover all the commitments we've made, I watch how those promises are kept in ways that I can't quite put my finger on. I'm just foolish enough to believe the power of God is at work in this too.

If so, the message of Exodus 14 is for us as well: "Why do you cry to me? Tell the people of Israel to go forward…The LORD will fight for you, and you have only to keep silent."

Jonathan for Shevet Achim

"Behold how good and how pleasant it is for brothers to dwell together in unity" (Psalm 133).