Dear coworkers,

When we consider adding new members to our community, we look for those who feel an instant heart connection to Shevet Achim when they first hear of what the Lord is doing here. To them, in the spirit, it is exciting and alive! They know it is for them. For others, who are more focused simply on Israel or on some other agenda, we accept that their calling may be elsewhere.

None demonstrated a calling to Shevet better than our brother Hank from northern California. A Jewish follower of Jesus, we first met Hank and his life-partner Jeannie in 2008 at a hotel run by believers in Tel Aviv. A young Kurdish couple from Iraq was also staying there as Israeli doctors fought for the life of their toddler boy Azhee.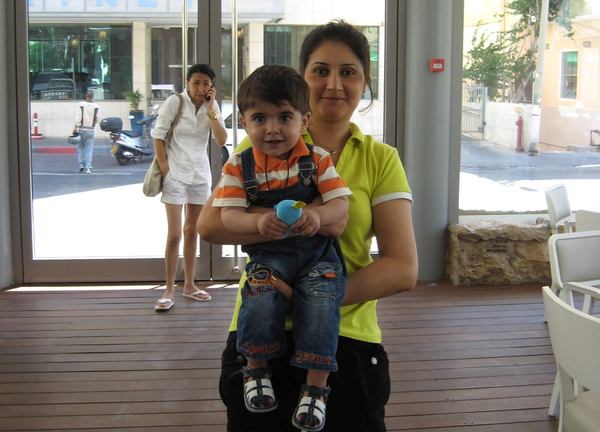 When Hank and Jeannie realized what was happening, they didn't say that was nice and rush on to their travel plans. They didn't pass by on the other side of the road. They loved that Muslim family. They prayed with them. They paid for their accommodation at the hotel.

Seeing this I made one of the best decisions of my life. I asked Hank if he would sit on the board of the Shevet Achim non-profit in the US. He served ever since then loyally and passionately. He traveled the west coast of the US each year to invite university students to come and join us, including two of his own grandchildren.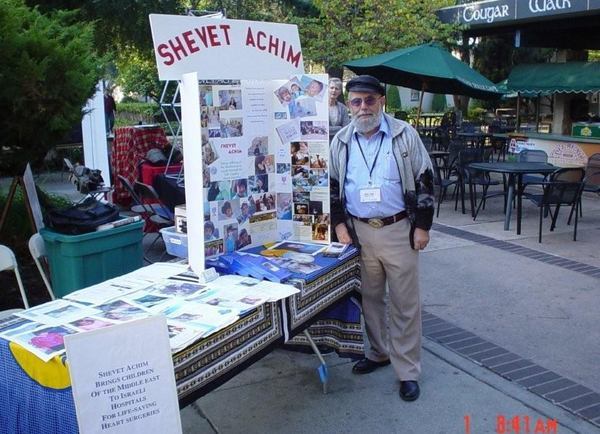 He never got offended when I failed to communicate for weeks or months. And in times of trouble he unflinchingly stood behind God's calling for Shevet Achim. In an interview with his local newspaper he told them "Shevet Achim, that's our great love."

And yes, two weeks ago Hank was finally called to his Messiah. I'm just back in Jerusalem tonight from his memorial service. 200 people packed the community hall in his tiny mountain town and listened as generations of family and close friends with one voice told how they met God in the life of this patriarch. It was the first psalm come to life: how blessed is the man who does not turn aside from the teaching of the LORD. And Hank had the last word by video, as he invited all those present to join him in following Jesus.

Friends, let's pray that we too can find grace to serve God and each other, family and stranger, as well as Hank did.

Our senior nurse Colin is back out on the front lines tonight, gathering with three new families just now at an airport in northern Iraq, to travel back with them to Israel. She's there particularly for three-year-old Mareta, from Iraq's ancient Assyrian Christian community, who's living on oxygen, without which her saturation levels drop to 30-45% of normal.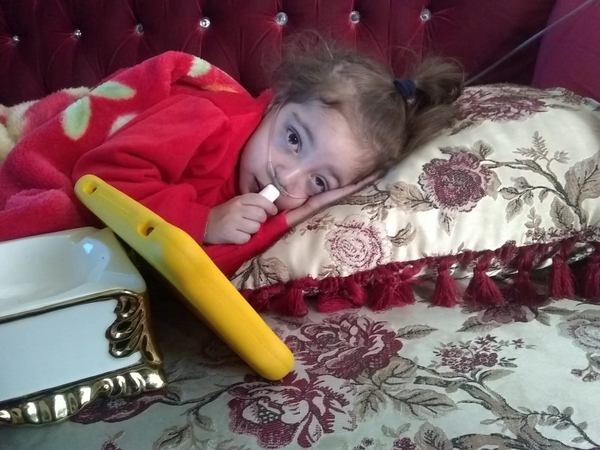 Let's lift them in prayer right now as they're traveling. And a special "well done" to Lindsay's mother Suzanne, who thought she was coming from the US to Israel to celebrate granddaughter River's first birthday tonight: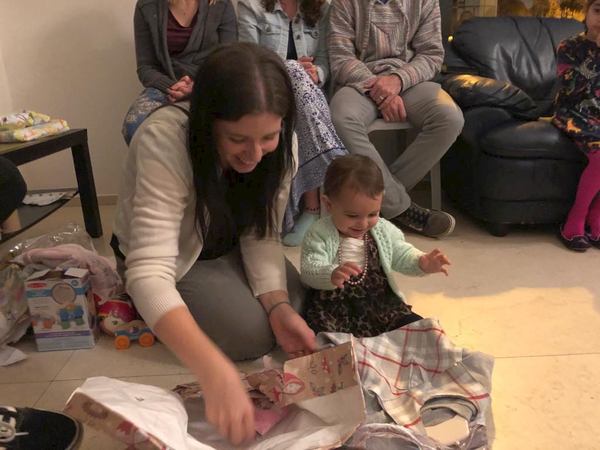 But in actuality her mission was to get new batteries for our portable oxygen collector here, with just minutes to spare, in time for Mareta's flight tonight.

Meanwhile right here on our doorstep, let's continue to ask the Father for resources so that we turn away no Gaza baby in life-and-death peril. Today red-headed newborn Taleen was taken in for emergency surgery at the Sheba Medical Center. One of our newest coworkers, Markus from Germany, reports that hope turned to doubt when Taleen was long delayed in the operating room…but finally she emerged and our team could breathe again: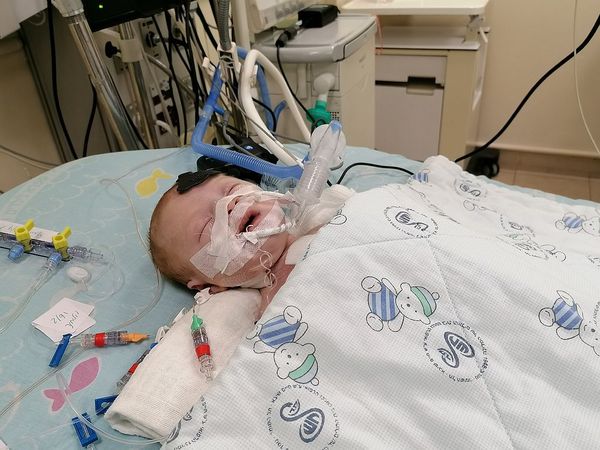 And then there are the emergency newborns who will need a second stage surgery a few months later. As God will help us we're committing to keep standing by these little ones. Alena reports that today baby Hassan, whose life was spared by surgery at Hadassah Hospital in Jerusalem in August, returned for catheterization in advance of his next surgery: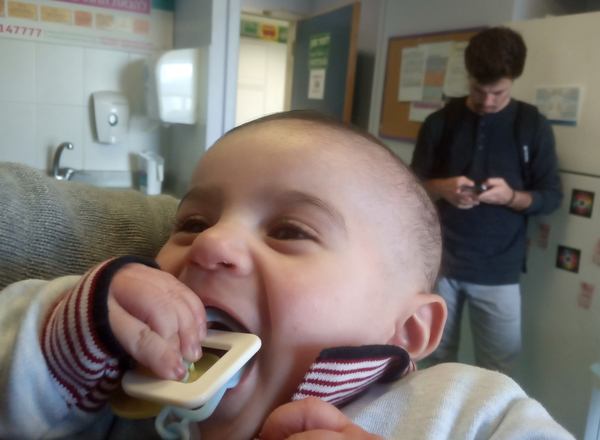 Hassan might be the happiest baby I've ever met. He didn't cry once except when he was unhappily woken from his slumber by a needle being inserted into a vein in his foot (I might add that anyone would be quite rightfully upset if that's how you woke up from a nap). But after that he snuggled with Almuth and fell asleep again.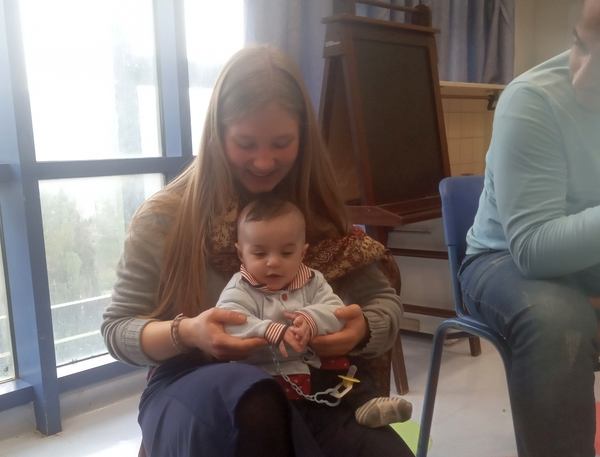 Let's ask God's spirit to raise up a local leader to advocate for prayer and financial support for Hassan's second surgery.

And some quick praise reports tonight: we're blessed this week to have a group of six Danish young people with our community this week, pouring the love of God out on the parched ground of the Middle East: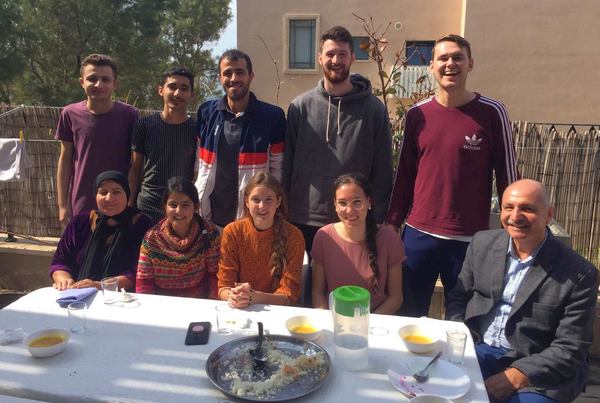 And yes, if you're sharp-eyed you noticed that our beloved Khonav is in that group, returning joyfully to our Jaffa home this week, no longer blue after the surgery she waited all her life for: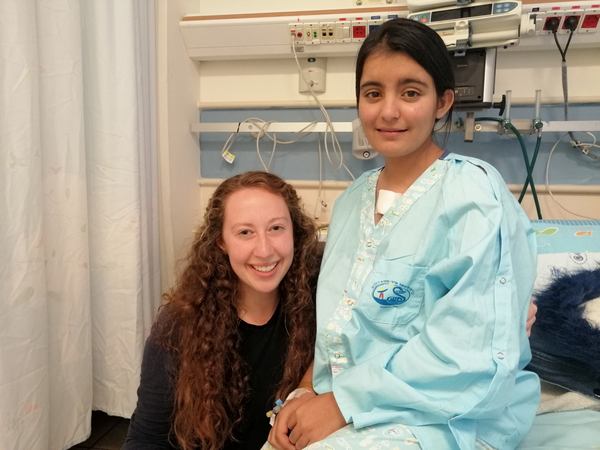 We're excited that tomorrow her local leaders Marcia and Neil will visit her, giving opportunity for personal relationships to develop just as Hank and Jeannie did years ago for Azhee's family.

And finally tonight, two dramatic signs of the realignment taking place before our eyes in the Middle East. Israel's Shiite enemies are gathering: here's video of a giant statue of the recently-killed Iranian general Soleimani, unveiled on the Shabbat by Hezbollah on the Lebanese border overlooking Galilee, as he points the way toward the long-foretold confrontation at Jerusalem:
And yet….on the heels of our friend Joel Rosenberg's visits to Saudi Arabia, word tonight of a similarly-groundbreaking meeting between American Jewish leaders and the Sunni Saudis. The chairman of the Conference of Presidents of Major Jewish Organizations told a press conference in Jerusalem today that "it mirrors other visits that we have had with Gulf states where the embrace of Israel is clearly already there."

Friends, think back a few years. Who could have dreamed of the Saudis embracing Israel? Let's keep our minds open–as the whole world is turned upside down, as the Messiah draws near, we may find our friends where we least expect.

Jonathan for Shevet Achim

"Behold how good and how pleasant it is for brothers to dwell together in unity" (Psalm 133).