Dear friends,

Following her birthday dinner tonight, our office coordinator Luzma texted that we could all slow down a bit tomorrow since it is election day in Israel: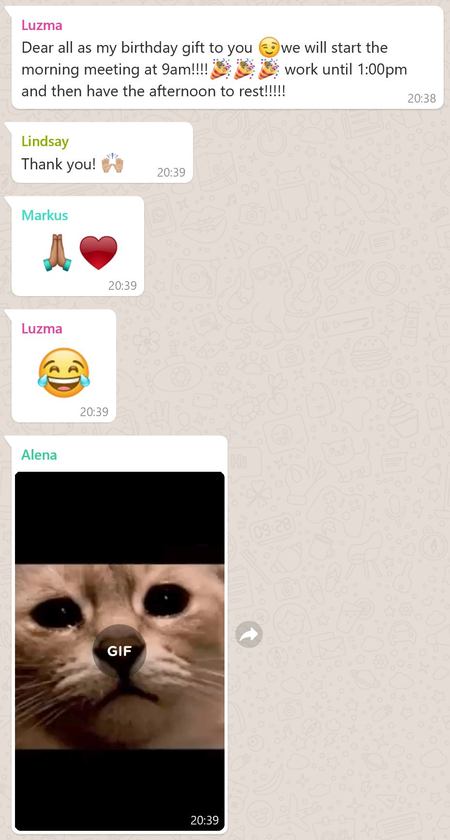 I share this window into the souls of our coworkers to help us all to cherish them and to pray for them. Today they had 17 children in their care from Iraq, Gaza and Syria. Several of our team were still at the hospital late into the night, as doctors fought to stop bleeding in both newborn Mohammed and 19-year-old Khalid after their heart surgeries today. As the rest of us prayed back in Jaffa, our coworker Jana from Germany, herself just 20 years old, cried out: Lord, I don't know if we can bear to lose any more children.

I want to ask you tonight to do two things to encourage these volunteers who are bearing such burdens for the sake of the kingdom of God. First, to pray for them (as well as for Mohammed and Khalid, and also Mahmoud and Mareta who are still in critical condition). Our friend Tom in Texas recently asked us to put together a staff directory for prayer support, which you can see in full size by clicking on the image below:
And second, come alongside them and hold up their arms as a local leader. This isn't primarily about raising funds; it's about raising friends. After lunch today Ruth began telling me how much the visits last week of three local leaders meant both to the families we're hosting and also to our team. I asked if I could record her words to share with you:
Friends, wherever you are around the world we're thankful that you open these emails, that you care for our community, that you care about these little ones whom we receive in Jesus' name.
Carry one another's burdens, and in this way you will fulfill the law of Messiah.
Jonathan for the Shevet Achim community

"Behold how good and how pleasant it is for brothers to dwell together in unity" (Psalm 133).