Dear coworkers,

You'd think that after nearly two months of coronavirus lockdowns that we'd be running out of children coming to Israel for life-saving heart surgeries. A couple of hospitals that normally help care for Gaza children in truth have closed their doors due to the crisis; but surprisingly that means that our work is only increasing. Babies are still being born with heart defects, and at this point we and the other two hospitals we work with (Sheba and Hadassah) are their only hope to come to Israel for surgery.

After a full day today at the Sheba Medical Center, Alena and Georgia were still there as I started writing you tonight, waiting for results of coronavirus tests for Ziad and his mother to see if they could be accepted into the hospital: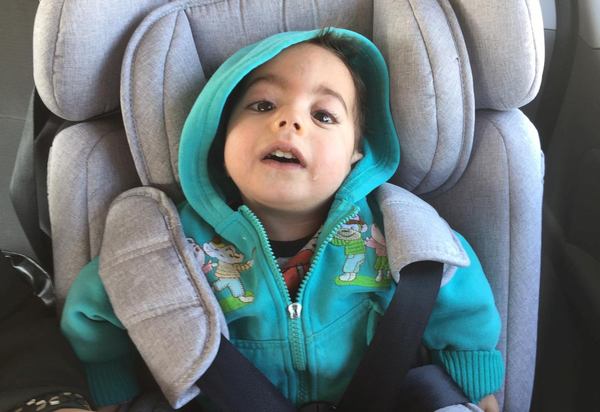 In the end we waited six hours together, and though neither Georgia nor I expected the day to go like this, it was a really beautiful time. Initially when she arrived, Ziad's mum was very apprehensive as Sheba was new to her. But over the hours, and this is perhaps one of my favorite things, she gradually warmed up to the circumstances and to us. Not just in spoken details about her life, but in her mannerisms, in her smile, and even by the end we understood each other much better than at first (though there was little change in how I spoke Arabic!) But much of translation is dependent on relationship and certainly if one thing can bond people together it is sitting in a hospital, eating dinner and praying the corona test results come back negative.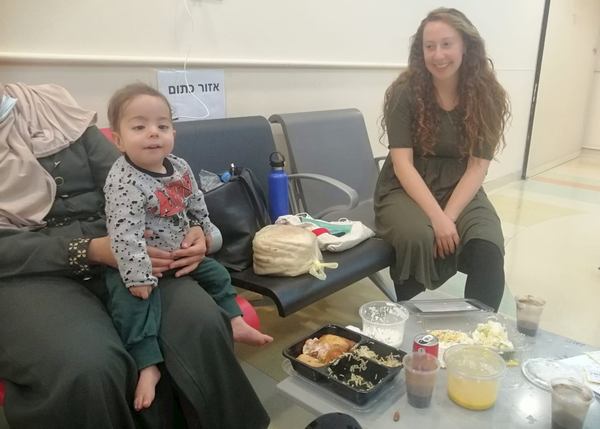 At 8:45 we got the results: no corona! We brought them to the children's ward and once they were settled we said goodbye (and goodnight)…We hugged and she asked if we would be at the hospital tomorrow…and we said goodbye again with much laughter and love.
Looking at our homepage, that makes 17 little ones from Gaza, Iraq and Syria currently entrusted to our care. (The last Iraqi child who's been waiting since before the lockdown, Ramyar, was finally operated on today). Tomorrow we're expecting the 18th child to arrive from Gaza. We've never been busier!

And yes, it's only God's gift of faith that enables us to go forward. There's no time to wait for new local leaders who will advocate in their communities for prayer and financial support for these children. So it was encouraging this week when the saints at Malibu Pacific Church stepped up and took responsibility for Maryam from the ancient Christian community in Iraq, who will go in for her second surgery tomorrow. Coronavirus or not, the kingdom of God is breaking in.

Let's turn back now to the big breakthrough of the first century. Last week we traced the promise of a perpetual priesthood given to a specific line: from Aaron, then on to Phinehas, then to Zadok, who was chosen by David to anoint Solomon and preside over the first temple in Jerusalem: He shall go in and out before my Anointed forever.

Indeed the sons of Zadok led the worship and sacrifice in the first and second temples in unbroken succession, all the way until the 140s BC when the later Maccabean rulers stole the priesthood from them. The sons of Zadok disappeared from history, were not there to go in and out before Yeshua, and the scripture appeared to be broken.

But then the Dead Sea Scrolls came to light in 1946-7. More specifically, some of these Qumran texts when finally published in the 1980s-90s contained a stunning revelation: the community that produced the scrolls was founded and led by the sons of Zadok after they lost the priesthood.

There's good reason to identify this Qumran community with the Essenes, who were already known to us through the Jewish writers Josephus and Philo, and the Roman historian Pliny the Elder. From them we learn that the Essenes (their name possibly derived from the Greek word for "pious" or "devout") were one of the three major schools of thought among the Jewish people in the first century, along with the Pharisees and Sadducees. We also learn that the Essenes were not just an isolated monastic community in the desert, but were found in every city (totalling 4000 members according to Josephus, compared to 6000 Pharisees).

Enter now Bargil Pixner, a Benedictine monk living in Dormition Abbey on Mount Zion in the 1970s. He picked up on Josephus' obscure reference to a Gate of the Essenes on Mount Zion, set out looking for it, and actually found it. And as he began to reconstruct the history of Mount Zion in the first century, a picture emerged of a substantial community of Essenes–many of them priestly sons of Zadok–living there in their own quarter.

For me this was another Why have I never heard this before? moment. The implications, many of them spelled out in the pioneering work of religious studies professor Elizabeth McNamer, are potentially profound for the history of Pentecost and the first community of Jewish believers in Jerusalem.

The traditional site of the Last Supper is on Mount Zion, next to the traditional (and contested) site of David's tomb. Did the Essenes establish their community there in honor of David, who confirmed and established their priestly line? And when the gospels tell us Jesus directed his disciples to go into the city and find the upper room where they could gather, did he send them intentionally to these friendly sons of Zadok, who had in each city an official in charge of hospitality for like-minded pious believers? (One theory holds that the "man carrying a water jar" would have been a celibate Essene, since in other Jewish communities this was woman's work!).

It was to this same upper room, according to the book of Acts, that the disciples returned after the ascension of Jesus to wait and pray. And it was there that the Holy Spirit fell on Pentecost. The city would have at least tripled in population on this feast day, and the Essene quarter filled with Essenes from across the Jewish world. So who were the people who rushed together at the strange sound, who heard the preaching of Peter (which focused on the tomb of David), were cut to the heart, and 3000 were baptized? Who were the "great number of priests" who we find in Acts chapter 6 had become obedient to the faith? Were they Sadducees and Pharisees? Or is it much more likely they were Essenes–sons of Zadok–primed and ready for the gospel since they'd already lost their positions in the temple due to their faithfulness to the word of God?

Shouldn't there then be some specific reference to them in the gospels and book of Acts? Well, even in the Dead Sea Scrolls they never identify themselves by name. One suggestion is that they do appear under the description "devout men," such as Simeon who received newborn Jesus in the temple in Luke 2, in Acts 2:5 at Pentecost, Acts 8:2 those who buried Stephen, and even in Acts 22:12 Ananias who restored Paul's sight.

The story continues. Strong tradition holds that Mary, the mother of Jesus, remained in that Essene community on Mount Zion for the rest of her life (the huge Abbey of the Dormition where Pixner served was built to commemorate her passing). Her son James, the brother of Jesus, emerged there as the recognized leader of the Jewish believers in Jerusalem. Learned scholars such as Lightfoot believe that the Essenes were largely absorbed into this emerging movement; Mount Zion remained its home base–distinct from the growing Gentile church–into the third or fourth century.

The real significance of all this–if it is true–is that it shows Jesus was embraced by the legitimate Davidic priesthood. It highlights that he represents continuity with the Torah and the prophets and the hope and the promises of Israel. As Disraeli used to say about himself, it could even be called a "missing page between the Old and New Testaments."

Well we've reached the limits of a weekly letter for such a subject. This week our community will start studying Acts in preparation for Pentecost, and I'm looking forward to what insights will emerge. Friends of the community, please share your input with us as well. To whet our appetites, I walked over to Mount Zion yesterday despite the lockdown (essential work?) and recorded this brief video showing just how closely linked were the Gate of the Essenes, an ancient synagogue/church which has been excavated, and the traditional site of David's tomb and the Last Supper:
We welcome you Holy Spirit, our promised teacher!

Jonathan for Shevet Achim

"Behold how good and how pleasant it is for brothers to dwell together in unity" (Psalm 133).   
You may sign up to receive this weekly letter by email by clicking here.