Dear coworkers,
Today we've completed four weeks out of the seven-week countdown from First Fruits/Resurrection to Pentecost/Shavuot. And it appears that our ultra-Orthodox neighbors in Jerusalem are much more excited about this "counting of the omer" than we are. Today they were out in the streets protesting the ban on gatherings on the 33rd day of the count, Lag B'omer, when their three-year-old boys traditionally get their first haircut.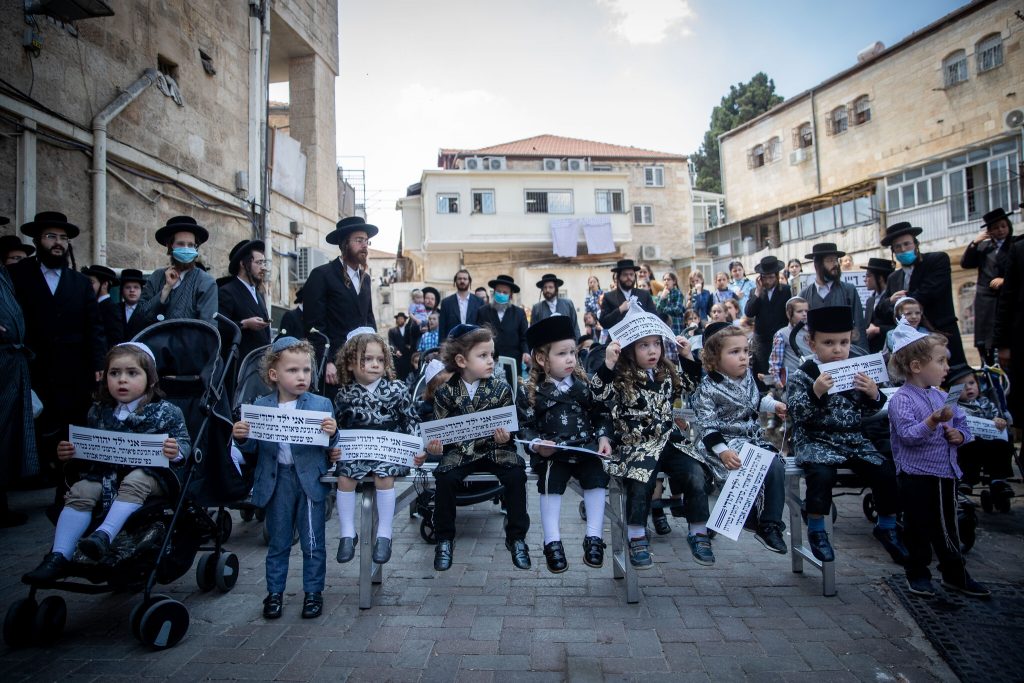 Should not we non-Jews who have received the word of God from Israel also be anticipating Pentecost? We who've been given the greatest and most impossible mission in history–to proclaim the word to all nations–and yet know that without the Spirit we can do nothing?
"You will be baptized with the Holy Spirit not many days from now." Pentecost is our annual opportunity to celebrate the outpouring of God's Spirit, and to ask for more.
We feel it keenly these days as we live side-by-side at our home in Jaffa with Muslim, Christian, and Yazidi families from Iraq, Syria and Gaza. Most of them are counting off the days too, until the skies reopen and they can travel back to their homes. And in recent days Mohammed, Asmaa, and today Mimi all returned to us after their surgeries:
Also today a new urgent Gaza child came to stay with us while awaiting admission. This brings us up to 12 families in Jaffa, and our coworkers there are doing an amazing job of loving them, supporting them, providing for them, and building relationships day by day:
And yet. We've received a treasure through the people of Israel: the Word of God that has power to save us. And these families living with us really have no idea. The walls of language, culture and religion most of the time seem unbreachable.
We want these families to feel at home. We really did bring them here so their children's hearts could be healed. They should never feel the slightest of strings attached to the help they receive.
And–when you love someone and they are a guest in your home, you bring out your best. You hold nothing back. You can be real with each other. These are the best of relationships. When Michelle and I lived in Gaza, we knew the Muslim families that really loved us because they'd openly share their concern that we need to know the Quran.
Today in our small Jerusalem community (which we hope will reopen to start hosting families again this week) we read Acts chapter 10. Once again we were struck by the type of proclamation of Peter which led his hearers to be filled with the Holy Spirit, repent, and be baptized:
So Peter opened his mouth and said: "Truly I understand that God shows no partiality, but in every nation anyone who fears him and does what is right is acceptable to him. As for the word that he sent to Israel, preaching good news of peace through Jesus Christ (he is Lord of all), you yourselves know what happened throughout all Judea, beginning from Galilee after the baptism that John proclaimed: how God anointed Jesus of Nazareth with the Holy Spirit and with power. He went about doing good and healing all who were oppressed by the devil, for God was with him. And we are witnesses of all that he did both in the country of the Jews and in Jerusalem. They put him to death by hanging him on a tree, but God raised him on the third day and made him to appear, not to all the people but to us who had been chosen by God as witnesses, who ate and drank with him after he rose from the dead. And he commanded us to preach to the people and to testify that he is the one appointed by God to be judge of the living and the dead. To him all the prophets bear witness that everyone who believes in him receives forgiveness of sins through his name."
Friends, after so many years living in the Middle East, I hear this and say that is perfectly calibrated to the ears of our neighbors. All to the glory of the Father. The simple goood news that Paul said is of first importance. Historically grounded. Not veering off into theological speculation.
I want to ask for your prayer and input this week as we seek wisdom for how to speak not only love but also truth to our neighbors. And would you join with us too in preparing our hearts, as we count down these days, for a greater filling with the Spirit of God?
Finally, I'll leave you with two articles for encouragement and reflection. The first is a report tonight that three Arab Gulf states are being drawn by the coronavirus crisis into medical cooperation with our partners at the Sheba Medical Center in Israel:
"You open a small crack and the foot enters the door, and later the whole body and then the head come in," [a Sheba official] said. "It's indeed the beginning of a very fascinating journey — for the entire Israeli public, not only for the medical field or Sheba Medical Center."
And then a lengthy, engrossing account of one Jewish family's search for justice after their 15-year-old daughter Malki was killed in the Sbarro Pizza bombing in Jerusalem in 2001. (Our family had just moved out of Gaza; we still remember the windows shaking from the explosion as we were eating lunch a few blocks away). One of the most painful parts of the story is the official Israeli indifference to the family, due to concerns over damage to the relationship with Jordan.  This contrasts so starkly with great support the family has from a Christian congressman in the US:
"I've never quite understood how it works," [the former Israel national security advisor went on]. "But the Americans don't care what gets harmed when someone in one of their branches of government is out to ensure what they see as doing justice. They are utterly different from us."
Love of our enemies flows from our faith in Messiah; and so too the love of justice. "Unfailing love and truth have met together. Righteousness and peace have kissed." (Psalm 85:10)
Jonathan for Shevet Achim
"Behold how good and how pleasant it is for brothers to dwell together in unity" (Psalm 133).