Dear friends,
It was a beautiful and yet a painful Pentecost/Shavuot in the heart of Jerusalem this morning: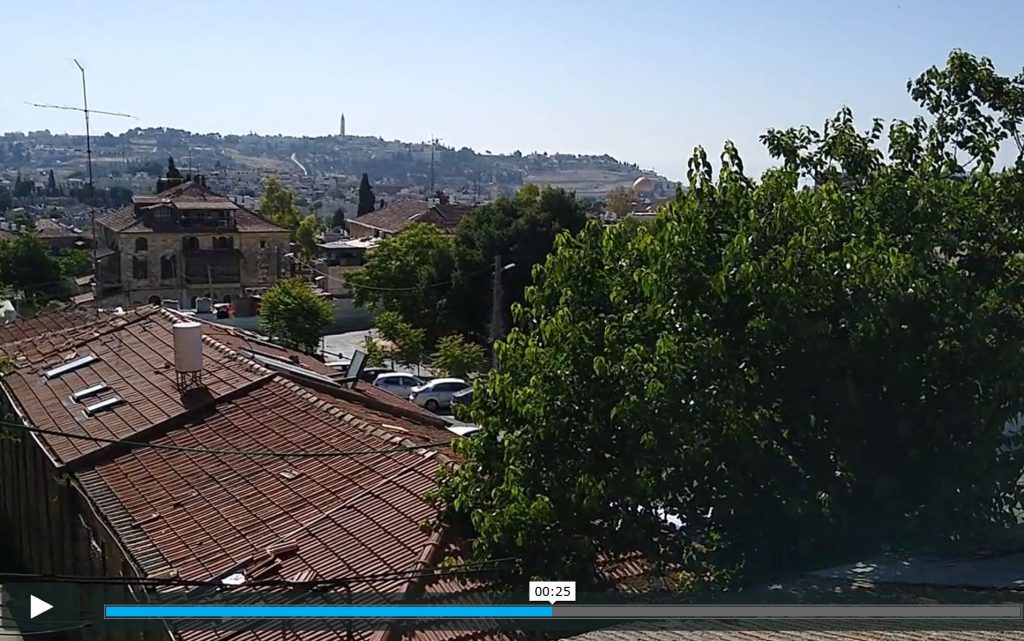 As you'll hear in the video above, the bells of the Russian Orthodox church were declaring the glory of God! But competing with them were jackhammers and traffic from the adjacent construction site. Yes–incredibly–the people of Israel were ignoring this great Torah holiday and going about their normal business.
How can these things be? As we discussed at length seven weeks ago on the holiday of Resurrection/First Fruits, after the Romans destroyed the temple in 70 AD leading rabbis took to themselves authority even to change the clear meaning of the written Torah. They ruled that First Fruits shouldn't really fall on the first day of the week when Yeshua was raised, and consequently Pentecost/Shavuot somehow doesn't really fall on the day after the seventh following Shabbat as Leviticus 23:16 stipulates.
(By the way look what Israeli archeologists found in that construction site: "From Here the Romans Breached Jerusalem's City Wall 2,000 Years Ago").
So all Israel celebrated Shavuot on Friday this year, the day before the seventh Shabbat. And what difference does that really make? Well today in our Jerusalem guesthouse, after praying for each other (and our visiting Kurdish mothers and children) to receive a new touch of the Holy Spirit, we all set out for the traditional site of the Upper Room/Pentecost on Mount Zion:
We had the place largely to ourselves, and after worship and prayer there we went outside, past the grand churches built in honor of Jesus' mother Mary and his brother James/Jacob, and on to the below-ground excavated synagogue where Jesus' family and the first believers at Pentecost may actually have gathered to worship:
I'd like to say here that it is first of all for the sake of these first Jewish believers that questions about faithfulness to the Torah really matter. This weekend I spent in Mark Kinzer's excellent study "Jerusalem Crucified, Jerusalem Risen," which humbly and carefully works through the evidence of Luke and Acts to conclusively show that the believing community on Mount Zion was fully committed to the Torah. When Paul returns to them at the end of his third missionary journey, James/Jacob and the elders in Jerusalem can say in Acts 21 "You see brother how many tens of thousands of believers there are among the Jews, and all of them are zealous for the Law." And Paul then fulfills a vow to confirm that he too remains a sincere Torah-observant Jew.
That same James/Jacob, thank God, judged in Acts 15 that we Gentiles who turn to God are not obligated to keep all the Torah (apart from the four requirements probably derived from the commandments of Leviticus 17-18 for strangers who joined themselves to the Jewish people). Yet we take that freedom and somehow read it back onto the Jewish people as if they too should stop circumcising, keeping Shabbat, etc. The more time I live with the Jewish people, the more I realize such a thought would never even have occurred to these first Jewish believers!
Just outside the excavated synagogue, we met a contemporary Jewish believer who gave her love and blessing to us and our Kurdish families:
And there too we encountered an encampment of orthodox Jews who were also drawn to Mount Zion this weekend, to celebrate King David's traditional birthday. Though somewhat drunk (and not with the Holy Spirit) they received us warmly, especially since several of them had a Kurdish Jewish background, and they shared a welcome piece of watermelon with us all. We exchanged a few thoughts from the scriptures and they shared that, like most orthodox Jews, they perceive Christians as Sabbath-breakers and idolators. "Show me just one who keeps the commandments," exclaimed a man with a salt-and-pepper beard, "and I'll…."
His friend jumped in: "Look, here's one of the righteous among the Gentiles right before your eyes! What more do you want?"
Let's not put more weight on these comments than they can bear. But I would still say to you tonight that it is for these Jews as well that we need a clear vision of how both Jews and Gentiles can honor the Torah as the word of God, each in the way that God has given them.
The Christian volunteers of Shevet Achim help Jewish doctors save lives of Muslim children in response to Jesus' command to "go and do likewise" as the Good Samaritan. That's reason enough. But we then find ourselves in a unique place, from which we can share with our Muslim neighbors that salvation which is from the Jews. And what has God brought us here at this time to share with our Jewish neighbors?
The great blessing of community life is that we can complement and refine the visions that the Spirit gives to each one. Feel free to push back good and hard at anything shared in this letter. I'm looking forward to seeing where the Spirit will lead us in the new season that begins today.
Jonathan for Shevet Achim
"Behold how good and how pleasant it is when brothers dwell together in unity" (Psalm 133).