In the beginning God created the heavens and the earth. The earth was formless and empty, and darkness covered the deep waters. And the Spirit of God was hovering over the waters. Then God said "Let there be light," and there was light.
Dear friends,
We started the book of Genesis this morning in our daily community study. As we read the familiar introduction, the beauty of it all seemed to hit me anew. In the first chapter not only do we see the whole of creation unfolding, we are also introduced to the character of God. This is a God so powerful he speaks the world into existence, a God so perfect that everything he makes is good, a God so loving that, although he knew the human race would choose to go its own way, he chose to create us anyway. It amazes me to think that God knew we would destroy his perfect creation, he knew how much it would cost him to redeem us and yet, somehow he chose to knowing it was worth it.
In light of God's unique design of each one of us, I was reminded again of the importance of viewing each other as the image bearers of God. This is also a huge encouragement to be mindful of as we pray for all our children, remembering each one is loved and individually created to reflect God himself.
We have lots to praise God for this week. Khonav had a catheterisation yesterday to widen her stent and improve her oxygen. She's already been discharged this afternoon with the news that she can go home to Kurdistan for a year before returning for her complete surgical repair: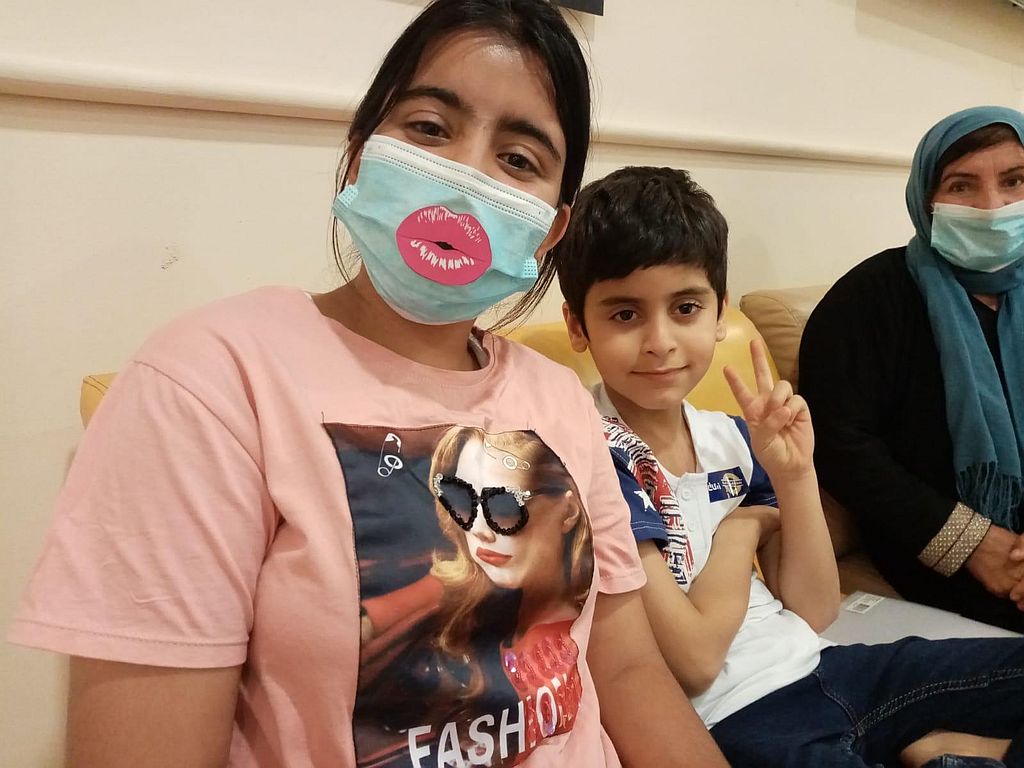 As the good news was explained to Khonav's mum, she was overcome with joy and thankfulness. This is a huge answer to prayer–after a long six months in Israel, Khonav is anxious to be with her family in Kurdistan. Ramyar (pictured with her above) has also been cleared to go home to Kurdistan after a good echo today.
Please keep praying for the rest of the Kurdish families who are waiting to go home. The next flight to Kurdistan isn't until the 19th of July so we are exploring different travel options to see if they can leave any earlier. Please pray for God's timing and wisdom in this.
Maryam (Mimi) also had an echo yesterday and her doctor said she will need to stay in Israel for another three months:
Mimi's mum Sara is an enormous blessing to our whole community. Whether at our house or in hospital, it's incredible to see how God uses her generous heart. Now speaking Arabic, English and Kurdish, I've often found her translating for other parents in the hospital ward. Pray for Mimi's health to continue improving, and for God to surround them both with his peace and strength during this time.
We were thankful for baby Aya's discharge yesterday. After a successful surgery at Hadassah hospital, she's gone to stay at our Jerusalem guest house for two weeks before returning home to Gaza:
Ahmed, also from Gaza, is still staying with us in Jaffa. After his echo tomorrow, the doctors will decide if he needs another catheterisation before going home:
The other Gaza children Hassan, Fayez and Ziad are all at Sheba hospital. Yesterday, Hassan had an interventional catheterisation procedure to widen his pulmonary artery. He's now extubated, but still on oxygen:
Please keep praying for him and his faithful aunty who, despite her own health problems, is always by his side throughout the long struggle for his life.
Little Fayez also had an operation this week which left his chest open. Today, doctors were able to close it:
 Please also remember Ziad in your prayers as he waits for his next surgery. Pray that God would strengthen and encourage his mum during the long hospital stay:
Last Thursday I woke up to the sad news that a little baby girl from Gaza called Habiba had passed away at Sheba. Later that day some of our Jaffa community went with her to Jerusalem for the burial:
I can't imagine the pain her young mum is in, still less than a week after losing her only child. Again I find myself unable to understand, my heart breaking for this family I have never met. The only thing we can do, is lift them to the God who is close to the brokenhearted, remember the promise of blessing for those who mourn.
As you continue to join us in prayer, be encouraged that God knows and loves each child and their family. He knows their needs, worries, disappointments and fears, and he has so many good plans for their lives. Be encouraged that we are praying to the same God who spoke the universe into existence, the God who said "Let there be light," and there was light.
Ruth for Shevet Achim