Rejoice in the Lord always; again I will say, rejoice. Let your reasonableness be known to everyone. The Lord is at hand; do not be anxious about anything, but in everything by prayer and supplication with thanksgiving let your requests be made known to God. And the peace of God, which surpasses all understanding, will guard your hearts and your minds in Christ Jesus. Philippians 4:4-7
Dear friends,
We looked at the idea of prayer in the Jaffa community this morning. How do we approach prayer? What do we hope to receive from the Lord? Is our heart right with others and with God? These are all things to consider as we come before the Lord together. We have this beautiful relationship given by the grace of Jesus as he bridged the gap for us. Let us take this time seriously and search our hearts to see how the Spirit is leading.
Paul told the Philippians in the passage above to remember that Jesus is coming again. So let's not be anxious when we look at the world and the different circumstances we may be in. Instead we choose to pray. To lay our heavy burdens at his feet. To trust that He is listening and to trust that He will answer as He wills. And as we do that we will find the peace of God guarding our hearts, the peace that gives us strength to continue to trust, and to walk in faith until the answer comes.
This peace has been guarding our hearts this week as we aim to serve and love the many families at our home. We are at maximum capacity, even to the point of opening up the staff apartment to house several families from Gaza. Praise the Lord, He opened the door for two of our Gaza families to return home this week:
Both Mohaned (above) and Khader (below) had the blessed news of their discharge yesterday after many weeks with us in Israel:
Please pray for these next three weeks as these still fragile little ones will be quarantined before returning to their homes. May the Lord give the caretakers strength and endurance as they care for their little ones.
We praise the Lord for the successful first surgery of Qusai in Hadassah. He has been recovering well and the nurses and doctors have been lovingly caring for him during this time:
Please pray for continued healing and specifically for a successful weaning from the ventilator and for his airways to stay open.
We also thank God for two urgent babies from Gaza who have come in the last week. Mariam received her surgery yesterday and we praise the Lord that even though it was difficult they were able to successfully complete the first of three planned surgeries:
She is now in the ICU, with her chest open, as she recovers in this critical time. We pray for her smooth healing and recovery. For Toleen, the doctors found she has a different diagnosis than they were expecting and are going to meet to look at the best options of care for her:
Please pray for the doctors to have wisdom and find a way for this sweet girl to have her life-saving surgery.
We also want to lift up Saif and Ziad who are continuing to struggle through their recovery. Saif has not been extubated successfully since his surgery. The doctors are looking to try one more time today and if it is not successful they may have to perform a tracheostomy, which will leave Saif on a ventilator long-term:
Please pray his extubation to be successful as a tracheostomy will make his recovery much longer and more complicated. We know our God is capable of anything.
We also want to pray for Ziad as he has been losing weight. This will delay his next heart surgery so we are praying that he will eat well and gain enough weight for his next surgery:
Ziad and his mother have been at the hospital for several months now. Please pray for their encouragement and endurance during this time.
We also thank you as you all have been praying fervently for our families from Kurdistan. Yesterday we received the news that they had found a flight that will take them home early next week.
Please pray for all of the details and permissions to work out for these families to return home. For many of them it has been more than six months since they arrived and they are missing their families back at home. We know that God works outside our understanding of time and we pray for peace for these families as they wait for him to open the door. May this door in fact be the door for them to go home.
Our precious Maryam from Kurdistan had a catheterization today in order for the doctors to see how ready she is for her next surgery. Praise the Lord it went well and the doctors will meet to discuss her case. We hope and pray she will be ready for the surgery soon:
And early this morning we said a (temporary) goodbye to our faithful servant, Georgia, as she will go home for a much needed time of rest.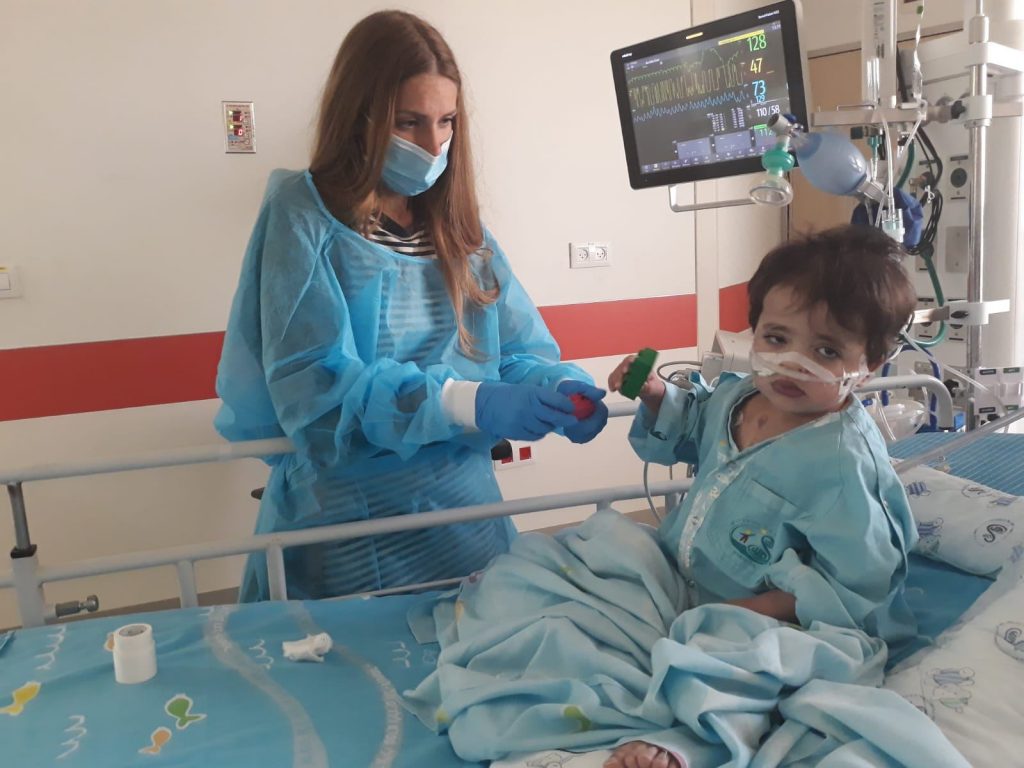 We pray for this time to blessed as she visits family and friends, following two weeks in quarantine. May she come back with new strength and full refreshment from the Lord.
Again, we can't thank you all enough for lifting up these many requests and holding these precious children in your thoughts everyday.
Many blessings,
Lindsay for Shevet Achim