I coined the word "eucatastrophe": the sudden happy turn in a story which pierces you with a joy that brings tears (which I argued is the highest function of fairy-stories to produce). And I was there led to the view that it produces its peculiar effect because it is a sudden glimpse of Truth, your whole nature chained in material cause and effect, the chain of death, feels a sudden relief…that this is indeed how things really do work in the Great World for which our nature is made. And I concluded by saying that the Resurrection was the greatest 'eucatastrophe' possible in the greatest Fairy Story.
Dear friends,
J.R.R. Tolkien wrote these words in one of his letters in the mid-twentieth century, and I've long loved this newly-coined word which describes not only the plot of his books but also the resurrection of Jesus. All the gospels tell how Jesus' followers spent the days following his crucifixion: Mary weeping at the tomb in John's gospels; the two on the road to Emmaus expressing dashed hopes and dejection though they didn't yet know who they were walking with; and the disciples huddled together in a locked room terrified of the repercussions they might face.
But in the greatest possible turn of events, which no one could have guessed, but retrospectively made sense, they glimpsed the Truth. Whatever the center of their world was before Resurrection morning, after it their lives centered on the empty tomb. They saw that their scriptures also revolved around death and resurrection, indeed this is not just their story or ours, but the cosmic story. As another of my favorite authors wrote, "Death and Resurrection are what the story has been about and had we but eyes to see it, this has been hinted on every page, met us, in some disguise, at every turn…"
One thing worth pointing out is that the literature Tolkein produced was quite different from that of other authors of his time. The turmoil of the mid-twentieth century brought to a violent end the hopes of ever-advancing human progress that preceded the two world wars, and the desolate aftermath of the wars understandably colored much of what was written at the time. Tolkein lived through both wars yet was able to write stories in which there was "eucatastrophe." His stories, though sprawling, complex, and absolutely influenced by the circumstances within which he wrote, do not have nihilistic overtones because of the greatest eucatastrophe: the resurrection of Jesus. He knew the story. We must know it as well.
The greatest story, which absorbs our lives into itself, is the reason and impetus for working with these families at Shevet. God's love is reaching out for the world to know him. Please join with us in praying for the children and parents.
Zakaria from Gaza is the first child I've seen that has survived coming off of ECMO heart and lung support, and now he is extubated as well, which means that he is breathing on his own with only a small amount of oxygen to help him!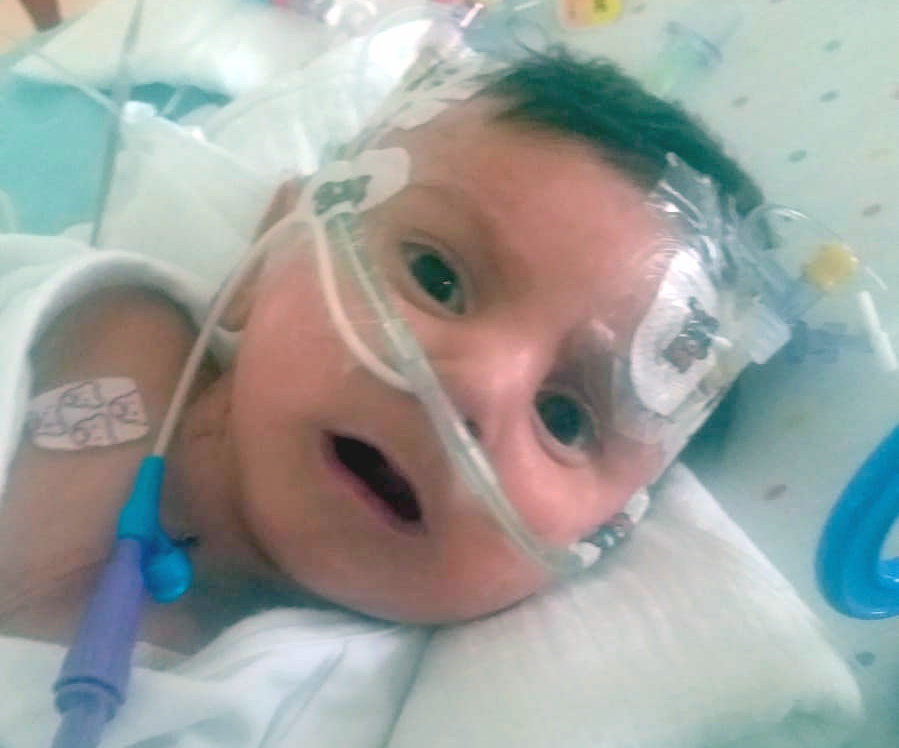 In truth, I don't really have words to describe this. His family is one who I love deeply and feel very close to; his case affected me beyond what has been the norm, and so to type these words is as enthralling as it is unexpected. This week Zakaria has started feeding orally and was moved to the secondary intensive care unit. When I heard this, the part that brought me the most joy was that he was learning to eat–his mum now has that aspect of motherhood to share with him after so long of being unable to even hold him. She can look forward to his milestones, though they may be delayed. The doctors are not yet sure to what extent his neurological damage is from having very little circulation for a sustained period of time. More understanding of his condition will come as he recovers, so please be in prayer for his neurological state and his hands which were black from the lack of blood supply. Babies, as it is often pointed out among pediatric medical professionals, are a lot more resilient than adults. They surprise and survive and thrive where adults simply could not. No matter the outcome, it is like finally breathing a deep sigh of relief to say that, thank God, Zakaria is alive and breathing on his own.
Another young Gaza boy that has been through so much in his short life, yet still fighting, is Ziad:
He's been five months in the hospital, and tomorrow he will have another heart surgery to help the right side of his heart function which has deteriorated. Recovery from procedures can be quite difficult for Ziad; though he is getting top notch medical care, the steady flow of interventions takes a heavy toll on him. He has had both heart and gastrointestinal surgeries. Ziad's mother often says that his body is tired, so we pray that after this surgery he can make real steps forward in his condition. Please pray a special blessing over Ziad as he goes into the operating room again. Though she has been through this many times now, his mother always feels the fear of what could go wrong in surgery.
Baby Saif has been steadily gaining weight!
Initially doctors in Israel planned to take his tracheostomy tube to a smaller size this week, but now they are looking at a trial of removing the tube altogether and seeing how he does. Please be in prayer for this; it would be so much better for his quality of life if he could return to Gaza without a tracheostomy.
One-and-a-half-year-old Raghed is now in the secondary ICU after her operation early last week!
She will have a CT scan to check why she still requires supplemental oxygen, so please pray that the medical staff could understand the elusive reason behind this. This sweet girl is in the capable and caring hands of her grandmother; she and the other mothers have a beautiful fellowship and camaraderie as all of the Gaza families are now on the same floor at the Sheba Medical Center.
Ghada from Jerusalem was a special case from East Jerusalem that Shevet agreed to take on because her family wasn't sure if Israeli health insurance would come through in time for her emergency surgery. It finally did, but still I want to ask for prayer for her:
Ghada's mother is very special and dear. I could (and have) spent multiple hours with her. Even though they aren't funded through Shevet, visiting with her still has been a blessing. Last week Ghada's mum said was there was a lot of pressure, as in stress, in the hospital. That day Ghada went to sleep after three sleepless nights, and her mum and I went to grab coffee and sit outside. I love her so much, and Ghada is truly so precious. Every time one of us visits there are more stuffed animals lining Ghada's crib, gifts accumulated over time from doting parents and relatives. Please pray for them especially as next Ghada will have eye surgery for her glaucoma; and pray for her mother who, though she feels an enormous amount of stress, is beautifully caring for her daughter. I often remark to her that she is an exceptionally wonderful mum. Ghada will grow up knowing that she is so loved.
Up at Hadassah Medical Center in Jerusalem, doctors are working patiently with Qusai from Gaza, now six weeks after his heart surgery:
Qusai is taking almost all his nutrition through a nasal tube, and doctors are not willing to send him back to Gaza until he can feed on his own. Let's thank God for the commitment of the doctors and pray that their investment in this little life will bear good fruit.
And lastly, praise God that Mariam, who has been in Israel for treatment since early August, returned to Gaza this week with her aunt:
Please pray for protection for her as they enter three weeks of quarantine, and may the Lord bless her aunt with the knowledge of his love for her. I'm astounded by the intelligence, devotion and courage of the women I meet here, especially those who treat children who aren't their own as if they were, Mariam's aunt among them. God willing they will be able to see their family in three weeks, and Mariam can be reunited with her twin!
Thank you for praying for these beautiful lives, and partaking in this work. God bless you.
Alena for Shevet Achim