Dear coworkers,
The elevator doors burst open late in the evening and out strode a five-member team from Magen David Adom (the Red Shield of David), surrounding a newborn Gaza baby in an incubator: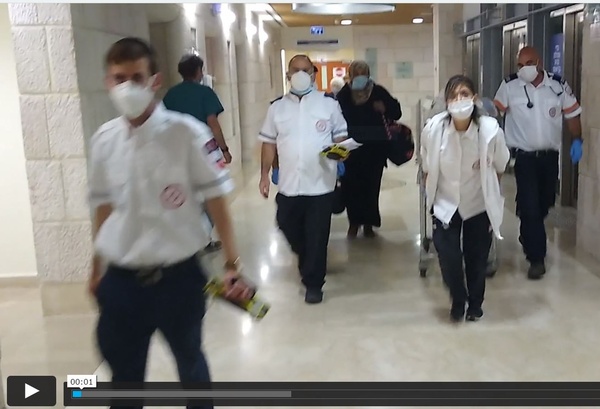 As you can see in the video above, they were single-mindedly focused on getting baby Osama into the cardiac critical care unit at Hadassah Medical Center in Jerusalem, where he was safely connected to life support and swabbed for corona: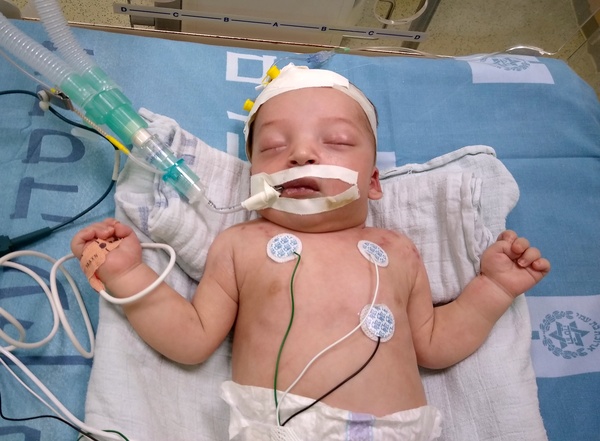 As the ambulance driver wiped down the incubator tubing she mentioned with some irony that she came from Sderot, the small Israeli community that has been repeatedly battered by missiles from nearby Gaza.
I asked her if she'd been personally affected by the attacks, and she said yes, she is the single mom of three children who continue to experience post-traumatic stress such as fear of being alone and bedwetting. One missile landed so close that it blew out the glass in their windows."Meters away, did you say?"
"Centimeters."
"Do you feel anger or hatred toward them?"
A pause. "I feel angry that they're investing so much money in attacking us rather than helping their own people."
"It's written that we can overcome evil with good. There is power in blessing your enemies."
"Yes that's true."
Osama was the second baby to reach Hadassah on Wednesday evening for emergency heart surgery. Newborn Sanad from Hebron was likewise stranded in a Palestinian hospital with no hope to live other than coming to Israel: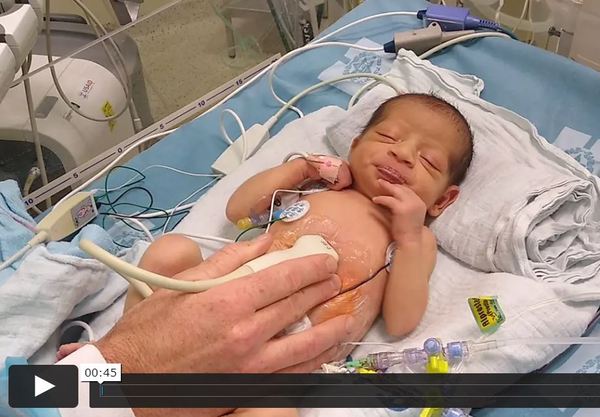 As I listened to his grandfather I learned that their story also involved a missile attack. Nearly 20 years ago his oldest son was riding in a vehicle that was struck by an Israeli missile; the army evacuated him to Hadassah and he spent the next nine months there undergoing a series of surgeries and therapy, at Israel's expense. The grandfather was still moved by the love he experienced in the Israeli hospital, and described the former ICU head Iddo Yatziv weeping over his injured son.
Friends, you've probably heard me say many times how healing these encounters are for the wounded spirits of the neighbors of Israel. Most have never in their lives been honored and respected in the way they are at the hands of their "enemies" here in Israel.
And these stories touch something deep in the heart of the Jewish people. Somehow, somewhere they know–even in disbelief–that their people were chosen and called to be a blessing to all the families of the earth.
There's no need to editorialize further. I was gently instructed this weekend that we can just let the stories tell themselves. Friday and Saturday we took 26-year-old Alaa from Gaza to see holy sites all across Jerusalem, in advance of his complex heart surgery tomorrow morning. I tried to give running commentary about how the story of redemption played out over the centuries through the history of the Jewish people.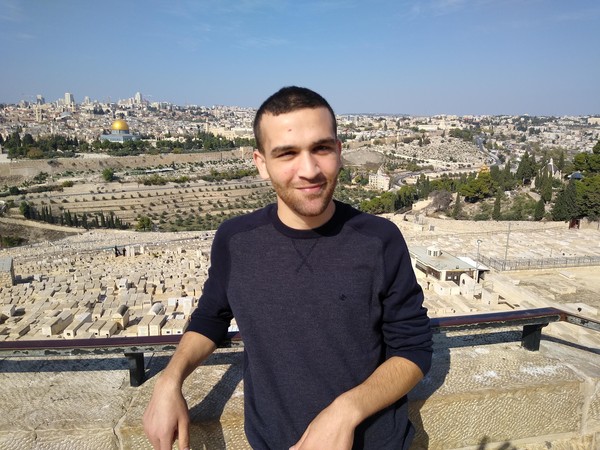 But at some point I realized that what impacted him most greatly was simply the way he could go in and out of a church and a synagogue and the Western Wall and the Garden Tomb with no one ever asking him what he was doing there. He was simply accepted. This is what our neighbors, and all of us really, are yearning for.  (A helpful accentuation of the message came when we as non-Muslims were refused access to the Temple Mount and Alaa had to go ahead without us).
I shared openly with Alaa about the risks of heart surgery, and how a much-loved young man like him did not survive his surgery earlier this year. It will mean a lot to Alaa to know we are praying for him tomorrow. And let's remember too joyful, chubby Fayez who Julio admitted tonight for his surgery tomorrow morning across the Sheba campus in the children's hospital: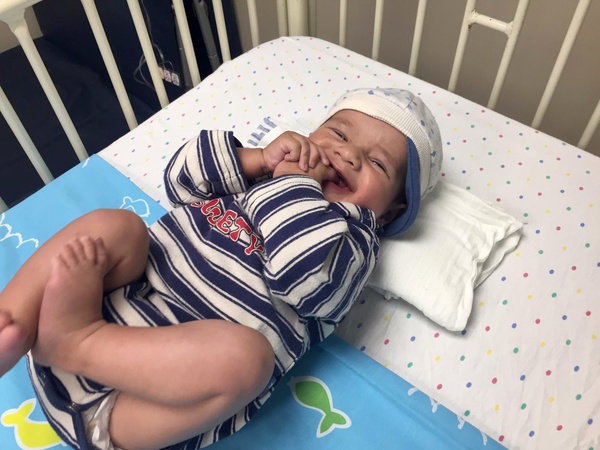 Glory to our Father in heaven, the surgeries are piling up as we approach year's end. None of the babies mentioned in this week's letter as yet have any sponsors for the 40-50% of hospital expenses that we have promised to cover. (Thank God our coworker Alena has been advocating for Alaa and he is now fully sponsored). We'll try to crunch some numbers and let you know next week how much we'll need to trust our Father for as 2020 draws to a close.
Finally this week, I'll just add a short postscript to the apocalyptic, end-of-history vision I outlined in last week's letter. It's tempting to wish that the concerns are exaggerated. I'd also like to believe that Western civilization will go back to normal. But just this weekend people were badly beaten for their political views in the streets of the American capital as police and media looked the other way, and Christians are being isolated and scapegoated as the cause of the nation's troubles. These are not just fringe concerns; I found it helpful (and courageous) that Supreme Court justice Samuel Alito spoke out forcefully this week about the disappearing freedoms of religion and expression in the United States. If you have a half-hour, and are weighing the meaning of these events, I'd encourage you to have a listen.
None of this means we should try to roll back the clock. Indeed, come Lord Jesus! But until he does, what manner of people ought we to be, in holy conduct and godliness, looking for and hastening the coming of the kingdom of God–by loving our neighbors, and investing our days and our resources as he will lead us.
Jonathan for Shevet Achim
"Behold how good and how pleasant it is for brothers to dwell together in unity" (Psalm 133).