Dear coworkers,
A humble 25-year-old man from Hebron approached the admissions window this evening at the Hadassah Medical Center in Jerusalem, anxious to get his firstborn son Saif Aldin in for emergency heart surgery that couldn't be done in the Palestinian territories: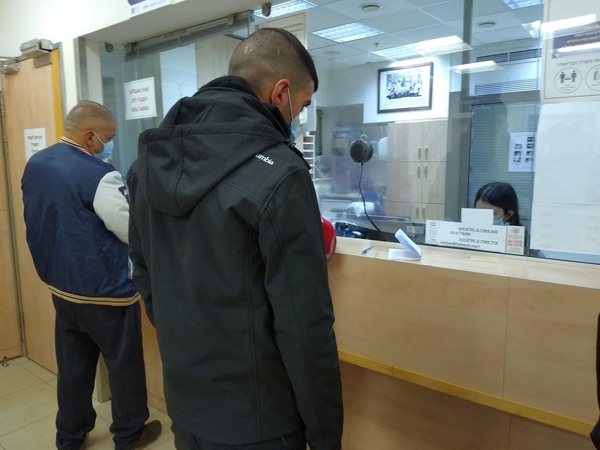 I stood over his shoulder and listened to the admissions clerks talking about whether they could let him in. "Only if he's from Shevet Achim," the more experienced one said. "Call the ICU and ask if he's from Shevet Achim."
My first response was to chuckle. If only they knew that Shevet Achim was nothing but a handful of people crazy enough to believe that God would somehow pay for all these surgeries at the end of each year.
Later I remembered it was right here at Hadassah that I heard the words back in 1994 that helped call our community into existence: "That boy could be dying in the doorway to our emergency room, and we won't let him through the door until the last dollar has been paid."
And I realized that when they say the words "Shevet Achim" it's not about us. They're actually speaking the word of God: "Behold how good and how pleasant it is when brothers live together in unity…for there the LORD commands the blessing, even life forevermore."
It's a holy thing to see, and I'm so grateful for it. Here's the video of what it looked like upstairs in the ICU tonight as the Israeli staff accepted his newborn Palestinian baby into their hands: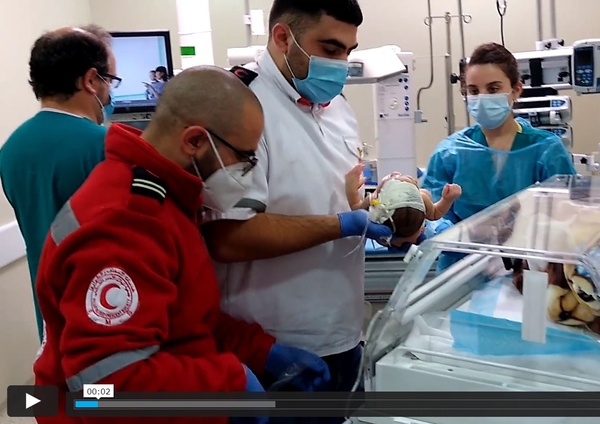 The spirit of God has been writing these stories for years on the hearts of families all across the Gaza Strip and northern Iraq, and now in recent weeks in the Hebron hills south of Bethlehem–the biblical heartland which is home to large, proud clans, some believed to be descendants of first-century Jews.
Friday afternoon as the Shabbat was drawing near our partners at the Sheba Medical Center asked us to return newborn Mira to her home in Hebron, on a hilltop overlooking the ancient burial site of Abraham and Sarah, Isaac and Rebekah, and Jacob and Leah: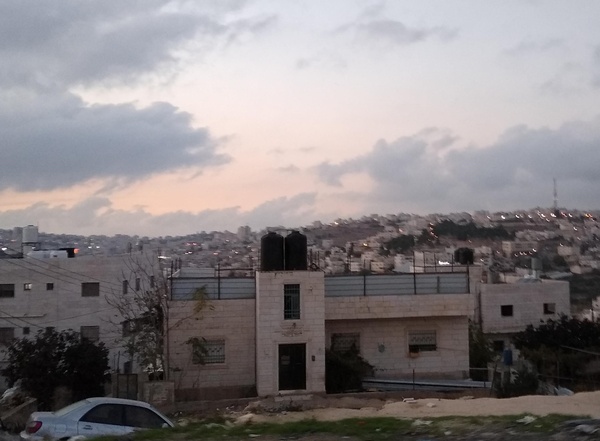 Mira had been rushed immediately after birth to the ICU in Hebron, and then to Israel for a life-saving catheterization. We were privileged now to be eyewitnesses of the first time her mother was ever able to hold her: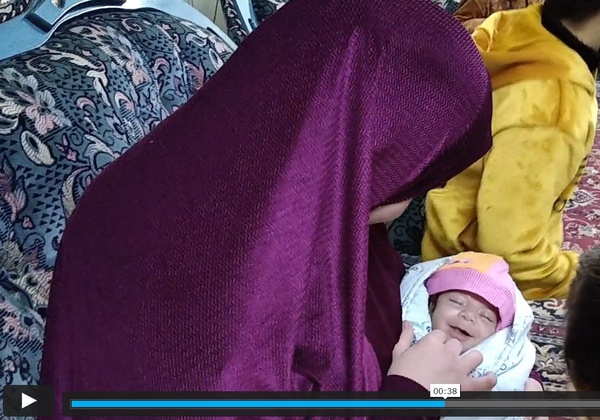 Families like these sometimes tell us that when you form a relationship with them, you're actually reaching a whole clan of five thousand. The impact of each little life, multiplied like the loaves and fishes. Command the blessing Lord, life forevermore!
I committed last week to giving an update on our year-end financial commitments. Some back-of-the-envelope calculations this morning show that we're right where we were last year at this time, with $550,000 due to the Sheba and Hadassah medical centers to support their rescue of some 70 children in 2020. Here's a secure link for online giving, which shows the updated total amount outstanding. We continue to believe God.
Meanwhile it is becoming clear the days are numbered in which Shevet Achim donors will be eligible for tax deductions in the United States. We've already been dropped by Google's matching program and put on Benevity's graylist for not accepting community members who are practicing sexual immorality.
Of further note this week is Airbnb's notice that they're dividing the world into tolerance zones, and residents of the US, EU and Canada will now, among other mandates, be required to use false pronouns for gender-confused neighbors if they wish to keep doing business. Here's some helpful clarity on the times we live in from retired law professor F. Legard Smith: "Pack your bags, we're headed to Babylon."
Not simply because the Democrats have won a political victory, nor because Joe Biden presumably will be our next President.  In our democratic republic, parties and Presidents don't win without the consent of the people.  And, whether consciously or not, the people have just given their consent to national moral rebellion (highlighted by a pro-gay, pro-abortion agenda) that — beginning with Biden's ardent support for the LGBTQ Equality Act — will lead to the curtailing of religious freedom.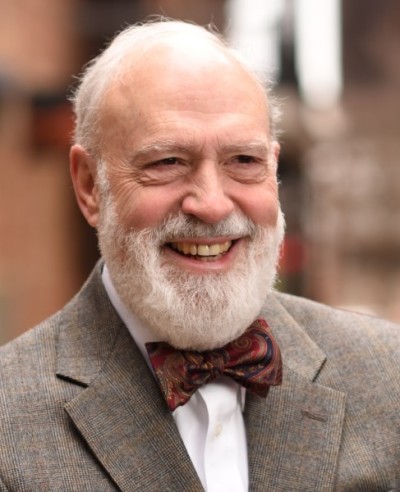 No surprise that folks would vote to dump Trump, who — despite laudable (even faith-friendly) policies — was his own worst enemy with his arrogant, rude, and petulant persona.  One could also rationally disagree on issues of immigration, the economy, racial justice, the environment, or how best to manage the COVID crisis.  But none of the above determined the outcome as fundamentally as a seismic shift in moral thinking that has ensnared liberal faith communities and even large numbers of Evangelicals.  Despite Biden's personal God-talk and biblical allusions, the day is coming when well-meaning, "socially aware" believers will be on the brutal receiving end of a party-embraced secular revolution that can't wait to bite the hand that feeds it.
As Canada, Britain, and western Europe have already led the way, it's a rule of history: Tolerance of wrong becomes popular acceptance, then enshrined law, then strict enforcement leading to suppression of dissent.  Yet, the natural progression from benign tolerance to militant intolerance is the least of our worries.  If God's track record tells us anything, something divinely decreed may just have happened.  Had it not been now, it likely would be at the next election, or the next.  Why?  "The Lord Almighty has done to us what our ways and practices deserve, just as he determined to do" (Zech. 1:6).  Note: That would be "us," not the faith-hostile liberal Left…
We don't live to ourselves alone, but to our families, communities, and the nation.  If as Christ's disciples we have fumbled the ball, can we complain when the other team picks it up and scores?  A secular culture triumphs over a once-God-honoring culture by pure physics: Every vacuum begs to be filled.  So, IF God is wreaking vengeance on America, should we expect to be spared? 
Far from this being a message of despair, the brightest recurring theme throughout Scripture is that of the faithful remnant — the keepers of the light in the midst of deepest darkness.  On the road to restoration, our task is not about some political comeback, but a penitent about-face that once again fills this land with a captivating righteousness, taking even the captors captive.  It starts, not in Washington, but in the town, the church, and — most of all — the family nearest you.
So well said. The only quibble, in light of the prophets, is whether it is the land of the West or the East that finally will be filled again with a captivating righteousness:
Arise, shine, for your light has come, and the glory of the LORD has risen upon you.
For behold, darkness shall cover the earth, and thick darkness the peoples;
but the LORD will arise upon you, and his glory will be seen upon you.
And nations shall come to your light, and kings to the brightness of your rising.
Lift up your eyes all around, and see; they all gather together, they come to you;
your sons shall come from afar, and your daughters shall be carried on the hip.
Then you shall see and be radiant; your heart shall thrill and exult… (Isaiah 60)
Jonathan for Shevet Achim