Dear coworkers,
As we enter the new year there are good reasons to thank our Father. I wrote you two weeks ago about the arrival in Israel of our five emergent Christmas babies from Iraq; today Georgia shares that little Eliyas ("Elijah") was rushed into surgery after his oxygen levels dropped, becoming our first surgery of 2021: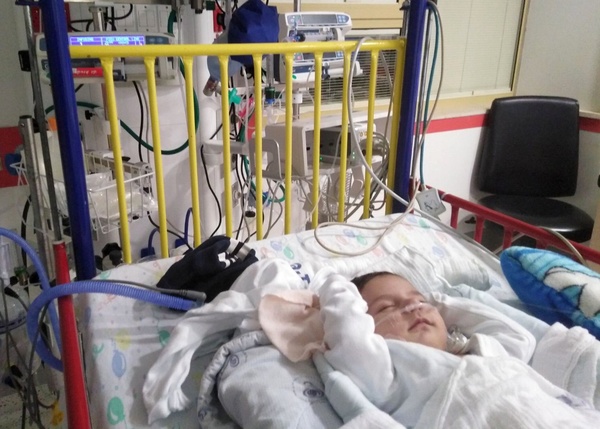 It was a big surgery. It took almost seven hours from the time he went into the operating room to the time he was brought out of it. The father waited with strength and patience, although towards the end of the time he started to pace towards the door of the surgery area, longing for his son to be brought out.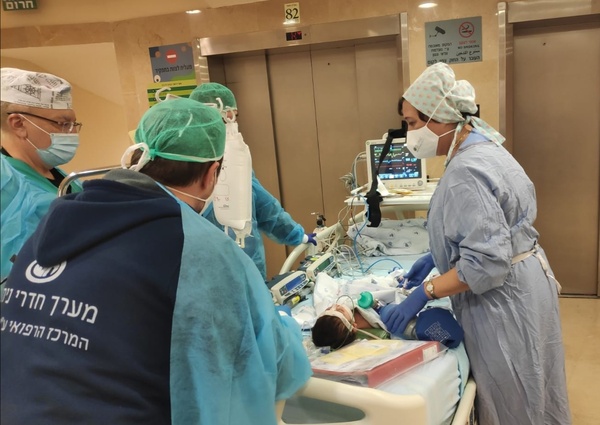 The surgeon told us that it had been a difficult surgery, but thankfully they had been able to do everything which they intended to; the double switch of the great arteries, and the closure of two holes in the heart. They also found that a valve which had previously been a concern was working well, and did not need intervention.
The doctor explained that the next 48 hours will be critical for Eliyas, as he recovers from surgery, and his body gets used to the new set up of his heart.
And our coworker Sabrina adds that newborn Malik from Gaza, admitted urgently Christmas Day for surgery, was already 
released today
 to the care of our Jaffa community: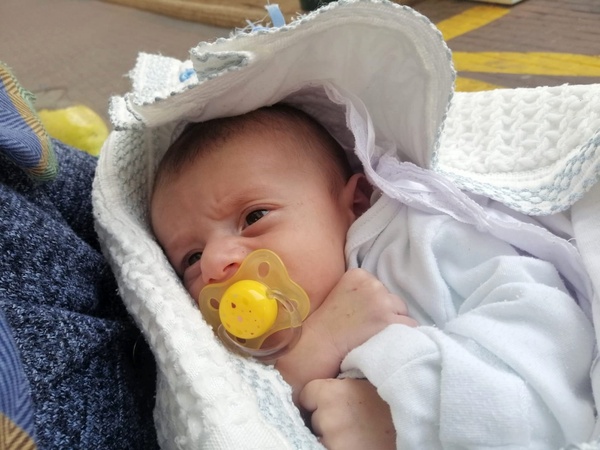 When Malik and his mother arrived at our house in Jaffa we had a small farewell party for one of our Kurdish children (Drood) who can return back to Kurdistan tomorrow. Malik was so peaceful and quiet during the whole party that you almost could've forgotten that he was there. You realized it just by looking at his mother who was holding him in her arms while eating cake.
And yes, praise God, it is a relief to enter 2021 with the largest part of our financial commitments for 2020 surgeries already covered; at this hour only $78,643 is outstanding from our year-end total of $550,000.
And aren't we still rejoicing at the improbable recovery of Alaa? (Click here for Alena's thoughts on this miracle). He's now doing so well that doctors in Israel are asking us to return him to Gaza!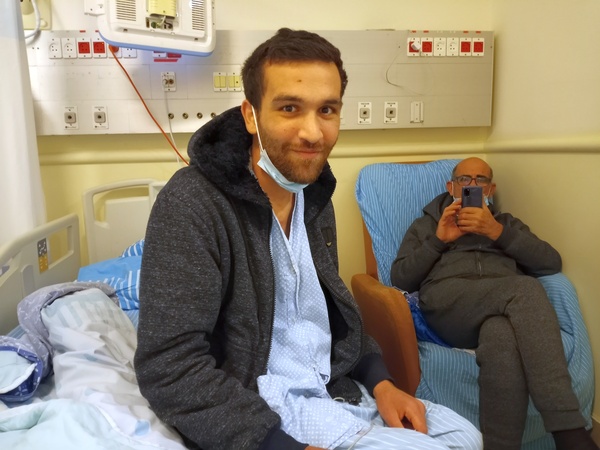 He still needs six more weeks of IV antibiotic treatment in hospital though, and I wrote his doctors tonight asking them to keep him in Israel until the job is done. I'd like to share the message with you, both for prayer and also reflection on our own lives as we enter another year. Why are we here, as unlikely intermediaries between Muslims and Jews? And what kind of people do we need to be in order to fulfill our role?
Dear friends at Sheba,
Please allow me to respond in English in order to communicate clearly and from the heart. A word of introduction, since I believe Alaa is only the second of our patients to be cared for in the adult cardiac surgery department. We are a community of Christians from around the world who've been working the past 25 years to bring children from Gaza, the West Bank, Iraq and Syria to hospitals in Israel for heart surgeries. We feel connected to Israel through our faith, and want to share with our Muslim neighbors that the Jewish people were chosen to be a blessing to all the families of the earth.
Our neighbors consistently tell us that when their child is admitted to your hospital they are treated with love, honor and respect that they've never experienced in their home culture. It's sometimes painfully embarrassing to hear them say things like "Jews are better than Muslims." If that is the message that our work brings, we want nothing to do with it. But we respond that the Jews are simply people of the Book, a people shaped by the scriptures, and the people through whom God gave his word to the world. Through this word the rest of us can learn the greatest truths: that each human is created in the image of God, that we are to love our neighbors, that we are even to love our enemies. Here we find hope that we and our peoples can be changed.
So you can understand why I am so sensitive to the question of how we treat Alaa. I was with him on December 6 when he returned to your emergency room with severe complications following surgery. The staff there were as always caring, compassionate and thorough. Each time they asked him about allergies he told them he was sensitive to Rocephin. And I was by his bedside when he was injected with Fortum, from the same class of antibiotics. He immediately turned red, shouted "Allergy," tore at his clothing, and collapsed in shock. Thank God that the doctors worked to resuscitate him for 35 minutes, and instead of giving up put him on ECMO.
Our community has learned from the scriptures of Israel that only if we confront our mistakes honestly things can be set right. The next day I went to the doctor who was overseeing the ER shift, and he acknowledged the mistake. He said a doctor in the cardiac ICU had ordered the injection, and that ICU doesn't yet have access to the ER's digital system which could have warned him of Alaa's allergy. Here is the opportunity for learning and change that can come when we admit our mistakes! But when I next went to the doctor overseeing the cardiac ICU, he denied that one of his doctors gave the instruction to give Fortum, and refused to have any discussion of what happened. I understand the matter has now gone to Sheba's review board for further investigation.
I've shared all this openly with Alaa's father, as we must. And thank God he's never once laid blame on the doctors at Sheba. He's grateful for the tremendous efforts that same cardiac ICU has made to bring his son back to life. He's made only one request: please don't send my son back to the hospitals in Gaza, which are overrun with corona and in catastrophic condition. Please treat him at Sheba until he's well enough to come home.
So as long as Alaa still has a PICC line installed, is receiving IV antibiotics and needs to be in hospital, I'm asking on behalf of the family to keep him under the protective care of Sheba. It doesn't have to be in the cardiac surgery department. But we've seen so many children spend months in Sheba until they were well enough to go home. This is real evidence—not empty words—that each life is of inestimable value, without distinction based on religion, nationality or financial status. This is light to our neighbors.
We're here to support you in this. Please call on us for whatever help we can give.
Jonathan for Shevet Achim
"Behold how good and how pleasant it is for brothers to dwell together in unity" (Psalm 133).