Dear friends,
In the morning meeting this week we read from the end of Luke chapter ten, together with a Gaza mother staying with us. This well-known story tells of Martha opening her house to Jesus and his disciples. At some point she asks Jesus to tell off her sister Mary for sitting at his feet and listening to his teaching instead of helping her in the kitchen. "Lord, do you not care that my sister has left me to serve alone? Tell her then to help me."
This plea is not unlike that of the disciples when a violent storm befalls their ship on the Sea of Galilee and Jesus is asleep in the stern: "The disciples woke him and said to him, 'Teacher, don't you care if we drown?'"
Asking Jesus "Don't you care…" is the desperate appeal of those who first and foremost feel abandoned. The response of Jesus to Martha is this: "Martha, Martha, you are anxious and troubled about many things; one thing only is needful. Mary has chosen the good portion, which shall not be taken away from her."
When reading this we get the sense that there was more behind Jesus' words than just a rebuke of Martha's busyness. It seems like one of those moments where Jesus is speaking directly into someone's life, like when Jesus says to Nathaniel, 'I saw you under the fig tree,' or to the woman at the well, 'You've had five husbands, and he whom you now have is not your husband.'
Jesus says that Martha is anxious and troubled about many things; this, perhaps, describes more the state of her life than solely the numerous tasks involved in hosting a gathering at her house. Unlike Nathaniel and the woman at the well, we don't know Martha's response. But the response of Jesus, that it is Mary who has chosen the good portion which she won't lose, is reminiscent of Moses' entreaty to the Israelites in Deuteronomy: "I have set before you life and death, blessings and curses. Now choose life, so that you and your children may live and that you may love the Lord your God, listen to his voice, and hold fast to him."
It seems that as Jesus is imploring Martha to choose this better portion he is speaking himself. He is the way, the truth, and the life, and the one thing she needs above everything else. My prayer is that everyday we would choose Jesus over and above everything else. May we ascribe to him all the glory and honor he is due.
First of all we ask you to pray for our friend and coworker Frank in the United States. He contracted the coronavirus while waiting for permission to come join us again in Jaffa, and is currently on a ventilator in the ICU.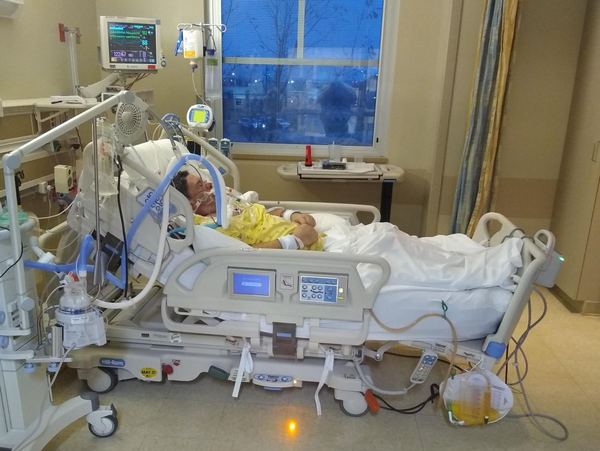 Frank is lovingly known by many Kurdish families from last year as 'Bapiro' which means grandpa, and he always sought an opportunity to bless others whether by taking us out for ice cream or taking on the daunting task of fixing all the maintenance problems of the house. His heart is compassionate and generous, and we pray that God will bring healing to him and so much so that he could soon come to be with us at Shevet. Please also pray for this family as they walk through this with their father and grandfather.
This past Sunday baby Huda from Kurdistan went through a five-hour operation. During the waiting Huda's mother and Georgia were joined by other Shevet volunteers and families who had appointments at the hospital that day, as well as many people who were sending messages of encouragement and prayer.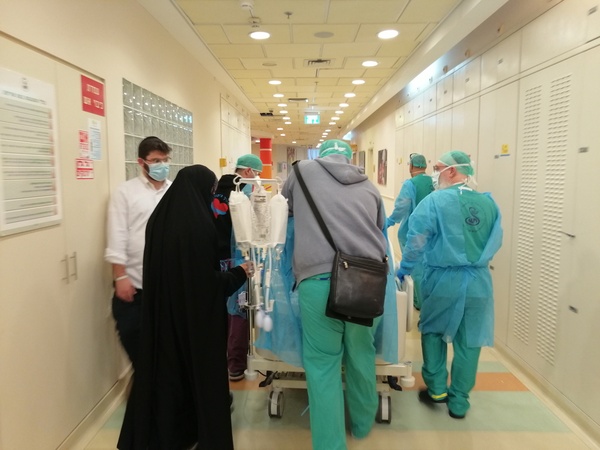 Community during the waiting is really a safety net for the parent; regardless of culture knowing you are not alone when facing such circumstances is far better than being on your own. This is evident all around Sheba; when walking past waiting areas outside of operating theaters you can see the groups of friends and family there to support their loved ones. The tables are strewn with take-out boxes and empty coffee cups which help to pass the hours of waiting. It is a privilege for both the volunteers in Israel–and also the wider Shevet community who is present through prayer–to be a part of this process with our families.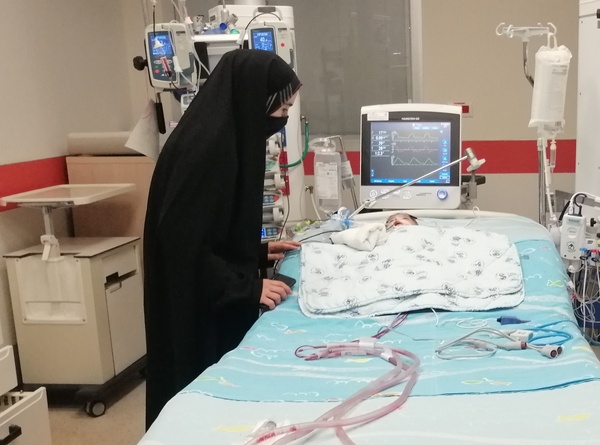 Thank God Huda has since been extubated and is recovering well. Hopefully tomorrow she will be transferred out of the intensive care unit.
Beautiful Aya also had surgery this week. Her operation was Tuesday and she has since been extubated, but there is some concern over fluid in her lungs. Please be praying for her.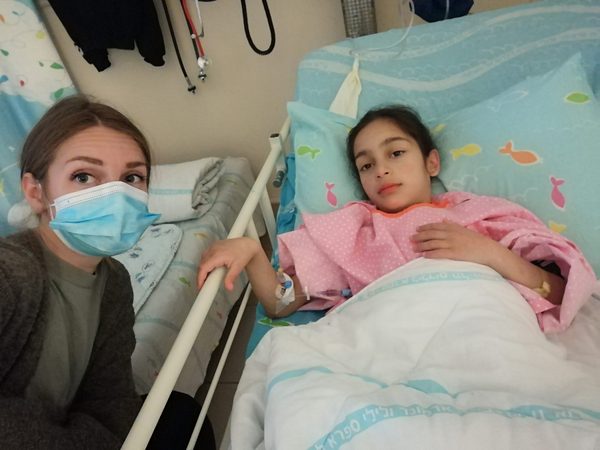 Especially with older children you notice their absence at the house, and especially so with Aya. She loved our dog Shevie and at every opportunity came with us to walk her. The previous Friday when we had dinner with all of the Kurdish and Gazan families Aya showed off her gymnastics skills. We are so thankful that her surgery went well and pray for her recovery process.
And baby Awmed had his surgery today! This was the third surgery this week! Please pray for him and his grandma during this critical days of recovery.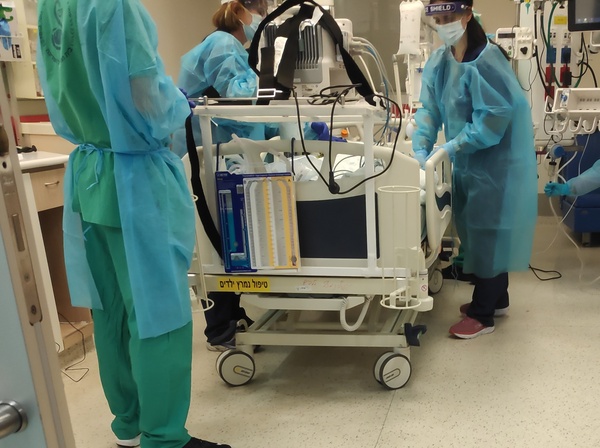 Baby Asmeen from Kurdistan is stable after her surgery nine days ago, but still not yet well enough to be extubated.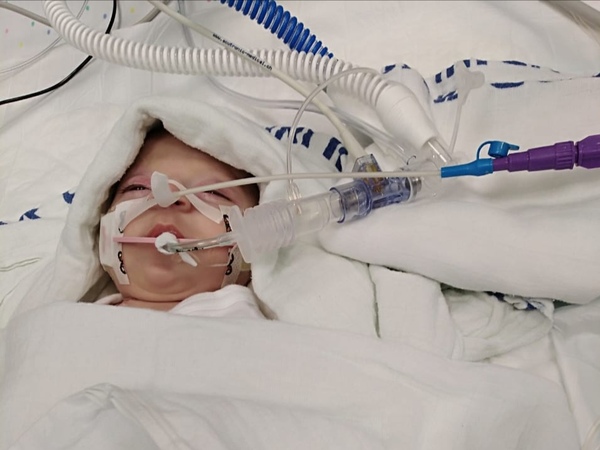 Her mum is struggling with the prolonged period of long recovery for her daughter, so please pray for them both.
Shireen from Iraq returned to our home today after her surgery a week ago. She had a fluctuating fever this week, but thank God she has responded to the medicine and was doing well enough to come back to Jaffa.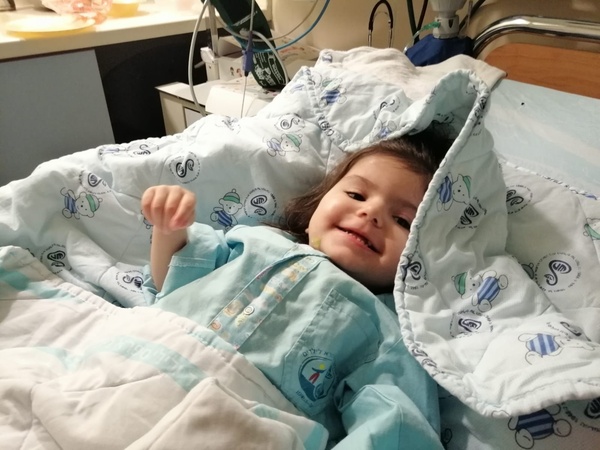 And
baby Eliyas
 was also discharged to the Jaffa house this week! He arrived in the arms of his father and was fast asleep. The mothers who are here welcomed him back and were encouraged to see Eliyas on the other side of an operation.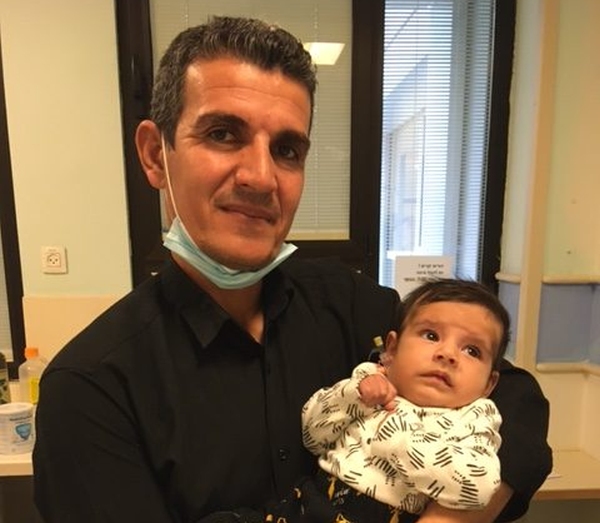 Please pray for him as he adjusts to life out of the hospital once again.Please pray for the timing of surgeries for Lalo and Ahmed. They are now the remaining families in our Jaffa home who haven't had surgery. As they await the call, they are full of grace and patience; today our coworker Carina will help the mothers of Lalo and Ahmed prepare traditional Kurdish food for dinner. It is a blessing to have these families with a beautiful attitude towards everything.
After six months of undergoing multiple treatments for her eyes, teeth, brain, and heart our lovely Leen has finally returned to her five siblings and her Baba (father) in Gaza! She went to Erez with a van full of gifts to take back with her!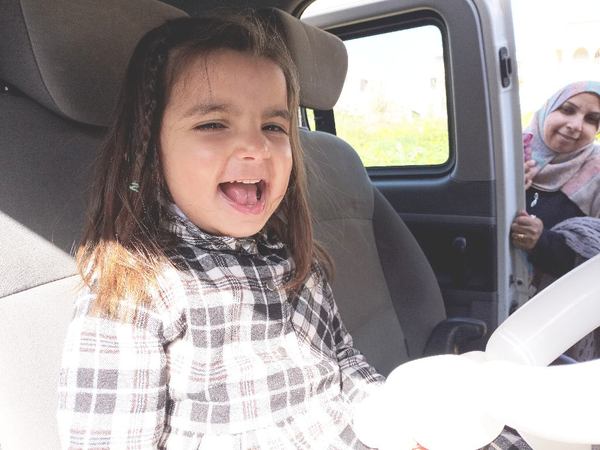 It was bittersweet to say goodbye to Leen and her mum who have very much become our family. Leen's mother would prepare breakfast and dinner for us because that is what she does in her house for her family, and she treated us as if we were her own. In addition to sharing meals and a house we shared late nights laughing together and long waits in the hospital. This time was truly something so special, and getting to know Leen and her mother was an absolute privilege.May God bless you,
Alena for Shevet Achim