Jerusalem at night
Dear coworkers,
The first month of 2021 is already gone. "We must work the works of him who sent me while it is day," Jesus said. "Night is coming when no one can work."
I'm steadily convicted by the spirit that now is our time to invest the talents we've received, for our master will soon return and we will give an account. Yet I'm also resisting the temptation to therefore panic and rush out to do the first thing that comes to mind.
"What must we do, to be doing the works of God?" the disciples asked.
Jesus answered them, "This is the work of God, that you believe in him whom he has sent."
So the most urgent thing we should do is know and believe the son of God. To spend time with the word of God. To abide in him, so that we can then bear much fruit.
Helping some 15 children at a time with heart surgeries means non-stop demands for our time and attention. One of the hardest foundations to lay for our community life was (and is) the discipline of spending the first two hours of each working day in worship, scripture and prayer. Everything wars against this. Yet I believe this is a prime reason our community has endured, and and that we see transformation in our lives.
We assemble together "to stir up one another to love and good works," as the author of Hebrews tells us. And it is equally important to take our Father's commandment and teaching with us individually throughout the day:
Bind them on your heart always;
tie them around your neck.
When you walk, they will lead you;
when you lie down, they will watch over you;
and when you awake, they will talk with you.
For the commandment is a lamp and the teaching a light,
and the reproofs of discipline are the way of life…
Friends, what talks with us when we awake each day? And what is the last thing we meditate on when we lie down at night? And what is tied around our neck as we walk? (Hint: should not be our cell phone). If we can get this right, we'll be in a place to see and then do the works that our Father is doing. And we'll find we have the resources to do them as well.
In January we've seen ten children helped with heart surgeries and three more through interventional catheterizations. So far this is twice the pace of last year (and with half the staff!). Two more emergency newborns were rushed out of Gaza this weekend; our coordinator Amar even shook up everybody's routine by rightly insisting that we bring baby Mohammed out on the Shabbat, to protect and prepare him for the surgery to switch his great arteries: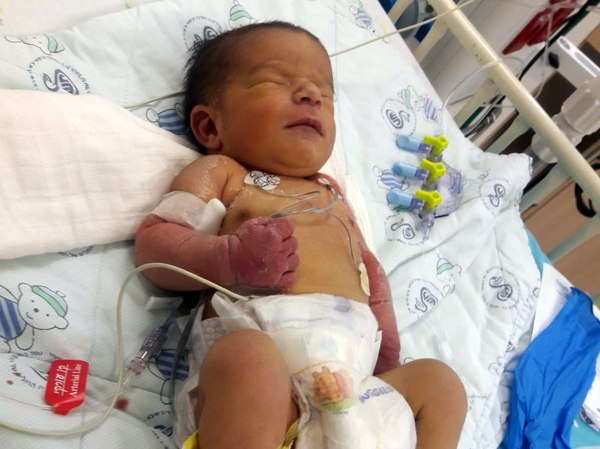 Thank God, we've also seen an unexpected surge in new applications to come out and work with us. God willing we should be well-supplied with coworkers once Israel opens up its borders. And our unfulfilled commitments for 2020 surgeries continue to slowly melt away; at this hour $37,996 is still needed.
Meanwhile after a long season of quiet, urgent requests from Iraq and Syria are suddenly flooding in, including more transpositions. And a doctor in Morocco–one of Israel's latest peace partners–is asking about sending children too. (I haven't replied to him yet. First abide, then reply.)
It's unmistakeable though that relations between Jews and Arabs in our region are at a place that couldn't have been imagined just a few years ago. This week a security think tank in Israel held a conference on confronting Iran, and incredibly the foreign ministers of the UAE and Bahrain were there leading the charge: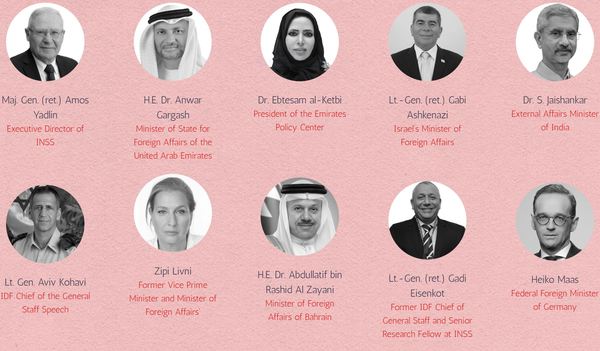 Brothers and sisters, if the Middle East is being turned upside down in the political and military spheres–what about in the spirit? Could not Muslims and Jews recognize that they also have a common spiritual foe, and in significant numbers move beyond the divisions of the past?
To be clear, I believe there is only one way. That is the way of the Messiah, who himself tore down the wall of division, as Paul explains in Ephesians 2.
As followers of this Messiah, we've been privileged for 25 years to midwife the coming together of Muslims and Jews in the sphere of medicine. My faith and expectation are growing that we will also see a coming together of Muslims and Jews around the word of God. Impossible? To us indeed.
But as we've learned through this quarter-century, let's not limit God through our unbelief. If we will take him at his word, and act upon it, we will see miracles.
Jonathan for Shevet Achim
"Behold how good and how pleasant it is for brothers to dwell together in unity" (Psalm 133).