Dear coworkers,
Our father in heaven strengthened our hands through the affirmation you gave following last week's letter about Abed and Asma and the non-heart-related care they so urgently needed in Israel. Here are the first four replies received:
My heart skips for joy when I read this letter–I witness in my spirit that you should proceed with these new open doors–our Lord will provide–I am praying for you! (Australia)
I just want you to know that for a woman who seldom cries, your email brought me to the brink of tears. The cry in my spirit is YES YES, do what ever you can whilst it is still daylight, for the night is coming. Our heavenly father will provide. You are his hands and feet dear community. (New Zealand)
I believe that you have made the right decision with the two children from Gaza and have just transferred £— to Shevet Achim UK to back my statement. (Northern Wales)
I believe you can learn from these experiences and allow the Lord to lead by enabling you or others with people and resources.  Watchman Nee would say that God does not need our help! But I do believe He desires us to walk with Him in obedience to accomplish His efforts. You are smack dab in the middle of His efforts brother!!!  He will be in the wisdom you receive!!! (Colorado, USA)
Friends, let's remember: we are so much stronger when we join together to discern God's will and then to act upon it. No one can fulfill their ministry in isolation. The fullness of God's spirit with his varied gifts is found in the body together, not just a single member thereof.
And when we bring some faith and just a little portion of the funding, the people of Israel–to whom we are also joined through Messiah–will care for their neighbors with love. From Alena's must-read blog on Sheba Medical Center's effort Wednesday to save the sight in baby Abed's left eye:
The surgery initially was said to be two hours long, but it took nearly five. During this time, the staff were almost constantly coming in and out to encourage Abed's mom. One even bought us pastries and lattes from the shop on the floor below us…
At around half past noon, the surgeon and head nurse came to speak with Abed's mother. Praise God the outcome of the procedure, called a lensectomy, was successful. He will have a check-up tomorrow to make sure of the results. In three to four years, he will have another surgery where they will place a permanent artificial lens in his left eye.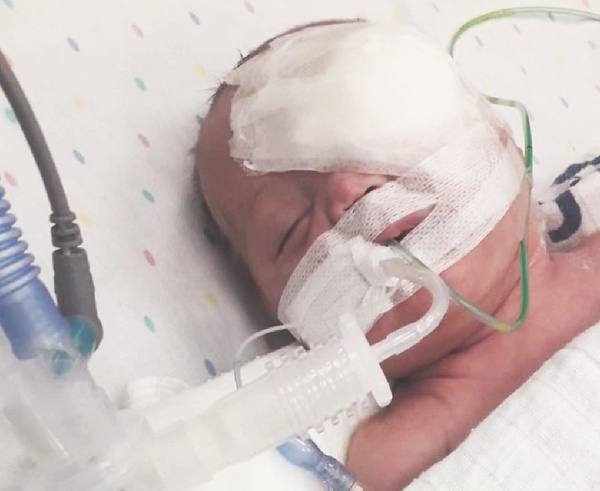 The doctor was eager to have Abed's mother understand that he has performed this operation for many children who now lead normal lives. However in the case of Abed's right eye, there is now nothing they can do to fix its vision.
Thank God we brought Abed to Israel in time! We have never regretted anything done out of sincere obedience to the words of Jesus.
On Tuesday Alena was also at the border to collect the other non-heart-related child Asma:
When Asma and her aunt came out of Gaza, the first thing Asma did was give me her hand to shake and confidently say hello. She is a beautiful and sweet girl who seems beyond her years in every interaction…
When we arrived in Jaffa, she asked, "Is this Israel?" as she looked in the direction of the beach from our house.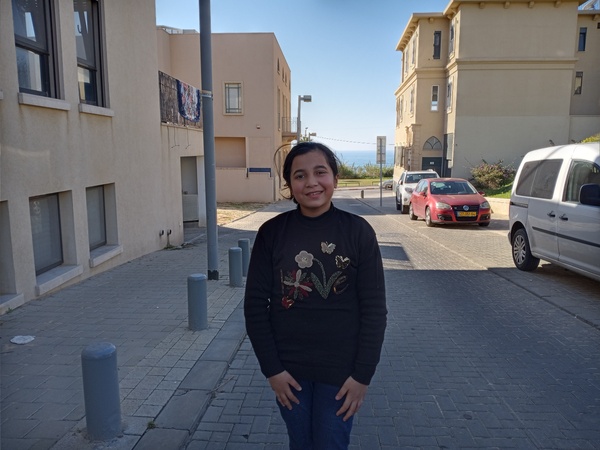 Some of our families were having tea outside on the long sun-deck and Asma and her aunt were invited to join. The Kurdish families were so welcoming and kind.
This evening Asma experienced one of the headaches she gets, so please pray for her as she waits. Its hard to believe and sad to think that this is her 'normal.'
Asma will go for her first assessment this week at the Schneider Children's Medical Center, considered a leading children's hospital in Israel. Years ago we partnered with them on many children's heart surgeries, before the administration abruptly stopped without explanation. We can pray for renewed cooperation there, God willing.
There's another big praise from this week concerning baby Mohaned. Since we rushed him out of Gaza as a newborn last April he has spent more than half of his ten months of life with us in Israel, so this joyful, lovable baby and his mother have become dear to our community.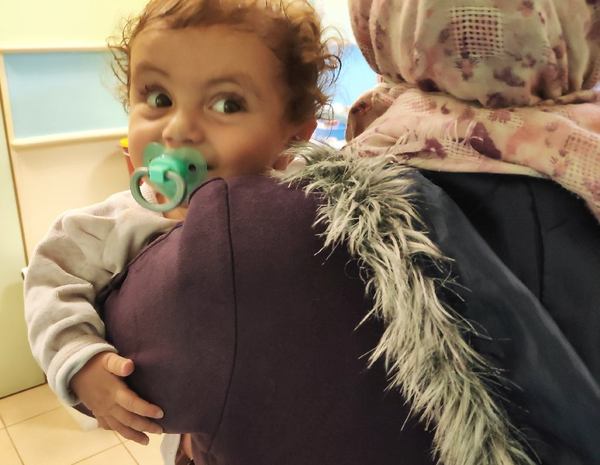 Here's an excerpt from
Georgia's blog
 on Mohaned's surgery Tuesday:
When I arrived this morning at Sheba hospital, Mohaned had been just that moment taken into surgery, so I waited for his mother to reappear out of the surgery-room area. As she came outside, she hugged me and told me that she was very afraid. The doctors had warned her that this could be a very high-risk surgery for our sweet boy, and the news had been received solemnly by us all, not just Mohaned's mum.
Still, we have hope. I assured her that there were many, many people praying for Mohaned. She was happy to hear it and appreciated that there are so many people who love him…
As the hours rolled on, we returned to the waiting area, and were joined by another mother whose child was in a catheterization. When the doctors emerged from the OR pushing a large bed, they announced that all had gone well. We all thought they were referring to the child from the catheterization, which caused some confusion amongst everyone. The doctor then made it more clear that it was little Mohaned's surgery which had finished and that all had gone well, praise God. Mohaned's mother squeaked in excitement, unable for a few moments to process what to do. When it all clicked for her, she ran after the bed, and went up to the ICU.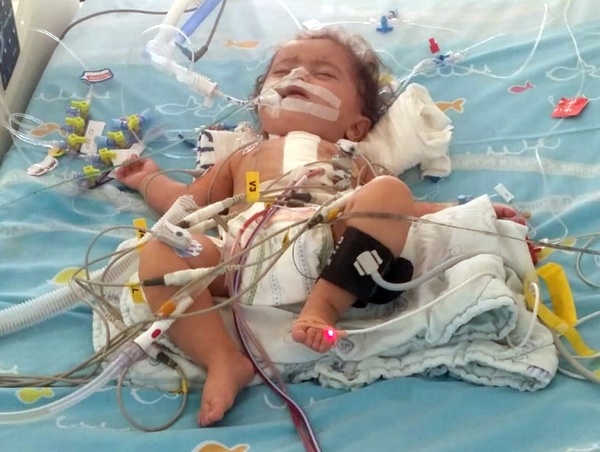 As she needed to wait another hour approximately until she was permitted to enter the room, we sat together in the upstairs waiting room. As we were quite hidden behind the walls, and after two men left the room, she couldn't contain her joy any longer, and ecstatically jumped up and down, (quietly) shouting "MOHANED!! MOHANED!!" then jumped up on the chairs looking out of the big windows announcing to the whole world, but only observed by me,"MOHANED MOHANED KOL BESEDER!!!" ('All is well!' in Hebrew). It was a big privilege to share the joyful moment with her.
Something touches me to hear our visiting Muslim families expressing themselves in Hebrew. Maybe it's a foretaste of the joy our neighbors will experience when Israel's Messiah is revealed to them:
Let the desert and its cities lift up their voice,
the villages that Kedar [son of Ishmael] inhabits;
let the habitants of Sela [Edom] sing for joy,
let them shout from the top of the mountains. (Isaiah 42)
This week our Jaffa community had ten Muslim families sharing in (and preparing) the Shabbat meal: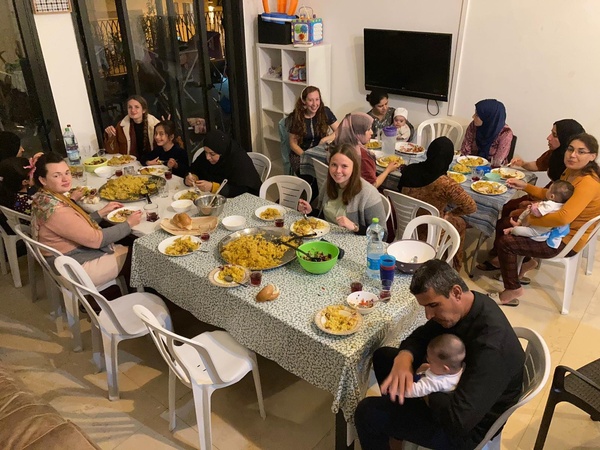 The highlight for me was hearing the Hebrew greeting "Shabbat shalom" sent in from Gaza by four-year-old Leen, who shared so many of these Shabbats with us during the five months she spent in our community. Click here to listen!
I suppose there are Muslims who would feel uncomfortable hearing this. I also felt there may be Christians who'd feel uncomfortable with our blog this week praising the faith and solidarity of Muslims. And of course some of our religious Jewish neighbors feel uncomfortable with all the rest of us for all kinds of reasons. Members of all three of these monotheistic religions have a very strong sense that they are the exclusive people of God.
The more time I spend with these three groups the more I feel we're missing the point if we argue over whether Christianity or Judaism or Islam is correct. The point of the scriptures is that God has indeed made one exclusive choice, and it is the choice of a person not of a religion. We all must humble ourselves, repent of our sins, and come to Messiah to be saved. This is a message that will resonate in the Middle East.
Finally this week, praise God our coworker Frank and I are both bustin' out of Fort Wayne, Indiana tomorrow. Frank's doing so well after two months in hospital from COVID that he walked 200 feet without oxygen today in rehab, and tomorrow he'll be released home in the care of his daughter! He is so grateful for the prayers and love of you all.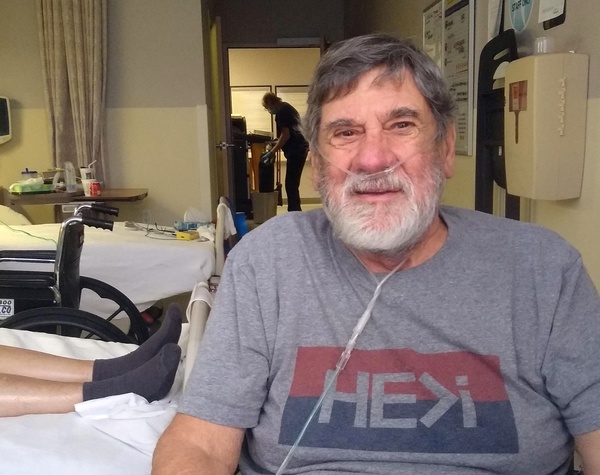 And God willing I'll also be starting my trek back East tomorrow. Israel's airport is still closed at least
until Saturday
, so I'm aiming to reach Kurdistan, northern Iraq this week, and maybe from there find a way into Israel with the six urgent children who are still waiting for their heart surgeries: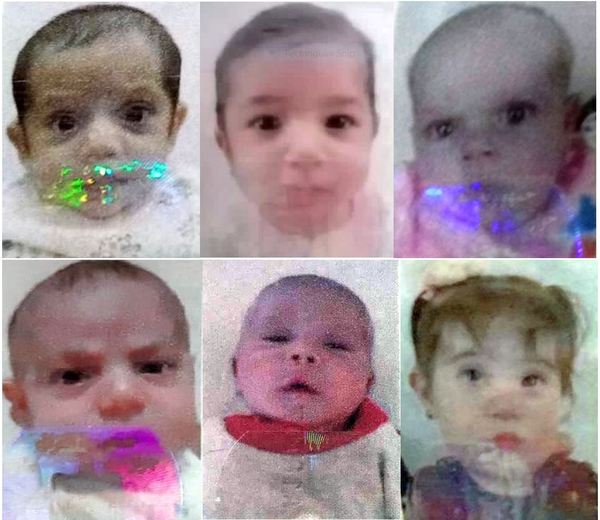 Let's pray for an open door for us all, and also for the healed Iraqi children in Jaffa now eagerly waiting to return home to their joyful families.
Jonathan for Shevet Achim
"Behold how good and how pleasant it is for brothers to dwell together in unity" (Psalm 133).