Dear friends,
Georgia and I brought three families to Jerusalem for the day this past Sunday. While they were visiting the mosque on the Temple Mount, we spent a few minutes in front of the Church of the Holy Sepulcher: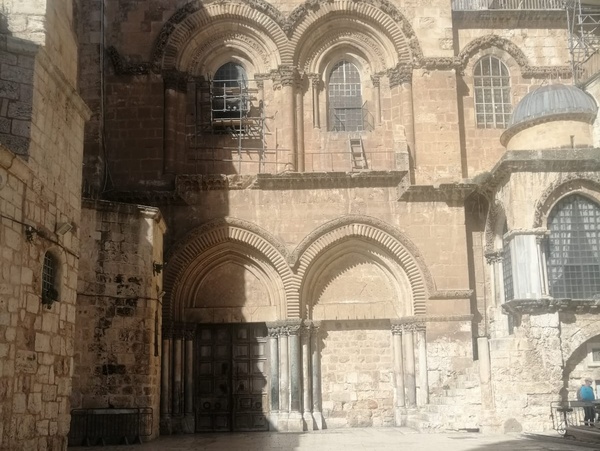 Usually the enclosed courtyard is full of people milling around before entering the church but on this Sunday morning we were two of six others in the precinct, as the church itself is still closed to the public. In the peace and stillness of those few minutes we read aloud Luke 24; it was significant for both of us to read this chapter near the place where those universe-pivoting words were first spoken to a group of women who came to the tomb expecting to find the linen-wrapped remains of a man three days dead: "He is not here; he has risen!"
Over the course of this week I've thought about this proclamation of Jesus' resurrection many times in connection with Alaa. We were shocked when we heard he was placed for a second time on the ECMO machine in the hospital in Israel. Since Monday night his kidneys and heart are failing and he has sepsis. After letting his heart rest over the weekend, next week doctors will do an echo to see if another heart operation could help him.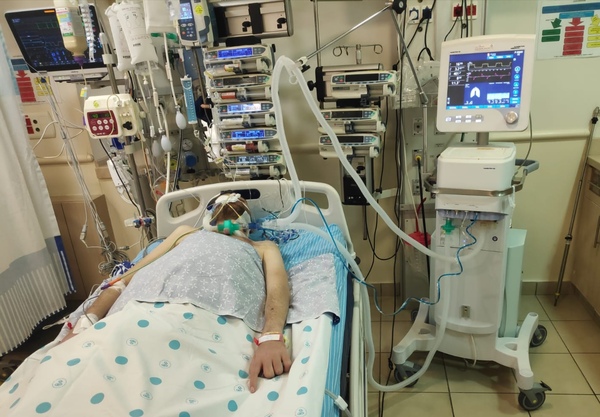 Moreover, Alaa's uncle returned to Gaza a week and a half ago, so none of his family are here. Though he is intubated and therefore unconscious no one should endure this without close family at bedside; his father is hoping to come but this is complicated because of permission problems with the border.
In praying for Alaa, I am reminded of Jesus' prayer in the Garden of Gethsemane before he endures the cross. He earnestly and completely prays for deliverance from what was coming, and still says, "Father not as I will but as you will."
Alaa being healed for a second time is not beyond the scope of God. This morning the two of us in the meeting read a poem entitled Blessing the Dust by Jan Richardson, and one line in particular stood out: "Did you not know what the Holy One can do with dust?" This was a profound reminder of the power and love of God. Please join our community in praying for Alaa's life.
Baby Asmeen is also in need of a miracle as doctors believe they may not be able to wean her off of the mechanical ventilation that is connected to her tracheosotomy. Their goal was for the trach to help her breathe on her own, but every time they've removed the tube they've had to return it, and it remains so now: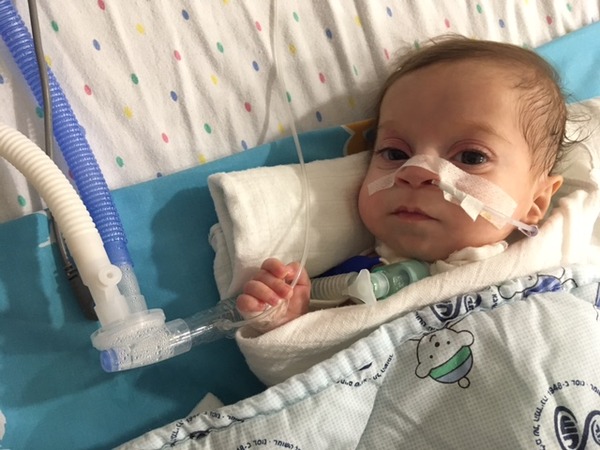 Precious
Reem from Gaza
 was also left intubated via a tracheostomy after surgery, but she was from Gaza. After it became clear there was no further treatment Sheba could offer, she was transferred to a hospital in Gaza rather than home because of the mechanical ventilation. This was feasible because we could do an ambulance-to-ambulance transfer, but Kurdistan is a plane flight away, so the circumstances are different and more complex.
On behalf of their patients the doctors always work with the utmost excellence, and especially in Asmeen's case the cardiologists and nurses have shown so much empathy and compassion; as we look for what the next steps are, everyone is working towards the best future possible for this sweet baby. Please pray for the wisdom of God in the decision making, and maybe also for the miraculous to enable Asmeen to come off the mechanical ventilation.
Eleven-year-old Asma had her neurology consultation at Schneider hospital on Tuesday; the location of the lesion in her brain makes any treatment very dangerous. She'll need a diagnostic catheterization before doctors will know how the risks of intervention compare to leaving her condition as it is: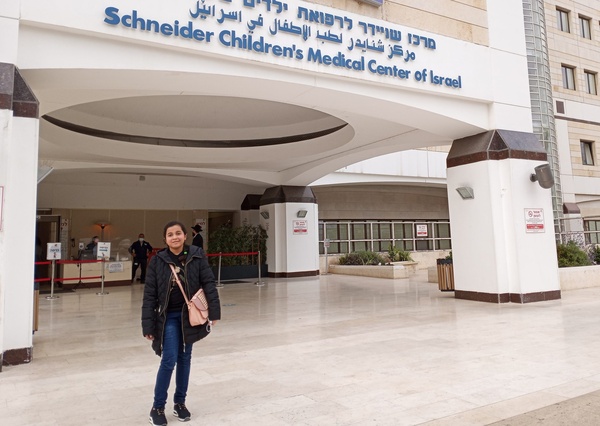 She has returned home to Gaza to wait for an appointment date from the hospital. Please keep her case in prayer as well and her mum and dad who want the best for their daughter and have advocated tirelessly for her.
Omar from Gaza, who just turned one month old today, had a therapeutic cath two weeks ago. His mother woke up on Monday morning in our Jerusalem home to find him covered in blood, although neither she nor our co-worker Berith could see the source and he was no longer bleeding. They rushed him to the emergency room at Sheba where he was subsequently admitted for observation.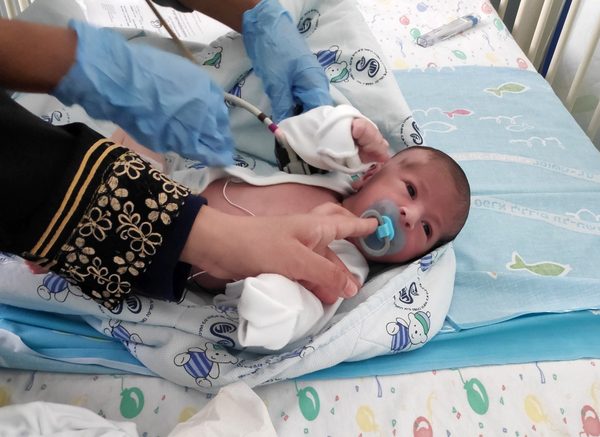 Omar had been receiving a medicine via injection and it is possible that the site hadn't been sufficiently staunched after his nightly dose; no other explanation was found. He was stable in the hospital and didn't have another episode like this, and he is now back at our Jaffa house to await an echo next week. Please pray for protection for him.
Baby Abed who came for surgery to save his vision returned to Gaza yesterday. He also was taken to the emergency room a week ago due to bronchiolitis, and responded well to inhalation treatment to clear his lungs. After the ophthalmologist checked him yesterday he had the okay to return home: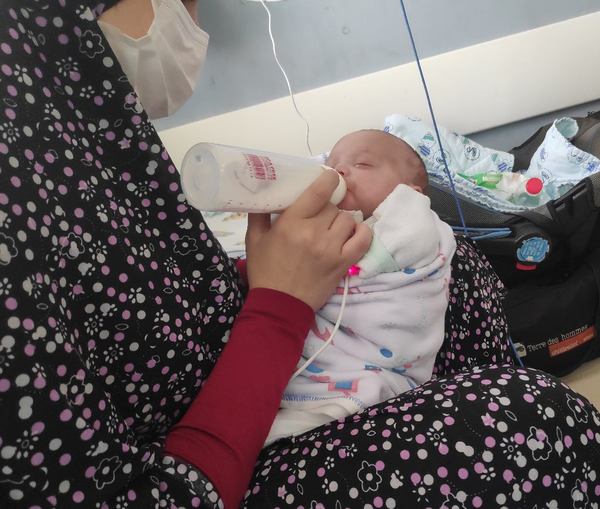 It was mixed emotions for his mum who was so excited to go home to her family, but also felt the inevitable fear of not being as near to the hospital where her son was treated. Please pray that the Lord would watch over Abed as he goes home.
Finally, Jonathan reached Kurdistan, northern Iraq this evening, for the first visit we've been able to make in over a year due to corona travel restrictions. He's asking for prayer for the Holy Spirit's direction, that like our Lord we may only do the works we see the Father doing.
Thank you for praying with us,
Alena for Shevet Achim