Dear friends,
In the ninth grade my English class read The Pearl, a novella by the American author John Steinbeck. I still remember my teacher belaboring a specific passage in which the protagonist watches an ant caught in a trap. His cool observation of the doomed creature is described as him watching with 'the detachment of God.' My teacher repeated this phrase again for emphasis: 'the detachment of God!'
Did a class of fourteen-year-olds appreciate the significance of that statement made by an author who lived through the turbulent and catastrophic mid-twentieth century? No. I only made a note of this phrase, and from time to time have thought about it since. In the moment, I didn't puzzle over the implications of such a statement. I just thought that John Steinbeck and I must be talking about different gods.
As many of you already know, two-and-a-half-year-old Ziad and twenty-six-year-old Alaa both died this week within one day of each other. One family buried their cherished son, another family buried their beloved son who was also a husband and a father. So much was done to save both the lives of Ziad and Alaa. Then in a moment everything stopped, and the world turned. Their families and all those who loved them now must learn to live with their absence.
This week that phrase which characterizes God as a detached observer watching a creature struggle against death was on repeat in my mind. Not because I think it is true, but because I think it is utterly untrue if we are talking about the God we meet in Jesus. How can Steinbeck write that a character watched a dying creature with the detachment of God, if the Bible gives us a God whose son took on human flesh and underwent death like one of his creatures. If it was he who hung and died on the cross, if it was his body that was taken down and entombed, then God didn't watch with detachment, he bled with love. And if the grave was only borrowed for three days, and if death truly is devoid of its sting because of the resurrection of Jesus, then I pray his resurrection is Ziad's and Alaa's also, that they are with him in paradise and will be always.
When a natural disaster like a hurricane happens, you see the aftermath on the news. Whole towns are destroyed and you see residents who returned to houses that are in ruins, sorting through the remains of their home. I think it is also like that for the families of Ziad and Alaa and all who have experienced such a tragedy: surveying the treasure that they've lost and trying to sort through the aftermath of their lives. Because death comes to all of us, it should be something we as humans are well versed in. But there isn't really such a thing as precedent when someone dies, because each person is unrepeatable. It will be Ziad's laugh, unique to him, that we won't hear again in this life.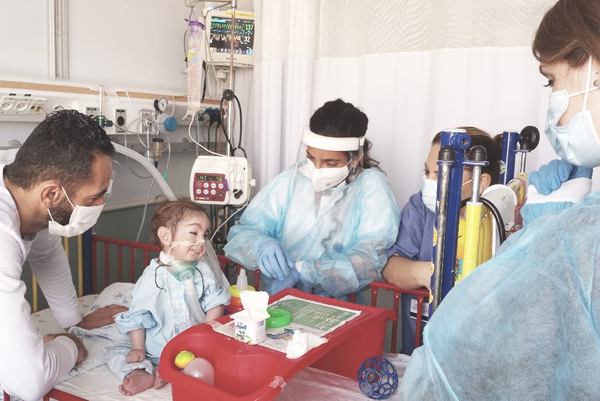 And likewise it is Alaa's smile, unique to him, that we won't see again on this side of life.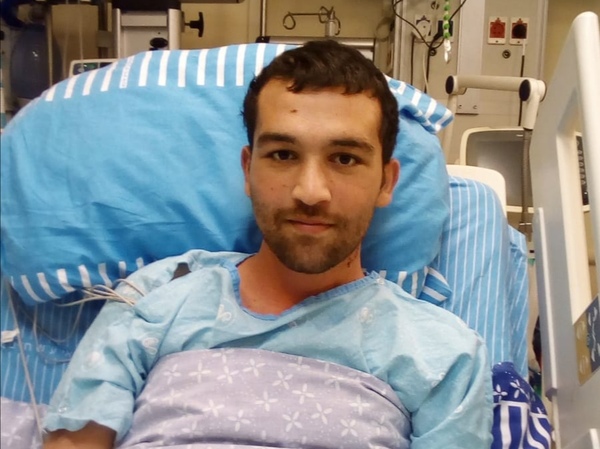 Please pray for both families: for Ziad's mother, father, and two older brothers, and for Alaa, his mother, father, wife, and son, for all of their extended families, and for their friends. We are all now coping with the deaths of those whom we so dearly loved.
Baby Mohaned went home to Gaza this past Sunday. He and his mother stayed with us for the past two months, for two caths and a surgery. His case is complex and he needed physiotherapy everyday, inhalation treatment, and many cardiac and pulmonary check ups. Both Mohaned and his mother are like shining stars, they brighten everything, and the five of us in Jaffa absolutely loved living with them.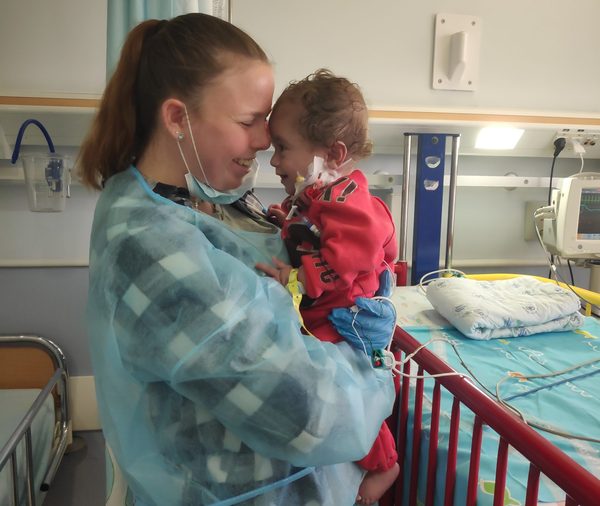 This makes it all the more difficult that Mohaned went back against the advice of his cardiologist. He returned home at his father's behest, who required his wife and son to be with him in Gaza even though Mohaned was not done with his treatment in Israel. When Mohaned arrived two months ago, he had not been receiving any of his medications for some time, and the doctor deemed it a miracle that he had survived. We don't know if they will be allowed to return when Mohaned should continue his treatment next month. Please pray that God would make a way for both of them to return, and also that in the same way God sustained Mohaned's life before, he would do so again. We have seen more than one story of the miraculous survival of an infant, and a way being made where it had been previously thought impossible.
Given the loss of Ziad and Alaa, and the risk of Mohaned's circumstances, I can think of no other way to finish this prayer letter than with a poem called Jesus of Thy Scars. It was written by Edward Shillito, a minister during the first world war, three decades before John Steinbeck wrote The Pearl. He puts the request of Thomas to see Jesus' scars in the mouths of all those who in his day needed to see them too.
If we have never sought, we seek Thee now;
Thine eyes burn through the dark, our only stars;
We must have sight of thorn-pricks on Thy brow,
We must have Thee, O Jesus of the Scars.
The heavens frighten us; they are too calm;
In all the universe we have no place.
Our wounds are hurting us; where is the balm?
Lord Jesus, by Thy Scars, we claim Thy grace.
If, when the doors are shut, Thou drawest near,
Only reveal those hands, that side of Thine;
We know today what wounds are, have no fear,
Show us Thy Scars, we know the countersign.
The other gods were strong; but Thou wast weak;
They rode, but Thou didst stumble to a throne;
But to our wounds only God's wounds can speak,
And not a god has wounds, but Thou alone.
Thank you praying with us,