Dear friends,
As this week comes to a close Paul's letter to the Colossians has been a consistent prayer through the very busy and long days:
Put on then, as God's chosen ones, holy and beloved, compassionate hearts, kindness, humility, meekness, and patience, bearing with one another and, if one has a complaint against another, forgiving each other; as the Lord has forgiven you, so you also must forgive. And above all these put on love, which binds everything together in perfect harmony.
Just before this Paul wrote, "Put to death therefore what is earthly in you." And this in turn references these preceding verses:
If then you have been raised with Messiah, seek the things that are above, where Messiah is, seated at the right hand of God. Set your minds on things that are above, not on things that are on earth. For you have died, and your life is hidden with Messiah in God. When Messiah who is your life appears, then you also will appear with him in glory. 
It is significant that Paul's starting point isn't a standalone lesson that we should be more loving, more compassionate, and more kind. This chapter has stuck with me this week because I have seen in just how many ways I've failed to embody the characteristics of God's kingdom. We can only put on compassion, humility, forgiveness and everything else because we are raised with Messiah to a new kind of life. His resurrection brought the inauguration of the kingdom of God wherein Jesus is enthroned as Lord. Messiah is risen–let's start there.
Please pray with us for the needs of the families we work with. The sheer degree of need is overwhelming sometimes, but our prayer is that we would serve and care for these families with all of who we are in the risen Messiah.
Sunday began a week of first appointments for the six new Kurdish children: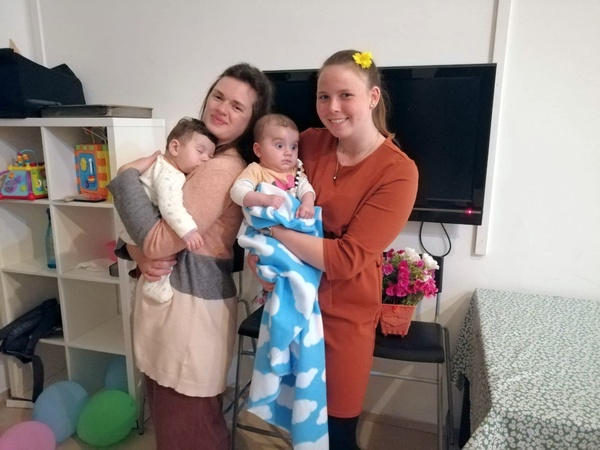 Lastly, this Monday we said farewell to Carina our dear sister and coworker (pictured above left alongside Sabrina). She was supposed to leave ten days ago but due to a (most likely) divine appointment mix-up she had to rebook her flight for this week. Her presence not just for the last week and a half but for the entirety of the three months she was here has been a gift. She is one of those rare people that is both idealistic and deeply practical. We relied on her nursing abilities as an R.N. and in addition to this she made our house feel more like home, as she shared her joy and her wisdom, and her deep love of Jesus. Her extroversion meant she would usually facilitate small games that none of us would think to play, and her insights always served to edify. I think the passage from C.S. Lewis' The Great Divorce describes her best: "But already there is joy enough in the little finger of a great saint such as yonder lady to waken all the dead things of the universe into life."
Please pray with us for the door to open this week for new and returning community members to enter Israel and reinforce our teams in Jaffa and Jerusalem.
May God bless you,
Alena for Shevet Achim