Dear friends,
In the Sermon on the Mount Jesus says something quite well-known: "So in everything, do to others what you would have them do to you, for this sums up the Law and the Prophets."
This may seem commonsense or even trite; of course this is how we should be treating others. But is it the reality? Not often.
This isn't unlike Jesus' response to the question of what is the greatest commandment: "Love the Lord your God with all your heart and with all your soul and with all your mind. This is the first and greatest commandment. And the second is like it: Love your neighbor as yourself. All the Law and the Prophets hang on these two commandments."
"Doing to others as I would be done by" may seem to us an occasional one-off action. But it is a whole mode of living in this world, a turning, a de-centering of oneself that comes with this new kingdom Jesus not only inaugurates, but ultimately reigns over as Paul says in Philippians 2. We had a fun time trying to translate this a few days ago as two families joined our morning meeting; we said it was the mamlaka maqlouba Allah, the upside-down kingdom of God.
As he celebrated the Passover with his disciples before going to the cross, Jesus told his disciples that as the Father has loved him, so he has loved them, and to abide in this love of his. By keeping this commandment to lay down our lives for others, we abide in his love. The one who washed their feet and submitted to even death on a cross, his love is the wellspring of this incredible charge to do to others as we would be done by, to love others as ourselves. Please join us in praying to our good, gracious, better-than-we-could-have-imagined King.
Firstly for baby Ghena from Gaza who underwent a second major surgery today, after which the doctors struggled for a long time to stabilize her.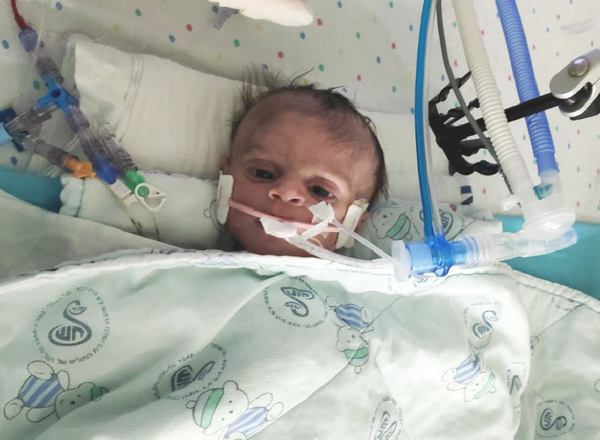 She remains in critical condition, and her grandmother is there by her side. Her mother returned to Gaza recently due to utter exhaustion, not just physical but mental and emotional as well. Please pray for Ghena's life as she remains in a dangerous state.
The nine urgent Kurdish children waiting in northern Iraq have received verbal permission to enter Israel, but we are still waiting for the paperwork. We need wisdom to know how to bring them and if all should come at once; God willing some of them will be traveling next week.
Meera will be the first of the current Kurdish children to have surgery on her incredibly complex heart tomorrow. Her oxygen levels are as low as 47% of normal; you can see how dark her little fingernails are: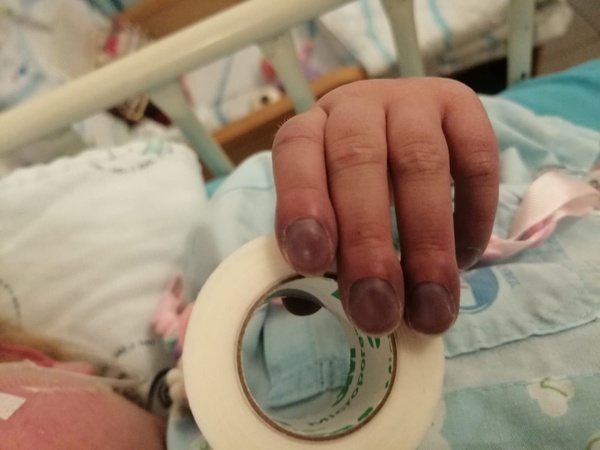 One of her doctors said he has never seen anyone like this who isn't unconscious. Please pray for the doctors as they plan her surgery, and for Meera and her dad who is with her and worried. May it be the beginning of a new life for this sweet girl.
Mir had a holter monitor test which provided data for the cardiologists to plan for his pacemaker surgery, which he needs before his transposition repair. His mother was initially shocked to hear this, so please pray for her as this was not the easiest news to receive.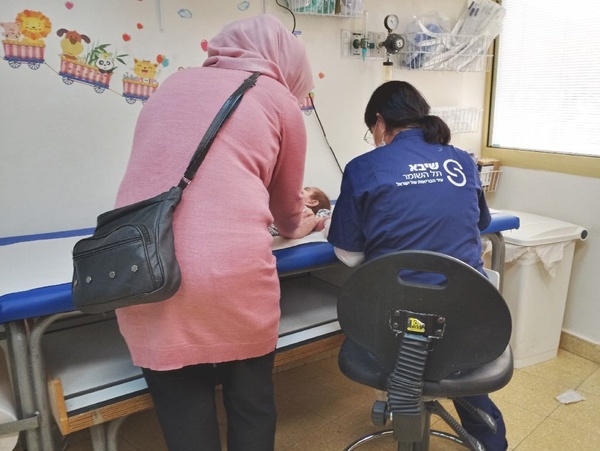 One of the other mother provided some encouragement to her as she knew other children who need pacemakers and explained it was quite common.
Dalal is scheduled for a catheterization next week, which will help get a better understanding of the anatomy of her heart. Please pray for her and her mother as they begin this process: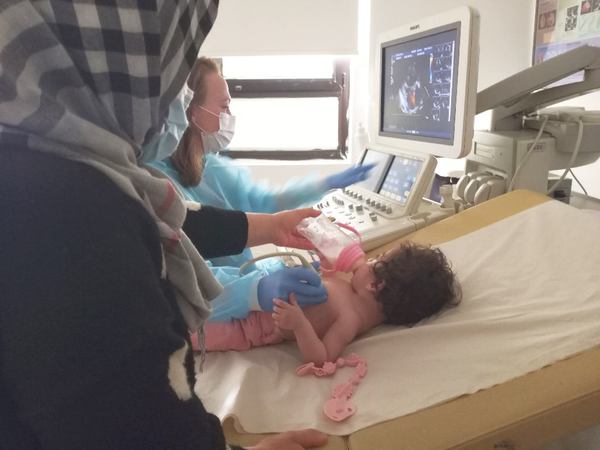 Lalo
 will be having a catheterization tomorrow, which we pray is his final procedure before being cleared to return home to Kurdistan. His mum was bursting with joy when she got the news that not only had the long-awaited stent for Lalo arrived from abroad, but that his cath was scheduled for the end of this week: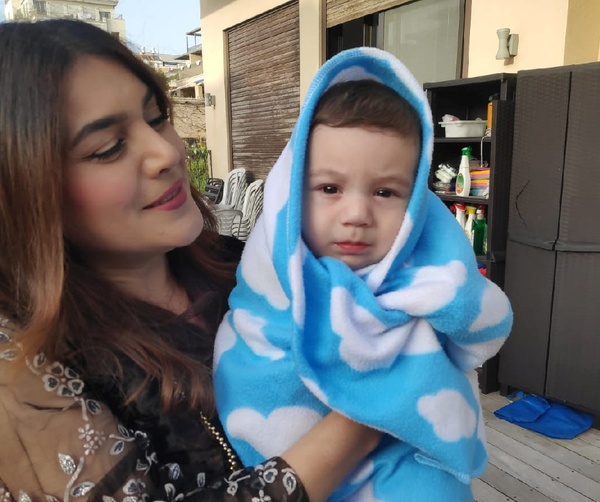 She is very hopeful to return to her family soon.
Asmeen, who has been in the hospital for three months, is still waiting for a space to open so she can be transferred to a hospital in Jerusalem which specializes in rehabilitation for children with breathing difficulty. Her mother is coping well with this extended period of waiting; she recently got to hold Asmeen for some time, and she sent the pictures to all of us: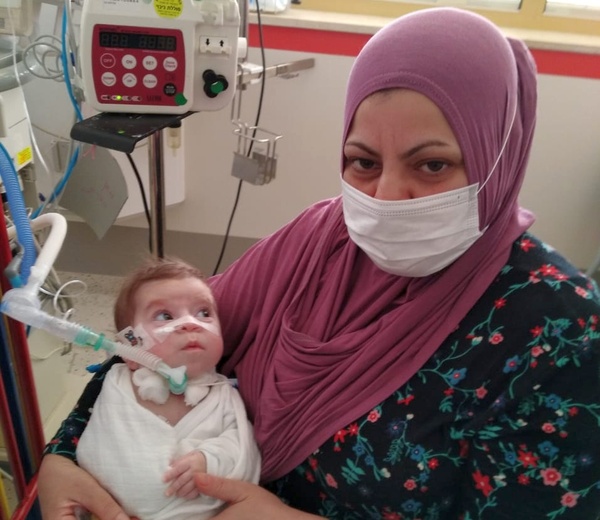 Kenan
 was able to enter Israel on Thursday night. He and his grandmother stayed with us for the weekend until his appointment on Sunday. Thank God he was stable for this time; they saw that one of his arteries is narrowing, but he was well enough to return to Gaza until next month for a catheterization: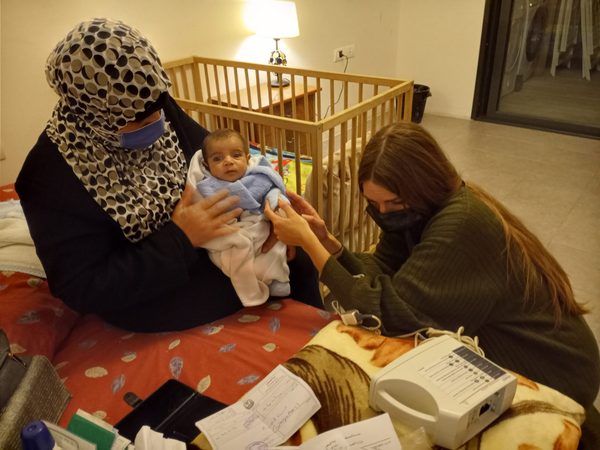 You could tell he was very distressed and missing his mother since he came with his grandmother, so praise God he is with her once again.
Kareem had surgery to repair his tetralogy of Fallot on Thursday! He is steadily recovering; his body adjusts to the surgery. He was very energetic before, so we pray he is quickly back to his pre-surgery self: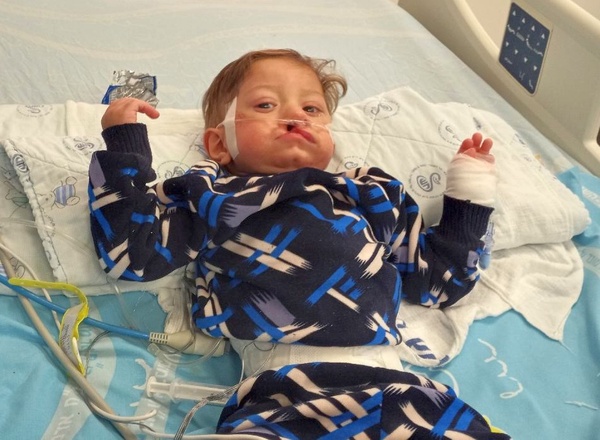 Baby Abed came back for a post-operative follow-up on his left eye after his lensectomy last month. The surgical results one month on did not look good, and his mother was distraught by this news: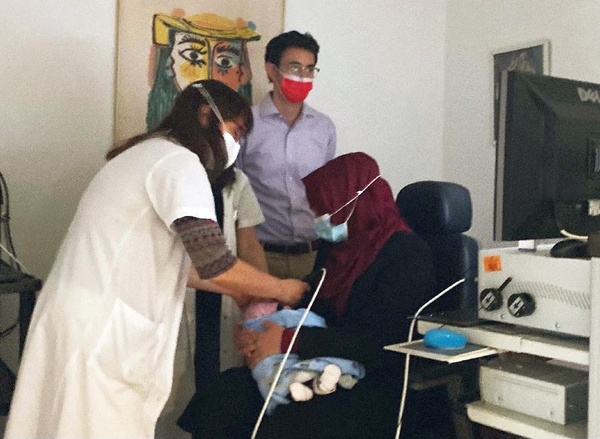 We had hoped that the sight in one of Abed's eyes could be saved by this procedure but this is not what happened. Please pray for his family who are dealing with the loss of their hope, and especially for Abed as he will live without eyesight.
Baby Adel went home to Gaza this week after his heart surgery in Israel; praise God for his recovery!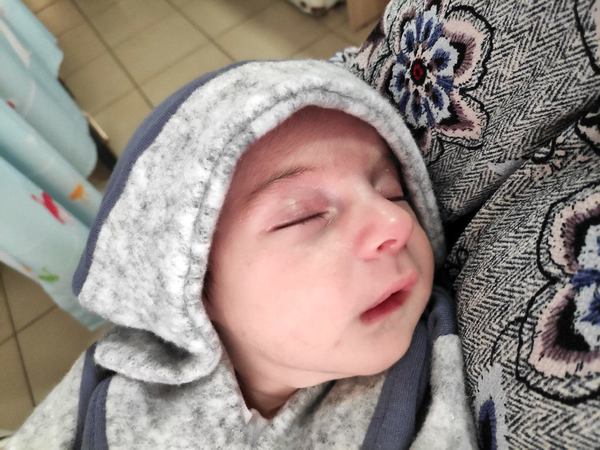 His sweet mother was excited to be going back to her husband and one and half year old daughter. We will see them in one month for his check up.
Wael returned to Hadassah this week for a catheterization which happened yesterday. I loved looking back in his blog and seeing how small he was when he came urgently to Hadassah when he was five days old in December of 2019, and now he is a clever and playful toddler.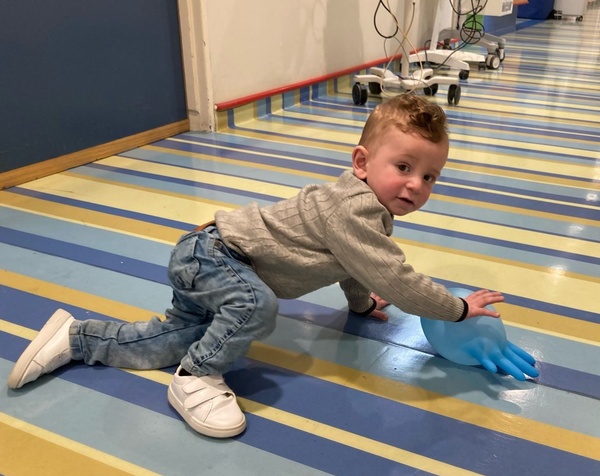 He is waiting for a CT scan before being discharged, Lord willing, next week.
Please keep our community in your prayers as we wait for Israel to give permission for more staff, both returning and new, to enter the country. And let's praise God for the continuing recovery of our coworker Frank, who became critically-ill with corona in December while waiting to join us: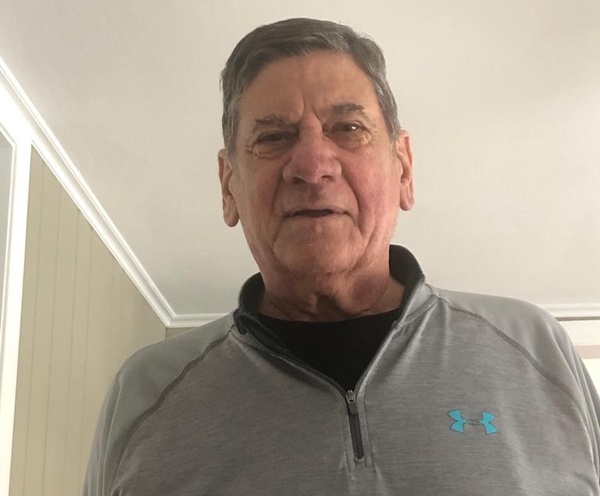 Frank's miraculous restoration continues apace and he is slowly weaning off oxygen. As our Jewish neighbors will say at their Passover seders this weekend, next year in Jerusalem!
God bless you,
Alena for Shevet Achim