Dear friends,
In John's gospel Jesus asks a twice-recurrent question which bookends his crucifixion. "Whom do you seek?" he asks the guards who came to arrest him on Passover night in the garden of Gethsemane. He asks this same question of Mary, his disciple, friend, and first witness to his resurrection, in the garden of his tomb on Sunday morning.
Between the two occasions something new, groundbreaking, and tomb-rending has taken place. This question gives Jesus' death a symmetrical frame, as if one was standing on opposite sides of a chasm; both edges look identical but there is a whole world now which separates them. It is Jesus' death and resurrection: "The Messiah died for our sins, exactly as Scripture tells it; that he was buried; that he was raised from death on the third day, again exactly as Scripture says" (1 Corinthians 15:3-4).
Even though everything is changed, the question remains the same, "Whom are you seeking?" And the answer both before and after the events of Resurrection weekend is the same: Jesus of Nazareth. Please join in prayer with us in his name for the beautiful families we have been entrusted to care for.
Even though this is the Passover holiday week and the Sheba Medical Center is only partially staffed, doctors still took many of the Kurdish children in for surgeries and caths.
A week ago Meera had a seven-hour surgery, the first step to prepare her complex heart for a second major operation. She was extubated from the ventilator this week, and today was moved out of the ICU: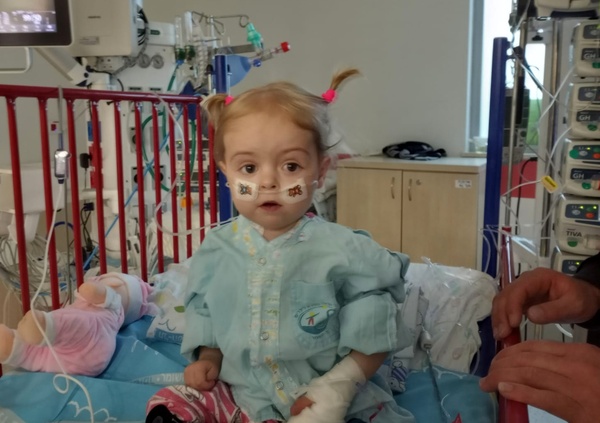 She is wide awake now and sitting up; her hair was done up in pigtails that her father styled, a small indicator of his continuous delight and love in his beautiful daughter.
Mina had the first of two surgeries this week and will likely remain on mechanical ventilation until the second major surgery, hopefully next week, to switch her great arteries. Please pray for her body as she adjusts to the surgery results.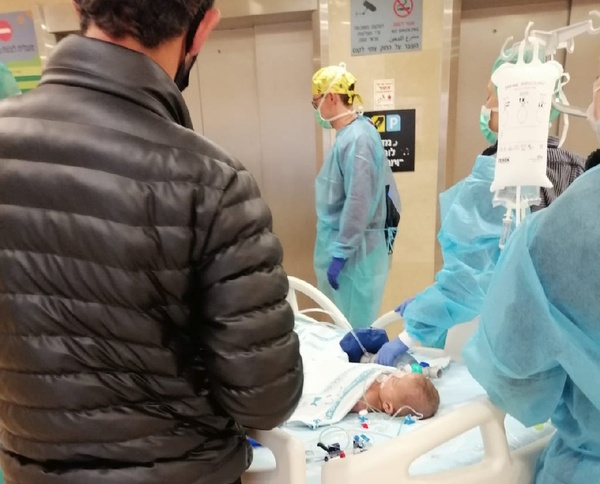 During her operation there were four Kurdish families present in the hospital who gave encouragement and strength to Mina's dad. Meera's father was sitting with him when the surgeon came out after two and half hours to say that the surgery was finished, and they both shared this joy (and surprise!) at the brevity and success of the surgery.
Mir had his first surgery as well which was a pacemaker implantation to treat the electrical problems in his heart; he will need another surgery to repair the structural problems as well.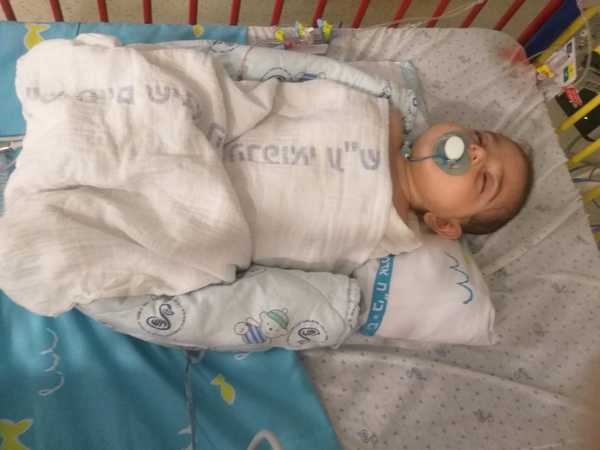 Mir's surgery was a few hours after Mina's, and the same support system of the other Kurdish families was there for Mir's mum as well.
Lovely Noor had her surgery Wednesday and was extubated less than 24 hours later: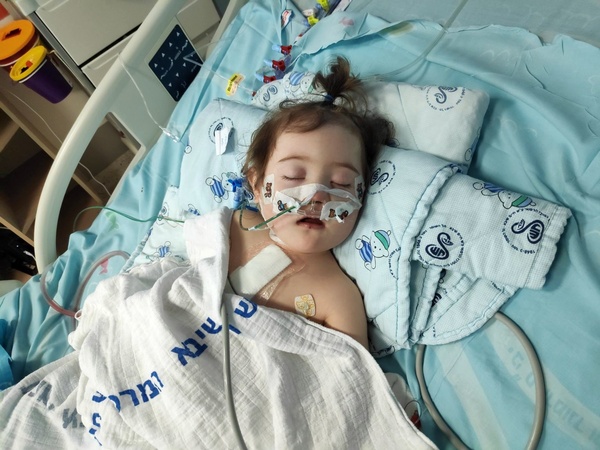 Her mum is so happy as her daughter recovers, and also with the news from the surgeon that it looks like Noor won't need another surgery in the future.
Beautiful Dalal had a diagnostic catheterization on Tuesday and was scheduled to have her surgery yesterday, but due to a fever it was postponed: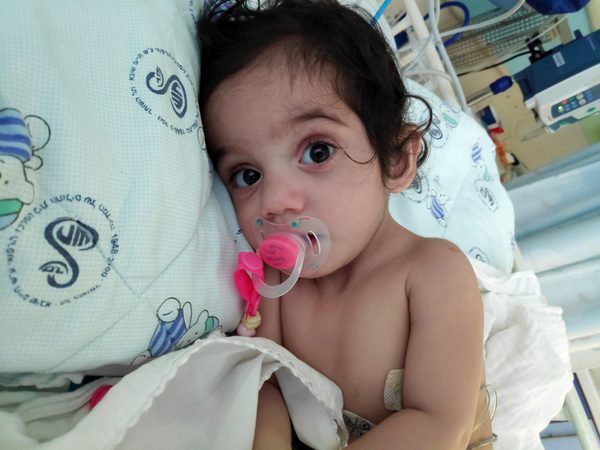 As most of the Kurdish families have been called into the hospital, Haveen's mother was left wondering why the doctors hadn't called her in. When we learned this week that they think she may not be operable, pending further discussion, it seemed to confirm her worst fears. She said they can take as long as they want to discuss as long as the answer is a beautiful and hopeful one for 
Haveen
.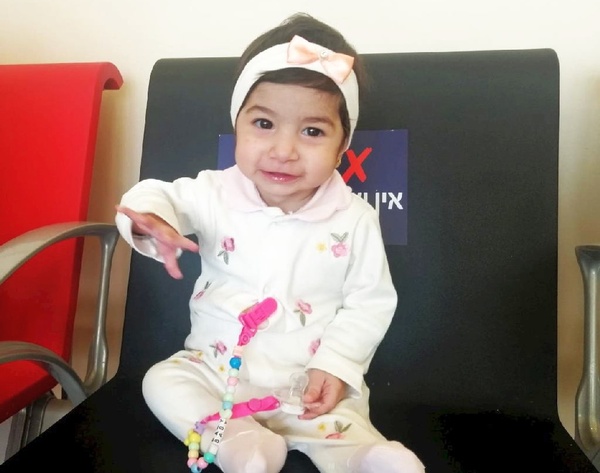 Please be praying for this family. One of the comments that is often made about Haveen is that you would never know how ill she was just by looking at her; but even so her condition is ever present in her mother's heart and mind.
For 
Asmeen
 there hasn't been a change in her medical condition for the last few weeks. She has been on mechanical ventilation for nearly three months since her heart surgery. Her mother has been incredibly patient, but everyone has a breaking point and this week she reached hers. As a personal favor to the head doctor of the ICU at Sheba, Asmeen has been accepted at a hospital in Jerusalem which specializes in children who have tracheostomies and cannot be weaned from mechanical ventilation. But it has seemed an elusive promise as this month has passed with no news of when a space would be available for Asmeen. The lack of definite timing coupled with the perceived hopelessness of Asmeen's condition took its toll on her mum, who asked this week to go back to Kurdistan with her daughter, despite the near impossibility of such a transfer.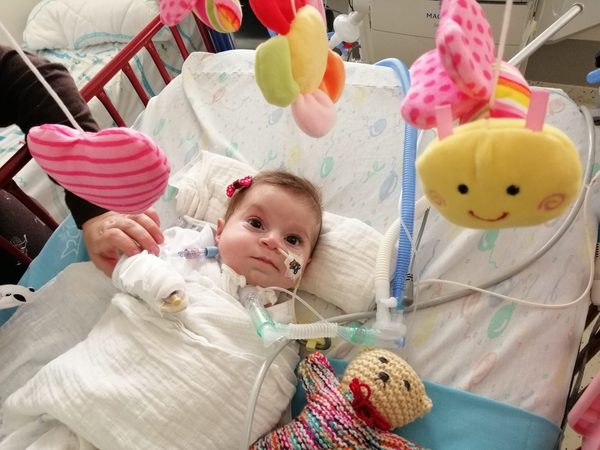 A doctor from the Jerusalem hospital will be able to come on Sunday to see Asmeen, and with his recommendation she will then be transferred to his hospital next week. This also will be a months-long commitment, and Asmeen's mother is concerned for her family in Kurdistan for whom she is also their primary caretaker. Please pray for this whole situation: for Asmeen to be weaned from mechanical ventilation, and for the heart and mind of her mother and family in Kurdistan as well.
The first of the nine new Kurdish children who have been given permission to enter Israel arrived today and went straight into the hospital: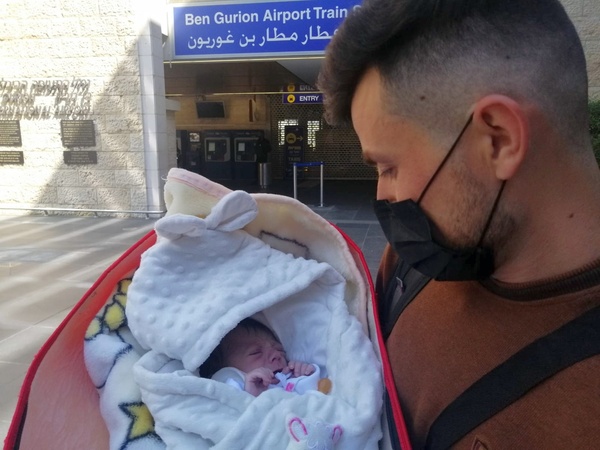 Her name is Hena, she is two months old, one of triplets, and is escorted by her uncle. Please pray for her course of treatment. The other eight children are due to come early next week, so please be praying for them as well.
Lastly, Lalo who had a cath to place a stent in one of his pulmonary arteries is doing wonderfully this week. He will soon have an echo which his mum, his cardiologist, and all of us are hoping will be the last one here before going home to Kurdistan. After the stent Lalo is quite different: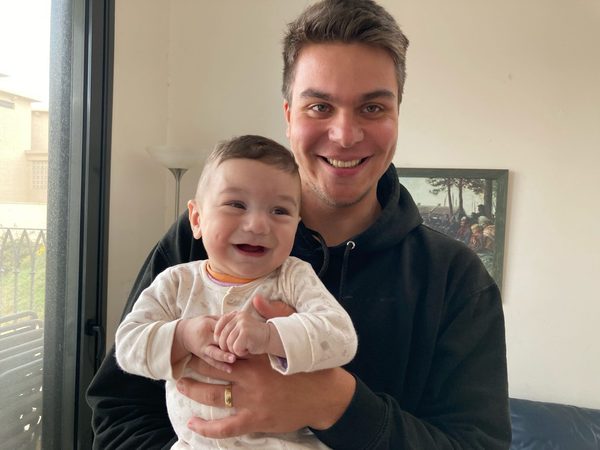 He is a lot more relaxed and easily settled whereas before he was often crying and anxious. It has really improved his life; his mum has seen this and is overjoyed at this good change in him.
It is a joy and privilege to know and serve these families.
May God bless you,
Alena for Shevet Achim