Dear coworkers,
First of all tonight, look what God has done! Of the six Kurdish children who came last month with transposition of the great arteries, five have now had successful surgery to switch those arteries back to their proper places. The latest was Yousif, who went in for a routine check on Thursday, and then ended up in the ICU. And thank God he was there, because Alena shares that by the start of the Shabbat he was in crisis: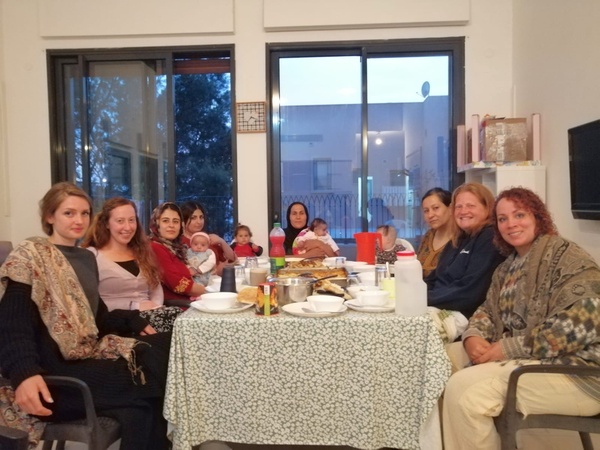 It was during the Shabbat meal, the first with the remaining families out of quarantine, when one of the Kurdish mothers in hospital called to say Yousif was not well and was having a procedure. His oxygen was dropping into the thirties. For a few minutes Georgia and I hesitated whether we needed to go, but then she said one very definitive thing that put it beyond a doubt: If Yousif's mother was my sister I would be there.
It wasn't a very long cath, just to widen a hole in his heart so blood would flow better, but during this time other Kurdish mothers and fathers in the hospital came intermittently to check on Yousif's mother.
Today [as Yousif was rushed to his switch surgery] was similar, different parents coming, sitting for a while, encouraging her with their own funny, eccentric experiences in the hospital, some suggesting to go outside to help pass the time, so on. The surgery was about five hours in total and by the end his mum was relieved and overjoyed to see Yousif's small frame being wheeled in an adult size bed up to his recovery room in the ICU.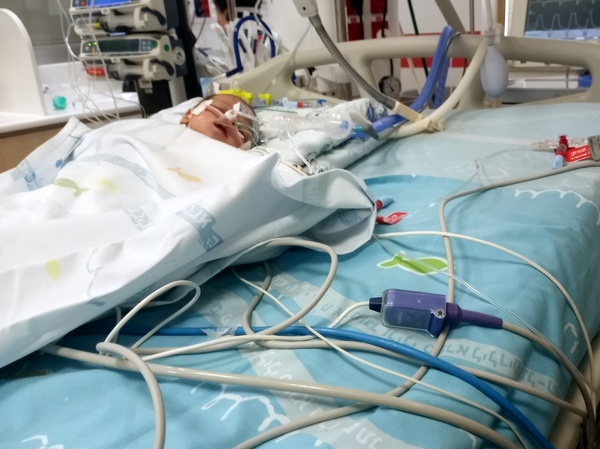 And let's pray for the sixth transpostion baby named
Salwa
. Despite her advanced age of nearly four months, doctors at Sheba Medical Center believe it is still possible to take her in for a one-step switch surgery tomorrow morning: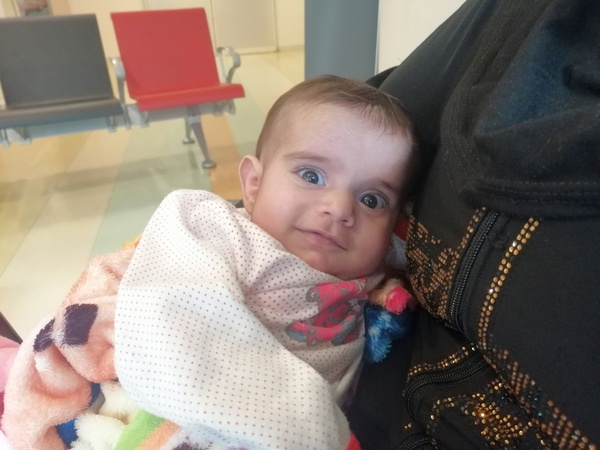 I suppose the fact that Salwa is still operable at four months should cause me to relax a little about the next group of seven more transposition babies waiting in Iraq: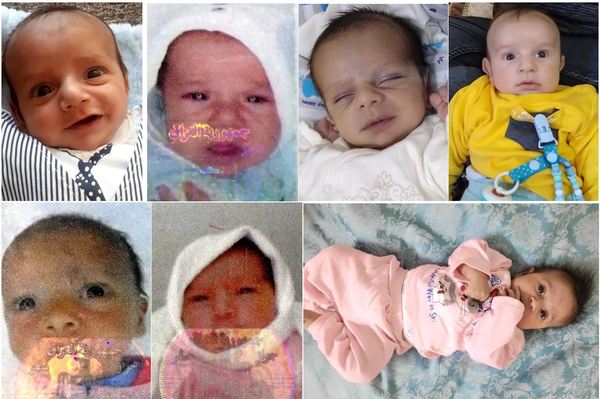 The very first baby we brought to Israel from Iraq in 2003 was also a transposition, and back then we were told the surgery had to be done in the first two weeks of life. While that is still ideal, it seems the medical frontiers have been pushing that deadline later and later, and many delayed children can now still be salvaged through a two-step switch process.
That's important because after the bruising battle with the interior ministry to get the last group to Israel, the upper management is now slow-walking the next group of seven, searching for every rule in the book to make things more difficult. Thursday Sabrina applied for three babies, today another three, and tomorrow one more, all because "our procedures only allow for three applications each day." So far it has taken more than two weeks simply to submit the applications to start the visa process.
This is where I start to get angry and frustrated, and then repent and promise to pray for them and bless them. But yesterday and today I went back and searched our records to see all the other times this has happened since the interior ministry took over the visa process in 2014 and introduced significant delays. I found at least ten children who died while waiting through the needlessly lengthy application process.
Am I angry with the people of Israel collectively? No. On the contrary I believe they would be angry if they knew this has happened, and contnues to happen. I'm continuing to appeal privately to those responsible, pleading with them even today to change this practice. But if they refuse to listen I am considering speaking out publicly in Israel. Whether any will listen I cannot say. Please would you pray with me for the spirit's direction; this will have ramifications on the future of our work together.
Let's end tonight with a good word about Jewish-Christian cooperation. Here's an excerpt from a blog by a Jewish woman in Indiana about "Why I love my Christian neighbor":
A traditional Jew and a committed Christian, we lace up our running shoes and hit the road, solving problems big and small as we go. Over the thousands of miles we have logged over the years, we talk. We cover kids, family, and parenting, but also politics, theology, religious practice, and cultural differences. Sometimes we go really deep, like, did the Jews kill Jesus deep. Or, of course her family would have hidden us if we were neighbors in Nazi Germany deep. What I wouldn't give for a transcript of those runs. For now, my memory will have to suffice…
My neighbor is not merely Christian, she's "a" Christian, which is much different, like the difference between observant and unaffiliated Jews. She doesn't swear. Ever. She and her family go to church every Sunday and they tithe 10 percent of their income to their church. She leads Bible study groups on a weekly basis and prayed for students and teachers with her Moms in Prayer group for years when her kids were in school…
Growing up on the East Coast, I didn't interact with many committed Christians. Once we moved to the Midwest, where the church to synagogue ratio tilts significantly one way, that all changed. It was eye-opening for me.
Despite how they are often characterized in popular culture, committed Christians are not intolerant and bigoted. Quite the opposite. When I see or hear people paint religious Christians with a broad negative brush, I now become defensive because it is grossly unfair.  My neighbor's positions on hot-button topics are grounded in her faith, but she also recognizes that these are complicated and nuanced issues and that there are other points of view. She is kind and respectful to all, regardless of their worldview.
She knows the Hebrew Bible backwards and forwards and reads the story of Esther with her Bible study. She believes that the Lord will bless those who bless Israel and is eager to visit sometime soon. And no, it's not because she wants the next Temple to be rebuilt so that Christians can take over the world. It's because she wants to see the birthplace of her religion and tour all its Jewish and Christian sites. Also because her oldest son visited with his Christian college and hasn't stopped raving about the pita bread…
Sure, cultural differences exist, but our Judeo-Christian commonalities are the glue that bind us. We both are focused on our family and want our kids to keep the faith. She gets that it's paramount to us that our children marry Jews, because it's equally important to her that her kids' future spouses take Christianity seriously. We both believe in personal responsibility and free will, but believe that ultimately our fate is in God's hands. We know when we turn to each other for advice, we will not necessarily be told what we want to hear, which is a sign of true friendship.
We all need friends in our lives who raise us up and encourage us to be the best version of ourselves. I'm grateful because I have one of those right next door. After all of these years, I am filled with admiration for how she and her family live their lives and truly walk the walk. And although our faiths have different views of God and the afterlife, there's not a doubt in my mind that we'll be going for runs together in the world to come.
That last sentence is important. It may make some of us uncomfortable as we remember Messiah's words that "No one comes to the Father but through me."
It helps me to remember that many of my believing Jewish and Muslim friends also have questions about my own eternal destiny as a Christian. I like to tell Muslims "I'll know you really love me when you tell me you're sad that I'll end up in hellfire."
I think this is the kind of relationship our community is aiming for as we serve among Muslims and Jews, and that we see reflected in the blog above: an unconditional love so authentic that we can talk together fearlessly about the most difficult of truth claims. And no longer seeing each other as a different kind of people. There is only one kind of people–helpless sinners who so desperately need the grace of God. Those who can recognize this truth will also recognize each other as brothers.
Jonathan for Shevet Achim
"Behold how good and how pleasant it is for brothers to dwell together in unity" (Psalm 133).