Dear coworkers,
I wrote you a week ago on the eve of Salwa's switch surgery, the last such surgery to be done for the six babies now in Israel who were born with transposition of the great arteries. And I suggested we could "relax a little" about rushing the next seven transpositions babies to Israel, since doctors seemed to believe Salwa would do well despite the delay in her arrival.
Well it's been a non-stop fight for her life since then. For the last six days her heart and lungs were working only with support of an ECMO device, the last-gasp measure for both critical cardiac and COVID patients. Today Georgia was there when doctors tried to wean Salwa from the ECMO, which only succeeds in about 50% of cases:
The update was a real surprise; Salwa had been bleeding in her chest, and was not in a stable condition.. But they were going to take her into the OR, to take her off the ECMO! Thank God for holding Salwa's heart and giving her the strength to be in such a condition.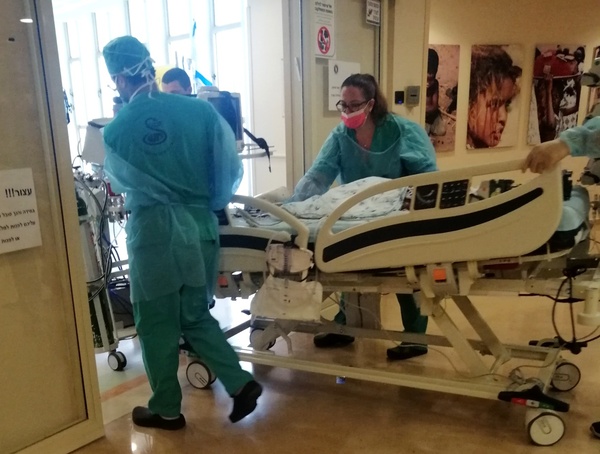 Salwa's mother, some of the other Kurdish families and I sat and waited for just over an hour and a half…
The doctors told us after the surgery that it was successful. Salwa was removed from the ECMO, and her chest has been closed; she has been brought up to her room in a stable condition. The mother was keen to ask whether this is the last surgery she will need. We all hope so.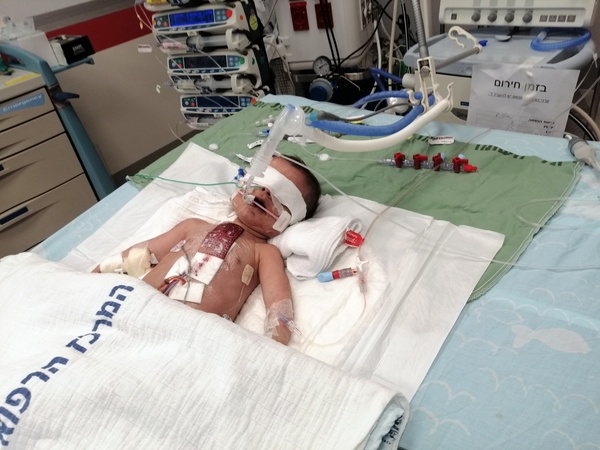 We now are able to enter the room to see Salwa, and if she likes, the mother can sleep in the same room. I know she prefers to do this, so she can be as close to her baby as possible.
Thank God for this excellent step forwards today, and please continue to pray that He will watch over her and bring her healing.
Friends, the doctors told us one reason Salwa has struggled is indeed the delay in reaching Israel. And this week I've been getting anxious phone calls from the parents of the seven more babies like Salwa who are waiting to come. It's been three weeks since we first asked the interior ministry in Israel to issue their visas, and they're ignoring my requests for an update.
As you know I've been struggling with how to respond to this. I put together a document this week with photos of nine children who've died in recent years while waiting too long for the current interior minister to approve their visas, and sent it to some journalists in Israel. None of them did anything with it, and this might be from the Lord. We understand from the apostle Paul that while there are times we are to publicly denounce sin among Messiah-followers, we do not have the same calling for those outside of faith in Messiah.
The Lord himself can intervene however. That same interior minister is now being identified as chiefly responsible for removing goverment restrictions on the Lag be'Omer celebrations this weekend in which 45 people were trampled to death.
This all reminds me of Gustav Scheller, a friend and mentor who pioneered a shipping line in the 1990s to bring Jews from the former Soviet Union to Israel. When the chairman of the Black Sea Shipping Company was blocking the way, Gustav asked a Ukrainian official to send a telegram to call for his intercessors to agree with David's prayer from Psalm 109: "May his days be few; may another take his position."
The Ukrainian warned that it was unwise to antagonize such a powerful figure, but Gustav persisted. Days later the Ukrainian returned: "What kind of a man are you? The news this morning is that the chairman has been charged with corruption and been removed."
Friends, can we also pray boldly for the sake of these waiting children, as well as others like them in the future? When so many in Israel are eager to reach out hands of healing and love to their neighbors, let no man stand in opposition. No one can thwart God's covenant words to Abraham which brought the Jewish people into existence: "All the families of the earth will be blessed through you."
Finally tonight I want to honor another old friend and mentor. In the embryonic days of our community in 1996, when Shevet Achim was little more than my family living in the Gaza Strip, the pastor of the Narkis Street Congregation in Jerusalem, Chuck Kopp, opened his heart and his pulpit to us. Always encouraging, always believing, Chuck's faith that God could be at work through us helped give me faith to believe it too.
And what Chuck did for us he did for so many others. Here's an overview of his life put together by Chris Mitchell from CBN, after Chuck joined the great cloud of witnesses on Tuesday night: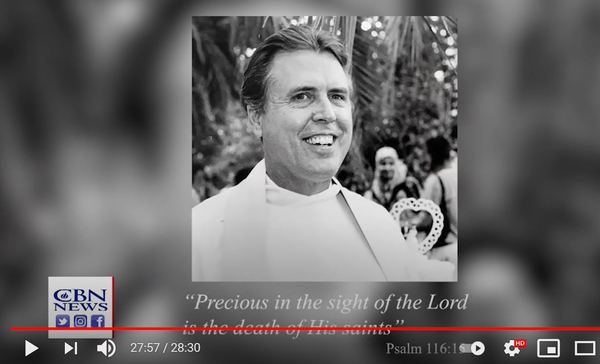 Let's learn one more lesson from our brother Chuck. I haven't heard anyone say that it was Chuck's words that influenced them so strongly. It was the way he loved them and the way he lived his life. Everyone knew Chuck could be trusted and was a man of integrity (one heart, not two). And he helped raise up a generation of younger leaders because they could see his way was true.
Let's not underestimate the power we have in each other's lives. The believers around us need our fellowship and faith in them, and our gift to them of accountability and commitment if they are going to rise up and fulfill the callings on their lives. Let's be there for each other and be true to each other and to our Lord.
Jonathan for Shevet Achim
"Behold how good and how pleasant it is for brothers to dwell together in unity" (Psalm 133).