Dear coworkers,
Today seven weeks were fulfilled since the resurrection day of Messiah, and our community normally sets this Feast of Weeks (Pentecost) apart as a Torah holiday of rest, worship and laying hold afresh of the promise of the Holy Spirit.
But Israel as a nation already marked the holy day last Monday, according to Pharisaical reckoning, and permissions have finally started coming through for our seven emergency transposition babies from Kurdistan. So we all mobilized and celebrated Pentecost today by welcoming the first four of the babies across the Jordan River into Israel!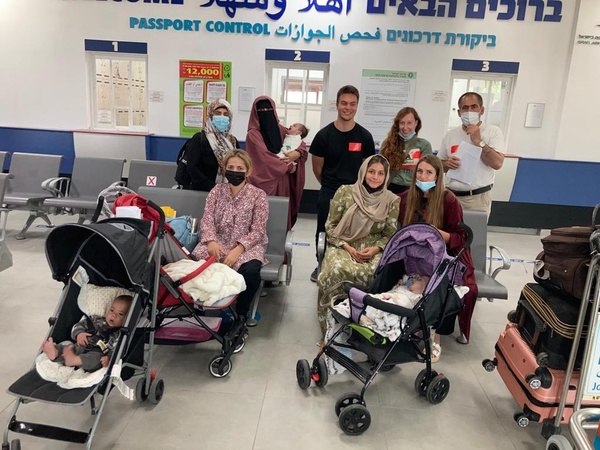 Those of you who follow this letter know what a battle we've been through over the last month to get entry permission for these babies, and it still continues for two of the remaining ones, who are now due to arrive on Tuesday. But we can turn our prayers at this stage toward their medical care; all those who arrived today are already past the two-month-of-age window for optimal surgeries to switch their great arteries. A word from our intercessor Berith in Sweden was helpful for me this morning: "Let God be God." The battle is his and not our own.
He's fighting for Haveen from Kurdistan tonight. After two months in Israel she was finally taken for her complex and high-risk heart surgery this morning, and Sabrina was there:
…today was finally the big day for little Haveen  When I arrived at Sheba Medical Center this morning the bundle of joy was already taken into her surgery and the mother was walking around in the waiting area…The surgery took around 7 and a half hours and it was a big difficult surgery is what the surgeon said. They could fix her artery and another problem that had been there. Praise the Lord for this good news and that he has given humans the ability to fix such problems.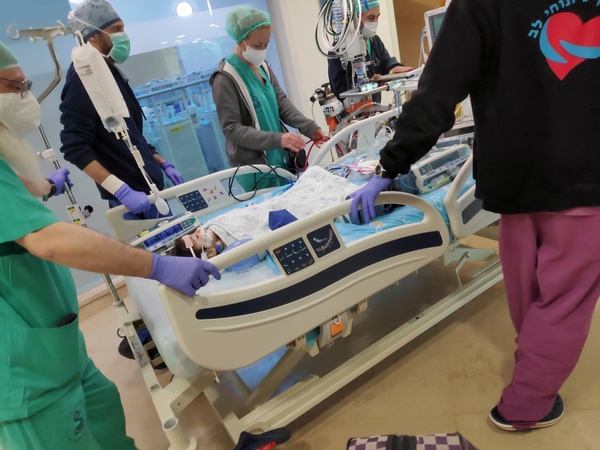 Even if the surgery was successful it was very dangerous and difficult for the heart of little Haveen. Her heart is very weak now and therefore they have put her on the ECMO machine to give her heart the possibility to rest. She probably will be connected to the machine for some days before weaning her off again.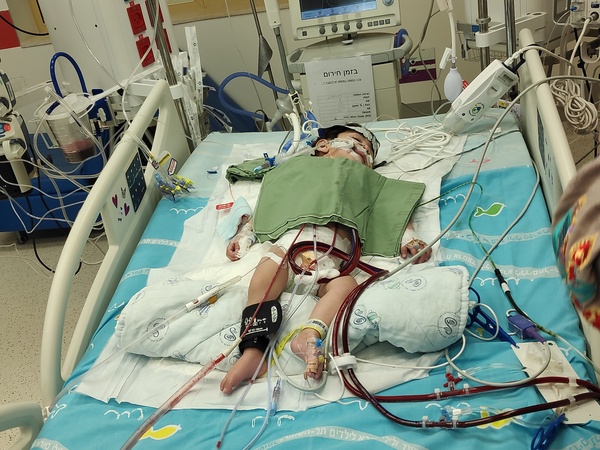 When the mother and I saw her it was very difficult for us seeing her in that condition with all the machines and asleep because we know here in such a different way, full of life, love and laughter as you can see on the picture from yesterday when she was admitted to the hospital.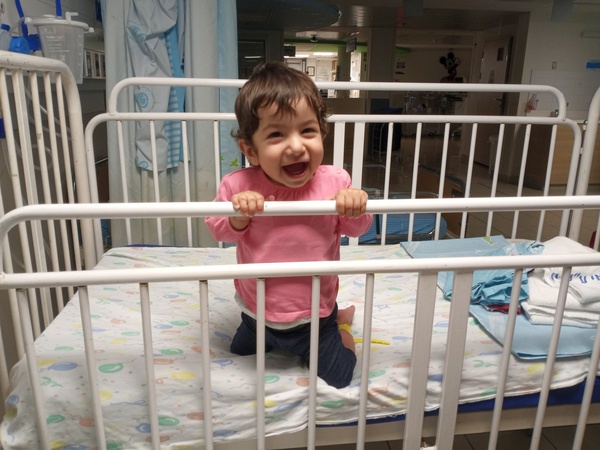 …I'm thankful that we can have peace and trust in the Lord with everything and especially now with the precious life of Haveen because everything is in his hands and his plans are perfect. Please pray that soon we will be able to see Haveen's beautiful laugh and joy again and experience her happiness every day. The mother is of course very worried so your prayers for peace and trust in the Lord for her are much appreciated as well.
Haveen's surgery was the only one of the day at Sheba's international congenital heart center, because with the end of the Gaza conflict they were busy relocating the ICU from underground back to the top floor of the children's hospital. Much pain and suffering have resulted from the fighting in both Gaza and Israel, and expressions of hatred toward the Jewish people have exploded to unprecedented levels worldwide. The Hamas government in Gaza credits Iran with instigating the fighting, and reveals the goal was to disrupt Israel's burgeoning ties with the Arab world. Time, and the Lord, will tell if they succeed.

But redemption stories are also emerging, which point us to Messiah. Please take time to read this moving account of a Jewish man, killed by an Arab mob, whose kidney was used to extend the life of a Christian Arab woman in Jerusalem.
How many times have we seen lives saved in Israeli hospitals? A journalist asked me that question today, and I couldn't give an answer. To paraphrase the Jewish (and Muslim) proverb, saving even one child's life means the whole world to his or her family. Numbers are not the issue, and we don't keep count.
And it is true that our souls are often most closely knit together with the families that lose a child while in our care. We'll end with this letter with Alena's reflection tonight on baby Ghena from Gaza, who the Father took into his arms over the Shabbat:
I wrote previously that Ghena's grandma grieved the news of her baby having to undergo another surgery. She would often say that Ghena was growing and learning to play and smile, why must she have this surgery now? The doctors understood that her heart was still failing and the surgery was the only way to try to help her, but her body could not cope and a little over a week after this surgery, on Saturday, she died.
As I thought about Ghena's life, most of it spent with her grandmother, the best and most fitting analogy is to the tender care of a gardener. Of course at first, that image doesn't do justice to the reality of the self-intense, and self-abnegation involved in caring for a sick child. Nevertheless, the steadfast devotion to her granddaughter's growth, the delight in her beauty, and joy at each day's progress, like when she first started smiling, reminds me of a caretaker of a garden who is devoted to the growth of the flowers in her care. (Click on the video below to see Ghena's smile).
Ghena's grandmother is staying with us in our community home in Jaffa until the Gaza crossing reopens this week. If anything is a testament to the genuine love and care Ghena's grandmother gives, even as she grieves, it is that she is already being dubbed 'khaltie' or 'auntie' in English, to the four Kurdish children in our home.
This evening, she and I took a walk through our neighborhood garden. She named many herbs and plants on sight, others she had to smell before knowing what they were, it was fitting to take this walk. Ghena herself reminds me of a flower, she was delicate and beautiful; seeing this garden certainly called Ghena to mind.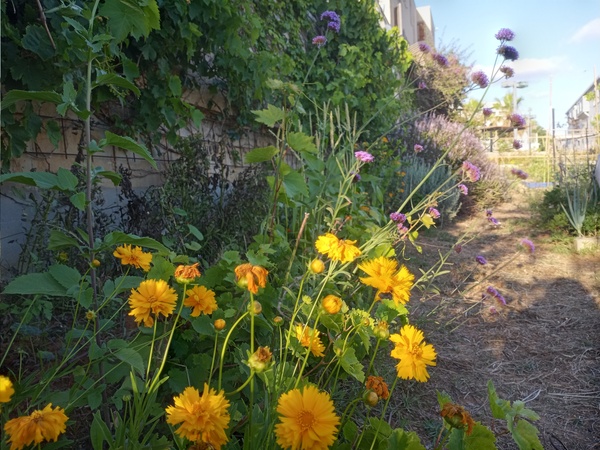 So I want to end with a song for Ghena. It is entitled "Wood and Nails," sung by Josh Garrels and Audrey Assad as part of a worship initiative called The Porter's Gate:
The dead will rise and give You praise
Wood and nails will not hold them down
These wooden tombs, we'll break them soon
And fashion them into flower beds
The curse is done, the battle won
Swords bent down into plowshares
Your scar-borne hands, we'll join with them
Serving at the table You've prepared
O humble carpenter
Jonathan for Shevet Achim
"Behold how good and how pleasant it is for brothers to dwell together in unity" (Psalm 133).