Dear coworkers,
The battle for the transposition babies continues. When I wrote you last Sunday, four of the latest group of seven had just entered Israel following delays of over a month; two more were allowed to enter on Tuesday. They've all been evaluated and the first baby, Lava, will go in for surgery tomorrow morning at the Sheba Medical Center: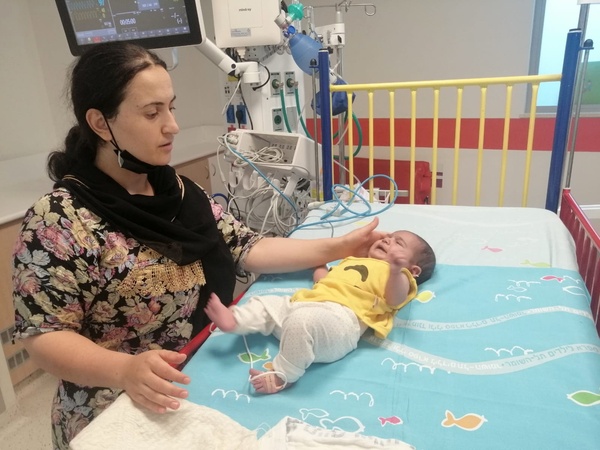 These seven babies should have had the surgery to switch their great arteries in the first two months of life, which is why we've worked so hard to get them into Israel. The unnecessary wait of over one month for their visas has pushed most of them beyond that window. Lava, for example, will now face the extra risk of two surgeries. Let's stop and pray first of all that our Father in heaven will redeem the life of Lava and her fellow transpositions.
The seventh of her group is still waiting in Jordan near the bridge to Israel. It appears that Sulaiman's paperwork was simply lost in the shuffle, and our daily appeals on his behalf mostly ignored by Israel's interior ministry.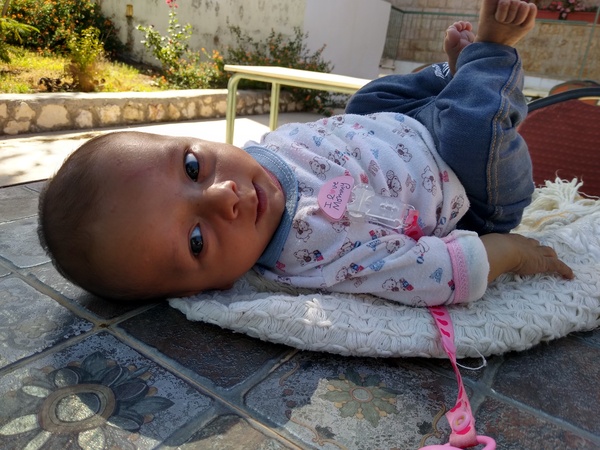 What's painful about this is it's the exact opposite of what we see day in and day out in the hospitals of Israel. There the doctors–mostly secular–treat each child as if his or her life is the most precious thing. There's absolutely no distinction made between Jew and non-Jew. For our neighbors in the Middle East it is a revelation–they've never been treated as if they or their children mattered before.
So what is the problem with the interior ministry? Well it's been in the hands of an ultra-orthodox religious party for the last six years. And the malign influence of religiosity can be just as deadly to our Jewish brothers as it has been to Christians and Muslims. Each religion has a rich history of treating others as second class.
I heard someone say this week that religion is the opposite of faith, and I understood the point. When we think we can placate God through our religious works or traditions, we just end up judging and devaluing others. Sometimes I paraphrase the apostle John's words for my Muslim friends like this: If your religion causes you to hate your brother, it's not from God.
Consider this perspective from a Messianic Jewish writer, concerned that the current interior ministry in Israel may not even welcome Jews fleeing surging persecution:
The shocking televised images of massive pro-Palestinian demonstrations against Israel, many of which turned violent against Jewish individuals on the street, were a great wake-up call to those who saw them and caught a glimpse of the new reality for Jews living outside the land of Israel… 
Consequently, Jewish friends, who have never considered emigrating from their countries of birth are now inquiring as to whether or not they will be able to seek refuge here if they are not religious Jews. What if they cannot produce that coveted letter from a rabbi who will vouch for their ethnic authenticity solely on the basis of being a member of his synagogue?… 
I recently received a text from my old high school friend who, by birth, is a "Cohen." Both her parents were fully Jewish, all four of her grandparents as well. The absurdity of her question made me think long and hard as to whether or not her fears were founded when she asked if she would have to provide a letter from a rabbi in order to prove her Jewishness. My friend does not nor has she ever attended a synagogue. She was raised secular but traditional inasmuch as she celebrated the more popular Jewish holidays when growing up in New York, a place where her Jewishness was never in question.
Today, she and her Jewish husband feel vulnerable, as do their three grown children and three grandchildren. At a time when Jews are being forced to carry and shoulder the weight of a Jewish state to which they yet have no personal connection or association, wouldn't it be ironic for the state to let them suffer persecution for a homeland which will not even welcome them with open arms during one of the most critical and dangerous crossroads in history?
Today's Interior Ministry is controlled by a small group of powerful zealots who have locked arms in disavowing cultural Jews who are eligible to immigrate in accordance with the parameters set forth within Israel's secular Law of Return which categorically states that all that is required is to have at least one Jewish grandparent…
Israel has no choice. She must send a clear message to any and all Jews who want to take advantage of the right of return to their homeland at a time when it is a matter of life or death. If that demands the removal of unwilling Interior Ministry operatives, then that's what must be done. 
I'm sharing this as part of processing the news tonight that the Netanyahu era may be coming to an end this week in Israel. Many of us may appreciate his accomplishments. But part of the cost has been his empowerment of the ultra-orthodox religious parties which are at the core of his government. If the new unity government in Israel succeeds, the interior ministry will be freed of ultra-orthodox control. And one of the incoming ministers will be a modern orthodox young man named Hili Tropper, a rabbi's son who recently donated a kidney to a stranger. Let's pray with discernment.
I'll end tonight with a tribute to Eilat Mazar, one of Israel's greatest archeologists who died this week. Her family was deeply touched by involvement with Christians over the years, and somehow she too exemplified the walk of faith rather than of religion:
Though born a decade after the Jewish state was established, Mazar is seen by those privileged to know her as being among the country's founders because she had that rare and unmistakable character of the generation of leaders who brought the state into being against all odds. She was driven by an instinctive love for the Land of Israel, felt deeply connected to the Bible without being traditionally religious, and embraced archaeology, with its alluring combination of the spiritual and the earthly. Like Israel's "Greatest Generation," Eilat was supremely confident and touchingly modest, naturally charming and exasperatingly stubborn, totally committed to the national cause but even more devoted to her family, and undoubtedly crazy — in a good way, in the best way, what we Israelis refer to with admiration as a meshuga l'davar, someone who will do whatever it takes to achieve an impossible dream — not just once, but as a way of life.
Eilat made everyone who worked with her feel like partners in making history and inspired them to rise to the occasion — often to their own astonishment and against their better, or at least their more sober, judgment. There are countless examples, but I'll share here only one, the utterly improbable origins of what might be Eilat's greatest professional accomplishment: a monumental excavation in Jerusalem's City of David that unearthed a structure many of her peers now believe to be the palace of the biblical King David.