Dear coworkers,
After 53 days the saga of Sulaiman's entry to Israel finally came to an end Thursday.
His crying awoke me early that morning, from across the hall in the Baptist guesthouse in Jordan near the border crossing into Israel. We'd been waiting there for nine days, since the other six in Sulaiman's group of babies born with transposition of the great arteries entered Israel the previous week. Now it appeared another week had passed and Sulaiman was still left waiting outside.
As I thought about his predicament I couldn't go back to sleep, so I pulled out the computer and drafted a strongly-worded Hebrew tweet: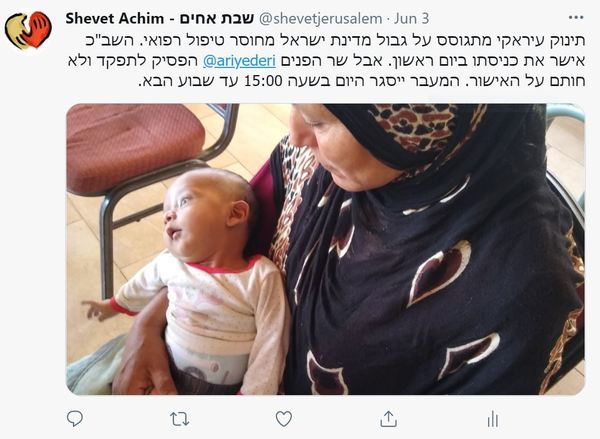 An Iraqi baby is dying on the border of the State of Israel for lack of medical care. The General Security Service approved his admission on Sunday. But the interior minister @ariyederi has stopped fulfilling his duties 
[a new government had been declared the night before]
 and is not signing the approval. The border crossing will close today at 15:00 until next week.
I also tweeted out a Hebrew video in which I said: "Friends, I have to tell you that what happens in the hospitals in Israel is simply a miracle. A child comes from the Gaza Strip, from Iraq, from Syria–refugees–and when they enter the hospital in Israel, the so-called enemy, the doctors treat them like the son of the king. There is no difference at all between him and the Israeli child in the next bed. For many years I have told the world not to listen to those who accuse the people of Israel as if they don't value the lives of their neighbors. The State of Israel has never refused entrance to a child whose life is in danger.
"But now I am no longer able to say this. In recent years we had nine children who died during an extended and unnecessary waiting period to receive approval to enter Israel from the office of the interior minister.  Now Sulaiman is waiting 50 days. OK–there is bureaucracy, there are mistakes, we understand, together we can overcome this. But I appealed again and again to the office of the minister. There are very good people in the Immigration Authority. But in the minister's office they didn't answer, they didn't relate, they didn't want to know. Simply they didn't care. I ask the people of Israel to pay attention."
Our Hebrew Twitter account, newly-created for this purpose, has only seven followers, including myself. But I sent the link to all the Israeli friends and journalists I could think of. And it appears to me there was an impact. At 12:23 I received an email containing the internal government correspondence authorizing the consulate in Jordan to issue a visa for Sulaiman.
We jumped in our rented van to leave for the border an hour away. About this time I realized (thank God) that our coronavirus test results had expired during the long wait. The director of the guesthouse found a lab in a city half an hour away that claimed they could give us results in 1-2 hours. We raced in, did the tests, and continued on our way.
We turned the corner into the border crossing at 14:15. Just at that moment the wonderful folks at the Israeli consulate emailed the permission to enter Israel. When we reached the first Jordanian checkpoint, I still had to make the embarrassing admission that we didn't yet have corona results. A minute later the phone rang, and the results were there. Both the Jordanian and Israeli border authorities really try to help our children, and they agreed to accept all these irregular digital documents. Sulaiman made it on the last bus of the week to leave Jordan for Israel: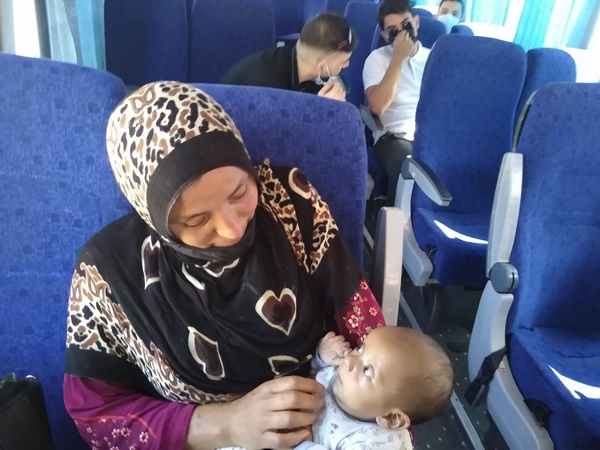 So is this a celebration letter? It doesn't quite feel like that tonight. First of all Sulaiman is a month and a half past the appropriate time for the surgery to switch his great arteries. He'll probably need two surgeries now, at significantly-elevated risk.
Thank God, the other transposition babies in his cohort who traveled ahead have already started their surgeries. And so far our Father's redeeming power is at work. From Georgia's report on Yadgar's surgery today:
Yadgar is a tiny little man who is deeply loved by his mother, and his father back in Kurdistan. He has been placed in a loving and kind family. When we reached the hospital this morning, Yadgar had just gone into surgery, and his mother was sitting outside in the corridor. She had shared the big news with her husband and family, and was handling the situation with strength.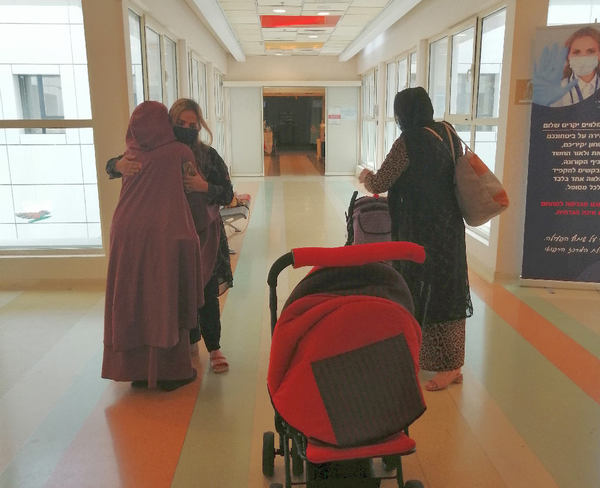 It was a very lovely time to spend together. Yadgar's mother is easy to be with, and was happy to come and sit outside in the garden area outside the hospital in the morning, taking some air and sunshine. We were joined by the mothers of Asmeen and Lava, who left their sleeping babies for half an hour or so to encourage Yadgar's mother.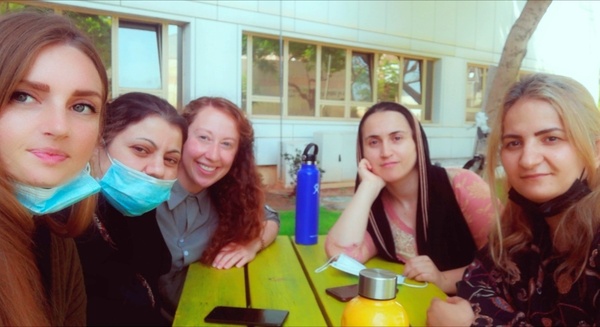 After sitting, walking and drinking tea, we found ourselves back outside the surgery area, and noticing that four hours had already passed! Yadgar's mother said to me that the surgery would maybe be five or six hours, so there could still be two more hours left. I said I hoped the surgery is just five hours. She laughed to me and said she hopes it's only four.
We had been told by the doctor in the days prior to the surgery, that little Yadgar's heart was more complicated than first thought. They planned to carry out just one surgery to fix his heart defects, but it would be a big surgery for him, and that the recovery could be quite difficult.
So when we saw the cardiologist coming out of the surgery room shortly after our conversation about hoping the surgery would be over soon, we were surprised and very happy to hear that Yadgar's surgery was finished and successful. Yadgar's mother was so happy, and soon afterwards, her friends, the mothers of Ayan and Mohammed arrived for corona tests, and were able to congratulate her in this lovely moment.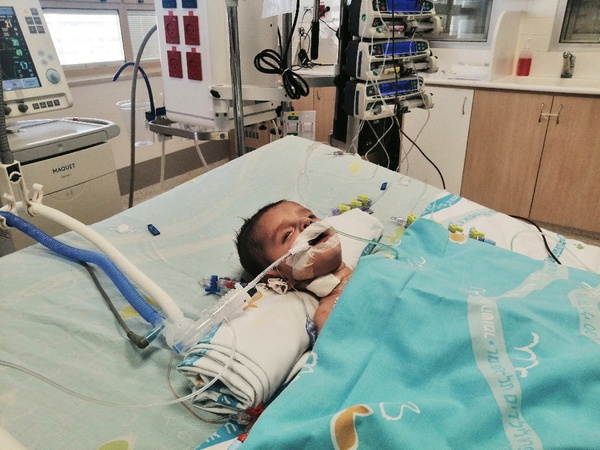 Thank God for bringing this day together for Yadgar and his mother. The baby is up in the ICU now recovering from the surgery; please pray that his little body adjusts safely. 
Friends, please ask with us for similar mercies for Sulaiman and all seven of the Iraqi babies now having their arteries switched. And also for week-old 
Alma
, the first baby to come out of Gaza since the fighting ended. Tonight she was rushed in an ICU ambulance to Hadassah Hospital in Jerusalem, also for emergency surgery to switch her great arteries: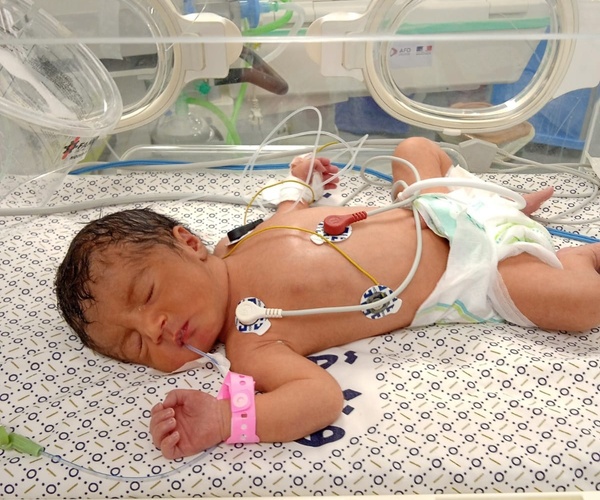 Now, there's one other reason I'm concerned about the way Sulaiman entered Israel. Today a self-proclaimed leader of evangelical Christians who support Israel penned a scathing blog in the Times of Israel, attacking the politicians who are working to oust prime minister Netanyahu this week. His words are profane and unloving, and only to be read if you have a strong stomach.  It grieves me that Israelis, who don't really understand the Christian world, may think he represents their Bible-believing friends in the nations. Here's the conclusion:
Everything we evangelicals have sacrificed our lives to build they're destroying. While Rome burns, they fiddle. I will only have one mission in life left, to use every bit of my energy and power to destroy these fools before they destroy the nation.
Israelis who responded were rightly outraged at this attempt by a foreign Christian to intervene in their internal political matters. Oops. I have to confess that my anger and frustration over Sulaiman led me to try to do the same thing, albeit more genteelly. I allowed my appeals for Sulaiman's life to be expressed as a personal attack on a political figure. And I similarly noticed a cool response from Israelis who heard my words. One friend today was kind enough to confront me directly: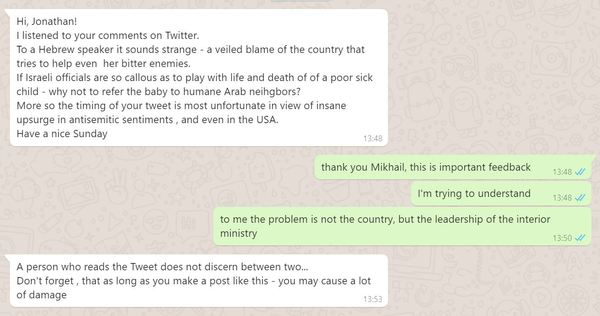 Please pray for me, and for our community, as we seek to get this right. Our Father has given our community such a precious heritage of a good name in Israel, as well as in Gaza, Iraq and Jordan. There is a time and a way for brothers to correct each other in love; but I believe our fundamental position toward Israel is best expressed by Isaiah:
Comfort, comfort my people, says your God.
Speak tenderly to Jerusalem, and cry to her
that her warfare is ended,
that her iniquity is pardoned,
that she has received from the Lord's hand double for all her sins…
Go on up to a high mountain,
O herald of good news to Zion;
lift up your voice with strength,
O herald of good news to Jerusalem;
lift it up, fear not;
say to the cities of Judah,
"Behold your God!"
Jonathan for Shevet Achim
"Behold how good and how pleasant it is for brothers to dwell together in unity" (Psalm 133).