Dear friends,
For the first time Israel has a Torah-observant prime minister tonight:
Naftali Bennett started the day by tweeting the Aaronic blessing, along with a picture of him praying with tefillin. This afternoon he concluded his 
speech to the Knesset
 by saying "I pray to God that He grant me wisdom and understanding to lead the State of Israel." And this evening he opened his first cabinet meeting with the traditional 
Shehecheyanu prayer
:
Blessed are You, Adonai our God, Sovereign of all, who has kept us alive, sustained us, and brought us to this time.
These revolutionary expressions of faith by a leader of Israel were ironically met with furious heckling by the black-clothed 
haredi 
religious parties, who have now all lost their seats in government. Bennett comes from the modern orthodox, national-religious movement, known for their knitted kippas and service in the army, and his ultra-orthodox opponents have demanded this week that he "
take off the kippa
" as he is in their eyes not sufficiently defending Jewish heritage. During the attacks in the Knesset today, Bennett's children in the visitors' gallery were spotted making heart shapes with their hands to encourage their father.
And yes, just as we've prayed in recent weeks, this all means we will have a new interior minister, a woman named Ayelet Shaked who is the number two in Bennett's party (and an outspoken advocate for the Kurdish people). God willing, she could bring a more cooperative spirit as we seek to bring children urgently to Israel for heart surgeries, and also to bring in the workers who support them.
Seeing all these changes tonight helped underscore my repentance for publicly criticizing the outgoing interior minister last week. I wanted to do something to help get him out of office; yet as David teaches so beautifully in Psalm 37, it delights our Father if we'll instead let him take care of such things in his own way and time:
Fret not yourself because of evildoers;
be not envious of wrongdoers!
For they will soon fade like the grass
and wither like the green herb.
Trust in the LORD, and do good;
dwell in the land and befriend faithfulness.
Delight yourself in the LORD,
and he will give you the desires of your heart.
Commit your way to the LORD;
trust in him, and he will act.
He will bring forth your righteousness as the light,
and your justice as the noonday.
Be still before the LORD and wait patiently for him;
fret not yourself over the one who prospers in his way,
over the man who carries out evil devices!
Refrain from anger, and forsake wrath!
Fret not yourself; it tends only to evil.
For the evildoers shall be cut off,
but those who wait for the LORD shall inherit the land.
In just a little while, the wicked will be no more;
though you look carefully at his place, he will not be there.
But the meek shall inherit the land
and delight themselves in abundant peace.
We've been praying that the LORD himself would also redeem the lives of those children whose treatment was complicated by the 
delays getting them to Israel
 in March and also in May. Tonight Alena shares that one of those babies who arrived so blue and neglected in March has finally been released from the Sheba Medical Center: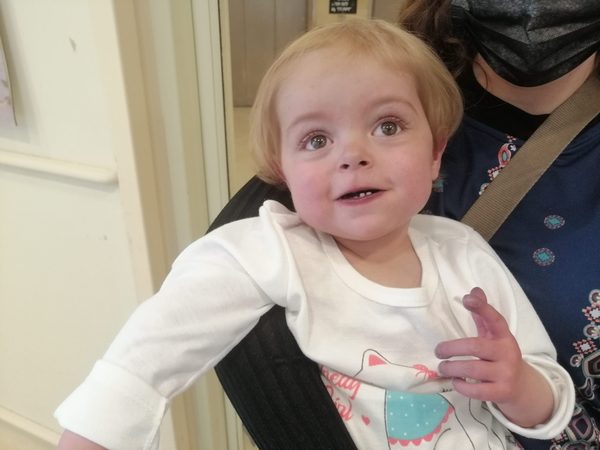 Almost exactly three months ago Meera had her first appointment at Sheba (pictured above). Clearly she was not well enough to be at out home so she was hospitalized that same day and has been there through multiple caths and surgeries. The astonishment of the doctors at her diagnosis was something that stood out from that first day.
Over these three months they've not only treated the structural problems of her heart but have become like family to her and her father.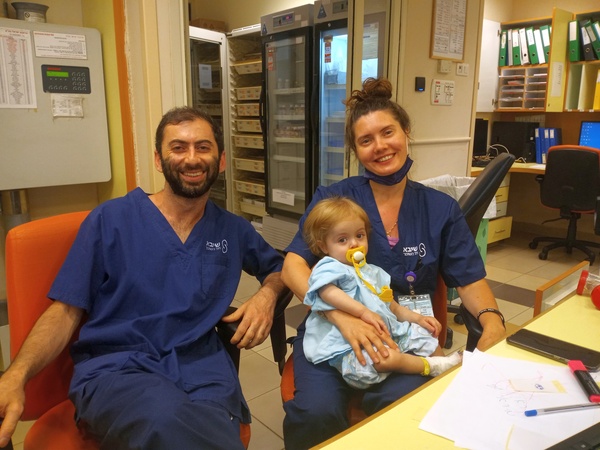 Meera would often be sitting with one of the nurses behind the desk, many doctors would stop and say to her and her father as they walked the halls, and the nurses of the unit she was in went shopping for her and bought many new clothes. They were clothes that fit her so well- size wise as well as colors that matched her complexion and hair. It was obvious they were chosen with great love and thought.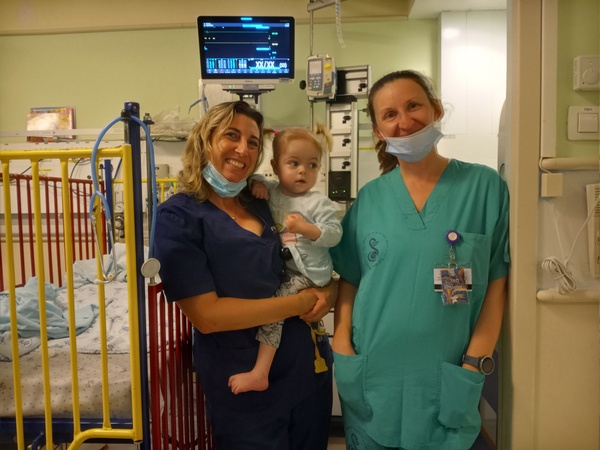 Meera was discharged from the hospital today, after three months of being honored and loved to the full by her father and by the staff at Sheba. I believe that because of the love she received from them, she is a different girl than she would have been otherwise.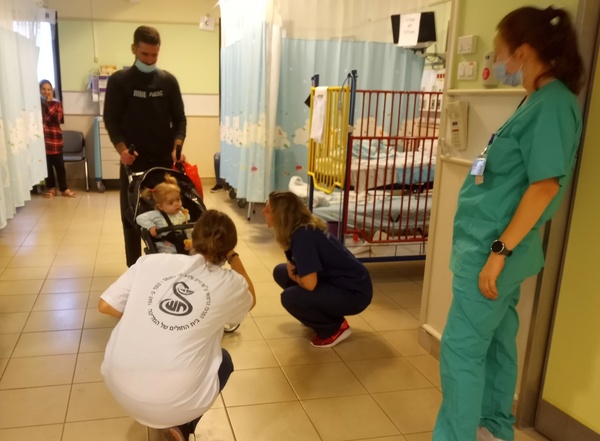 Being able to see these circumstances is a privilege–to know Meera, to welcome her to Jaffa (finally!!), and to be a spectator of the incredible compassion and love of the Sheba staff. Please continue to pray for her life. 
Ah yes, this is the Israel we know and love, the reason we fight so hard to get our neighbors' children here. They'll be loved and cared for here in a way they've never experienced anywhere else. As the incoming minister of health told the Knesset tonight, the goal is to treat all people with equal value.
Consider this shocking story out of the UK this week: a Jewish family, community groups, even the president of Israel are all pleading with the British government to allow a brain-damaged girl to come to Israel for treatment rather than pulling the plug on her. What has happened to the West? Have they forgotten all that Israel once taught the world through the word of God?
Thank God for our partners here. Let's join in the Prayer for the State of Israel which Bennett led today in the Knesset:
Our Father in Heaven, Rock and Redeemer of Israel, bless the State of Israel, the first manifestation of the approach of our redemption. Shield it with Your lovingkindness, envelop it in Your peace, and bestow Your light and truth upon its leaders, ministers, and advisors, and grace them with Your good counsel. 
Jonathan for Shevet Achim
"Behold how good and how pleasant it is for brothers to dwell together in unity" (Psalm 133).