Dear coworkers,
Last week's letter was a call to prayer for two of the transposition babies, in critical condition and on the ECMO device after their entrance to Israel for surgery was delayed by the interior ministry for over a month.
Thank God—since then baby Mohammed has come off ECMO and today doctors finally closed his chest, ten days after his surgery: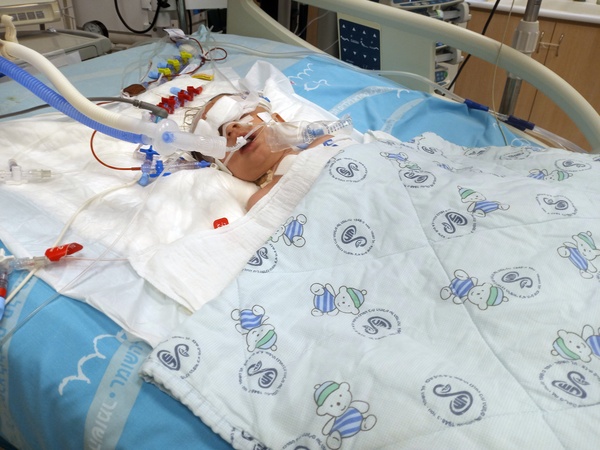 The other baby
Ayan
 was taken for a risky surgery this week to widen his arteries, and Alena reports tonight that he too is showing small signs of improvement:
Ayan's mother said today:
"When I was in Kurdistan, I asked God – please I need to go to Israel. When I was in Israel, I asked God – please Ayan needs to have surgery. When he had surgery, I prayed please God – let the ECMO help him. Now I pray please God – let him finish from the ECMO. Then after he recovers, please God – let me go to Jaffa, and then finally please God – let us go to Kurdistan."
I loved this. His mother has beautiful faith to ask this of a God she believes is involved in all of these details, overlooking nothing.
Today the doctors did a trial assessment in an echo, to see how Ayan's heart functions when they bring down the support of the ECMO machine. While he is still not in a good condition, it is possible that soon he may be able to be taken off of the machine, though his situation is still extremely critical.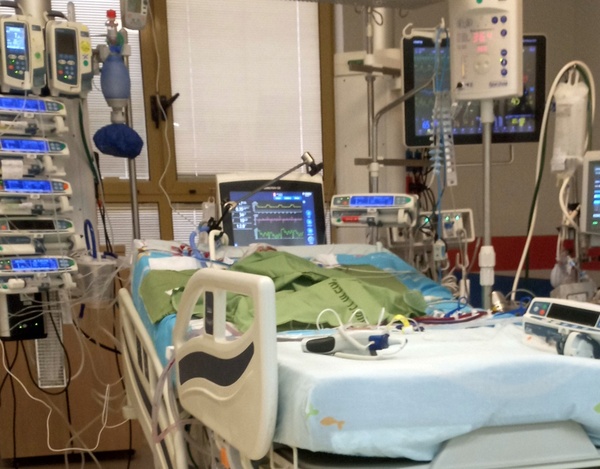 We can pray like his mother, for one thing at a time, and truly for the best for Ayan.
Let's give thanks to our Father that our conflict with the interior ministry has not yet resulted in the deaths of any children. After our struggles of the past few months, the interior ministry has put new procedures in place, and the latest transposition baby Zhiir received his visa to Israel in just 11 days.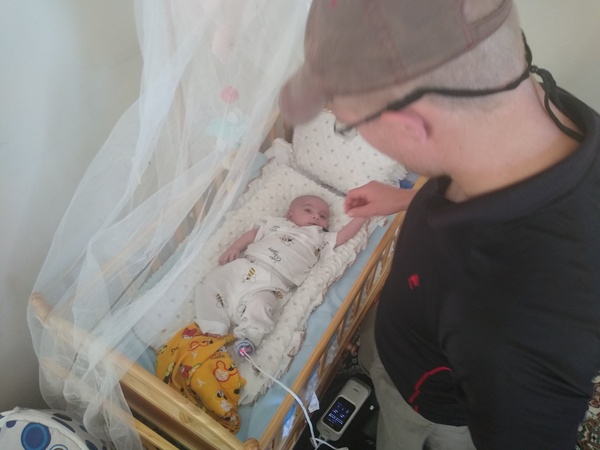 He is flying out to Israel at this very hour, and God willing will arrive at the ripe old age of 43 days — right within the recommended window for switch surgery. This should mean that he will need only one surgery rather than two, and face fewer complications than Mohammed and Ayan.
Also flying in is Dina, who has a severe cleft lip/palate in addition to her heart defect: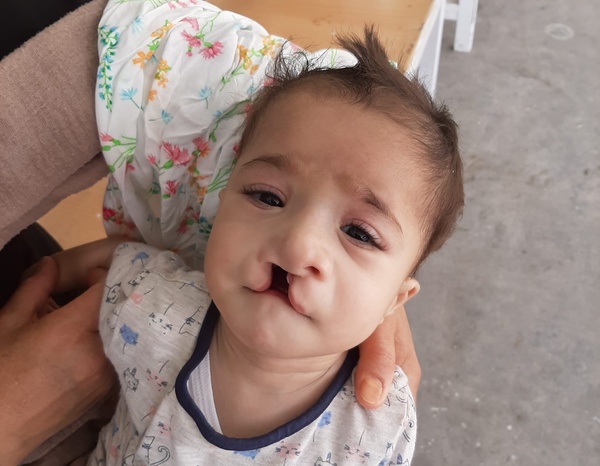 Seeing these children leaves us so grateful that our Father has given this partnership with the people of Israel to offer hope to such humble families; I'll share that none of the children above as yet have sponsors for their expenses in Israel.
We also asked for prayer last week for Mohammed, a 33-year-old operated on twice for his childhood congenital heart defect but whose heart is now failing. Our commitment is to never give up in these cases, and our medical partners in Israel are also willing and have accepted him for high-risk surgery.  Nate and Colin and I visited him this week, and were touched by his soft heart and his last hope that Israel will help him when all others have failed: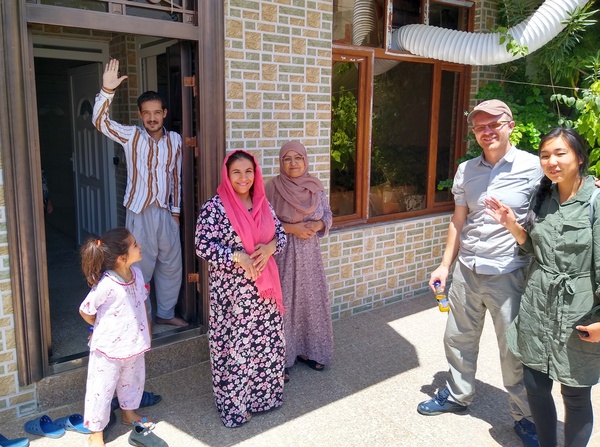 But our application for Mohammed's visa was rejected by the interior ministry this week on the argument that we are only authorized to bring children (despite ten other such young people we have brought in recent years). We wrote back and pursued peace this week by instead deferring to the Sheba Medical Center as the inviting party, but even Sheba's application was also rejected today without explanation.
Friends, something has to change here, and it is not going to be the loyal love of our Father for our desperate neighbors. Please pray for our hearts to be firm and correct and trusting in our Father, and then please pray with us for a change of heart of those responsible in the interior ministry, and if necessary the intervention of the new interior minister, a longtime friend of the Kurds who is herself of Iraqi Jewish origin.
Today Nate, Colin and I were also blessed to finally meet again with the family of Mustafa, who died after his heart surgery in Israel last year at the age of 16. Tears were never far away and it was so clear that the loss of their beloved son and brother has deeply affected this lovely family: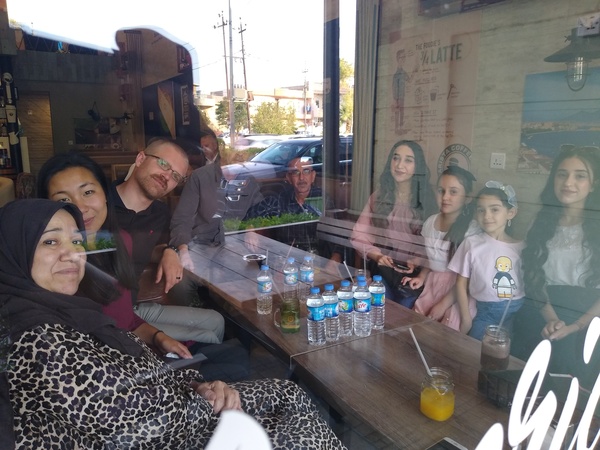 We spoke together of a shared trust that even this will be redeemed by God for good, and of Malcolm Muggeridge's 
classic illustration
 of the resurrection:
Are caterpillars told of their impending resurrection? How in dying they will be transformed from poor earth-crawlers into creatures of the air, with exquisitely painted wings? If told, do they believe it? Is it conceivable to them that so constricted an existence as theirs should burgeon into so gay and lightsome a one as a butterfly's? I imagine the wise old caterpillars shaking their heads – no, it can't be; it's a fantasy, self-deception, a dream.

Before parting Mustafa's mother presented Colin with the gift she'd prepared for her: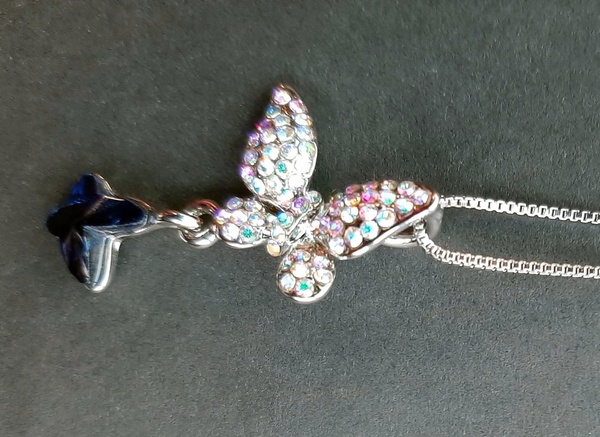 Finally tonight, as the world darkens and the people of Israel are all too easily and often offered up as a sacrificial lamb on the altar of progressivism, a 
delightful story
 out of Germany concerning the newspaper publisher which co-sponsors many of the children we help. The company was severely criticized for flying an Israeli flag over their headquarters:
"I think, and I'm being very frank with you, a person who has an issue with an Israeli flag being raised for one week here, after antisemitic demonstrations, should look for a new job," Mathias Doepfner, the chairman of Axel Springer, said in a conference call last week with thousands of his employees around the world, Israel Hayom reported Monday.
Doepfner has described himself as a non-Jewish Zionist.
The flag was raised last month as Hamas and Israel exchanged fire for 11 days, resulting in more than 250 fatalities, mostly on the Palestinian side. Many protests against Israel in Europe and beyond featured incitement against Jews and Israel, and several acts of violence in Europe and the United States were documented in connection with the protests.
On its website, the publisher lists five "Principles and Values." The second states: "We support the Jewish people and the right of existence of the State of Israel."
Dear coworkers, let's ask ourselves if we too are willing to go against the herd in order to stand with the ancient people chosen by God to bring yeshua to this world.
Jonathan for Shevet Achim
"Behold how good and how pleasant it is for brothers to dwell together in unity" (Psalm 133).