Dear friends,
The week began with the cleft-palate child Dina from Kurdistan in emergency surgery late on Saturday night into the early hours of Sunday morning, as doctors tried to find and control post-surgical bleeding in her heart. Dina is still very weak, but has come through this her third heart surgery and is now breathing on her own. Please continue to pray for her life.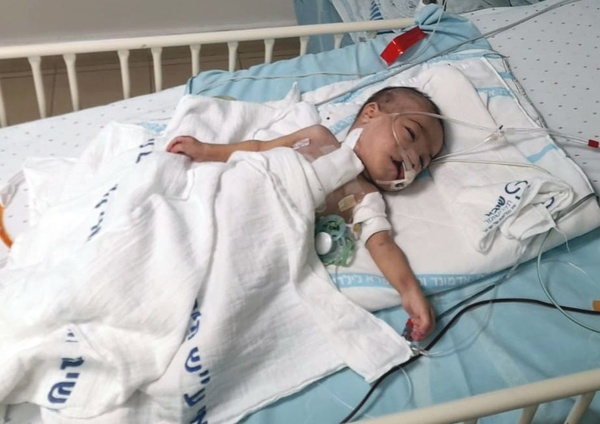 The urgent Kurdish baby
Mohammed M
 who reached Israel on oxygen last week had his operation on Monday; it was successful, thank God, but his father was sad to hear that this is only the first surgery he will need. Please pray for this sweet boy as he recovers: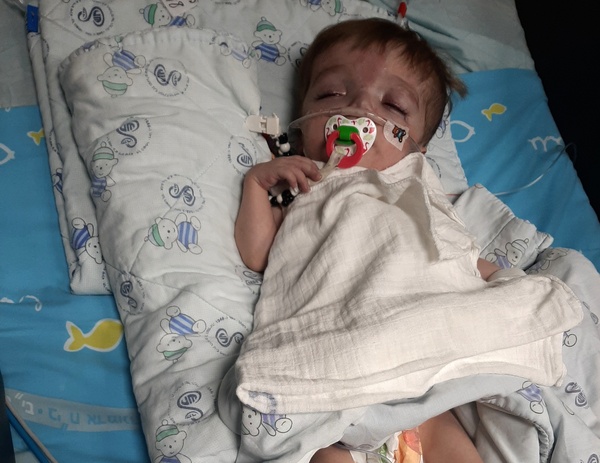 Another urgent new Kurdish arrival,
Aurfa
, was admitted to Sheba on the day of her first appointment due to low oxygen. She has been deemed stable enough to await surgery at our house in Jaffa. Please be praying for her, especially that she will remain stable throughout this time: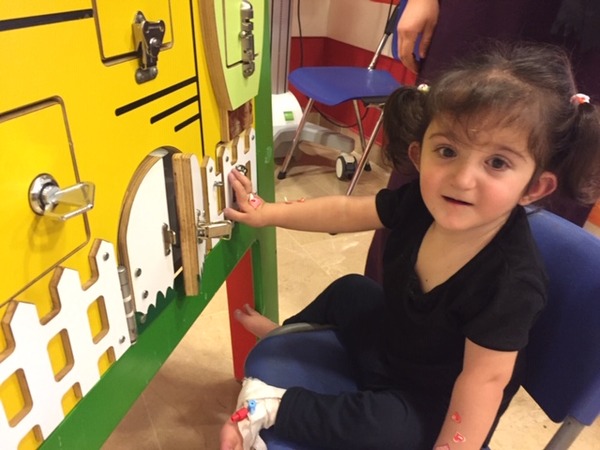 Mohammed B
 had surgery to place his stomach tube yesterday; his mother is praying now it will be only a matter of days before they are discharged to our home in Jaffa. It has been almost exactly two months since the overdue surgery to switch his great arteries: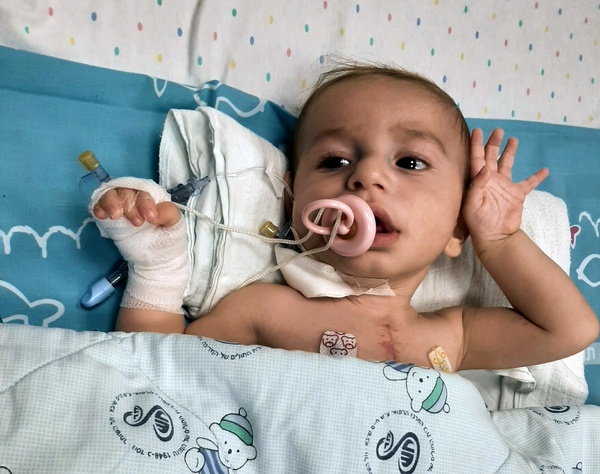 He really has been through a near-death experience, and the difficulty swallowing is believed to be a consequence of brain damage experienced while he was on ECMO heart-lung support. It is something really incredible and special to look forward to his discharge now. Thanks be to God for this beautiful boy and his mother.
Another of the transposition babies whose entry to Israel was delayed, Mohammed's roommate Amin, was discharged to Jaffa yesterday! His mum is enjoying being back at our house, also for the first time in about two months. Amin is doing well and will still need a special transesophageal echo (TEE) in the next weeks before he can go back to Kurdistan: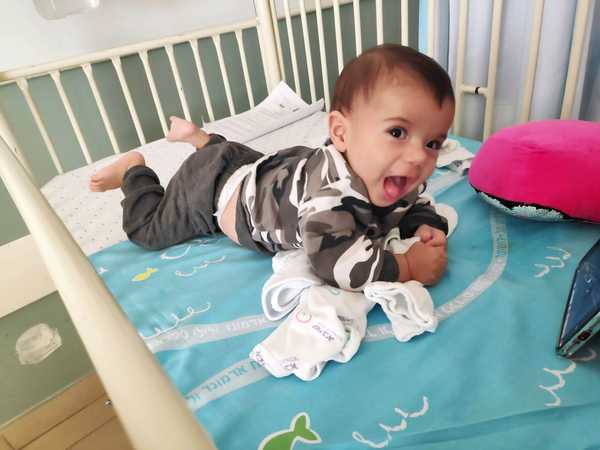 Another Kurdish transposition baby, Zhiir, was discharged from the hospital and had his first postoperative echo this week. The cardiologist is reducing his medications over the next two weeks. Since her son had successful surgery and came to our Jaffa house, Zhiir's mother is like a new woman–her joy is infectious! Seeing her smile, you can't help but also smile with her. The transformation in Zhiir's life (and also his mum's) is incredible: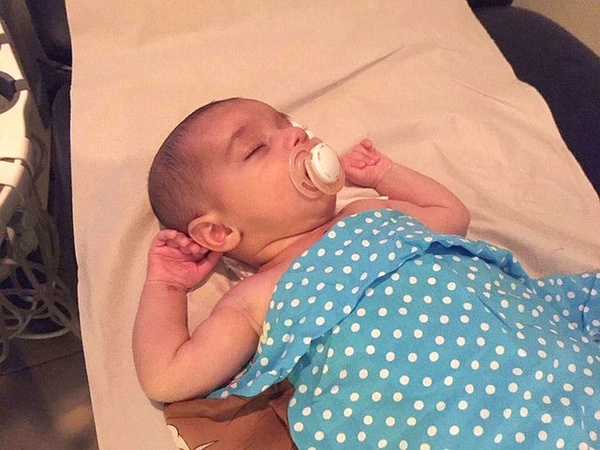 Sulaiman
 from Iraq (yet another transposition baby!) had his second follow-up echo Sunday after his discharge, but instead of the hoped for return to Kurdistan, the cardiologist wants him to stay longer since his heart function is weak. Please pray for beautiful Suli in this: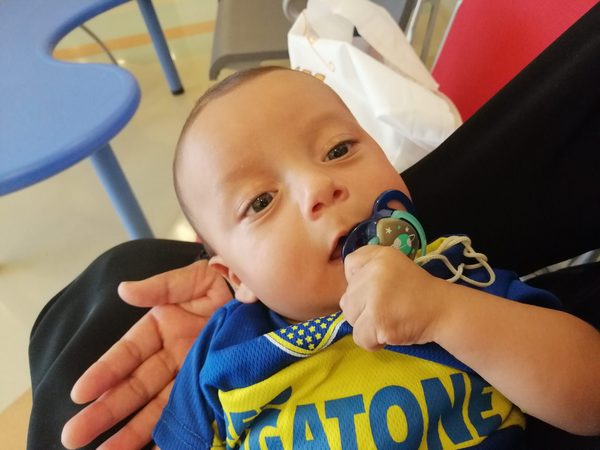 Mahmoud
, an emergency newborn transfer from Gaza, will hopefully have surgery at Sheba next week, as a bacteria has caused a delay in the operation date. The doctors know and act on only what is best for him, and even though it is a little bit longer, we are thankful he is in the care of Sheba staff: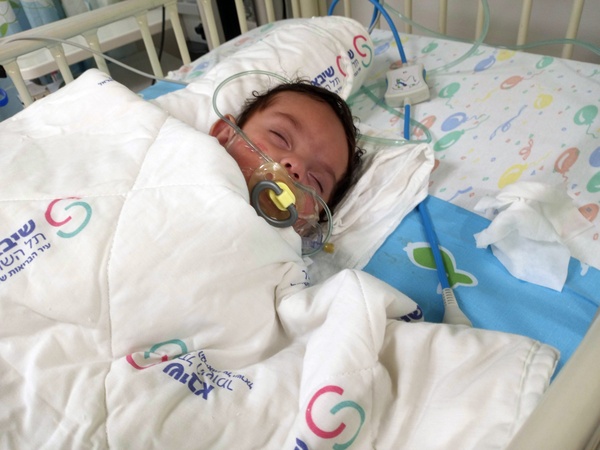 The doctors in the ICU are hoping that baby 
Abed
 from Gaza, who has been in the hospital for three months now, can go to Alyn hospital in Jerusalem for rehabilitation, as he has a tracheostomy and is on mechanical ventilation. His mother has been an incredible pillar of strength this whole time and is always caring for her son. Please pray for this process for Abed: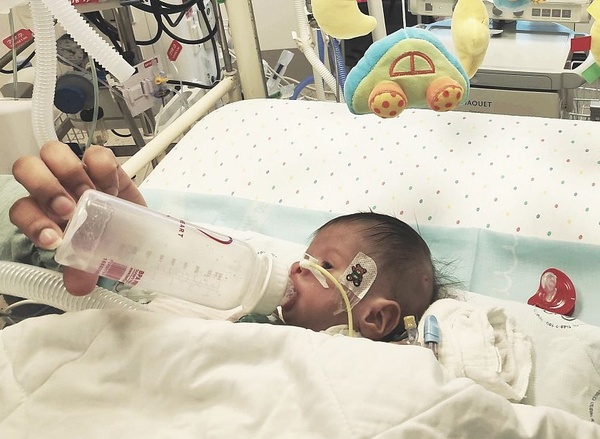 Alyn hospital also cared for Asmeen a few months ago, and now in a matter of days God willing she will be traveling back to Kurdistan still on a ventilator. Colin and Nate are working hard to coordinate a really complex situation. Yesterday Asmeen was trasnferred to the ventilator which we purchased for her travel, and it appears that an Israeli medical escort team will accompany her out of Israel to Turkey, and then Colin and Nate will continue on to Iraq with Asmeen. This is to say nothing of the intricacies of requirements by different countries for entry, airline regulations, transportation from the hospital to the airport, and many more aspects of this operation that Nate and Colin have worked out. Praise God for them, as without them I don't know how this would have worked out. Please continue to pray for Asmeen and her mother as they are in the final stretch of a marathon: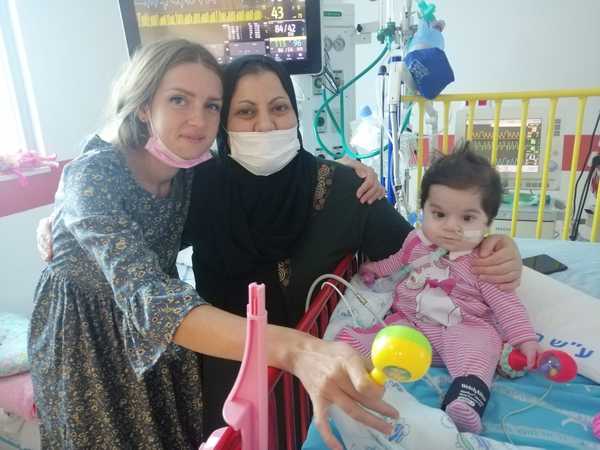 Upon returning to Kurdistan, Colin and Nate will then begin preparing for another trip to Israel with six urgent children. We hope they will arrive in the coming week or two. Please be praying for them, and also keep us in Jaffa and Jerusalem in prayer during this time.
Alena for Shevet Achim