Dear coworkers,
We're entering into autumn, and the last third of the year on the Gregorian calendar. And tomorrow night on the Hebrew calendar we're entering the seventh month and the high holidays that it brings. We'll have fully five Torah holy days this month, in addition to the Shabbats, on which no work is done.
So government offices in Israel like the interior ministry will come to a near standstill this month. But it's always moving to me to see how doctors will without question put aside even these great Torah holidays if it is a matter of saving a life: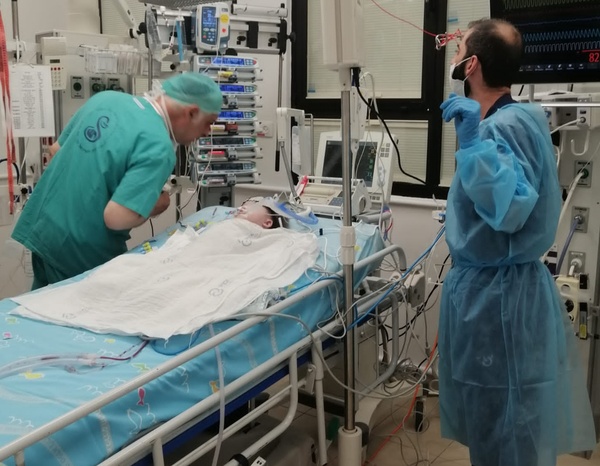 That's Prof. Alain Serraf, an orthodox French Jew and a leading heart surgeon, checking up on ten-month-old Ahmed from northern Iraq after a
successful open-heart surgery
 to close holes and repair valves today at the Sheba Medical Center. To perform major surgery on the eve of a holy day, one is already committing to be there and to be on call in the days that follow. To love one's neighbor even at personal cost:
Isn't this the fast that I have chosen: to break the chains of wickedness,
to untie the cords of the yoke, to set the oppressed free and tear off every yoke?
Isn't it to share your bread with the hungry, to bring the poor and homeless into your home,
to clothe the naked when you see him, and not to turn away from your own flesh and blood?
Then your light will break forth like the dawn, and your healing will come quickly.
Your righteousness will go before you, and the glory of the LORD will be your rear guard.
Then you will call, and the LORD will answer; you will cry out, and He will say, 'Here I am.'
(Isaiah 58)
And Sheba doubled down on Friday, the eve of the Shabbat, by approving the emergency transfer of month-old Omar from the Gaza Strip, whose mostly-interrupted aortic arch leaves him with life-threatening oxygen saturation of only 60%: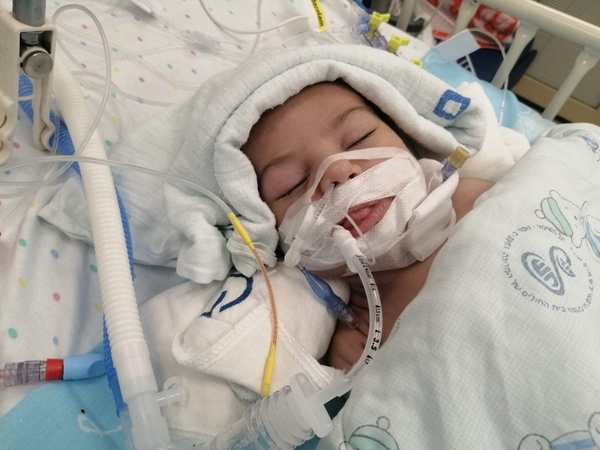 Omar's now stabilized and on mechanical ventilation, and his Norwood surgery is planned for Thursday, immediately after this week's double holiday for the Feast of Trumpets (Rosh Hashana). We'll see if he makes it that long, or if the doctors have to rush in over the holiday.
It's hard to believe, but entering these holidays we now have 19 children from Iraq and Gaza in treatment at Sheba. When their care is complete we will have already surpassed in 2021 the total number of surgeries done in all of 2020. And our gracious Lord knows how to help us in our unbelief; this week he preemptively released unexpected gifts which will cover nearly half the funding we'll need at year's end for 2021 surgeries.
And what about this Feast of Trumpets which begins tomorrow evening? The idea that it's the new year seems to be part of the pagan baggage that the Jewish people brought back with them from their captivity in Babylon. The Torah itself is remarkably terse on the reasons for this holiday, which as we've seen with Shavuot may be a sign that its fullness is yet to be revealed (the wedding feast of Messiah and his bride?).
But we can say that when the shofar sounds tomorrow night it will be a call to self-examination and repentance, the start of the "Days of Awe" leading up to the Day of Atonement which follows after nine days, and then the Feast of Tabernacles five days later. You'll find here a good discussion of this from a messianic friend of our community, Howard Bass:
Prophetically, it is a call to repentance for the people of God — whether Jews or Christians — in preparation to acknowledge their sins as His covenant people saved by grace (the Passover), and accept the Father's provision of His one-and-only acceptable sacrifice for the sins of the individual, and of the nation/people as a collective whole (typified by the Day of Atonements/Yom haKippurim). Yeshua/Jesus, the Son of God, is that sacrifice, and the Holy Spirit is working in the lives of those in covenant relationship with the one true living God to bring us to complete dependence and trust in His grace and love through even the severe chastenings of a holy and righteous Father. There is glory and holiness on the other side, when YHVH will dwell among His sanctified people (typified by the Feast of Booths).
Well, we're all still on this side of glory, and should not be surprised at the severe chastenings of our Father who loves us. A report out in this month's Christianity Today reveals credible allegations that one of our regional ministry partners failed to protect against sexual exploitation of those we were helping:
A 23-year-old refugee from Syria was surprised when an aid worker told her that he had a special fund to help her. The Jordanian Christian said he could provide her with more than the mattress, coat, cookstove, and gas bottles that the others got from the local Christian and Missionary Alliance church. Maybe a washing machine. Or even a flat-screen TV.
When he came to her home after midnight with a special delivery, she understood the man wanted something in return.
"He touched my hand and tried to kiss me," the woman said in an Arabic statement obtained by Christianity Today. "I pulled back. . . . After that, there was no help from the church."
The Jordanian church's refugee aid program was given hundreds of thousands of dollars a year for seven years by more than half a dozen international Christian aid agencies and scores of North American churches. Neither the churches nor the aid organizations appear to have ever checked to see whether their local partner had any policies to protect vulnerable women against sexual exploitation. The church did not have a reporting mechanism for abuse complaints, unless refugees wanted to go to the pastor of the church, who is the brother of the accused man.
"Leaders at the church had been hearing this for years. Pastors did nothing for years," an American Christian woman who has worked in the area for more than a decade told CT. She spoke on the condition that her identity be concealed because she works for a Christian organization that hopes to continue partnering with the church.
"It got to be common knowledge amongst the Syrians. They would say, 'If you want help from the church, send your young, pretty girls,'" she said. …
I first heard these reports about five months ago, and met with and then wrote to the leadership of the church:
I understand that I only see a part of the picture, but the part that I see requires a response. It appears there are multiple, credible, independent testimonies that ****** has over an extended period of time compromised the integrity of the church's presentation of the gospel in *****. It is true that apart from his confession we cannot know the complete details, but it is clear that there is an appearance of evil. I have seen and heard this myself as I interact with the Syrian families who have come through the church to our ministry for their child's heart surgery. 
The failure is not only ******'s. As the chief shepherd of the local church ***** is entrusted with protecting the flock and the refugees they serve. His brother should not have been allowed to continue in a role which enabled exploitation of vulnerable women. And ******, after speaking up in good faith, reports that she has been shunned and warned by ***** of imprisonment for slander. During my last two weeks in ***** it appears the effect of all this is toxic for the church's many committed ministers of the gospel. When no one feels free to talk about the elephant in the room it undermines fellowship and trust. 
Our response to this story cannot be to pass judgment on those terrible people, but rather to know that we too will follow in their footsteps unless we practice self-examination and repentance, and live in a community of accountability in which all such issues can be openly confronted. Just this week we're having extensive discussions within our Shevet Achim community after someone spoke up about an appearance of wrongdoing.
Acknowledging that these issues exist is not a failure and does not damage our testimony. Instead it is in our weakness and brokenness, and our subsequent honest confession and repentance, that we give greatest glory to God, and offer hope to our struggling neighbors and to each other.
Jonathan for Shevet Achim
"Behold how good and how pleasant it is for brothers to dwell together in unity" (Psalm 133).