Dear coworkers,
The sun has set here in the Middle East and we've entered the last and great day of the week-long Feast of Tabernacles (Sukkot). This is a day of joy for our Jewish neighbors. Each preceding day of Sukkot worshippers in the synagogue have circled around the Torah reader's platform one time reciting hoshanas; on this seventh day called "Hoshana Rabbah" they will circle around the Torah seven times, just as was done in the days of the second temple. This circular dancing around the word of God is a very tangible expression of the unity of a community of faith: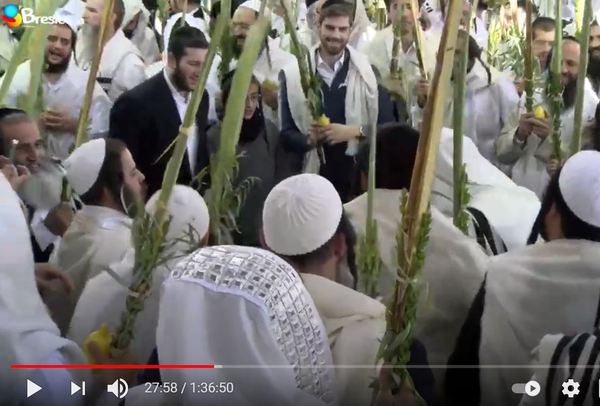 And it was on this day of the feast, according to John's account, that Jesus stood up at the temple and cried out, "If anyone thirsts let him come to me and drink. Whoever believes in me, as the scripture has said, 'Out of his heart will flow rivers of living water.'"
An old friend Julia Blum has an excellent background article online explaining how Messiah's words connect to what was happening in the temple on this day:
The Water Libation Ceremony in the Temple was the height of Sukkot celebration.  Sukkot is the beginning of the rainy season in Israel, and…God's decision of how much rain will fall in the upcoming year is made and finalized by the end of the Feast. The libation of water was performed to invoke God's blessing on the year's rains. During the Ceremony, a large procession carrying water would go through Jerusalem and circle the Temple, and then the water would be poured onto the altar. The description of this ceremony can be found in the Mishna. The joy accompanying it was so great that it became a proverb: "He that has not seen Simchat-bet-ha-Sho'ebah, the joy of the drawing (and the pouring) of the water has not seen joy in his life." It is in the context of this celebration, while the procession with water was walking through Jerusalem, that Jesus speaks His famous words about "rivers of living water."
It's important to understand that "though the Rabbis attached symbolic significance to the ceremonial in connection with the dispensation of the rain… the main reference, according to themselves, … was to the future blessings to be bestowed on them in Messiah's time, and especially pointed to the pouring out of the Spirit, as can be seen from the distinct statement in the Talmud, "Why is it called Bet-ha-Sho'eba? . . . Because of the pouring of the Holy Spirit, according to what is said: 'With joy shall ye draw water out of the wells of salvation.'" 
Once we understand this context – once we understand that, although not part of the original Mosaic appointment, the Water Libation ceremonial service also pointed to and emphasized the symbolic and prophetic significance of Sukkot – the words of Jesus from John 7 acquire an even more profound and rich meaning. Hoshana Rabbah is all about salvation and water – and it is in the context of Hoshana Rabbah that Jesus speaks of two things: of salvation and water! He promised "rivers of living water" – and, like the Talmud later, he also "spoke concerning the Spirit, whom those believing in Him would receive."
So friends, we've seen that this day is meant to be a celebration of the unity and joy promised through the spirit to the community of believers. But just today I was crying out to the Lord: How can we invite others in if we're not experiencing this ourselves?
In that light this could be a day we set apart for self-examination and seeking more of our Lord (just as many of our Jewish neighbors will be up all night tonight reading through all of the Psalms). To help us in this I commend to you a challenging teaching "The beauty of unity" just shared by our former coworker Ryan, on the subject of our signature Psalm 133: "Behold how good and pleasant it is when brothers dwell together in unity." Please try to make time to watch: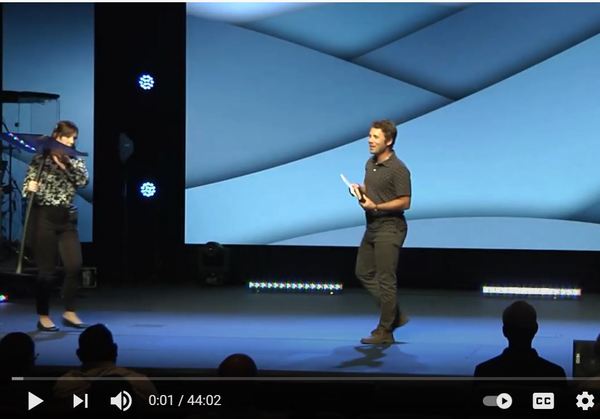 And as the holiday starts
Dina
 and 
Mohammed B
 have just landed back in Kurdistan after months of complications following their heart surgeries in Israel. Here's 
video
 of the moment Mohammed's family was longing for, when he emerged at the airport: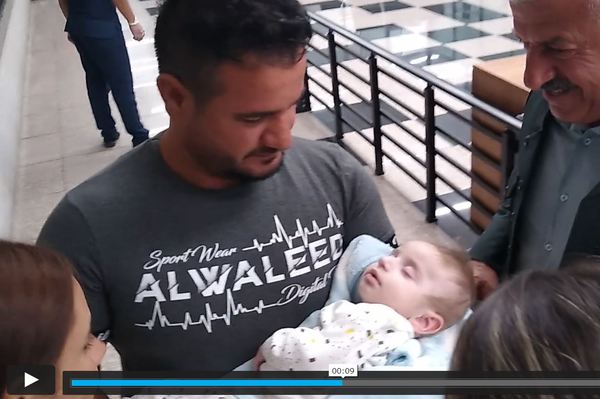 Nate and Colin again came through wonderfully, flying in from the US and going through quarantine yet again in Israel in order to provide medical escort for these two still-fragile babies. You'll see from Dina's blogs that her doctors truly see her continued life as a miracle, after a severe heart infection and ruptured aorta. She had several seizures during her flights and needed oxygen before the end, but thank God tonight she is safely in the hospital in her home city: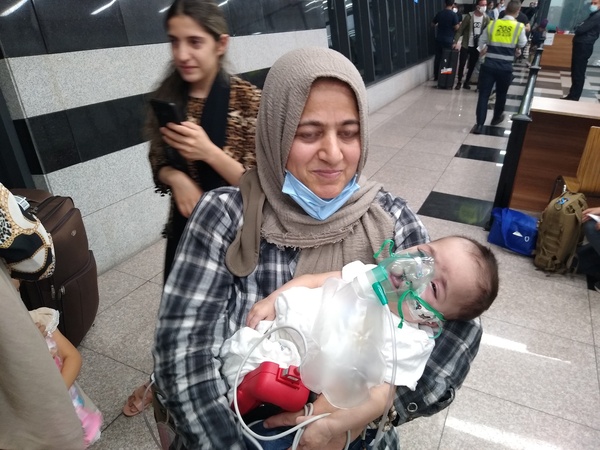 Doctors at the Sheba Medical Center were also using the word miracle to describe the survival of eleven-year-old Sundis, who we brought back from Gaza this week for long-overdue follow-up to her treatment in Israel years ago through another Israeli charity. The doctors found her pacemaker was no longer working and the conduit placed in her heart is now dangerously narrow, and are working through this holiday week to stabilize her and plan her future care: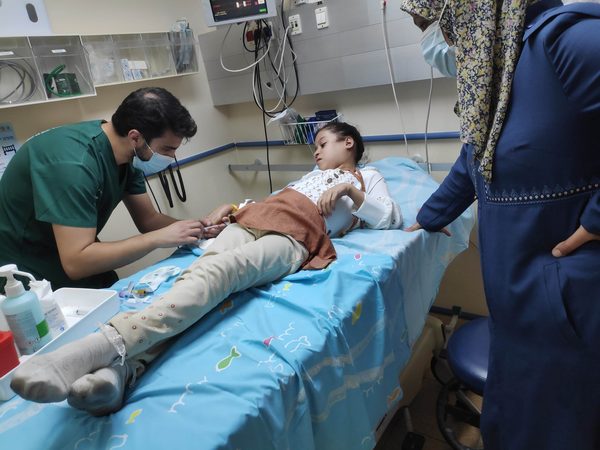 And there's one more story this week for which I'll use the word miracle. You remember the agonizing wait earlier this summer for a visa to Israel for 33-year-old Mohammed L, even as we watched his heart failing before our eyes. Well in the six weeks since he reached Israel, doctors have stabilized him through medications and carefully studied his heart to come up with a treatment plan. This week they settled on a plan to implant a special replacement valve through catherization rather than put Mohammed through a very high-risk surgery.
Mohammed came back this weekend to stay with us in Jaffa for a month until a leading professor is available to help with his catheterization. I was amazed Friday to see a photo of him taking on our most difficult house maintenance issues: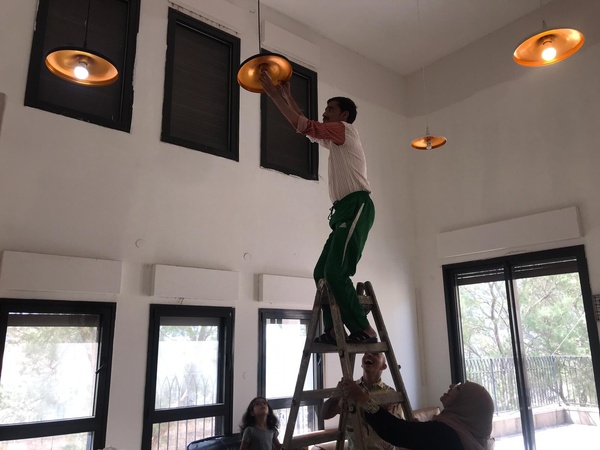 And then later that day came 
video
 of him leading the Kurdish singing for Dina and Mohammed B's farewell party!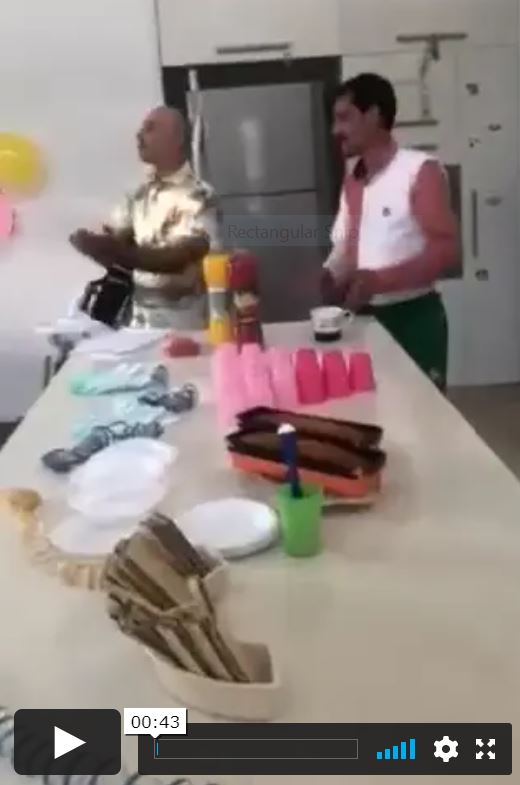 The valve for Mohammed's heart will cost an extra $10,000 more than we had first expected for his care, and that news filled us with joy–because two weeks earlier a new friend of our community wrote that, after praying for a few days, he had felt led to sponsor Mohammed and sent in an unexpected $10,000. Here's his response yesterday when I let him know how timely that gift was:
Your email warms our hearts, thank you for sharing. We serve a mighty God who does indeed go before us in many ways. We are so blessed to be able to be a small part of your ministry and it is a joy to pray as a family for Mohammed and his family. We are praying his valve solution is successful and he and his mom experience God's amazing love during their time with you all. Thank you for doing what you do day in and day out, we pray for your peace and endurance daily.
How amazing that God uses the difficult things of this life continually for good. We would not have known about your ministry if it weren't for God's providential hand in assigning Grant C. to our family as oncology nurse for our youngest son's battle with cancer last year.
All glory to God and may the peace of Christ reign!  We will continue to watch God do amazing work through Shevet Achim!
Grant and his wife Kathy had in turn first come to our community in 2017 through what they called "a series of events that we know could only be orchestrated by God."
Friends and coworkers, I hope you're as encouraged by this story as I am. It is indeed our Father himself who is doing this work, and he delights to do it through loving and trusting relationships between his children. Every good thing I've seen happen throughout the years of Shevet Achim has happened in the context of personal relationship.
So it's no surprise that the spirit which resists Messiah seeks to divide believers from believers, and nations from nations. It's on such clear display this weekend in Iraq. The country was shocked by a large conference Friday night in Kurdish Erbil, in which prominent Iraqi Arabs demanded that their nation join the Abraham Accords and make peace with Israel. Not surprisingly the central government in Baghdad has today ordered the arrest of those involved.
I'm so impressed by the spirit of one of the main speakers, Dr. Sahr Al-Ta'i, a woman who holds (held?) a top position in Iraq's Ministry of Culture. She spoke with our journalist friend Lazar from the Times of Israel: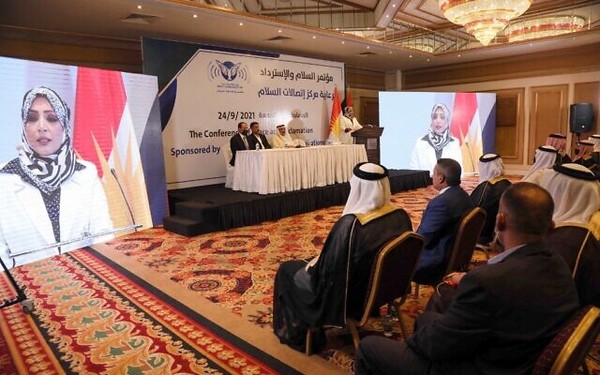 "I was raised in a family that instilled in us the principle of freedom of expression and freedom of conscience, that we should say what we feel and what we believe," she said.
Ta'i grew up in an Iraq dominated by notorious dictator Saddam Hussein, who turned the country into one of the world's most unfree states. But Ta'i, who often listened to foreign radio broadcasts, found out about the Holocaust from a French Middle East radio service — at a time when the Nazi genocide was a taboo subject in Iraq.
"I'll never forget the time I first heard about the crime of the Holocaust, it brought me to tears," she said…
Now that the United Arab Emirates, Bahrain, Morocco, and Sudan have agreed to normalize relations with Israel, Ta'i decided the time had come for Iraq as well.
"To pluck a ripe fruit, first you have to plant a seed, you have to water it, you have to wait for it to grow, then the flowers bloom, and then you know the fruit is coming," she said. "The tree is big, and the flowers are already blooming, and soon we will pick the fruit of our labor…"
Ta'i insisted that she was not afraid of any consequences for her personal safety.
"It is precisely because of these elements — terrorism, violence — that [it is] necessary to take a decisive step," she stressed. "My family was not altogether relaxed about it, they worried about me, there are dangers to expressing these kinds of ideas, yet nonetheless this is my conviction and this is my decision."
"We can live under the repression of terrorism or we can die with courage," she said.
Ta'i believes that her advocacy, and that of her colleagues in the Erbil conference, will ultimately influence Iraqi policy.
"Certainly if a leadership figure should see a civilian, a woman in a country like Iraq, communicating this message with this boldness in front of the world, then surely those who are stronger, living within fortified walls, should be even more bold," she said.
Friends, let's take up the challenge of our sister's example. She's just given up everything to speak up with love and respect for the Jewish people. What are we, who have far less to lose, doing with the light which God has given us?
Jonathan for Shevet Achim