Dear coworkers,
The call came in early Friday morning from Gaza. Five-day-old Nadeen was born with critical narrowing of the pulmonary valve, and was barely clinging to life in the hospital via a special medication that keeps open the duct which supplies oxygen to a baby while in the womb: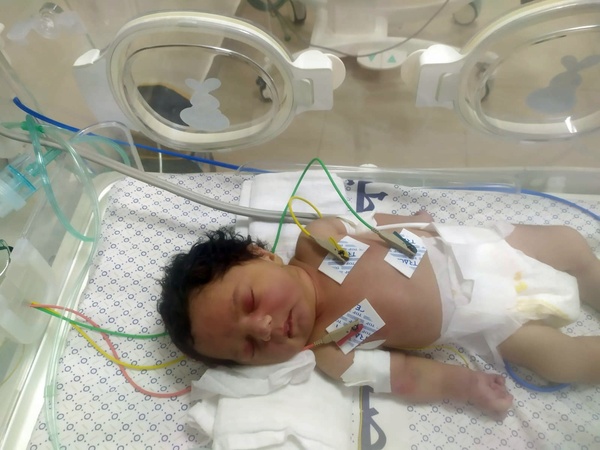 With one eye on our rapidly-ballooning 2021 surgery list, and the other eye on the word of God, we once again had to decide who to listen to: fear or faith.
Do not withhold good from those to whom it is due, when it is in your power to do it (Proverbs 3:27).
Thank God his word prevailed another time in our lives. Before the Shabbat started at sunset, Nadeen was safely in the ICU in Israel's largest hospital, the Sheba Medical Center, where she is now stabilized and Tabea found her today 
waiting (grumpily) for treatment
: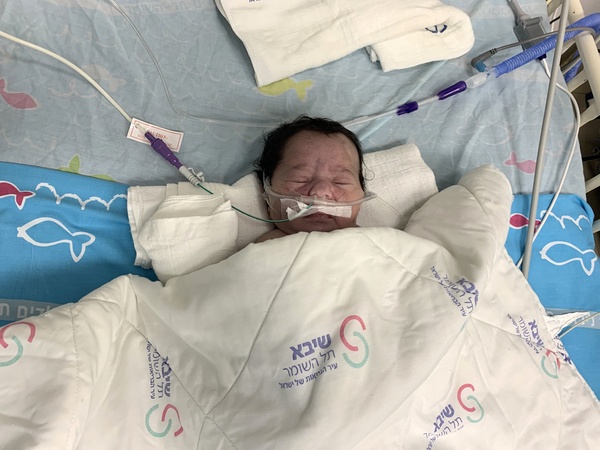 Each time we say
Yes
 to the Lord it adds another $11,000 to our year-end commitment to split costs with the hospital, and we've said 
Yes 
to five other Gaza babies in just the past month.
Meanwhile a new short-term volunteer nurse Teresa is at this hour boarding a flight from the US to northern Iraq, where she'll be on the ground five hours before (God willing) boarding another flight to escort two cyanotic little ones to Israel, including Yano (look at those purple lips and fingers) who is returning for her second surgery in Tel Aviv: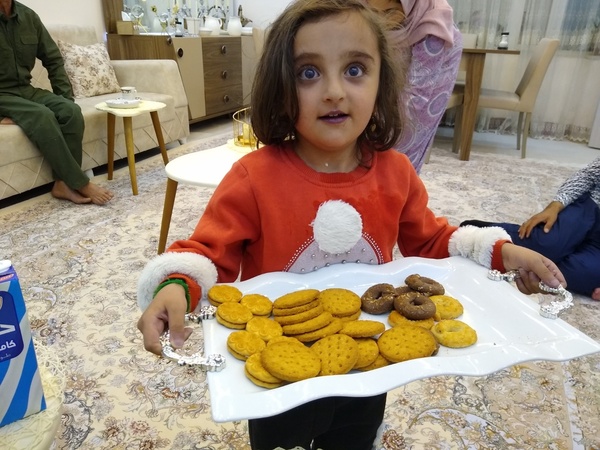 The third child Teresa was hoping to escort is a two-month-old boy named Sanad, from an humble internally-displaced Arab family. He needs the time-critical surgery to switch his great arteries, but was diagnosed with coronavirus this week which leaves him unable to travel and at risk of dying in the hospital in Iraq. Please stop with me and pray for his life: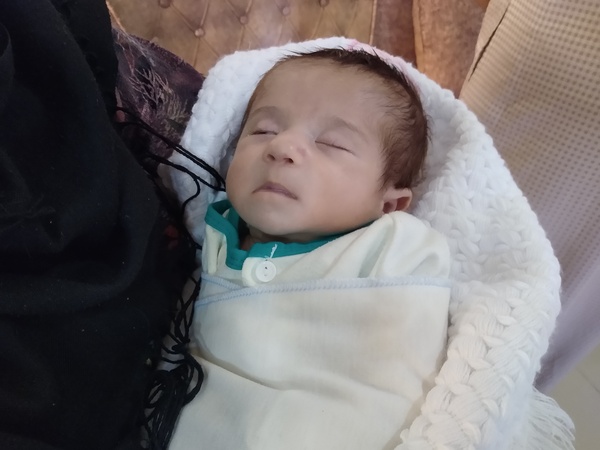 Meanwhile our Kurdish volunteers on the ground in Iraq are scurrying to prepare visa applications for seven more top-urgent children, which will already push us past the 100 surgery mark for 2021, more than our community has ever sponsored before.
This weekend I was interviewed by a Finnish Christian television station, and I was grateful to give our Father glory for the way he's covered all these bills year after year, and somehow held our community together through all the stresses (click below to watch):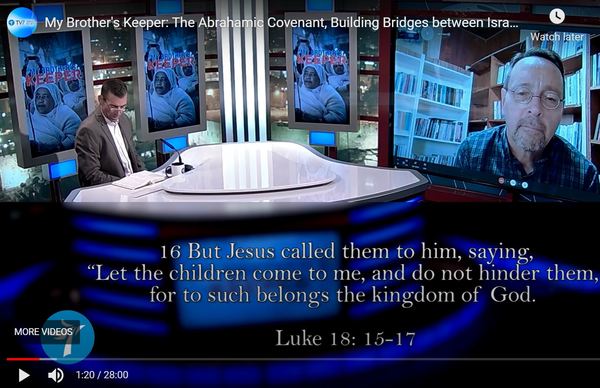 And let's also stop tonight and praise God for the good fruit of all these surgical interventions, which these days is ripening almost too quickly to keep track of. 
Sabrina shares
 that little Ahmed with Down syndrome was released today to return to Kurdistan after his successful surgery. Tonight in Iraq his father grasped my hand with moist eyes as he recounted how there was no one other than Israel willing to help his beloved son: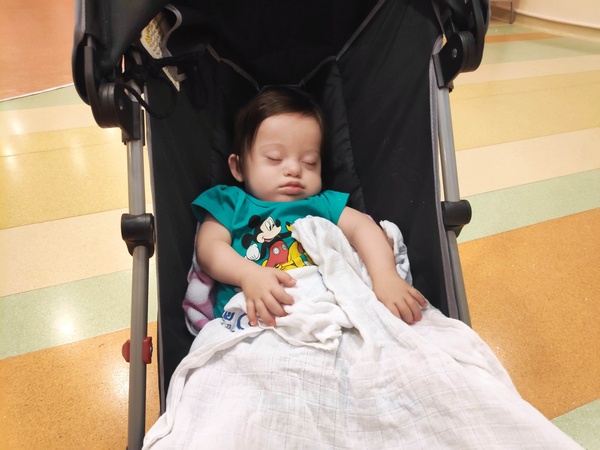 Rachel reports tonight that the tiny Yazidi triplet Hena, whose "
beautiful smile always melts my heart
," will return to our home in Jaffa shortly, and soon after travel back to Iraq, God willing, now plump after six months in Israel: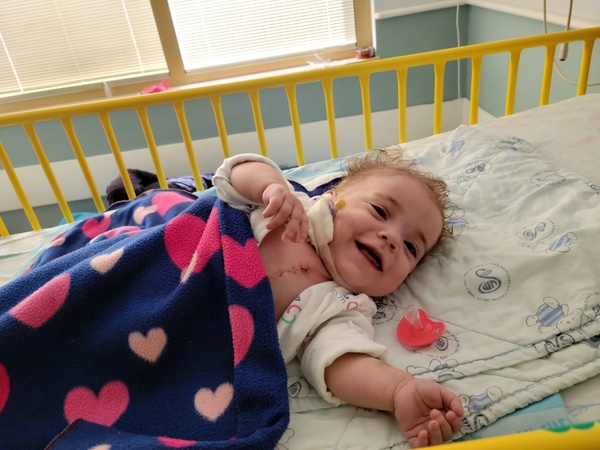 (Let's ask for the same amazing grace for the one kg/two pound premature twin named Hassanein, who
came to Sheba Wednesday
 from Gaza, now being nursed along in the neonatal unit until he is big enough for open-heart surgery.)
And Joanne tells us that all the mothers in Jaffa cried today when Midya from Kurdistan was finally called in to Sheba for her heart surgery tomorrow morning: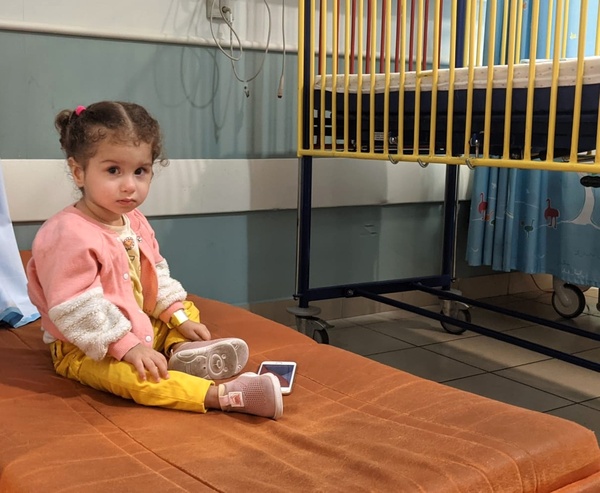 And need I add, thank God for all these new coworkers who were able to enter Israel in recent weeks and were his angels of mercy in the hospital today. And thank him too for the many new friends streaming into Israel from the Arab Gulf countries, and the
warm welcome they are finding from the Jewish people
: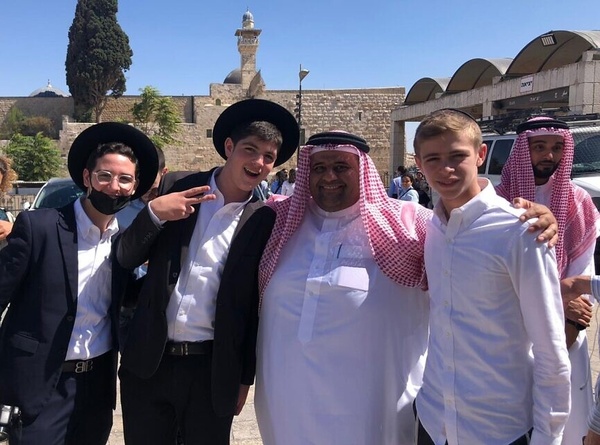 But there's a different spirit at work in the world which seeks to embolden Israel's enemies. The European Parliament this week called for a boycott of Expo 2020 in the UAE over alleged human rights abuses; one could be forgiven for
suspecting the real crime is making peace with Israel
. Tomorrow the UN Human Rights Council, with European support, is set to 
reaffirm the Durban Declaration
 which singles out Israel as a perpetrator of racism. And the US government may be moving toward a 
massive pay-off
 to get Iran back into the JPCOA agreement, and pave for them a legal path within a decade to acquire nuclear weapons and fulfill their religious obsession to destroy Israel.
Let the nations rage. Those who love God of Israel will stand with the people of Israel, through whom he's chosen to redeem the world.
But is this really a valid conclusion from the teaching of scripture? A strong majority of bible-believers around the world would say yes; but almost all mainstream evangelical scholars would politely or not-so-politely demur.
It's significant then that the well-known and respected academic Dr. Gerald McDermott has reversed his previous theological convictions (he explains why here) and thrown his weight behind what he calls a New Christian Zionism. Tomorrow he's starting a ten-week online course "Israel Matters: A Theology of People and Land" through the newly-established Jerusalem Seminary. (Also starting next week is "Biblical Hebrew as a Living Language," unquestionably the best way to learn the language of the Torah and the prophets.)
As we hurtle toward the end of the age, and the long-awaited return of our Lord to Jerusalem, it's heartening to see a realignment taking place in segments of both the Muslim and Christian world, as longtime adversaries find their hearts strangely and unexpectedly warmed toward the people of Israel. May their tribe increase.
Jonathan for Shevet Achim
"Behold how good and how pleasant it is for brothers to dwell together in unity" (Psalm 133).